This post may contain Affiliate Links.
I was prepping my weekly whole chicken a week ago when I realized, I make a whole chicken almost every week but I have yet to share any of my recipes! Say whaat? I have no idea why I haven't yet so today I am finally sharing with you my absolute favorite that almost gets made weekly in my house. Beer Can Chicken.
So when it comes to frugal meals and cooking it is really hard to beat a whole chicken. I am able to get a 2 pack of whole chicken for sometimes as low as $0.79 a pound, most of the time I am paying $8 to $10 for 2 chickens, which is basically 4 meals in our house. Most Sundays I will make a whole chicken, will will eat about half of it for dinner, and then it will become another dinner later in the week. My favorite meal to make with the leftover chicken is quesadillas but it can also be used in soups, sandwiches, salads, pizzas, the possibilities are truly endless.
So for my recipe I have a special roasting pot that I got from a craft fair, it is a handmade clay pot and works amazing!! It is from Annie's Garden, click HERE for the link to the exact one I have.  You can use any similar pot, or even the wire roasting racks like THIS. Either way Beer Can Chicken is the way to go for incredibly juicy and flavorful chicken.
So if you are new to roasting whole chickens, yes it seems a little intimidating but let me tell you it is actual really simple. I know what kept me back from making them for a long time is that it seemed like it had to be hard to do right? Wrong! Prepping the chicken is as easy as rinsing, drying, rubbing with oil, and seasoning, boom it is ready for the oven. Now I think I would consider one of the easiest I have in my meal rotation!
So grab a couple of chickens next time you are at the store, order a pot from Annie's Garden and get yourself roasting your very own Beer Can Chicken.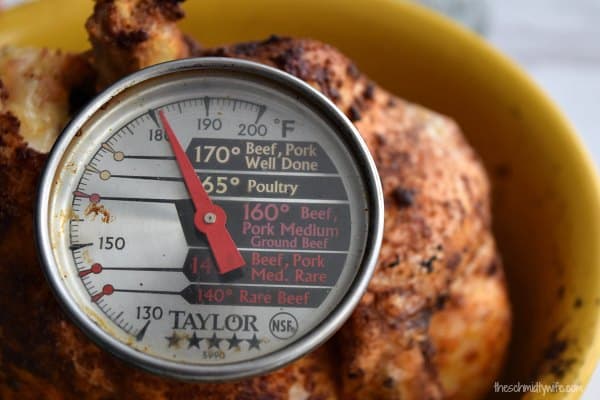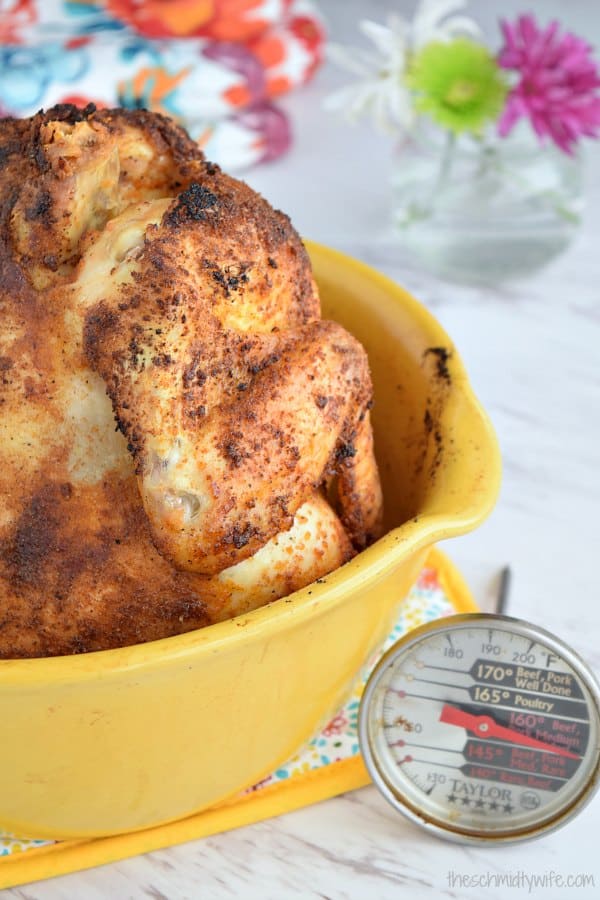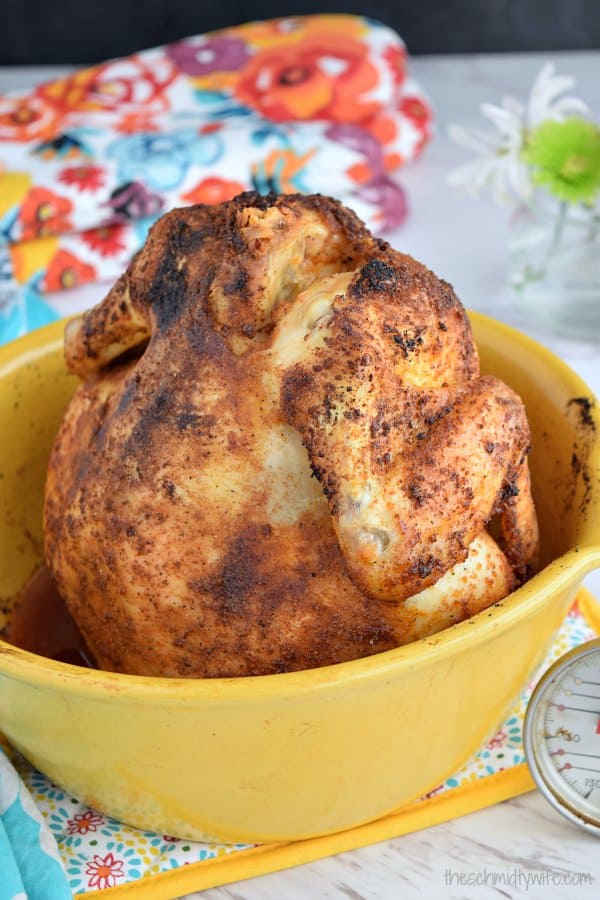 Yield: 6 servings
Beer Can Chicken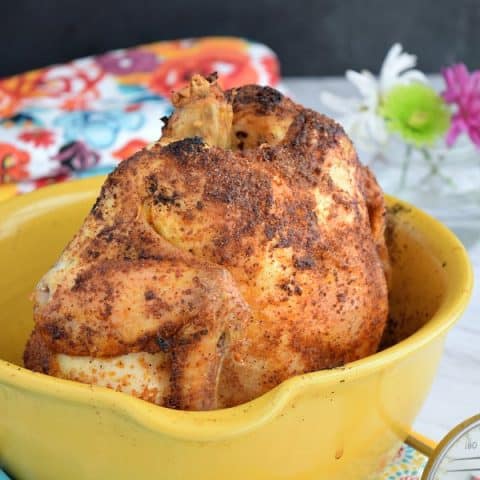 a whole chicken roasted over an open can of beer resulting in a juicy meat
Total Time
2 hours
10 minutes
Ingredients
1 (5-6lbs) roasting chicken
1 can light beer*
2 cloves garlic
1 teaspoon onion powder
1 teaspoon garlic powder
1 teaspoon paprika
1/2 teaspoon salt
1/4 teaspoon pepper
2 tablespoon olive oil
Instructions
Preheat oven to 450º F.
Crack open that beer and pour it into the center, fill all the way to the top (if you are using a rack with an actual beer can pour out about a third of the beer). Drink remaining beer 😉 Crush garlic and place into the beer.
Mix together all of the spices in a small bowl.
Prepare the chicken. Over a sink remove the gizzards from the cavity and rinse the chicken off. Pat the chicken off with paper towels and place on a plate.
Massage the olive oil onto the chicken.
Place the cavity of the chicken onto the center pot covering the beer so that the chicken sits up.
Rub the spice mixture all over the entire chicken.
Place in oven and bake uncovered for 30 minutes.
After 30 minutes turn oven down to 400º F and cover loosely with tin foil (This is when I place my meat thermometer into the chicken breast).
Cook for an additional 60-90 minutes until the center of the breast reaches 180º F, this will really depend on the size of your chicken.
Let cool for 10 minutes before carving to serve.
Notes
*So if you aren't the beer type and you still want the same delicious affect use chicken broth
Nutrition Information:
Yield:
6
Serving Size:
1
Amount Per Serving:
Calories:

301
Total Fat:

18g
Saturated Fat:

4g
Trans Fat:

0g
Unsaturated Fat:

12g
Cholesterol:

88mg
Sodium:

261mg
Carbohydrates:

2g
Fiber:

0g
Sugar:

0g
Protein:

28g
Nutritional data is automated, final nutritional information will depend on ingredients used and any changes made.
If you enjoyed this Recipe or any of my others let me know by using #theschmidtywife on social media!
And make sure you are following me on Instagram, Pinterest, and Facebook for all the latest recipes!
Peace & Love
Lauren, The Schmidty Wife
P.S. Looking for more recipes? Check out my Shrimp Stir Fry or my Easy Southwest Chicken.