This California Hashbrown Breakfast Pizza Recipe is the perfect breakfast pizza! With a hash brown crust, cheese, eggs, and fresh toppings this pizza is made for a fabulous weekend brunch!
I often times like to set up challenges in my own kitchen to force myself to think outside the box and come up with new recipes. One of my favorite ways to challenge myself is to purposely not grocery shop for another planned meal and force myself to use what we already have at home. This is how California Hashbrown Breakfast Pizza was born.
A quick look around the kitchen lead to a lot of breakfast items, breakfast for dinner? So simple but how can I go one step further… PIZZA! A quick tally, a ton of potatoes, eggs, cheddar cheese, and a ton of fresh veggies left like tomato and avocados (a perfect pairing). There was no way I couldn't not make a hashbrown crust at this point. It all came together so fast. The toppings of the cheese, ham, & eggs. Sure I could have stopped there but what about the wonderful veggies! Those got diced up and added to the beautifully baked pizza, 'California Style'. Mmmm what a delicious turn of events, from not having any meal planned out to a delicious dinner (breakfast) that my husband and son devoured. I love it!
So when I say 'breakfast' pizza I use that term lightly, sure it has all of the elements of breakfast but I have only served this as a dinner to my family, and guess what it makes a delicious dinner.
California Hashbrown Breakfast Pizza is as simple as a hashbrown crust filled with delicious cheese and spices. It is then topped with cheddar cheese, ham, and eggs and baked to perfection. And then even more deliciousness gets added, diced tomato, avocado, and green onion top off this perfect breakfast/dinner/meal.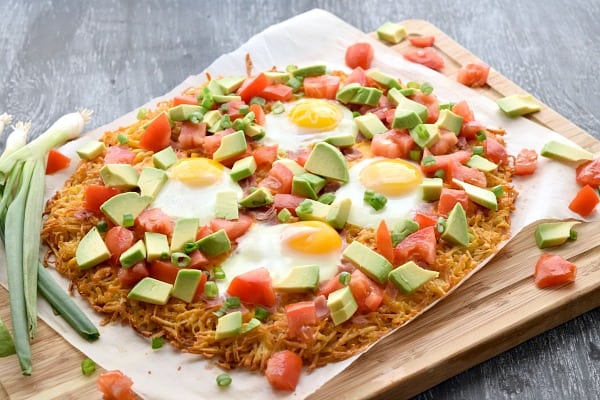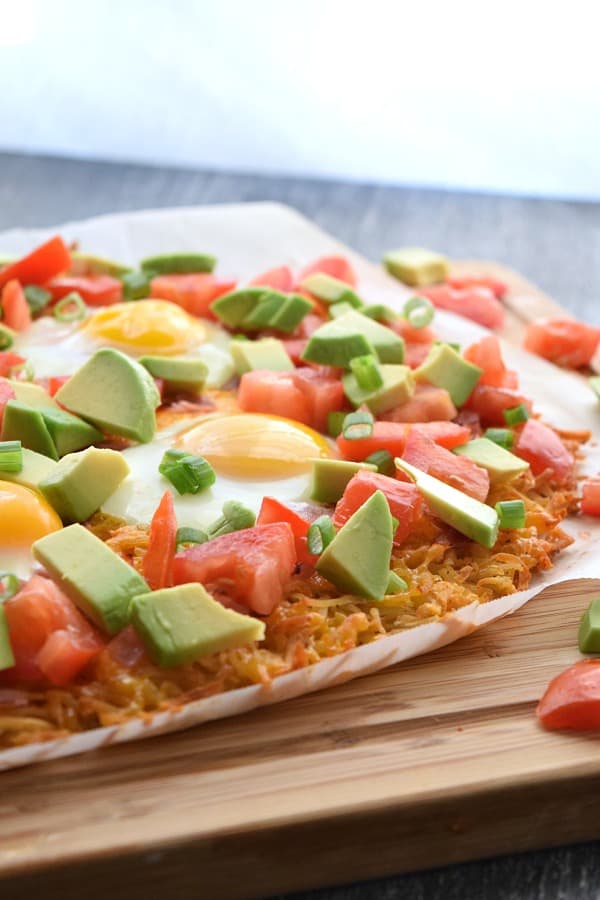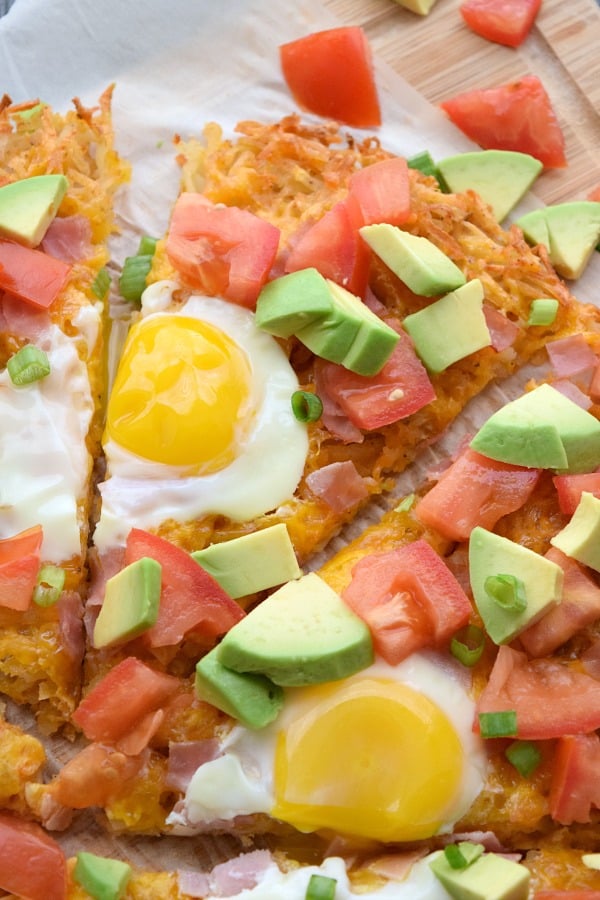 TIPS & TRICKS:
I use ready to go frozen hashbrowns, mostly because it saves a ton of time but if you feel obliged to shred your own hashbrowns go for it. Just make sure to soak them in ice cold water for at least 10 minutes first, drain & pat dry, and add the extra spices that I included in the notes section
Set your frozen hashbrowns in the fridge the night before to ensure they are thawed out, I use Alexia Organic Seasoned Hashed Browns and I absolutely love them
Yield: 4 servings
California Hashbrown Breakfast Pizza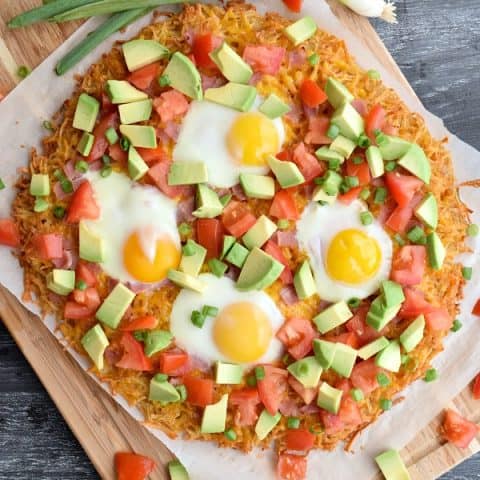 with a hash brown crust, eggs, and fresh toppings this pizza is made for a fabulous weekend brunch
Ingredients
1 28-ounce bag frozen hashbrowns, thawed (or about 5 cups of shredded potatoes)*
2 cups shredded cheddar cheese
1 teaspoon paprika
1/2 teaspoon black pepper
3-4 slices of deli ham, cut into bite sized squares
4 eggs
1 tomato
1 avocado
2-3 green onions
Instructions
Preheat oven to 425° F and line sheet pan with parchment paper.
In a large bowl add the hashbrowns (in order to get them thawed move them to the refrigerator the night before), 1/2 cup of the shredded cheese, paprika, and black pepper. Mix together to combine.
Transfer the hashbrown mixture onto the parchment paper and spread to create a 'pizza' crust. Ensure to really press the hashbrown mixture down and in on the sides to make a sturdy crust, you will want to make the crust about 1/2 inch thick.
Bake the hashbrown crust for 30 minutes.
Carefully remove from the oven. Spread the remaining cheddar cheese over the crust, followed by the ham. Carefully crack the eggs on top of the pizza, try to space them out evenly so they don't overlap.**
Bake for another 10-15 minutes, depending on how well done you like your eggs.
While the pizza is finishing baking dice the tomato and avocado. Slice the green onion.
Once the pizza is finished baking top with the tomato, avocado, and green onion. Serve immediately.
Notes
*if you are using your own shredded potatoes (or a brand that doesn't have any spices added) I recommend adding the following extra spices: 1 teaspoon salt, 1 teaspoon garlic powder, 1/2 teaspoon onion powder
**If you are not very good at cracking eggs, like you always seem to egg shell everywhere, crack the egg into a small ramekin or bowl first and then gently place it onto the pizza
adapted from Bacon and Eggs Breakfast Pizza with a Hashbrown Crust
Nutrition Information:
Yield:
4
Serving Size:
1
Amount Per Serving:
Calories:

386
Total Fat:

30g
Saturated Fat:

13g
Trans Fat:

1g
Unsaturated Fat:

13g
Cholesterol:

250mg
Sodium:

683mg
Carbohydrates:

8g
Fiber:

3g
Sugar:

2g
Protein:

24g
Nutritional data is automated, final nutritional information will depend on ingredients used and any changes made.
If you enjoyed this Recipe or any of my others let me know by using #theschmidtywife on social media!
And make sure you are following me on Instagram, Pinterest, and Facebookfor all the latest recipes!
Peace & Love
Lauren, The Schmidty Wife
P.S. Looking for more breakfasts? Check out my Clean Eating Carrot Cake Oatmeal, Pancakes From Scratch or my Lemon Dutch Baby with Berry Compote and Whipped Cream
Please note that my links above may be affiliate links, and I will earn a commission if you purchase through these links. I recommend them because they are helpful, and are companies that I trust, not because of the commissions that I may earn from you using these products.