Hello there! My name is Emeline Hoblick, otherwise known as the sister of the fabulous Schmidty Wife! As followers of this blog may well know, my sister Lauren is having a baby and needs a quick break from blogging for family time. In the meantime, welcome to SISTER FOOD BLOG TAKEOVER 2018. Friends (I think we're friends now), I am so excited to be guest hosting this blog. My sister is such a talented cook and I hope I can do the blog justice! Today we are making Chicken and Shrimp Paella!
Just a little background about me. I was born and raised in Minnesota, but over three years ago, I made a move to Pierre, South Dakota to take a job. Not long after I moved to South Dakota is when I met my husband Dan. Dan had also moved to Pierre to take a job and is originally from Ohio.
After a little more than one year of marriage, let's just say that I've learned how different Dan's go-to recipes are from mine. And boy has that made it interesting! When I first started thinking about recipe ideas for the blog, I had a few ideas in mind with the number one goal of keeping it simple. I'm sure I'm not the only one here that needs the majority of dinners to be on a pretty quick timetable. My husband and I are like senior citizens, we love to eat dinner around 5:30 so most of the time, I find recipes that don't take too long.
Cut to today's recipe! Chicken and Shrimp Paella.
This recipe is slight twist on are recipe from Dan's grandma's recipe that is hand-written in his recipe book. It's glorious spicy one-pan dish that comes together in just half an hour. In case you want to pair this recipe with an adult beverage, I believe this recipe pairs lovely with a dry rosé.
Happy cooking!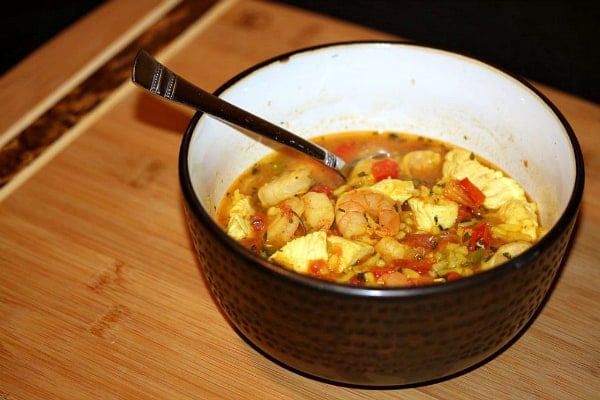 Chicken and Shrimp Paella
a homemade version of a paella starring chicken and shrimp
Ingredients
2 teaspoons olive oil
2 boneless skinless chicken breasts
1 onion, diced
2 cloves garlic, minced
3 cups chicken broth (24 oz)
2 (10 oz) cans diced tomatoes with mild green chilies (drained)
1 teaspoon smoked paprika
1/2 teaspoon ground cumin
1/2 ground coriander
1/2 teaspoon ground turmeric
1/2 teaspoon salt
1 cup uncooked rice
1/2 red bell pepper, thinly sliced
1/2 green bell pepper, thinly sliced
3/4 pounds small shrimp, cleaned
1 teaspoon hot sauce*
¼ cup chopped parsley (optional)
Instructions
Chop chicken into bite size pieces. Heat up a large pot over medium high heat and add the olive oil. Add chicken to the pot and sauté for 5 minutes, or until cooked through.
Remove the chicken from the pot and set aside.
Add onion and garlic to pot, stir and cook for 1-2 minutes or until the onions are browned and translucent.
Add chicken broth, tomatoes, smoked paprika, cumin, coriander, turmeric, and salt, and bring to a boil.
Stir in rice, lower heat and simmer for 15 minutes.
Stir in the red and green bell pepper and simmer covered for another 5 minutes or until rice is cooked tender.
Add chicken and shrimp and cook for one minute, then cover and let sit for 5 minutes.
Stir in hot sauce and parsley. Remove from heat and serve immediately.
Notes
*use more or less depending on how spicy you want the dish
Nutritional data is automated, final nutritional information will depend on ingredients used and any changes made.
Nutrition Information:
Yield:

4
Amount Per Serving:
Calories:

401.75
Total Fat:

7.13g
Saturated Fat:

1.39g
Sodium:

722.99mg
Carbohydrates:

38.73g
Fiber:

4.19g
Sugar:

5.72g
Protein:

43.6g
Love,
Emeline – Sister Takeover 2018
Looking for more dinner ideas? Check out Shrimp Stir Fry, 20 Minute Chicken Stir Fry, or One Pot Southwest Quinoa.
Please note that my links above may be affiliate links, and I will earn a commission if you purchase through these links. I recommend them because they are helpful, and are companies that I trust, not because of the commissions that I may earn from you using these products.