I love Chicken Fajitas, they are so easy to make and always so delicious. But since it has been so cold and snowy here I have been wanting warm comfort foods. So I compromised and came up with a Chicken Fajita Soup! I usually prefer my fajitas to be done on the grill but right now there is literally 2 feet of snow on our grill, not very conducive to grilling. So even though I can't grill I still brought all of the wonderful flavors of fajitas together in this delicious soup, done just right with spiced chicken, corn, onions, and flavorful peppers.
I have already shared with you my Fajita Seasoning and my Skillet Chicken Fajitas, so I am pretty excited to now share with you my Chicken Fajita Soup. In this soup, I use my Fajita Seasoning to bring bold flavors so you can click HERE to get the recipe or use your own or store bought.
When trying to decide what route I wanted to go with this soup the peppers were my biggest dilemma. I wanted bright flavors from the peppers but it sounded so hard to do by just boiling them in the soup so I broiled them. While Fajita Seasoning, chicken, onions, and corn boil together in chicken broth I broil the peppers in the oven to get a lovely roasted flavor and then add them at the end! In my opinion it ups the flavors all together at the end because the peppers get a roasted flavor opposed to a mushy boiled flavor.
All in all this soup only takes 30 minutes to make from start to finish making it as easy and as fast as regular fajitas. So whether there is 2 feet of snow on your grill or you just want a healthy soup option this Chicken Fajita Soup won't disappoint.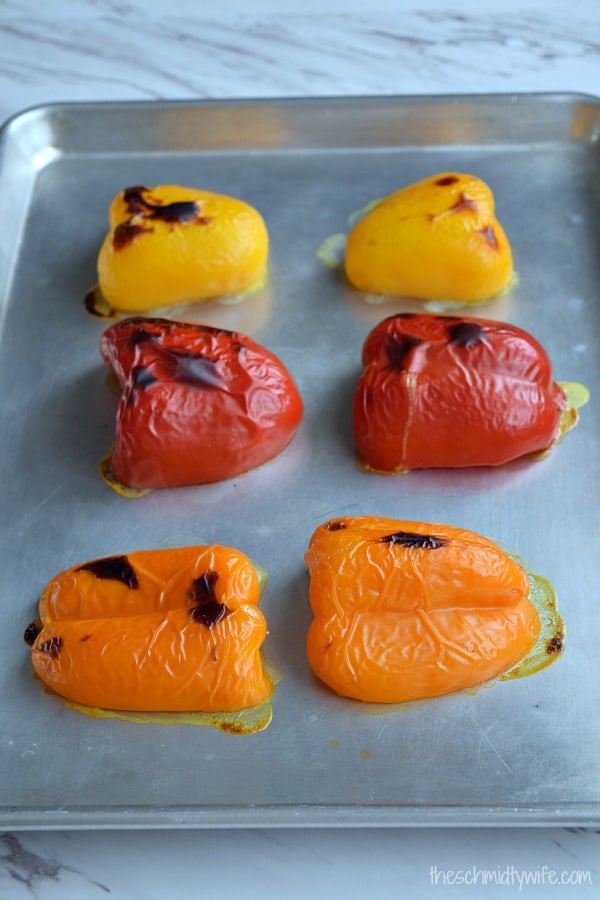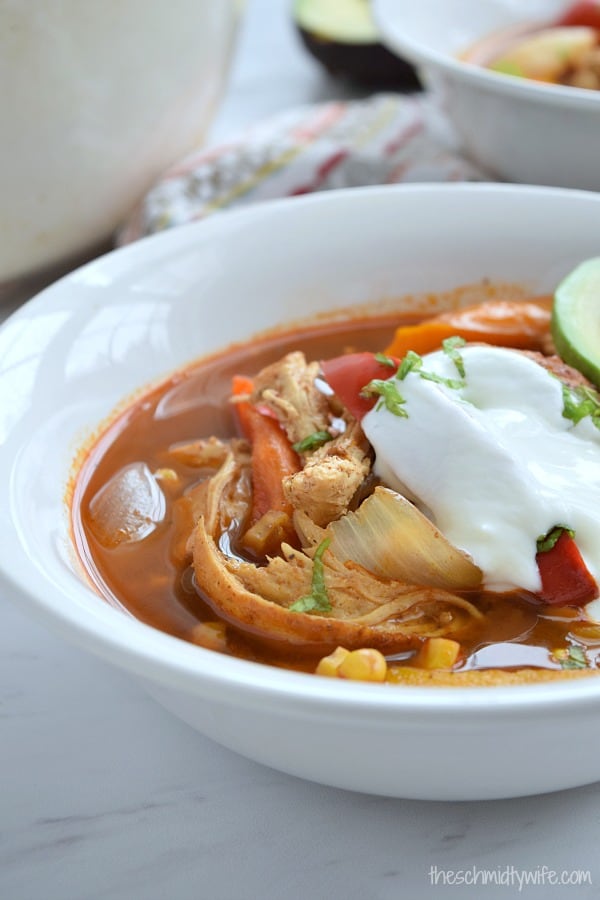 Yield: 6 servings
Chicken Fajita Soup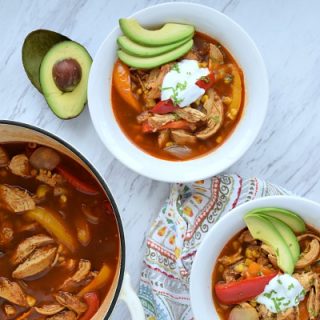 flavorful chicken soup filled with fajita seasoning and oven roasted peppers and onions
Ingredients
2 teaspoons olive oil
3 tablespoons of Fajita Seasoning
1 1/2 pounds chicken breast
1 large onion
1 (15oz) can corn, drained
4 cups chicken broth
2 cups water*
3 bell peppers (1 red, 1 yellow, 1 orange)
Optional Garnish: sour cream, cilantro, avocado, tortillas, tortilla chips, lime wedges
Instructions
Slice the onion into large chucks. Slice the bell peppers in half the long way and then remove the stem, seeds, and any unwanted white parts.
Heat olive oil in a large pot/dutch oven over medium heat until hot and shiny. Turn oven to broil.
Use 1 tablespoon of the fajita seasoning to rub into the chicken (use more if needed).
Place chicken in pot, let cook on each side for 2 minutes until browned, 4 minutes total.
Once browned add chicken broth, water, corn, onion, and the remaining fajita seasoning to the pot. Over high heat cover and bring to boil. Boil for 20 minutes until chicken is fully cooked.
Meanwhile while soup is cooking place bell peppers skin side up on a sheet pan, place in oven on the middle rack. Let broil 10-14 minutes until tops start to blister. (Remember to keep an eye on the peppers past the 10 minute mark to make sure they don't burn, each oven is different!)
When the peppers are done, remove from oven and set aside to cool down.
Once chicken is cooked through, remove chicken from soup and set on a plate. Turn the heat for the soup to low. At this point give the soup a taste to see if you need more flavor, if you are using my fajita seasoning you might want to add salt but if you use a seasoning with plenty of salt already in it you are probably all set.
The chicken needs a few minutes to cool down before you work with it so use this time to cut the peppers into strips. Once chicken is cool enough to handle, use to forks to shred into bite size chunks.
Add the chicken and peppers to the soup. Gently stir together. Serve immediately, with optional garnishes.
Notes
*you can use all chicken broth, I just have the recipe this way because most chicken broth comes in 4 cup containers
Nutrition Information:
Yield:
6
Serving Size:
1
Amount Per Serving:
Calories:

339
Total Fat:

11g
Saturated Fat:

2g
Trans Fat:

0g
Unsaturated Fat:

7g
Cholesterol:

101mg
Sodium:

838mg
Carbohydrates:

21g
Fiber:

4g
Sugar:

6g
Protein:

39g
Nutritional data is automated, final nutritional information will depend on ingredients used and any changes made.
If you enjoyed this Recipe or any of my others let me know by using #theschmidtywife on social media!
And make sure you are following me on Instagram, Pinterest, and Facebook for all the latest recipes!
Peace & Love
Lauren, The Schmidty Wife
P.S. Looking for more recipes? Check out my Shrimp Stir Fry or my Easy Southwest Chicken.
Please note that my links above may be affiliate links, and I will earn a commission if you purchase through these links. I recommend them because they are helpful, and are companies that I trust, not because of the commissions that I may earn from you using these products.