A quick & easy vegetarian shawarma bowl made with chickpeas, quinoa, and fresh vegetables. This healthy Chickpea Shawarma Buddha Bowl makes a delicious weeknight meal!
This post may contain Affiliate Links.
All you have to do is say the word shawarma and my mouth starts to drool. So get this every time I move the LAST thing I do is look for a good Mediterranean place. Wait you say if you like it so much why is it the last thing you do? Because once I find a place with a really good shawarma (and gyro) that will be the only place I will want to eat out at, like period. So that is my logic behind finding a good Mediterranean place last.
So is it obvious yet that a good shawarma is one of my favorite meals. But it is so stinking hard to make really good ones at home. Most of us don't have the proper equipment to make that deliciously roasted meat. So because I don't go out and buy shawarmas every week I came up with this much healthier version, a Chickpea Shawarma Buddha Bowl to try to keep my cravings down in between shawarma runs.
It starts with a base of quinoa, loaded up with arugula, topped with flavorful oven roasted chickpeas. Then load on your favorite toppings including feta cheese, cucumbers, red onions, banana peppers, kalamata olives, and whatever else sounds good to you. To finish drizzle with a quick tahini dressing (if you aren't a fan of tahini a spoonful of hummus or tzatziki sauce are just as delicous). The beautiful thing about Buddha Bowls is that you can personalize them you what you like! So if you love red onions pile them high, if you hate red onions leave them off, the options are endless. If you are like me and love a good shawarma but resist the urge to go out and get one every week then try a Chickpea Shawarma Buddha Bowl to ease your cravings, Enjoy!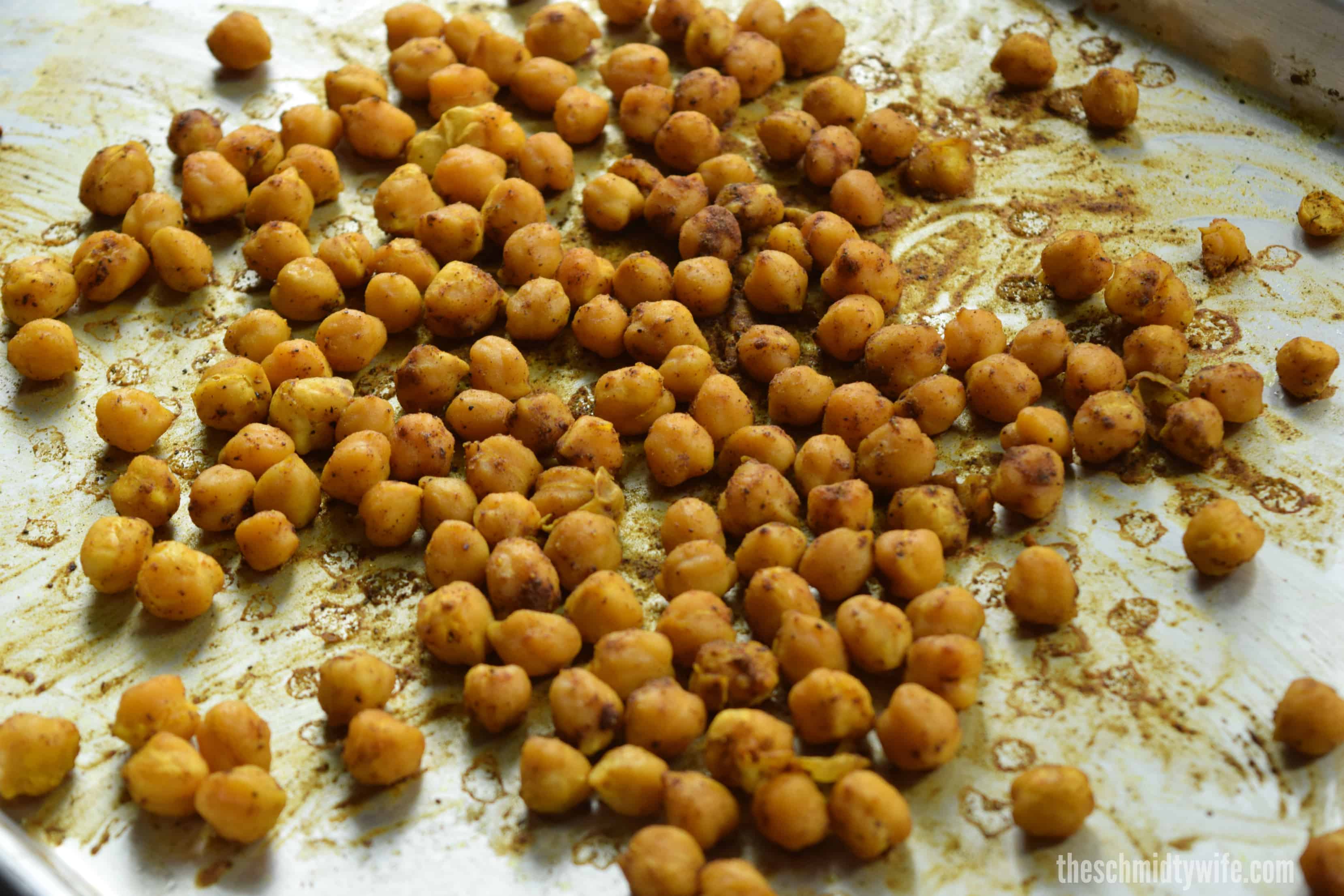 Yield: 2 Bowls
Chickpea Shawarma Buddha Bowl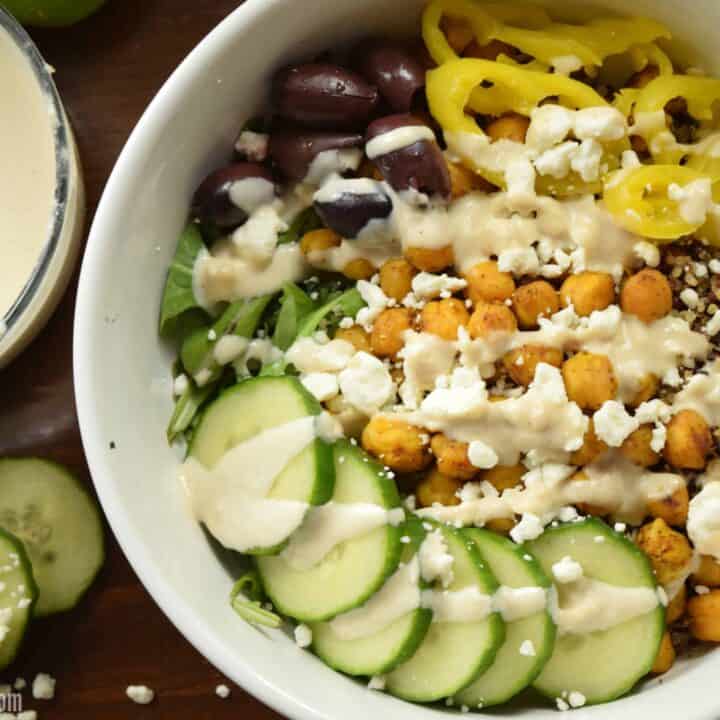 A quick and easy vegetarian shawarma bowl made with chickpeas, quinoa, and fresh vegetables.
Ingredients
1/2 cup of quinoa (I used multicolored but any kind will work)
1 cup water
1 can of chickpeas, drained and rinsed
1 teaspoon cumin
1/2 teaspoon ground turmeric
1/4 teaspoon ground black pepper
1/4 teaspoon ground cinnamon
1/4 teaspoon salt
2 teaspoons oil (I have used both olive and coconut both worked great)
toppings:
arugula
sliced red onion
cucumber
feta cheese
banana peppers
kalamata olives
quick tahini dressing:
1/2 cup tahini
1/4 cup or more of water
juice of half a lemon or lime
2 cloves of garlic minced
Instructions
Preheat oven to 400ºF.
In a small saucepan add the quinoa and 1 cup water. Heat covered on high until boiling. At boiling reduce heat to simmer and cook 10-15 minutes until ready.
While quinoa is cooking spread chickpeas on a baking sheet. Drizzle with oil and toss to coat. Season chickpeas with cumin, turmeric, black pepper, cinnamon, and salt. Toss the chickpeas to coat in the spices. Place in oven cook for 14-16 minutes.
In a small bowl wisk together tahini, water, lemon or lime, and garlic (and water to a consistency that works for you, I sometimes add more for a runnier dressing).
Prep toppings, cut onions and cucumbers if using.
Once the quinoa and chickpeas are ready you can build your bowls. Divide the quinoa between two bowls, add a few handfuls of arugula to each, divide the chickpeas. Top each bowl with preferred toppings, and drizzle with tahini dressing. Enjoy!
Nutrition Information:
Yield:
2
Serving Size:
1
Amount Per Serving:
Calories:

876
Total Fat:

46g
Saturated Fat:

8g
Trans Fat:

0g
Unsaturated Fat:

35g
Cholesterol:

13mg
Sodium:

1134mg
Carbohydrates:

99g
Fiber:

21g
Sugar:

29g
Protein:

31g
Nutritional data is automated, final nutritional information will depend on ingredients used and any changes made.
And make sure you are following me on TikTok, Instagram, Pinterest, and Facebook for all the latest recipes!
Lauren, The Schmidty Wife
P.S. Don't forget to sigh up for weekly emails full of tasty recipes!
[mc4wp_form id="753″]