I figured out the trick to get the BEST Chocolate Hummus in the world, so smooth and creamy. The trick is all in the bean, and guess what its not a chickpea, its Great Northern Beans. With just 4 simple ingredients you will have amazing chocolate hummus in no time. Plus a section on what to eat with chocolate hummus, this is a dessert hummus recipe you'll go back to again and again.
This post may contain Affiliate Links.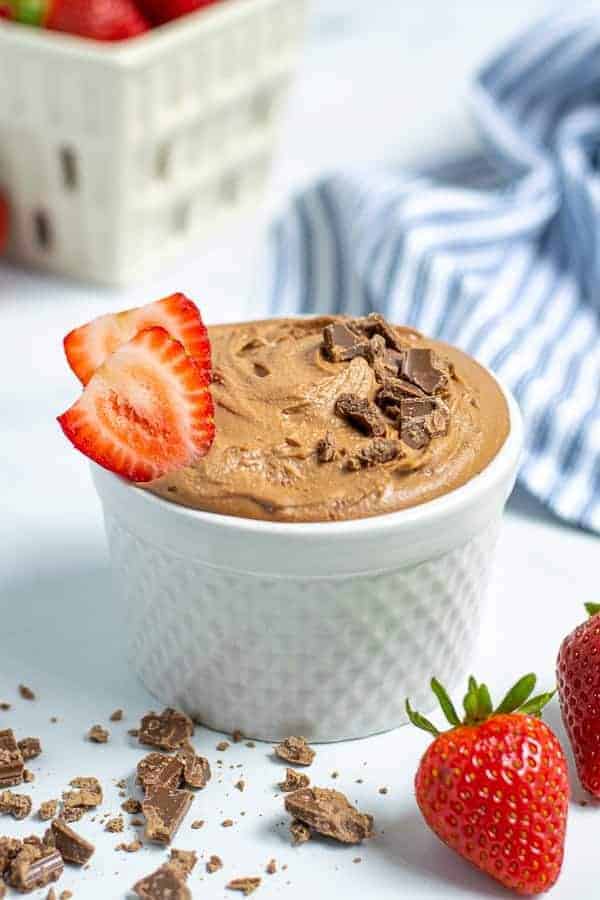 Chocolate Hummus Recipe
When I was pregnant with my second son Fred I ate chocolate hummus like it was going out of style during my first trimester. Funny enough I thought at that point I had really figured out the key to chocolate hummus, but as time would tell I didn't, until now.
Just a few weeks ago I unlocked the trick to the best chocolate hummus ever and there is no looking back. The trick?
Great Northern Beans.
I took a note from my Roasted Garlic White Bean Hummus, thinking about the seriously smooth consistency that the great northern beans gave to the dip and I knew I had to make a chocolate version.
BEST IDEA EVER.
It came together quick. Now if you are a hummus purest, I shouldn't technically be calling this a hummus, BUT in the dessert hummus category I feel like the rules change and so I am officially announcing this hummus. So lets take a look at these simple ingredients and how to make chocolate hummus.
Chocolate Hummus Ingredients
First off, Great Northern Beans. Like I said above we are ditching the chickpeas or black beans that you find most dessert hummus and switching it out for the much milder Great Northern Bean.
Great Northern beans are perfect for a chocolate hummus because they are soft skin, a smooth inside, and a mild flavor which tends to take on the flavors of the dish. So if you want smooth and delicious isn't great northern beans the obvious choice?
Now because these beans aren't as common place as chickpeas or black beans you might be able to get away with using a navy bean instead but the skin on a navy bean might be a little tougher than that of a great northern beans. but if you are in a pinch it should work.
Next up 100% Peanut Butter. In my mind when I was developing this recipe I was thinking that peanut butter would basically be the replacement for the usual tahini. It would provide the same texture but be a better flavor for chocolate as opposed to tahini.
I strongly recommend using 100% peanut better here because of the consistency of a natural peanut butter is very different than one with added ingredients. If you are up for making your own check out my How To Make 100% Peanut Butter post!
Next is the cocoa powder. Regular good old baking cocoa powder works great here. And if you are feeling it I think that a dark chocolate cocoa powder would also be incredible.
To sweeten it just a little pure maple syrup plays off the rest of the flavors perfectly, along with a pinch of sea salt. That's right a pinch of sea salt will actually make the dessert hummus taste better!
Lastly for consistency I do recommend adding a few tablespoons of water at the end.
That is it, simple right? You might even have everything you already need in your pantry!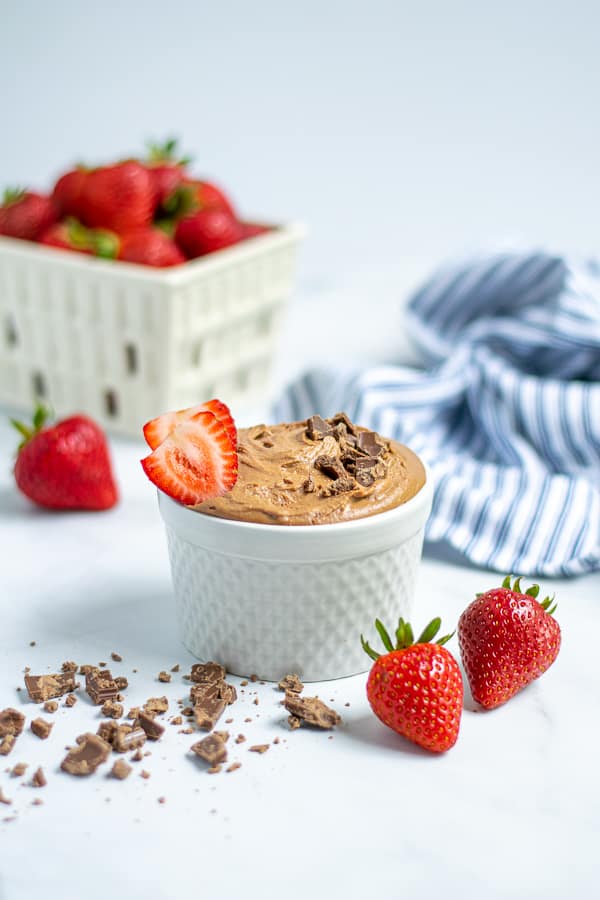 Is Chocolate Hummus Healthy?
Yes. I mean healthy is a relative term, which means healthy means something different to everybody but in my opinion I think most people would consider this recipe of chocolate hummus healthy.
The base of this hummus is great northern beans which are high in fiber, are an excellent source of folate, and are high in healthy minerals lie manganese.
100% peanut butter is a much healthier option than using a processed peanut butter full of added sugars and preservatives, so if you are using a peanut butter with added sugars this will change the nutrition a bit. But peanut butter is a great source of protein!
Cocoa powder is full of natural antioxidants!
And by skipping the processed sugar and using maple syrup that is full of nutrients like calcium and potassium. Maple syrup is also has a lower glycemic making it a better option than cane sugar.
So over all there are many attributes that would make chocolate hummus healthy!
How to make Chocolate Hummus
To start you will want to make sure that your beans are drained and rinsed really well. I love my little colander like this one
for recipes like this.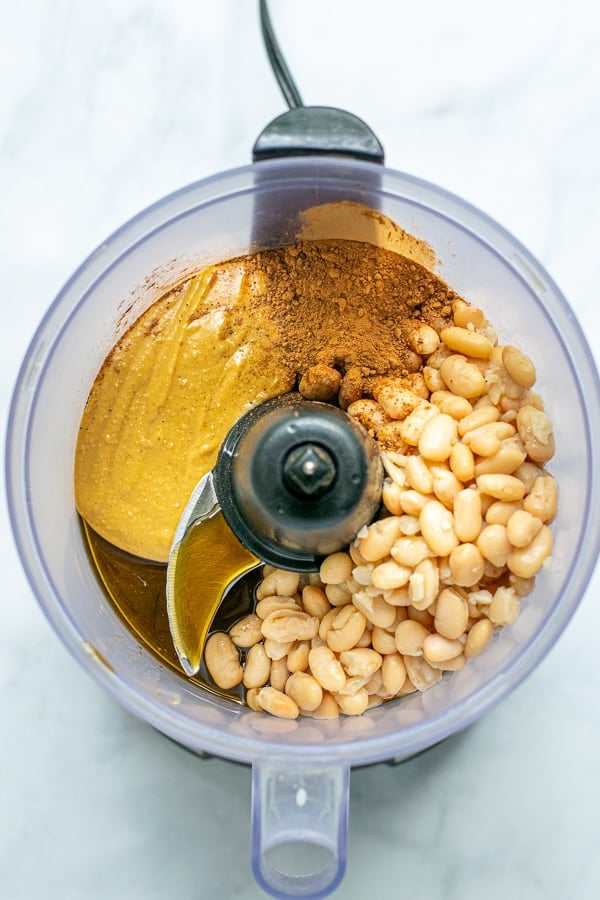 Add your great northern beans, peanut butter, cocoa powder, maple syrup, and dash of sea salt to a food processor.
Start the food processor. As things start to become smooth drizzle water 1 tablespoon at a time until a smooth spreadable consistency. I usually use 2 tablespoons but 3 will give it a thinner consistency.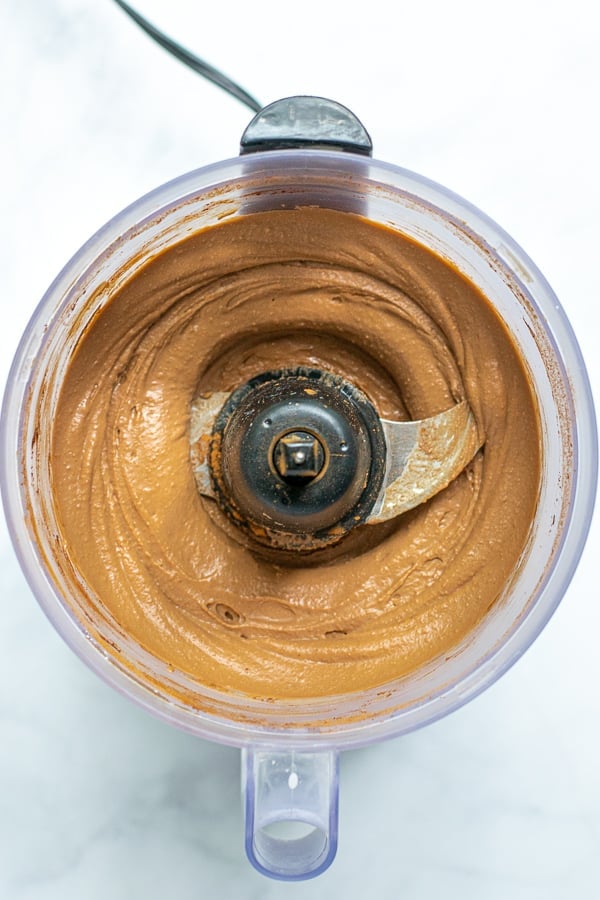 Continue to processes until everything is smooth. Serve immediately, it is best at room temperature.
What to eat with chocolate hummus
Fruit! Strawberries are the best with chocolate hummus hands down. My next fruit suggestions would be apple slices or spread it on a banana.
Pretzels
Graham Crackers
Sweet pita chips
Spread on a warm piece of toast (trust me on this one, makes the best breakfast!)
Spread on a rice cake and top with fruit
Turns out there is quite a bit that goes well with chocolate hummus! 😉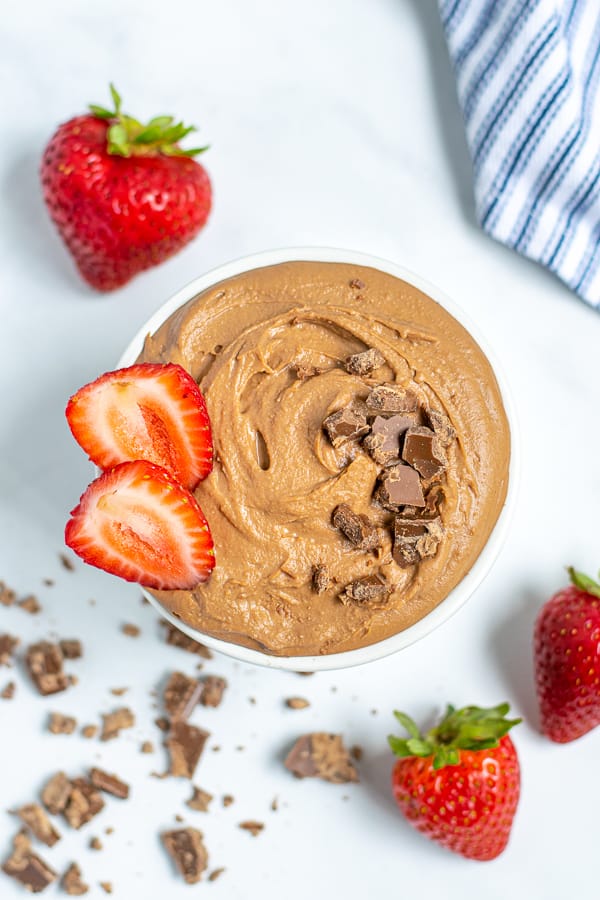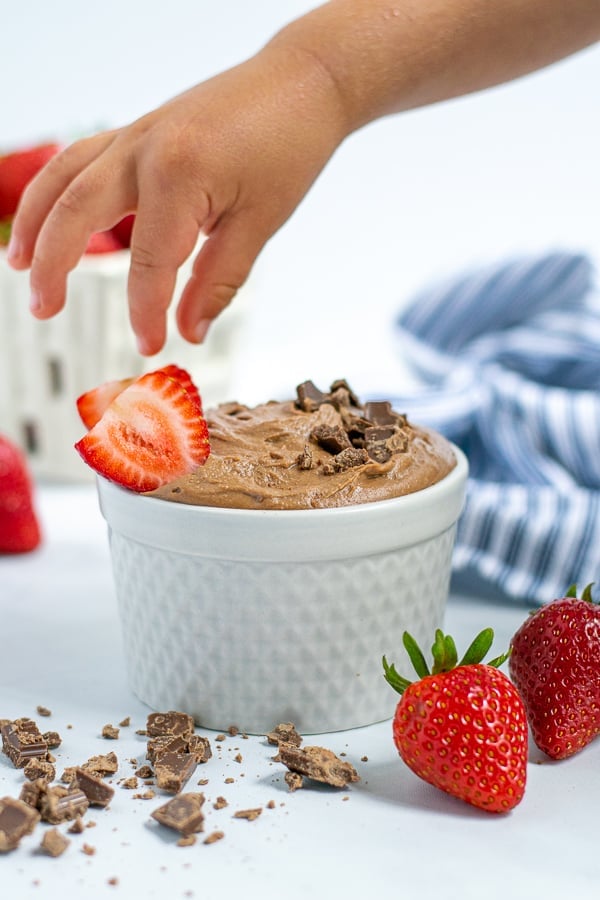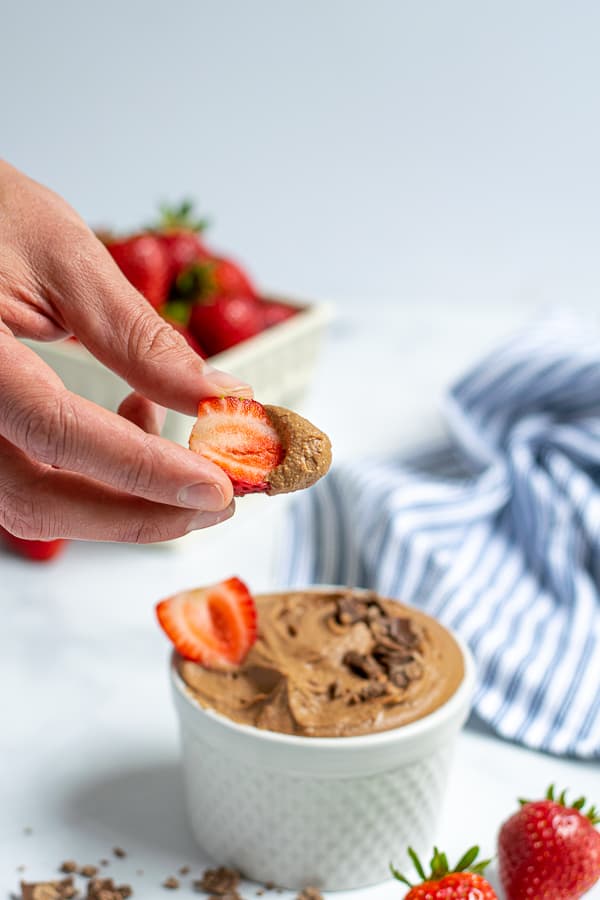 You might also like:
Yield: 1.5 cups
Chocolate Hummus
this delicious and easy to make dessert hummus feaetures simple ingredinets like Great Northern Beans, Peanut Butter, and Chocolate to make a perfect snack or dessert chocolate hummus
Ingredients
1 (15oz) can great northern beans, drained & rinsed well
3 tablespoons 100% peanut butter
1 tablespoon cocoa powder
1 tablespoon maple syrup
dash of sea salt
2-3 tablespoons water
Instructions
Add great northern beans, peanut butter, cocoa powder, maple syrup, and dash of salt to a food processor.
Start food processor. As things start to become smooth drizzle water 1 tablespoon at a time until a smooth spreadable consistency.
Once everything is smooth transfer to a bowl to serve. Serving suggestions, great with fruits like strawberries and apples, spread on bananas, dip for graham crackers, and amazing on a slice of warm toasted bread.
Notes
No one would ever be mad if you garnish this with choclate shavings or chocolate chips.
Recommended Products
As an Amazon Associate and member of other affiliate programs, I earn from qualifying purchases.
Nutrition Information:
Yield:
4
Serving Size:
1
Amount Per Serving:
Calories:

141
Total Fat:

6g
Saturated Fat:

1g
Trans Fat:

0g
Unsaturated Fat:

4g
Cholesterol:

0mg
Sodium:

59mg
Carbohydrates:

16g
Fiber:

4g
Sugar:

4g
Protein:

7g
Nutritional data is automated, final nutritional information will depend on ingredients used and any changes made.
If you enjoyed this recipe or any of my others let me know by using #theschmidtywife on social media!
And make sure you are following me on Instagram, Pinterest, and Facebook for all the latest recipes!
Peace & Love
Lauren, The Schmidty Wife