YES! CH
OCOLATE PEANUT BUTTER BLACK BEAN MUFFINS!
This is such a fun exciting recipe I promise, but before we get to the recipe I am going to get a little personal real quick, so if you are just looking for a delicious healthy chocolate muffins recipe go ahead and just scroll down to the recipe card 😉
So this is my first recipe back after my 'maternity leave'. Well my self created maternity leave that is. I have actually been really excited to get back to my recipes and blog posts, and that makes me soo excited. Why!?! Because you guys I think I finally found my true passion!
After Archie was born, I hated that I had to go back to work at my office job. I spent my whole maternity leave thinking about how much I didn't want to go back, how I just wanted to stay with my baby. And then when I got back I didn't feel supported and I felt out of place. Well somehow in this beautiful world after only 3 months back at work when Archie turned 6 months I was able to quit my job, I was overjoyed.
Sure that meant moving across country (again) so my husband could start a new job but I was so excited to not be stuck at a desk anymore and I had the opportunity to make something for myself while staying with my son.
So fast forward 2 years I have a happy husband, a smart toddler, a healthy newborn, and I am self employed with my own blog I created. Talk about living the dream.
So why am I bringing this up? Because finding your passion is so exciting and I just needed to share how much I deeply appreciate every single one of you reading this right now. It has been such a difference this time around with Fred. He is healthy and I am enjoying every second of his presence and being at home with my boys, while at the same time I am excited to 'get back to work'. I have been itching to get my camera back out and let my recipes I have been working on be shared.
So basically what I am saying if you aren't happy with what you are doing, try to find a way that you can be! It will make such a difference in your life 🙂
I could literally gush on and on about this but I do realize you want to learn more about this AMAZING Chocolate Peanut Butter Black Bean Muffins.
So these are actually super easy to make, my 2 year old even loves to help, and because these are 'healthier' I don't feel super guilty when he tries to eat them all. Everything is loaded into the food processor (or high power blender) and mixed into a chocolatey batter, easy peasy! You can then have fun with them by adding extra peanut butter and chocolate on top!
So besides being easy let's talk why.
So black beans are a weird but excellent substitute to flour, so whether you are just trying to watch your refined flour intake, are gluten free, or looking for a healthier option black beans are great. Plus it's super fun trying to make people guess what the secret ingredient. I personally love how black beans are high in fiber so we can eat these for breakfast (yes chocolate for breakfast, no judgment please) and they keep us feeling fuller than a traditional muffin.
I honestly have been making these weekly the past 2 months and I don't see myself stopping anytime soon. So chocolatey and healthy, you better grab a can of black beans and get baking 😉
TIPS & TRICKS:
• You'll need a food processor or high powdered blender to make these muffins
• Plain greek yogurt or just plain yogurt both work in this recipe, a yogurt with a higher fat content works best (whole milk)
• To keep sugar and chemicals in check use 100% natural peanut butter, check out my post on How To Make 100% Peanut Butter if you don't already have some at home
• I love love love my silicone muffin liners that you see in the pictures, I mentioned I wanted some to my husband and he pulled through on my last birthday and spent big money (like $6 hahaha) and got some for me. Mine are actually the AmazonBasics Reusable Silicone Baking Cups
and I would highly recommend them!

Yield: 12 muffins
Chocolate Peanut Butter Black Bean Muffins Recipe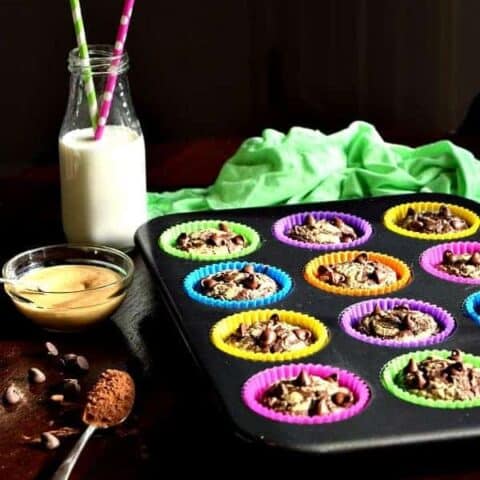 delicious chocolate and peanut butter muffins made with black beans instead of flour
Ingredients
1 15 ounces can black beans, drained and rinsed
1/2 cup old fashioned or quick oats
2 eggs
1/4 cup plain greek yogurt
1/4 cup 100% natural peanut butter (plus more for topping)
1/4 cup sugar
1 teaspoon vanilla
1 teaspoon baking powder
pinch of salt
2 tablespoons cocoa powder
1/2 cup semi-sweet chocolate chips (plus more for topping)
Instructions
Preheat oven to 350º F. Line muffin tin with muffin liners*.
Add oats to food processor (or high powdered blender). Blend for 20-30 seconds to break up oats.
Add black beans, eggs, yogurt, peanut butter, sugar, vanilla, baking powder, salt, and cocoa powder to food processor. Blend together for 45-60 seconds (will depend on the power of your machine you are using) until you have a nice and smooth batter, ensuring the beans are blended smooth into the rest of the ingredients.
Stir in your chocolate chips to the batter.
Evenly distribute the batter into 12 muffins filling each muffin about 3/4 of the way full.
If you want to top your muffins with extra peanut butter and/or chocolate chips now is the time. To make peanut butter swirls, and a few drops across the top of the muffin and swirl together with a tooth pick. And add a few chocolate chips on top of each muffin as desired.
Place in the middle rack of the oven and bake 13-15 minutes. A toothpick should come out of the center with a few moist crumbs. Allow muffins to cool completely before eating. Store muffins in the refrigerator.
Notes
*I highly recommend using liners for these muffins, even if you generously grease the pan they still can be hard to get out of the pan. I love my silicone muffin liners, for a few dollars they are so useful.
Nutritional data is automated, final nutritional information will depend on ingredients used and any changes made.
Recommended Products
As an Amazon Associate and member of other affiliate programs, I earn from qualifying purchases.
Nutrition Information:
Yield:
12
Serving Size:
1 muffin
Amount Per Serving:
Calories:

158.51
Total Fat:

6.26g
Saturated Fat:

2.37g
Cholesterol:

27.5mg
Sodium:

118.4mg
Carbohydrates:

22.16g
Fiber:

3.58g
Sugar:

9.06g
Protein:

5.75g
Peace & Love
Lauren, The Schmidty Wife
P.S. Looking for more muffin recipes? Check out my Banana Foster filled Banana Muffins, Healthy Sweet Potato Oatmeal Muffins, or my Pumpkin Bran Muffins.
Please note that my links above may be affiliate links, and I will earn a commission if you purchase through these links. I recommend them because they are helpful, and are companies that I trust, not because of the commissions that I may earn from you using these products.