A peppermint twist on this classic holiday cookie, this recipe for Chocolate Peppermint Crinkle Cookies results in a spectacular cookie. With a beautiful crinkle and sugary shell on the outside makes way for a moist and chocolate packed middle. Friends, family, and you won't be able to stop eating them!
This post may contain Affiliate Links.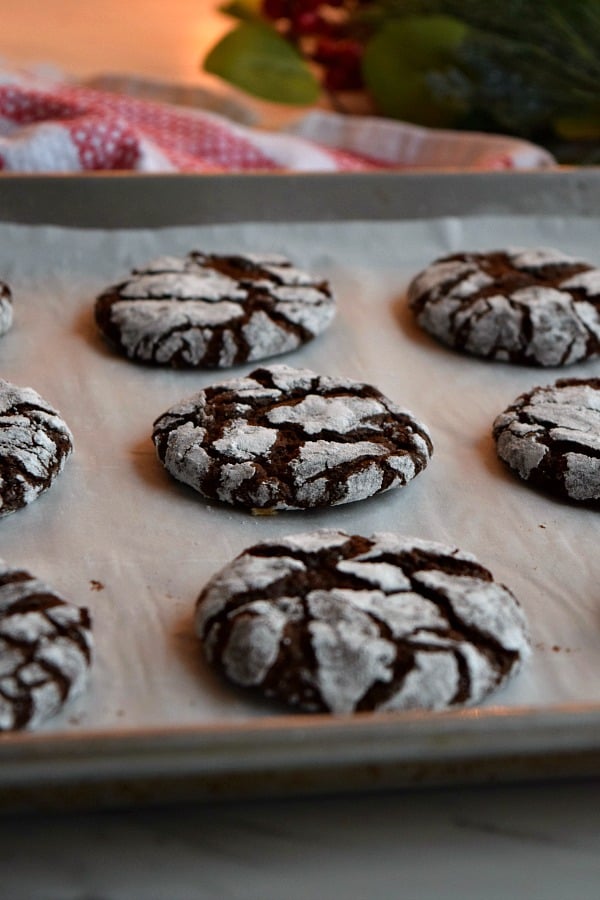 Homemade Chocolate Peppermint Crinkle Cookies
When brainstorming what sort of Christmas cookies I wanted to develop this year chocolate was a no brainer. In the past I haven't always necessarily been a chocolate person… I know I know… but this second pregnancy has me wanting chocolate nonstop. I haven't had a ton of cravings this time around, besides wanting things a little spicier the only thing I have been craving is chocolate. So I decided to use this craving to my advantage and work on developing these delicious Chocolate Peppermint Crinkle Cookies.
I wanted to give these classic cookies a fun holiday time twist so I decided what better then peppermint!
So for these crinkle cookies I wanted to make them the very best so I took a step from the America's Test Kitchen Book. To get an amazing crinkle and outside texture I roll the batter in granulated sugar first and then the classic powdered sugar. I find this little tip to make the crinkle cookies ten times better, the granulated sugar gives the cookies almost a crunchy shell on the outside avoiding the whole cookie from being to soft and falling apart.
So aside from my sugar rolling trick to make these cookies really stand out I did a few other things. You will notice I use double chocolate because well why not!? I start with the classic unsweetened cocoa powder and then add more dark chocolate! I choose to use a darker chocolate baking bar (Ghirardelli 70% Cacao Baking Bar to be exact) because I like the dark chocolate flavor mixed with peppermint.
Speaking of peppermint I choose to give these crinkle cookies a twist and go with a peppermint flavor. And they do not disappoint! I only use 1 teaspoon so you can definitely taste and smell the peppermint but it is not over powering as you are eating your cookie.
Lastly I use all brown sugar in this recipe for moisture content. Brown sugar keeps these cookies moist and soft. I would almost compare these cookies to little brownies in the sense that they hold on to their softness really well!
So now that I have given you about 100 reasons (100 right??) on why these Chocolate Peppermint Crinkle Cookies are amazing it is time to get making them yourself. I do have a video for this recipe that you can see below to help you make them! So happy baking and even happier taste testing 😉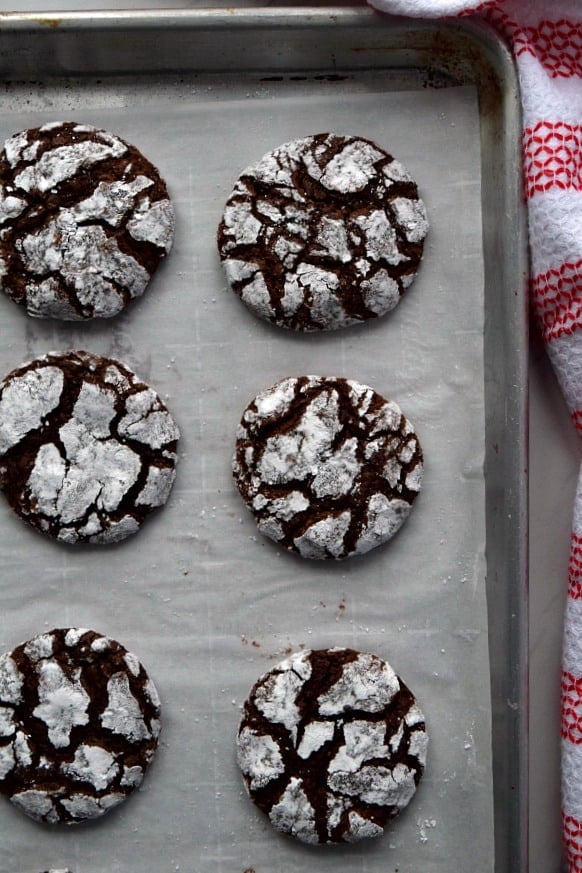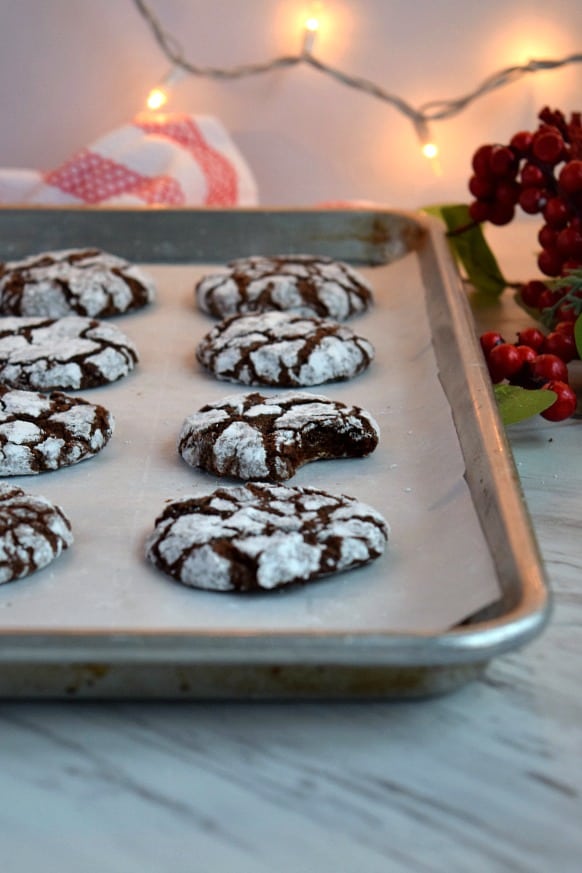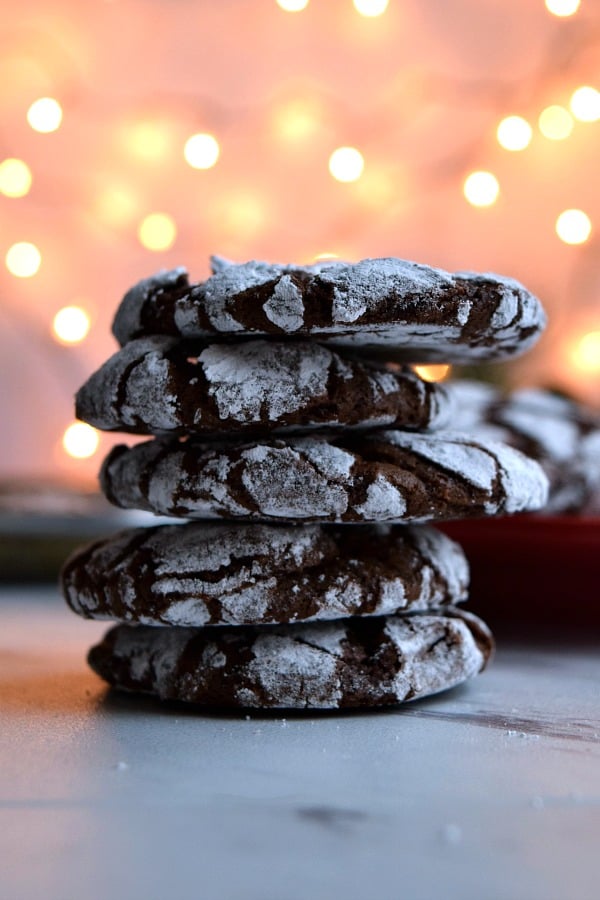 TIPS & TRICKS:
DO NOT skip the resting period, it will make it near impossible to roll out your cookies if you don't give it time to thicken and set
Getting the batter out onto the sugar can be a little difficult (especially the first few), by scooping a slightly heaping tablespoon I find using a spoon or mini spatula to plop it out of the tablespoon onto the granulated sugar works best. And as you cover the batter in the granulated sugar it will become extremely easy to roll into a ball.
For my chocolates I use Hershey's 100% unsweetened cocoa powder and Ghirardelli 70% Cacao Baking Bar, I find using good quality chocolates like these in the cookies really makes for a superior cookie
You might also like: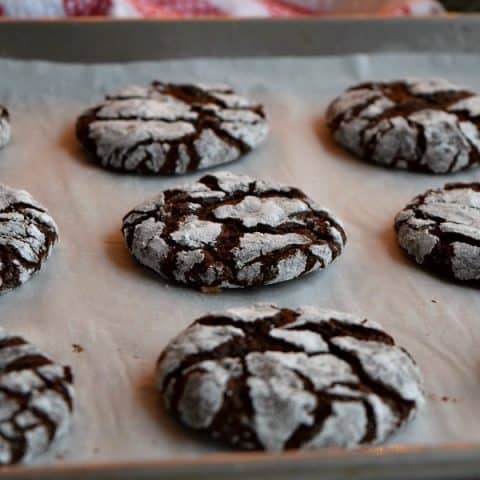 Chocolate Peppermint Crinkle Cookies
Additional Time:
13 minutes
classic chocolate crinkle cookies with a peppermint twist
Ingredients
1 cup all purpose flour
1/2 cup unsweetened cocoa powder
1 teaspoon baking powder
1/4 teaspoon baking soda
1/2 teaspoon salt
1 1/2 cups packed brown sugar
3 eggs
1 teaspoon peppermint extract
4 ounces dark chocolate (70% baking bar)
4 tablespoons cold butter, unsalted
1/2 cup granulated sugar
1/2 cup powdered sugar (confectioners)
Instructions
Preheat oven to 325º F. Line 2 cookie sheets with parchment paper.
In a medium mixing bowl stir together flour, cocoa powder, baking powder, baking soda, and salt.
Add brown sugar, eggs, and peppermint extract to a large mixing bowl. Whisk until light and frothy.
In a microwave safe bowl add the butter, cut into tablespoons and the chocolate bar broken into small pieces. Microwave for 30 seconds, and stir. Microwave an additional 15 seconds and stir again. Continue microwaving in 15 second increments stirring in between microwaving until fully melted. Be careful to not over heat your chocolate, giving a good stir at each break helps it melt faster and easier. (In TOTAL it usually only takes me between 1 minute to 1 minute and 15 seconds for my chocolate to be melted.)
Add the melted chocolate to the wet ingredients. Stir together.
Stir the flour mixture into the wet ingredients. Once fully combined let the batter rest for 15 minutes. Before resting the batter will almost seem like brownie batter, allowing it to rest will thicken it allowing it to be rolled.
While batter is resting add the granulated sugar to a plate and the powdered sugar to another plate.
Once batter has set use a tablespoon to scoop the batter, drop the tablespoon of batter onto the plate of granulated sugar (use a spoon or small spatula to help plop it into the sugar). Roll the batter in the granulated sugar, forming a ball.
Transfer the batter ball onto the powdered sugar plate and roll to cover. Transfer to the parchment paper. Repeat until the batter is gone, making about 24 cookies, 12 per cookie sheet.
In two batches bake for 12 minutes, the cookies will look raw in the cracks when done. Leave on cookie sheet to cool. Enjoy.
Notes
adapted from America's Test Kitchen Cookbook
Nutrition Information:
Yield:

24
Serving Size:

1 cookie
Amount Per Serving:
Calories:

146
Total Fat:

4g
Saturated Fat:

2g
Trans Fat:

0g
Unsaturated Fat:

2g
Cholesterol:

29mg
Sodium:

91mg
Carbohydrates:

26g
Fiber:

1g
Sugar:

20g
Protein:

2g
Nutritional data is automated, final nutritional information will depend on ingredients used and any changes made.
And make sure you are following me on TikTok, Instagram, Pinterest, and Facebook for all the latest recipes!
Peace & Love
Lauren, The Schmidty Wife