I have been provided a CrispLid by Mealthy in exchange for an honest review, all opinions are 100% mine. Please note that links in this review may be affiliate links, and I will earn a commission if you purchase through these links. I recommend them because they are helpful, and are companies that I trust, not because of the commissions that I may earn from you using these products.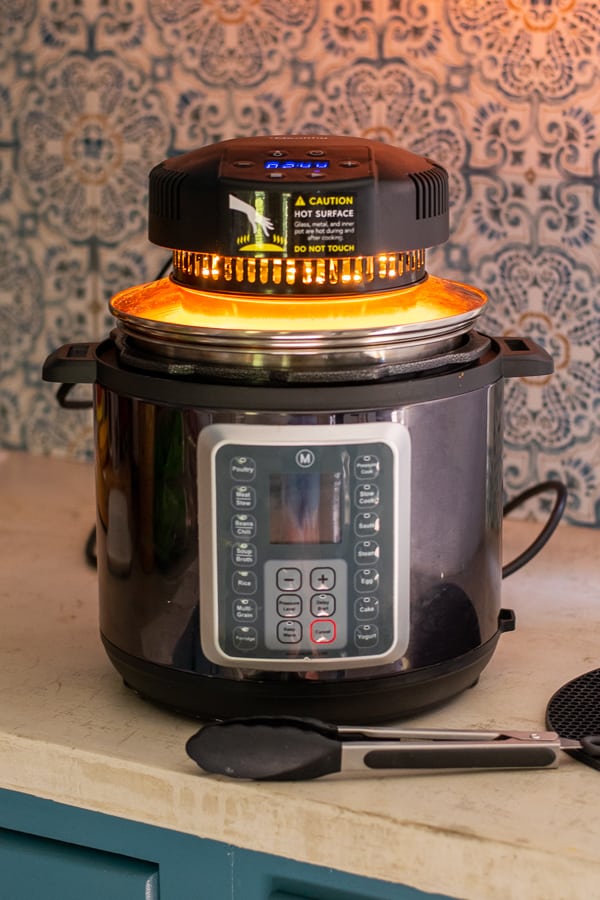 This post may contain Affiliate Links.
You know when you see/hear something and immediately you know it is going to be a total game changer? That is how I felt when I first saw the Mealthy CrispLid at the Everything Food Conference this past May.
The Mealthy team was there and showing a crowd how this new, not even on the market yet appliance worked and I instantly knew it was a game changer.
Imagine being able to take your favorite pressure cooker meals and crisp up the top, just like an oven. And even better take your existing pressure cooker and turn it into an air-fryer. Like woah, right!?
If you haven't seen or heard of this CrispLid that Mealthy had came out with now is the time to read on and learn all about this new space saving appliance!
CrispLid Review
So what is this CrispLid? It is Mealthy's newest product converting any electric pressure cooker into an air fryer. With it you can broil, crisp, and air fry directly in the steel pot of your electric pressure cooker! Compatible with any 6 or 8 quart electric pressure cookers, it is also a steal of a good price.
Taking up very little room and the solution to having yet another full size kitchen appliance the CrispLid does exactly what it sounds like it should… It is a lid that makes things crisp!
The CrispLid Features
The best thing about this appliance is that it is made to fit any size pressure cooker, so no matter what. So whether you have a small or large pressure cooker, or multiple sizes, this lid will work for you.
It is extremely easy and fast to use. There is essentially no prep work with getting it started besides setting the time and temperature buttons, and it is super easy to clean.
You are set up ready to go straight out of the box. Mealthy provides you with not only the CrispLid but also fryer basket, raised trivet, stainless steel tongs, heat resistant mat, and recipe book all included.
Automatic shutoffs to ensure safety and overheating
So how does the CrispLid Work?
I'll show you! I picked up some of my favorite frozen sweet potato puffs so you could see this air fryer skills in action.
The CrispLid is intuitive to use, it has buttons to set a temperature and time with up & down arrows to make your selection. It also has the start and stop buttons.
With the CrispLid comes a heat resistant silicone mat, this is needed for when you are done as a safe spot to set the hot lid.
I use my CrispLid with my Mealthy MultiPot, you can read my review for that here.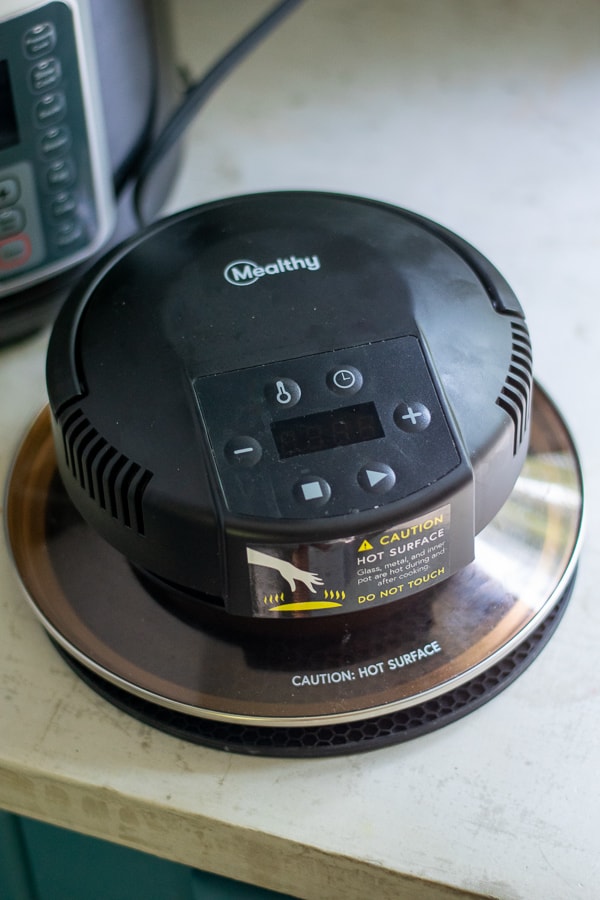 To set up your pressure cooker for air frying you will add the trivet and basket into the pressure cooker as shown. You will also need your tongs handy to flip the food.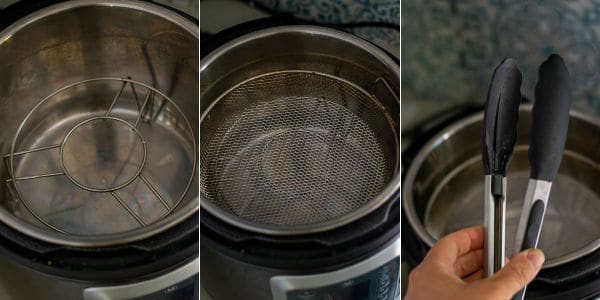 You will add whatever you are cooking, in this case sweet potato tots to the basket. Just like normal frying you don't want to overcrowd the basket or things won't cook evenly.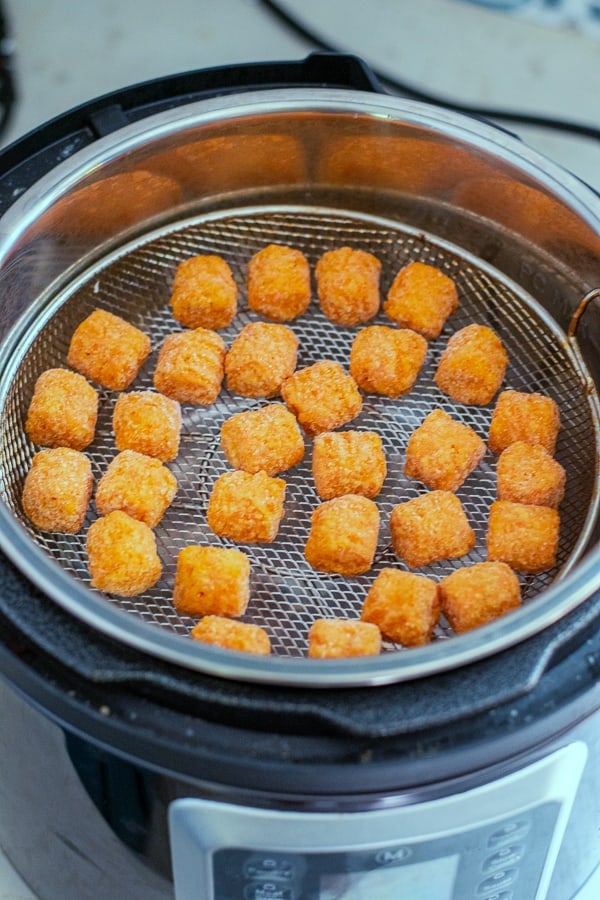 Since I am using frozen food in this example you don't need to add oil BUT if you are making anything fresh you will need spray oil(s) to lightly coat your food. My favorites to use are this one
and this one
.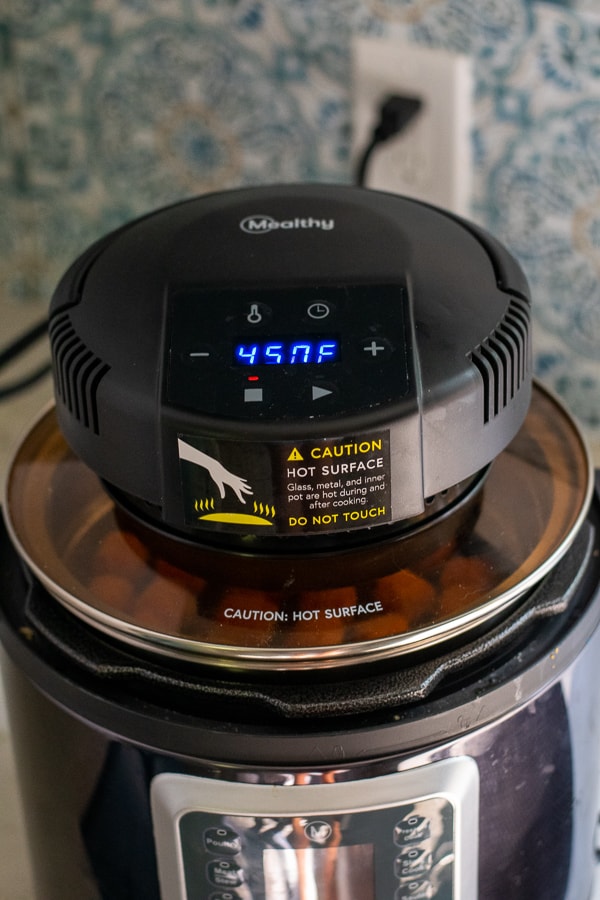 Next you place on the CrispLid. Use the arrows to set the temperature and time.
For frozen foods I set the temp to what the directions state. And since the food will need to be flipped halfway through, I set the time to roughly 4th of what the directions state.
One of the BEST parts of the CrispLid is that you can see the food as it is being cooked so you can easily adjust the time if it needs more or less.
Now press that start button!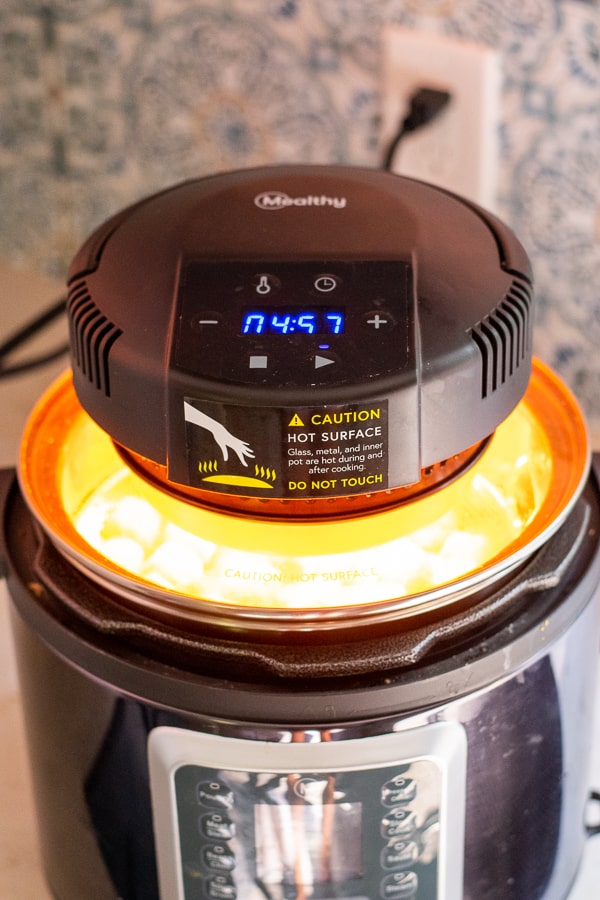 The CrispLid works by the broiler turning on and off in increments while the fan continues to blow the hot air around in the pressure cooker cooking the food. So as the food cooks you will see the broiler light turn on and off as it continues to cook.
And like I stated before, you can sit and watch your food cook!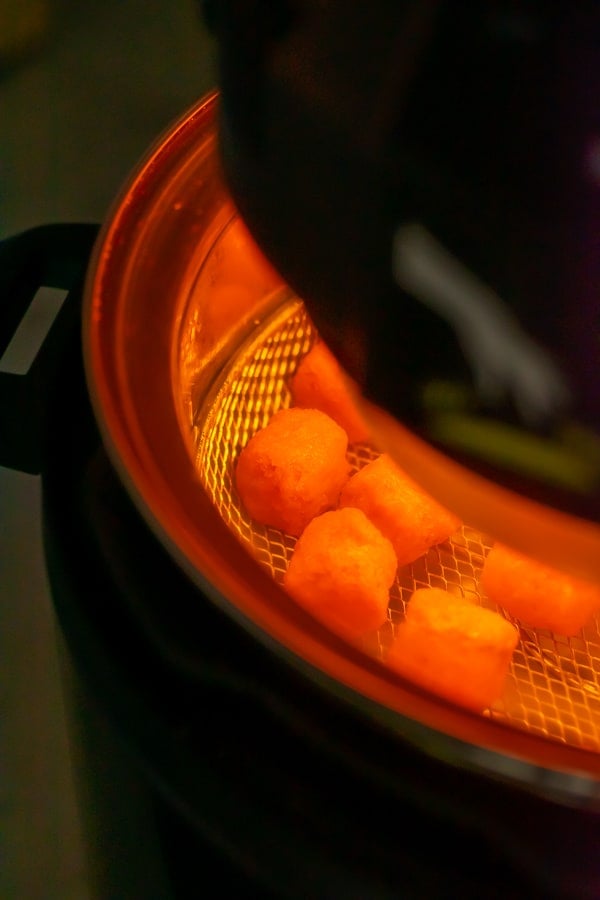 When the time runs out the machine will beep and the food will need to be flipped. (Obviously if you are just using it as a broil, lets say on the top of a lasagna you won't need to flip the food). By lifting the handle up you will automatically turn off the lid.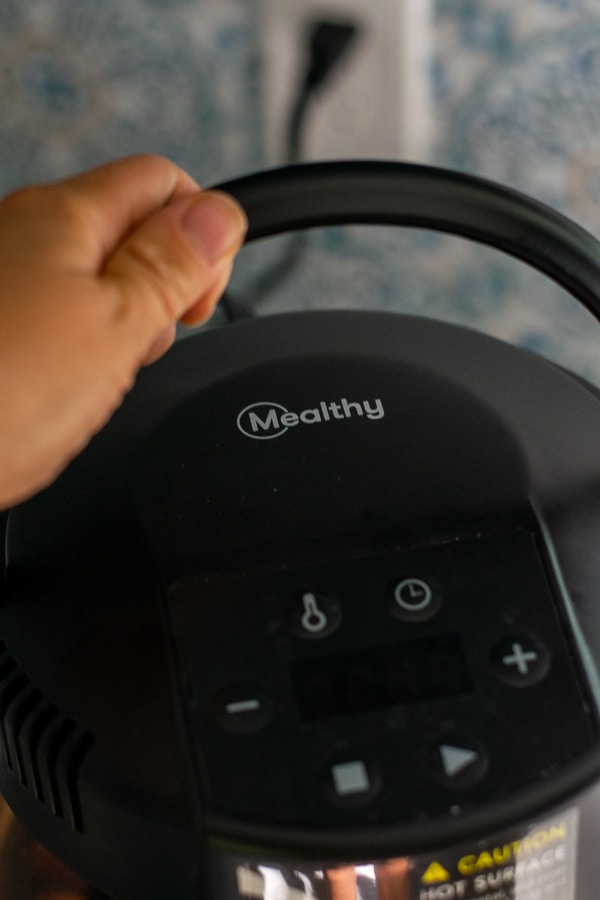 Set the lid on the silicone and flip the food and then place the lid back on. Another nice feature of the lid is that the lid remembers the last setting, so when flipping food and you are ready to start again you don't have to reset the lid, just press start again!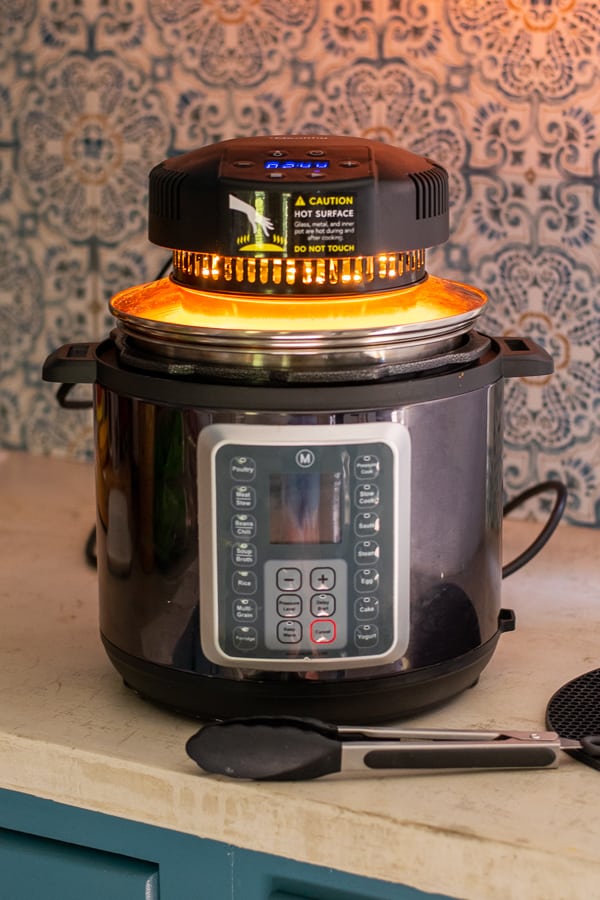 The clock will count down as you anxiously await your food.
And boom it is ready to go.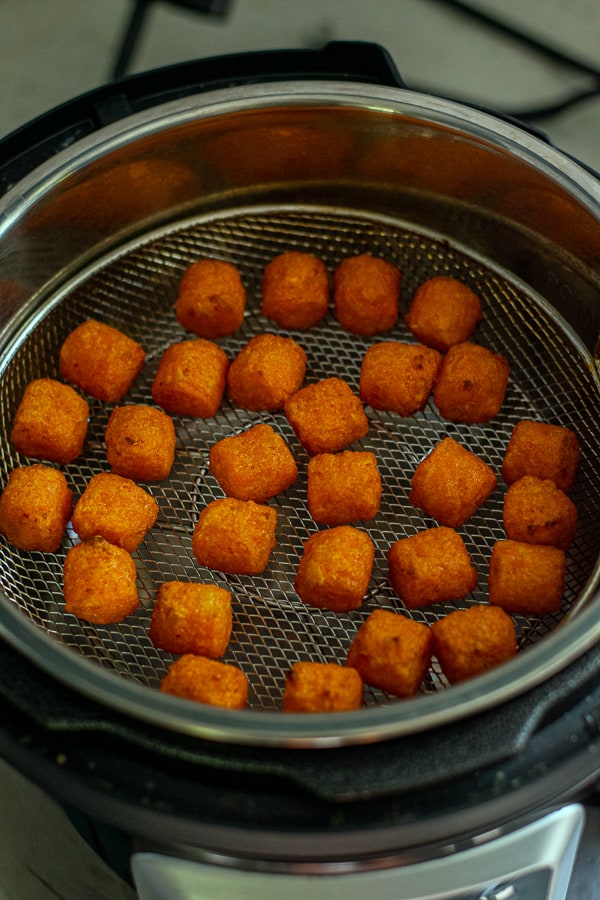 Cleaning is a breeze, just wipe down the lid with a clean towel once the lid has cooled down.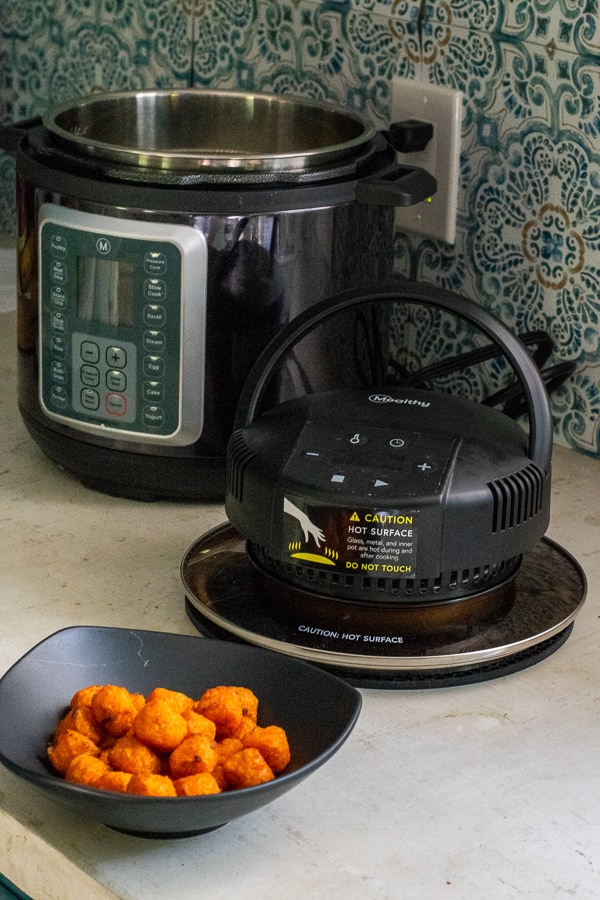 PROS & CONS
So that is how the CrispLid works, lets look at the pros and cons:
The Pros
Budget Friendly. The CrispLid is normally priced at $59.95 (as of 8/21/2019) and if you are a sale type person, it does go on sale a few times a year. Either way much cheaper than buying a whole air fryer.
Easy to Use. Can I jokingly say that it is so easy to use my husband can do it? But for real, it is very easy to use.
Compact Size. The CrispLid takes up very little room opposed to a whole additional appliance that needs to be stored, this is very important to me since we don't have the largest kitchen in the world.
Glass Lid. I LOVE that you can see your food cook, you can continue to check it while it cooks which makes adjusting time so easy.
It's fun. I know it sounds silly, but I think it is a fun appliance to use. I have become obsessed with sitting there just staring at the food crisp up. It has been fun to try all sorts of different things in it (which I hope to be sharing soon!). I even tried frozen cookie dough!
Cons
Capacity. This is only really problem if you need to make large batches in the air fryer, you can make things in batches but of course things will take longer. And to the products own defense, it really isn't possible to make it larger capacity.
Hot lid you have to move around. Swinging around a hot lid does make me a tad nervous. I can tad to be a bit clumsy and I get nervous it will get knocked and dropped and burn something, which is probably an exaggeration but that thought is still in my head.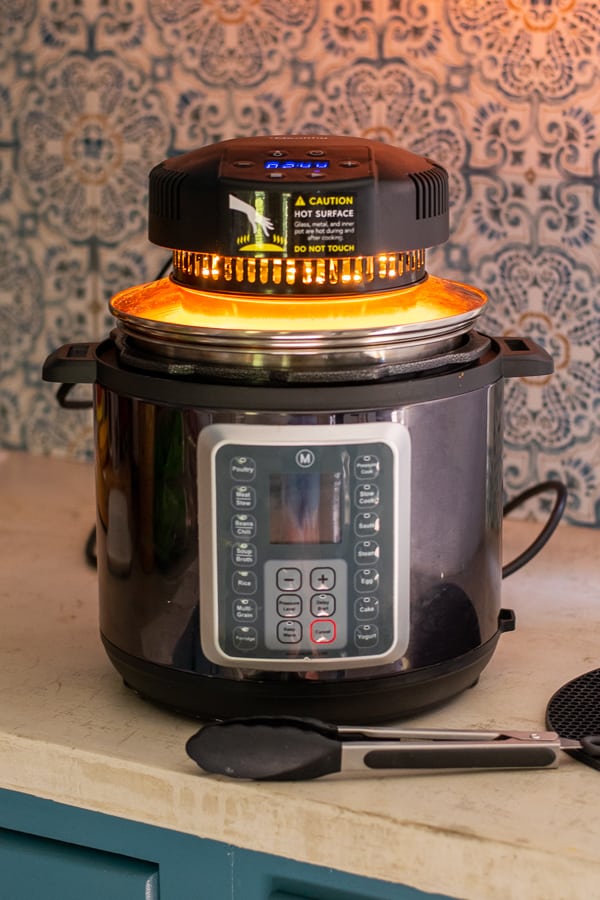 Overall my opinion of the Mealthy CrispLid?
I LOVE IT!
I would recommend to friends, especially if you are thinking about getting an air fryer and you already have a pressure cooker, I would definitely go this route.
The Mealthy CrispLid is an easy to use, fun space saving appliance that every pressure cooker owner should invest in!
2021 Update: Overall after the first few uses I discovered this appliance was not going to work for a family of 4, as a family of 1 or 2 this might work. It just wasn't big enough for the amount of food I wanted to make and it ended up collecting dust in my closet until I gave it away. If you are interested in Air Frying I recommend getting a true air fryer.
To grab yours today head over to the Mealthy Webpage HERE (affiliate link). AND guess what I have a $10 off promo code for my readers enter THE SCHMIDTY WIFE upon checkout to receive a $10.00 USD savings off the total in-cart purchase of $59.95+.
Let me know what you think and if you have any questions about it, I'd love to answer them for you! Can't wait to get some recipes out so I can really show you how awesome this appliance can be!
And make sure you are following me on Instagram, Pinterest, and Facebook for all the latest recipes!
Peace & Love
Lauren, The Schmidty Wife