For me I see the whole season of fall as a challenge to make everything I eat pumpkin flavored. I always have a can of pumpkin puree cracked open in my fridge ready to be added to anything and everything I am making. I know I am not the only person with this habit because my mother does it too (that moment when you realize you are becoming your mother). So with this cool weather now here to stay I wanted to combine pumpkin with my favorite comfort food chili but all the recipes I saw regarding pumpkin chili was not what I had in mind so I created Crockpot Creamy Pumpkin Chili.
The idea behind this Crockpot Creamy Pumpkin Chili is a white chili base opposed to your more traditional tomato based chili. So with the thought of a creamier chili in mind I started to collect the ingredients for a white chili, I started with great northern breans, green chilies, a few diced tomatoes, and some chicken broth.
When it came time to decide on the protein I was very hesitant to use chicken which is usually found in white chili so I made a mental list of different possible meats I could use and then a light bulb went off, maple breakfast sausage and oh my goodness you guys I picked a winner! The slight sweetness of the maple sausage offsets the green chilies and both compliment the creaminess of the pumpkin and cream cheese we add later.
I moved on to the spices starting with the obvious cumin and chili powder, adding a little black pepper for a little spice and then bam, I did it I added nutmeg! Yes nutmeg in your chili, trust me on this one. You let this beautiful concoction simmer all day in the crockpot, hurray for minimal work! Towards the end you add your always delicious cream cheese to give the chili the perfect creaminess. And now ladies and gentleman we have the most perfect fall time creamy pumpkin chili! So grab your can of pumpkin get out the slow cooker and make a batch of this perfect fall comfort food 🙂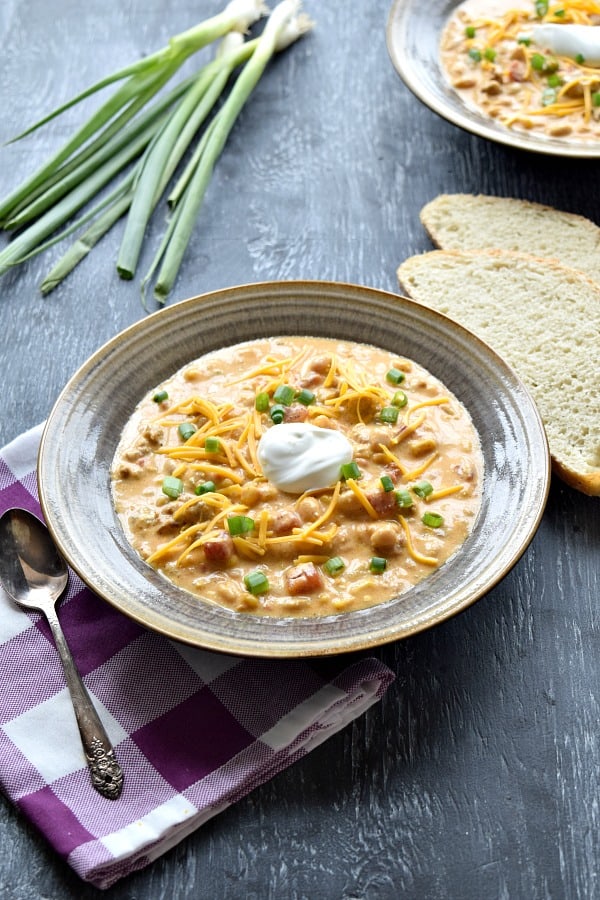 TIPS & TRICKS:
Regarding the maple breakfast sausage, sometimes this can be tricky to find, I have always been able to find Johnsonville Vermont Maple Syrup Breakfast Sausage Links. So because I have been able to consistently find these that is what the recipe calls for, if your grocery store sells maple breakfast sausage by the pound, so you don't have to remove to casings totally go for that. Or if you cannot find the maple breakfast sausages anywhere (check Walmart) I have had a friend who uses regular sausage and adds a tablespoon or so of maple syrup to the chili and he says its still great
While you can make this recipe on high for 3-4 hours instead of on low for longer, I have done both ways and like most chili I honestly think it tastes better when it is low and slow
I love eating this chili with crunchy bread or tortilla chips, its super yummy
This chili starts out soupy but will thicken over time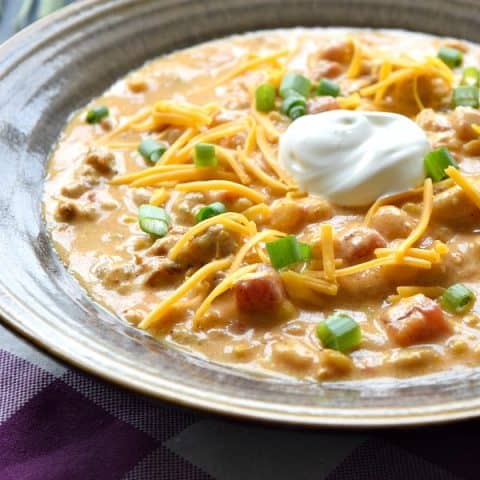 Crockpot Creamy Pumpkin Chili
Yield: 6 servings

Prep Time: 15 minutes

Cook Time: 8 hours

Total Time: 8 hours 15 minutes

pumpkin in a creamy white base made with maple breakfast sausage, green chilies, and white beans makes for a unique and cozy fall chili
Ingredients
2 15oz cans great northern beans, drained
1 15oz can whole corn kernels, drained
1 4oz can diced green chilies
1 10oz can diced tomatoes with green chilies (ro-tel)
1 15oz can pure pumpkin puree
4 cups (32 ounces) chicken stock
1 1/2 teaspoon ground cumin
1 1/2 teaspoon chili powder
1 teaspoon ground nutmeg
1/2 teaspoon ground black pepper
8 ounces plain cream cheese
Garnishes
green onion
cheddar cheese
sour cream
Instructions
Using a knife carefully remove the casings from all of the maple breakfast links. Heat and crumble the maple breakfast links in a skillet over medium heat until brown and fully cooked, 8-10 minutes. Drain fat.
Add cooked maple breakfast sausage, great northern beans, corn kernels, diced green chilies, diced tomatoes with chilies, pumpkin puree, chicken stock, ground cumin, chili powder, ground nutmeg, and black pepper to the crockpot. Stir to mix together.
Cook on low 6-8 hours.
20-25 minutes before you are ready to eat add cream cheese to crock pot. Let the cream cheese melt into the chili stirring occasionally throughout the last 20-25 minutes of cooking.
Serve hot, top with garnishes.
Notes
If the cream cheese doesn't seem to be fully incorporating use a whisk to whisk the cream cheese into the chili.

Nutritional data is automated, final nutritional information will depend on ingredients used and any changes made.
Nutrition Information:
Yield: 6
Amount Per Serving: Calories: 405Total Fat: 26gSaturated Fat: 13gCholesterol: 78mgSodium: 1049mgCarbohydrates: 21gFiber: 6gSugar: 9gProtein: 17g
Peace & Love
Lauren, The Schmidty Wife
P.S. Looking for other great pumpkin recipes? Check out my favorite fall drink Pumpkin Spice Chai Latte
(UPDATED 09/01/2017 with new photos and TIPS & TRICKS, originally posted 09/27/2016)
Please note that my links above may be affiliate links, and I will earn a commission if you purchase through these links. I recommend them because they are helpful, and are companies that I trust, not because of the commissions that I may earn from you using these products.