Skip the stop on the way home from work and make this Crockpot Rotisserie Chicken instead! A flavorful whole chicken made at home in the slow cooker, it can be eaten as is or used in pastas, salads, quesadillas, casseroles, and so much more!
I have been thinking a lot lately about how I consider myself a really good meal planner, I really don't want to sound cocky but I have gotten quite good at it. I think a huge key to meal planning success is to not go overboard, it is so easy to hop on Pinterest and find a weeks worth of new fancy recipes to try (and as a food blogger's who depends on Pinterest for my lovely visitors I see the irony of that statement).
I am not saying to not use Pinterest but you certainly do not want to try 7 new recipes a week. A part of the key to successful meal planning I have found is to make some meals stupid easy. So this is my long winded way of saying, I make a Crockpot Rotisserie Chicken once a week and give it a lot of credit for helping me be a meal plan pro.
There are so many reasons to make a Crockpot Rotisserie Chicken but let's start with how it has helped me be a more successful meal planner. First it is stupid easy, you clean your chicken, season it, throw it into the crockpot on top of a couple of potatoes or tin foil balls. I know I barely have to think about my dinner that day and isn't that all what we really want?
Second it always provides a second meal, how dope is that! Use your leftovers to make quesadillas, enchiladas, chicken salad sandwiches, soups, as your protein on top a salad, or my favorite White Chicken Chili Mac. The possibilities are endless and most of the work has already been done! Heck just thinking about all of the possibilities you should make a chicken once a week whether or not you are going to eat it for dinner that night (or if you have a large family that will eat one in a sitting, plan on making another just for the cooked chicken)!
So yes this recipe for Crockpot Rotisserie Chicken really has helped me enormously become a better meal planner. I often make this on a Sunday, we have a nice Sunday chicken dinner, I usually serve it with potatoes & salad and then I have my Monday or Tuesday night dinner halfway done. As I always tell my husband work smarter not harder 😉
So if you need more reasons as to why to get in the habit of making a crockpot chicken i'll give you a few more. Cost, I can get a whole chicken for around $5, on sale even cheaper (when they are on sale I will stock up and freeze a few), compared to $7-9 dollars for a few breasts that is quite the deal.
Freshness, yes you can stop after work and grab a rotisserie at the store but those have been sitting under those heat lights for hours… also at my local store they are around $8-9, I would trade my own cheaper and more fresh chicken over that any day!
So now that you are convinced 😉 make sure to add Crockpot Rotisserie Chicken to your menu this week and bask in the success of your meal planning genius.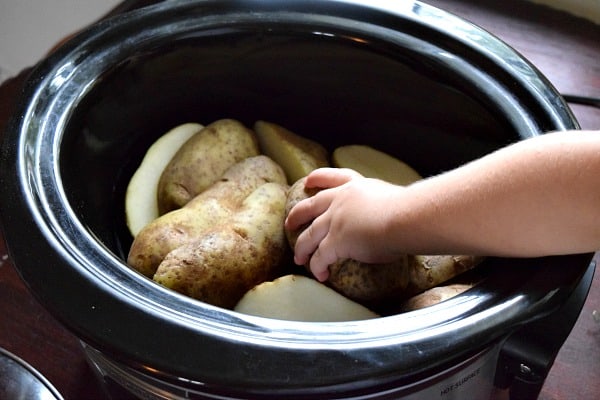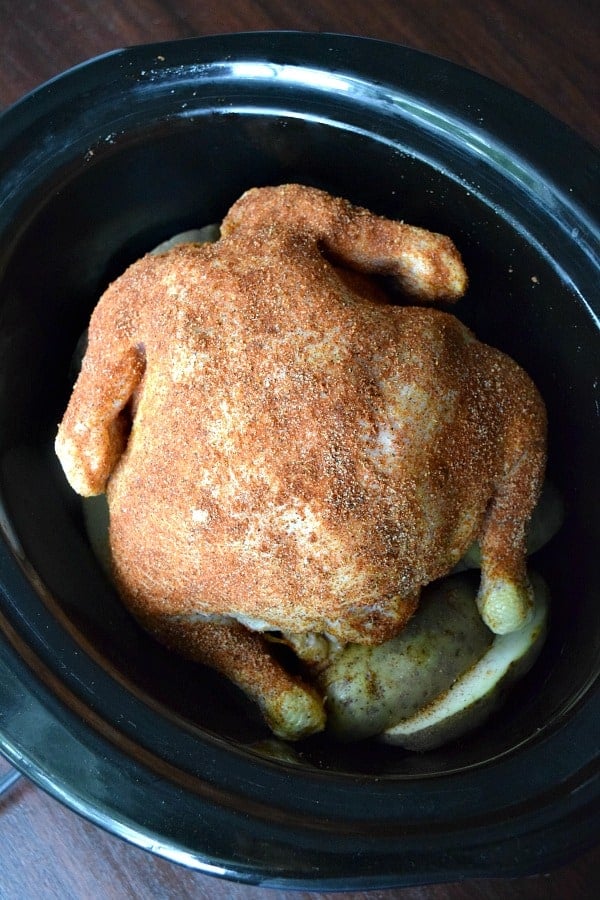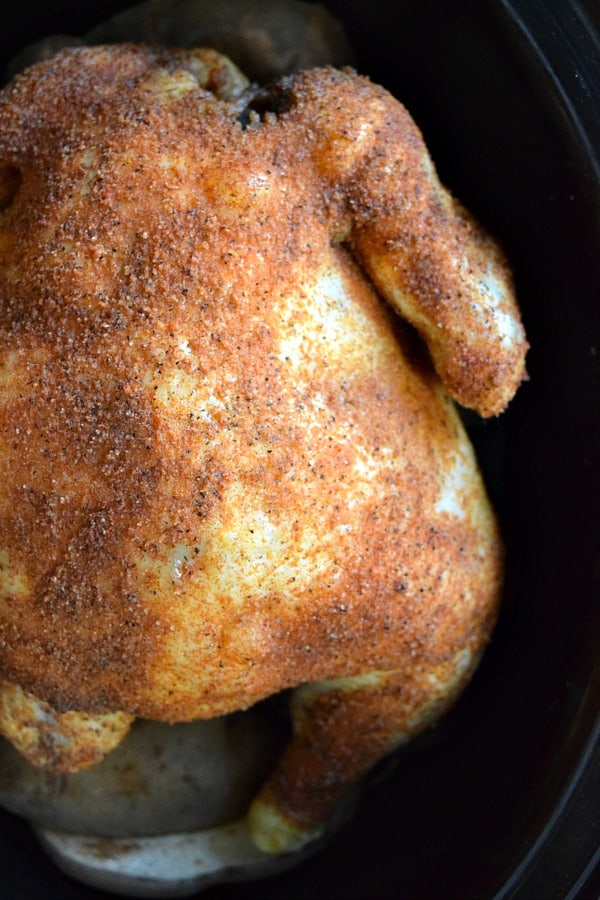 TIPS & TRICKS:
The recipe calls for hearty vegetables or aluminum foil balls, the reason for this is to keep the chicken from cooking in the juices, I find the best thing to use is potatoes, I either cut large potatoes in half or a bunch of smaller potatoes and create a nice potato layer, I then feed my family these potatoes as a side, either as is or I make quick mashed potatoes out of them
Feel free to change up the seasoning, I made up a generic rotisserie tasting mix, but make a seasoning to your taste or a pre mixed seasoning
Make sure that your chicken is fully thawed, keeping it frozen and putting it in the crockpot can bring about dangerous bacteria due to the chicken not being able to heat up fast enough
Be warned that if you keep the chicken cooking for longer then about 6 hours the chicken might start to fall apart or fall off the bone depending on the size of your chicken, the chicken is still delicious but it might not be very pretty
Need a crockpot? I use this:
Yield: 6 servings
Crockpot Rotisserie Chicken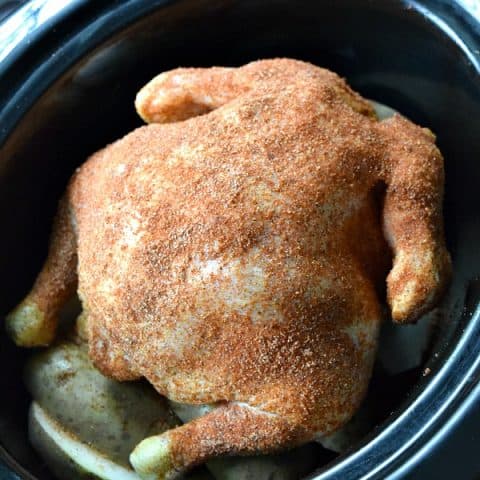 a flavorful whole chicken made at home in the slow cooker
Total Time
7 hours
10 minutes
Ingredients
1 4 to 5 pound whole chicken
2 teaspoon olive oil
2 teaspoon paprika
1 teaspoon salt
1 teaspoon garlic powder
1/2 teaspoon onion powder
1/2 teaspoon black pepper
a few handfuls of hearty vegetables OR rolled up balls of tin foil
Instructions
In a small bowl mix together the paprika, salt, garlic powder, onion powder, and black pepper.
Line the bottom of the crockpot with hearty vegetables or balls of tin foil. The main point of this is that you want the chicken to be an inch or two off of the bottom where the juices are, keeping the chicken out of the juices. I usually half a few potatoes, onions, or peel a couple of carrots, use what you have, just be sure its not something that is going to break down so the chicken stays out of the juices. And if you don't have any vegetables handy make a few balls out of tin foil to place the chicken on.
Rinse the chicken and remove the giblets. Dry the chicken with paper towels.
Carefully rub the olive oil all over the chicken. Sprinkle the seasoning mixture all over the chicken.
Place the chicken into the slow cooker and cover. Cook on low for 6-7 hours.
If you want the chicken crispy place on a sheet pan and place in the oven. Broil for 3-5 minutes until crispy (be sure to keep a careful eye on it so it doesn't burn).
Let the chicken rest until it is cool enough to serve. Enjoy!
Nutrition Information:
Yield:
6
Serving Size:
1
Amount Per Serving:
Calories:

922
Total Fat:

53g
Saturated Fat:

15g
Trans Fat:

0g
Unsaturated Fat:

33g
Cholesterol:

333mg
Sodium:

663mg
Carbohydrates:

1g
Fiber:

0g
Sugar:

0g
Protein:

103g
Nutritional data is automated, final nutritional information will depend on ingredients used and any changes made.
If you enjoyed this Recipe or any of my others let me know by using #theschmidtywife on social media!
And make sure you are following me on Instagram, Pinterest, and Facebook for all the latest recipes!
Peace & Love
Lauren, The Schmidty Wife
P.S. Looking for recipes to use up your leftover chicken? Check out my Leftover Chicken Enchiladas, White Chicken Chili Mac & Cheese or my Loaded BBQ Chicken Pizza
Please note that my links above may be affiliate links, and I will earn a commission if you purchase through these links. I recommend them because they are helpful, and are companies that I trust, not because of the commissions that I may earn from you using these products.