Perfect for a morning or midday pick me up this Energizing Green Smoothie is full of healthy ingredients for high energy and focus! Made with fruits, spinach, and green tea this is an easy Green Tea Smoothie that you will love to drink!
This post may contain Affiliate Links.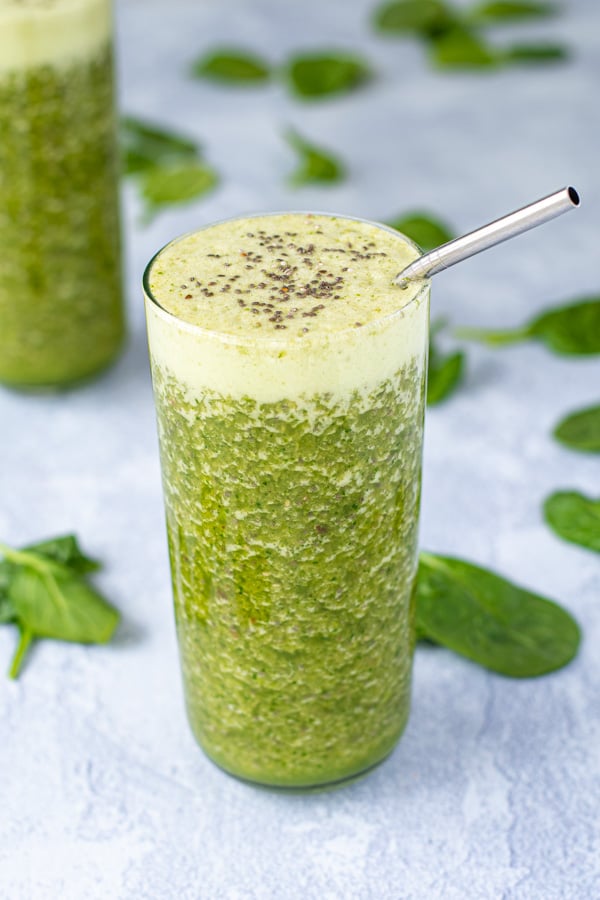 Green Tea Smoothie
I love a good healthy smoothie. This is my version of a green smoothie, everyone has got one right!?
In my version of this energizing green smoothie I have tried to keep the nutrition dense and the calories low so that it is a smoothie that keeps you refreshed and full of energy!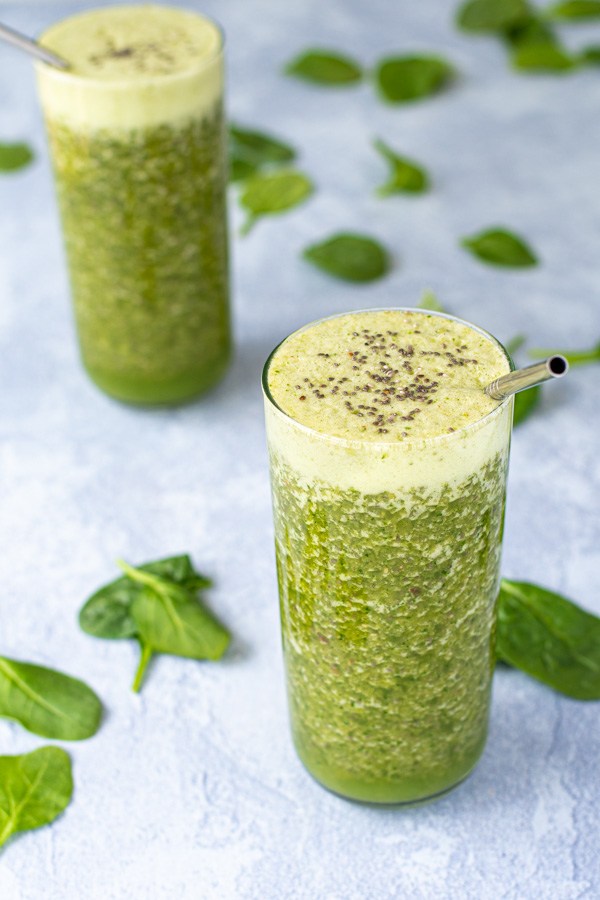 So what is in this Green Smoothie that is healthy and will give me energy?
I start with a BANANA base, as so many smoothies often do. Bananas are high is fiber, potassium, and the vitamin B-6. Fiber helps you stay full, potassium is good for your heart health, and Vitamin B-6 is great for brain health.
GREEN APPLE is added in next, you know what they say an apple a day keeps the doctor away. But apples are high in fiber and vitamin C. The fiber again will help keep you full and the vitamin C helps your immune system , its even believed that it may help shorten a cold!
And the one of the classic ingredients of a green smoothie, SPINACH. Spinach is high in fiber (see a pattern) and a lot of vitamins including vitamins A, C, K1, Folic Acid, Iron, and Calcium. Let's just say this original 'superfood' has got your back.
And for sweetness a DATE. Yes dates add in some sugar but they also pack a punch of potassium, magnesium, and you guessed it Fiber.
For the liquid base instead of a milk I went with plain old GREEN TEA. Unsweetned and cooled for the smoothie green tea is full of antioxidants and a tad of caffeine to make you feel like a super hero. Just make sure you are using unsweetened green tea if you aren't making it yourself, sweetened tea can have a lot of added sugars.
And lastly CHIA SEEDS. Chia seeds are actually a whole grain and they are full of Fiber (can you believe it?!), antioxidants, and surprisingly protein.
Together you can see how all these nutrients can keep you full, focused, and full of energy!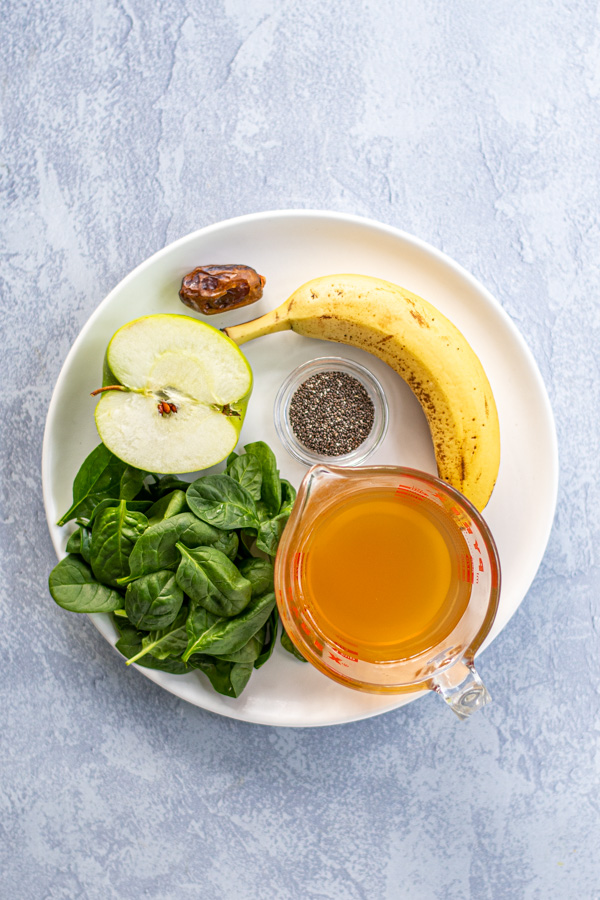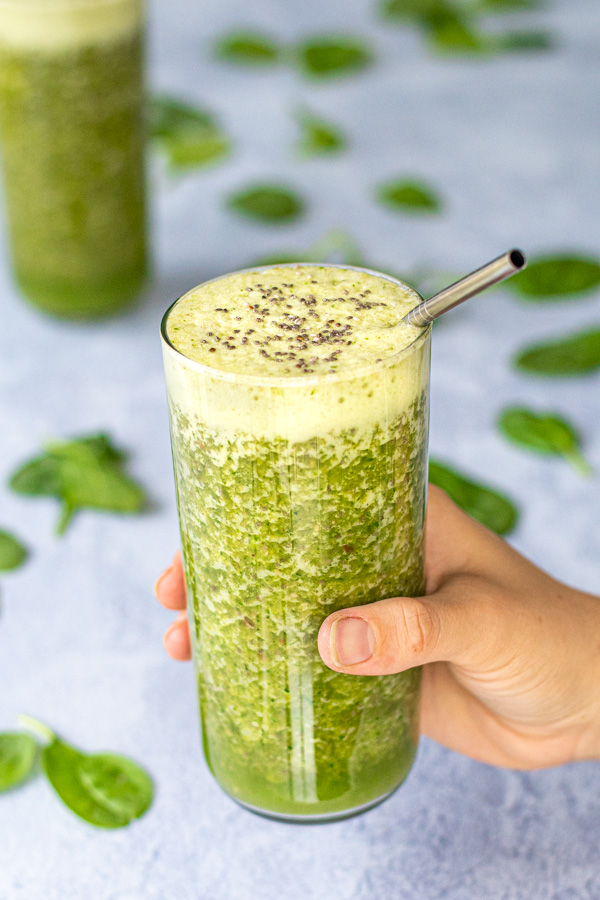 So now that you are full convinced time to get making!
You might also like:
Yield: 1 smoothie
Energizing Green Smoothie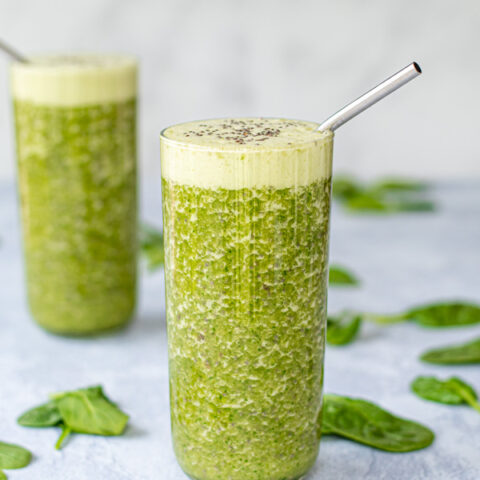 Full of nutritious ingredients this healthy green smoothie is easy to make and will keep you energized and focused!
Ingredients
1 banana
½ green apple
1 cup baby spinach
1 pitted date
1 cup cold green tea
1 tablespoon chia seeds
Instructions
Add the banana, green apple, baby spinach, date, and green tea to the blender. Blend until smooth about 20 to 30 seconds. Add the chia seeds pulse to mix in. Enjoy.
Notes
1-2 teaspoons of honey is a good substitute for the date, if you preffer honey.
Nutrition Information:
Yield:
1
Serving Size:
1 smoothie
Amount Per Serving:
Calories:

240
Total Fat:

4g
Saturated Fat:

1g
Trans Fat:

0g
Unsaturated Fat:

3g
Cholesterol:

0mg
Sodium:

30mg
Carbohydrates:

51g
Fiber:

11g
Sugar:

29g
Protein:

5g
Nutritional data is automated, final nutritional information will depend on ingredients used and any changes made.
And make sure you are following me on TikTok, Instagram, Pinterest, and Facebook for all the latest recipes!
Lauren, The Schmidty Wife
https://www.pinterest.com/theschmidtywife/