Grandma's Oatmeal Triblys are an old fashioned oatmeal cookie filled with delicious date filling and complete with a brown butter icing. Perfect to make for a unique Christmas cookie!
I tried my hardest to come up with a different story to write with this recipe but the heart knows what it wants so I hope that it does not bum you out too much because these cookies, Grandma's Oatmeal Triblys, that I am sharing today are so delicious! So with that being said, my grandmother passed away almost 2 months ago now. It has been very hard for me to process for a number of reasons, she is my first grandparent to pass away (how blessed am I), seeing my grandpa by himself after 60+ years of marriage is heartbreaking, and living 1,428 miles away is extremely difficult. Although it has been rough for many reasons I was so lucky. I was able to visit with my son just a few days before she left us to say goodbye, she was surrounded by family up until the end, still able to recognize and talk to everyone, and she passed away do to old age in her sleep, I don't know about you but that is a pretty beautiful life. She is greatly missed everyday but I know she is looking down on us all from heaven.
So ever since she passed I have found myself carrying around and reading our family cookbook like its my job. I feel like she is still here when I read the different recipes that I know she made for her family, it brings peace to my heart, like a little part of her is still here. Some of the recipes are simple, some are classics, some are old fashioned. I have made quite a few of them and I plan on making more but today I wanted to share with you one of her favorite cookie recipes that is in that cook book. Grandma's Oatmeal Triblys are totally an old fashioned grandma cookie and that is the beauty in them, the only update I made was adding brown butter icing to keep them relevant. I remember making these during Christmas time growing up and so much to my surprise when I did some research to see what other Tribly recipes were out there, they are pretty nonexistent. It looks like they probably originated as a Swedish sandwich cookie but otherwise just a few recipes from other grandmothers are the only other Triblys I could find. It honestly surprises me that these cookies are not more popular because I have a feeling they were probably in most of our grandmothers recipe cards. So with that being said I hope you give these cookies a try and I hope they bring you a little bit of my grandmothers love.
Grandma's Oatmeal Triblys are not hard to make but they do take a few extra steps most cookies don't have (mostly because of the filling). The cookie part is a super simple oatmeal dough, the filling is simply dates, sugar, & water, and the icing is just as easy as butter, powdered sugar, and milk. I made these cookies large, because personally I think they are more fun that way and easier to fill.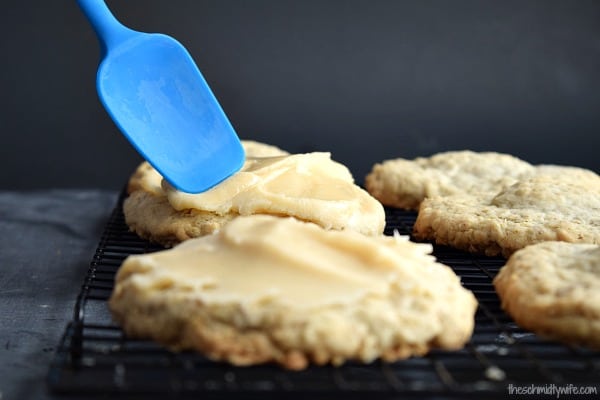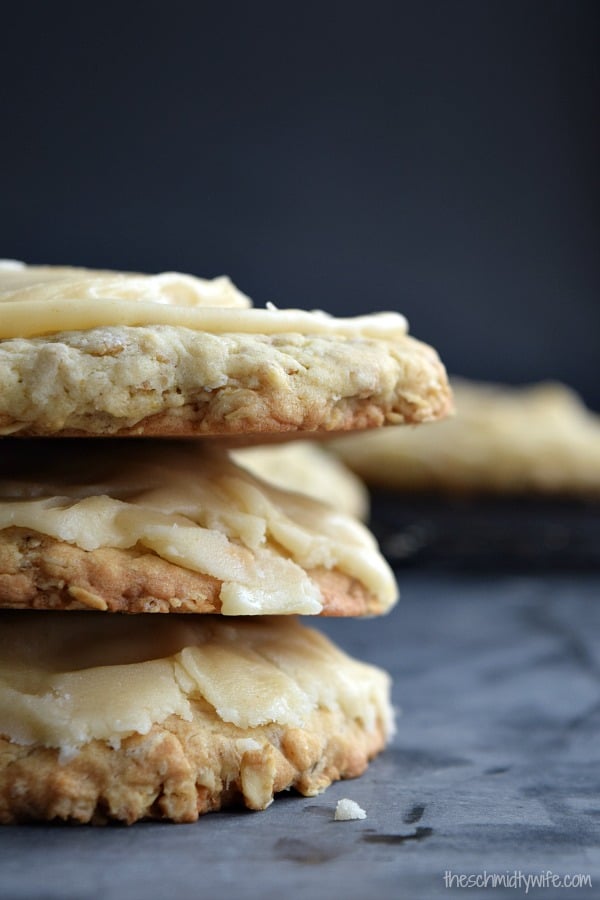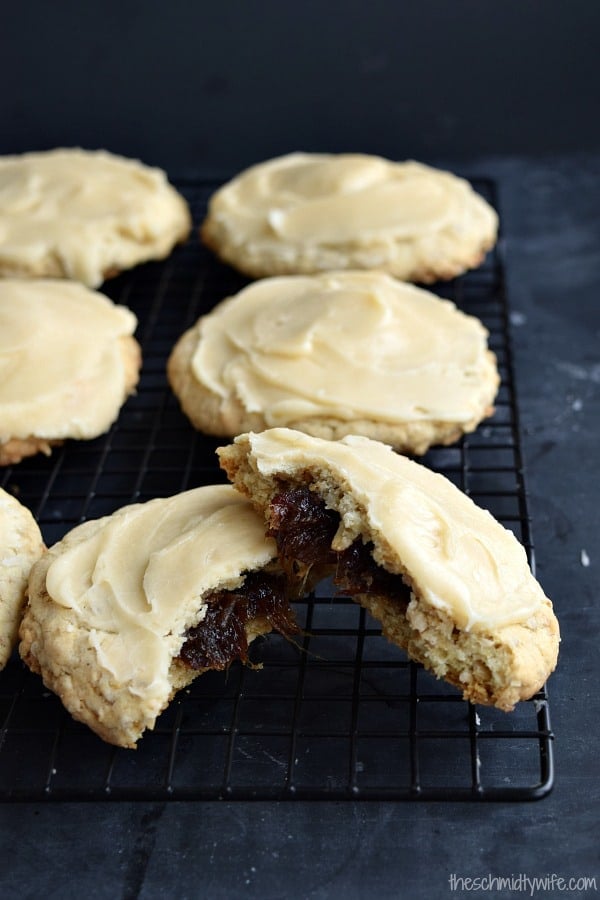 Hey guys these cookies are part of The Sweetest Season Cookie Exchange go and check out all of the other amazing cookies!
Yield: 10-12 large cookies
Grandma's Oatmeal Triblys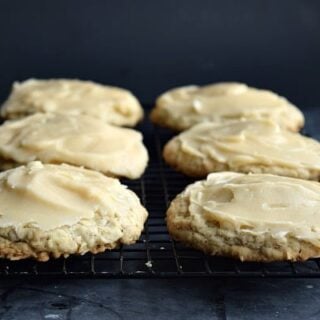 Ingredients
For Cookies:
1 cup sugar
1 cup shortening
1/2 cup sour milk
2 cups flour
1 teaspoon salt
1 teaspoon baking soda
3 cups oatmeal
For Filling:
2 cups chopped dates
1/2 cup sugar
1 cup water
For Brown Butter Icing:
1/2 cup butter
2 1/2 cups powdered sugar
2-3 tablespoons milk
Instructions
Preheat oven to 375º F. Lightly grease 2 cookie sheets.
To make date filling add dates, sugar, and water to a small saucepan. Heat over medium heat. Cook over medium heat until dates thicken into a paste, this will take 10-15 minutes.
Meanwhile in a large bowl add sugar, shortening, and sour milk*. Mix until combined. Mix in flour, salt, and baking soda. Slowly mix in oatmeal until fully combined. Dough will be sticky and that is okay, just be sure to add plenty of flour when rolling it out.
On a clean floured surface roll out the dough to about 1/4 inch thick. Using a circle cutter (I used a 4 inch martini glass, no judgement I wanted something large) cut out 12 circles, transfer half of the circles to the cookie sheet. Using a spoon heap a large amount of the date filling onto the center of each of the cookies. Cover all the cookies with the other half of the circle cutouts. For each cookie use your fingers to carefully press the outsides of the cookies together so there are no gaps for the filling to come out. Bake in oven for 11-13 minutes until edges are golden brown.
With the remaining dough repeat the last step for a second batch of cookies.
When finished baking let cookies rest on cookie sheet for 2 minutes before moving them to a cooling rack. Let cookies cool completely before icing.
To make brown butter icing. Add butter to a saucepan over medium-low heat. Slowly heat the butter 8-10 minutes stirring occasionally until butter starts to brown. Keep an eye over the butter closely because once it starts to brown it can get overcooked fast. Once you start to see the brown flecks in the butter give the butter about 30 more seconds of cooking and then start adding the powdered sugar. Whisk in the first cup of powdered sugar then add 2 tablespoons of milk. Whisk in the remaining powdered sugar. Icing should be thick and spreadable, if the icing seems too thick add one more tablespoon of milk if it seems too thin add a little bit more powdered sugar.
With icing still hot spread over the cookies. Let icing cool to harden. Enjoy.
Notes
*add 1 teaspoon of lemon juice to a measuring cup then fill the rest of the 1/2 cup with milk
Nutrition Information:
Yield:
12
Serving Size:
1
Amount Per Serving:
Calories:

601
Total Fat:

26g
Saturated Fat:

12g
Trans Fat:

0g
Unsaturated Fat:

13g
Cholesterol:

31mg
Sodium:

354mg
Carbohydrates:

90g
Fiber:

4g
Sugar:

63g
Protein:

5g
Nutritional data is automated, final nutritional information will depend on ingredients used and any changes made.
And make sure you are following me on TikTok, Instagram, Pinterest, and Facebook for all the latest recipes!
Peace & Love
Lauren, The Schmidty Wife
Please note that my links above may be affiliate links, and I will earn a commission if you purchase through these links. I recommend them because they are helpful, and are companies that I trust, not because of the commissions that I may earn from you using these products.