So earlier this week I wrote about my Easy Hummus recipe and I stated how I always keep some in the refrigerator because my family eats Mediterranean inspired food so often, well I figured I better share some of that food with you! Today I am sharing my Greek Turkey Meatball Lettuce Wraps. These meatballs are so flavorful, packed full of spices, red onion, and feta cheese; I include a quick Tzatziki sauce that takes only a few minutes to put together and boom you have a delicious dinner. I prefer to make meals like these greek inspired lettuce wraps because I feel like they are so much on there own that you don't have to worry about a side dish (less thinking for the win). Baked meatballs in general are great because it only takes a few minutes to get them together and on to a tray to cook, giving you plenty of time to prepare other items needed for the meal or sit down for a few minutes and relax *gasp* yes relax!
To make this meal you start by dumping all of the meatball ingredients into a bowl, mixing it together, rolling out the meatballs, and into the oven they go! Easy! Next it takes only a few minutes to mix up the Tzatziki, dice up a cucumber, mix in yogurt, oil, lemon juice, and spices. To make the wraps themselves its quite simple divide up a head of lettuce and add all of the yummy toppings, I usually just leave a quarter of a head of lettuce on everyones plate and let them build the wraps themselves giving each person a chance to include the toppings they like best. I hope you and your family enjoys this healthy dinner as much and my family and I do, enjoy your Greek Turkey Meatball Lettuce Wraps!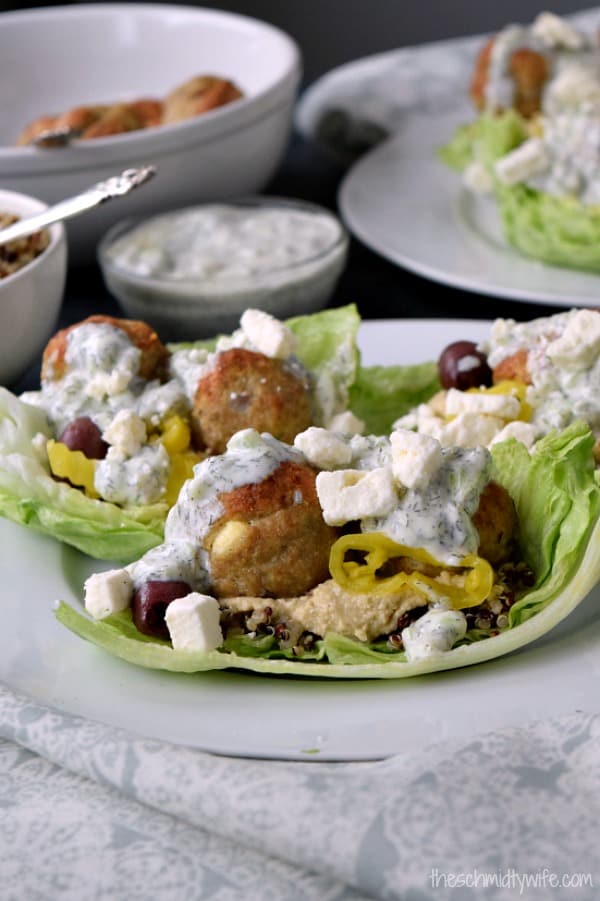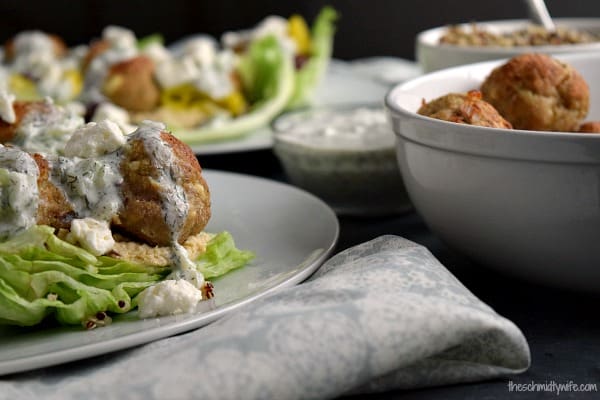 Yield: 18 meatballs for wraps
Greek Turkey Meatball Lettuce Wraps Recipe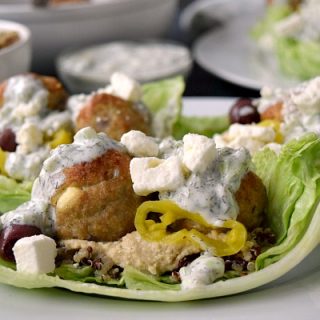 Healthy Greek Turkey Meatball Lettuce Wraps
Ingredients
For Meatballs:
1/2 cup red onion (about 1/4 large onion)
2-3 cloves garlic
2 tablespoons feta cheese crumbles
1/3 cup plain breadcrumbs
1 large egg
1 pound ground turkey
zest of 1 lemon
1 teaspoon lemon juice
1 teaspoon ground cumin
1 teaspoon dried oregeno
For Tzatziki:
1/2 english cucumber
1/2 cup plain yogurt
2 teaspoons lemon juice
2 teaspoons olive oil
2 teaspoons dried dill
For Wraps:
1 head of iceberg lettuce (or large leafed lettuce of choice)
cooked quinoa
feta cheese
banana pepper rings
kalamata olives
Instructions
To make Meatballs:
Preheat oven to 425º F and grease a sheet tray.
Finely dice red onion and mince garlic.
Add red onion, garlic, feta cheese, bread crumbs, egg, ground turkey, lemon zest, lemon juice, cumin, and oregano to a large bowl. Mix together until all combined (use your clean hands).
Using your hands roll meat into 1 inch - 1 1/4 inch balls, keep in mind you want to try to keep them as evenly sized as possible. Place meatballs equal distance apart on sheet pan. You should yield about 18 meatballs.
Place in oven and bake 29-31 minutes until cooked through and brown on the outside.
For Tzatziki:
Peel cucumber, slice in half the long way. Using a spoon gently scrape out as many of the seeds as possible, discard the seeds.
Diced cucumber as finely as possible and add to a small bowl.
Add yogurt, lemon juice, olive oil, and dill to bowl. Stir together.
Place in refrigerator until ready to use.
To Serve:
Once meatballs are done cooking serve immediately. Serve Meatballs with tzatziki, lettuce for wrapping, and all of the additional optional fillings you prefer. Enjoy!
Notes
Nutritional data is automated, final nutritional information will depend on ingredients used and any changes made.
inspired by Greek Turkey Meatballs
Nutrition Information:
Yield:
4
Amount Per Serving:
Calories:

315
Total Fat:

15g
Saturated Fat:

4g
Cholesterol:

133mg
Sodium:

208mg
Carbohydrates:

19g
Fiber:

1g
Sugar:

6g
Protein:

29g
Peace & Love
The Schmidty Wife
P.S. Sign Up for recipes straight to your inbox!
[mc4wp_form id="753″]