Festive Green Beans with Pomegranate is a surefire way to add a burst of flavor and spirit to your holiday gatherings. The blend of textures, beautiful colors, and flavors makes it a crowd-pleaser, and it's incredibly simple to prepare.
This post may contain Affiliate Links.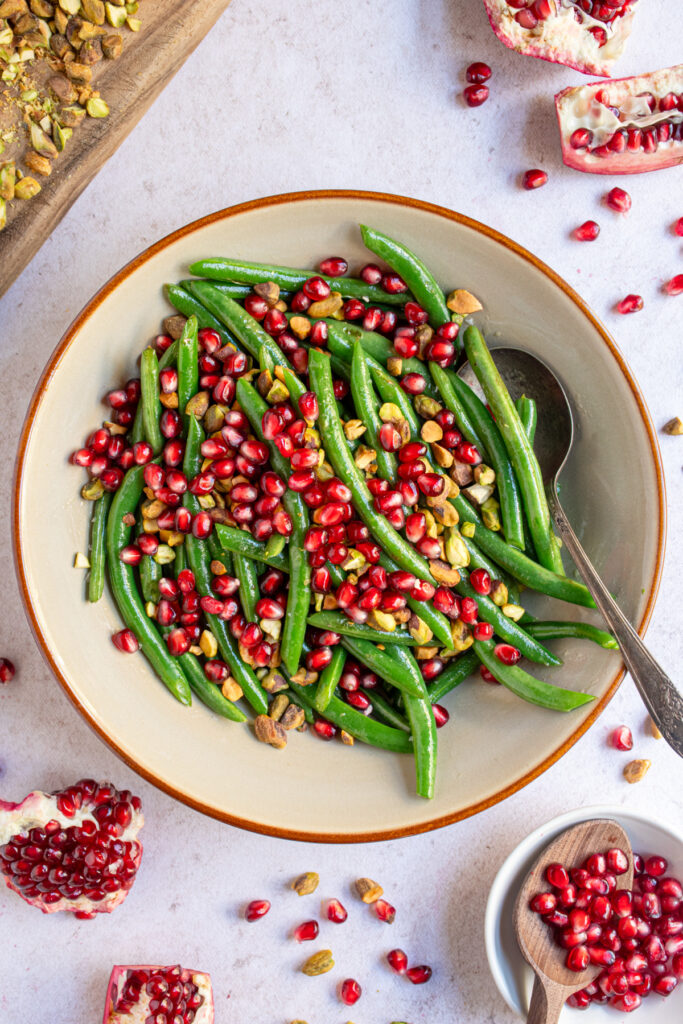 Festive Green Beans with Pomegranate Recipe: A Holiday Side Dish
As the holiday season approaches, there's something magical about the idea of gathering around the table with loved ones, sharing stories, and savoring delicious dishes. Whether it's a grand Thanksgiving feast or a cozy Christmas dinner, the holiday season is all about creating memorable moments with food. For me it really isn't a holiday meal without a form of green beans, so whether it is this recipe or my Homemade Green Bean Casserole they always have a spot of the table.
That's where these Festive Green Beans with Pomegranate and Pistachios comes into play. This vibrant and flavorful side dish is the perfect addition to your holiday spread.
This dish is the perfect holiday side dish because:
Visual Appeal: The combination of vibrant green beans and ruby red pomegranate seeds is visually striking and adds a pop of festive color to your table.
Flavor Harmony: The flavors in this dish are a delightful balance of freshness and tartness, with a touch of nuttiness from the pistachios. It complements a wide range of holiday main courses, from roasted turkey to baked ham. And it is the perfect balance to some of the richer dishes on the table.
Ease of Preparation: During the holiday season, hosts often have their hands full with various dishes. This recipe is not only delicious but also easy to prepare, giving you more time to focus on other elements of your meal.
You can serve this dish hot or cold with also ups the appeal factor. Sauté the green beans quickly right before you are about to eat or make them ahead of time and have them cold and ready to serve. Both ways are delicious!
You can also make so many variations of this dish, it really will go with whatever you are serving.
Ingredients
Fresh Green Beans – A pound of vibrant green beans, washed and trimmed.
Pomegranate Seeds – These ruby-red jewels add a burst of freshness and a pop of color.
Olive Oil – For sautéing and adding a rich, savory note.
Garlic – Sliced and sautéed for a fragrant base.
Pistachios – Crunchy, nutty goodness that provides a delightful contrast. You can now easily find shelled pistachios at most stores.
Salt and Pepper – For seasoning and enhancing the flavors.
For a complete detailed list of the ingredients continue towards the bottom of the page.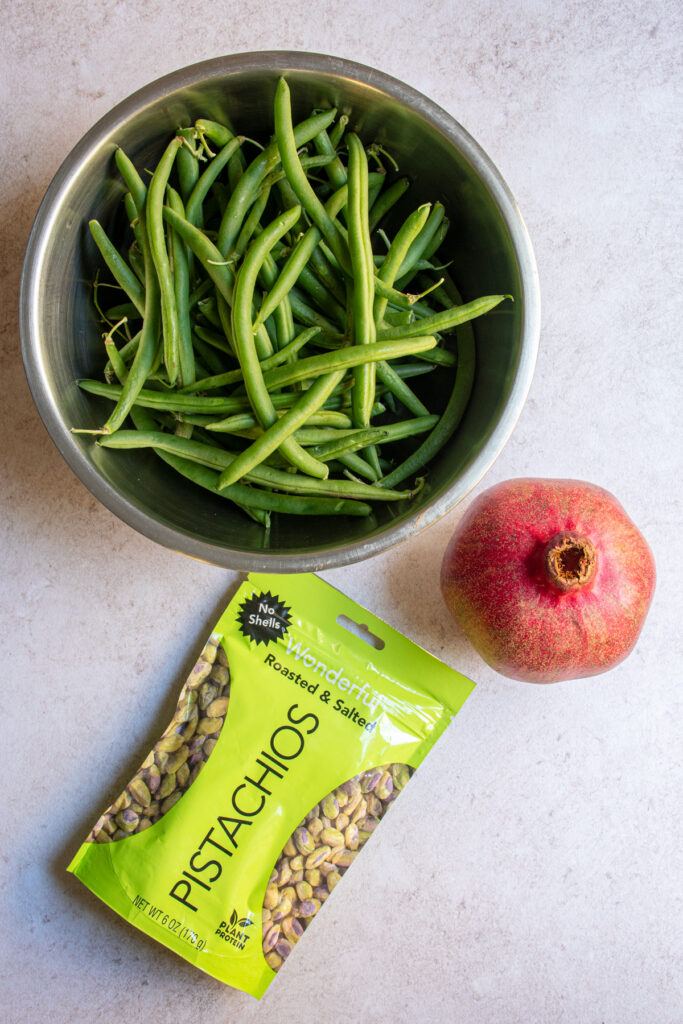 pro tip
If you have dietary preferences or allergies to consider, there are a few substitutions or variations you can make. Almonds or walnuts can be substituted for pistachios, and you can adjust the seasoning to taste.
Instructions
Start by washing and trimming the fresh green beans, removing any stems or imperfections.
In a large skillet, heat olive oil over medium heat. Add the garlic and sauté until fragrant about 1 minute, infusing the oil with a wonderful aroma.
Add the trimmed green beans along with just a bit of water (about 2 tablespoons) to the skillet and sauté them until they're tender-crisp, which usually takes about 7-9 minutes. You want them to be vibrant and slightly crunchy, not overcooked. Once they're ready, remove the skillet from the heat.
Now, it's time to bring in the festive colors and textures. Toss in the pomegranate seeds and the crushed pistachios. Sprinkle with a pinch of salt and a dash of freshly ground pepper.
If you prefer making this ahead and serving cold (or just wanting to warm back up right before serving) I recommend keeping the green beans and mix-ins in separate containers. The pistachios might get a tad soggy if left with the green beans in a container in the fridge.
tips, tricks and questions
Can I prepare this dish in advance for a holiday gathering?
Absolutely! You can sauté the green beans a day ahead, and prepare the other components separately. You can either combine them and serve cold or reheat the green beans (either on the stove top or microwave) and the combine with the toppings before serving.
How do I easily remove pomegranate seeds?
Get the kids to do it… okay sort of joking but this is a great activity to have kids help. But in a more serious note, to extract pomegranate seeds, cut the fruit in half and gently tap the back of each half with a wooden spoon over a bowl. The seeds will fall out with minimal mess.
How to adjust cooking times for softer or crisper green beans?
Adjust the cooking time to your preference. Less time for crisper beans, and more time for softer ones. Taste as you go to achieve the perfect texture.
Variations:
Use almonds or walnuts instead of pistachios
Add some lemon zest for added flavor
Add crumbled goat cheese
Add a splash of balsamic vinegar
For added sweetness add a drizzle of honey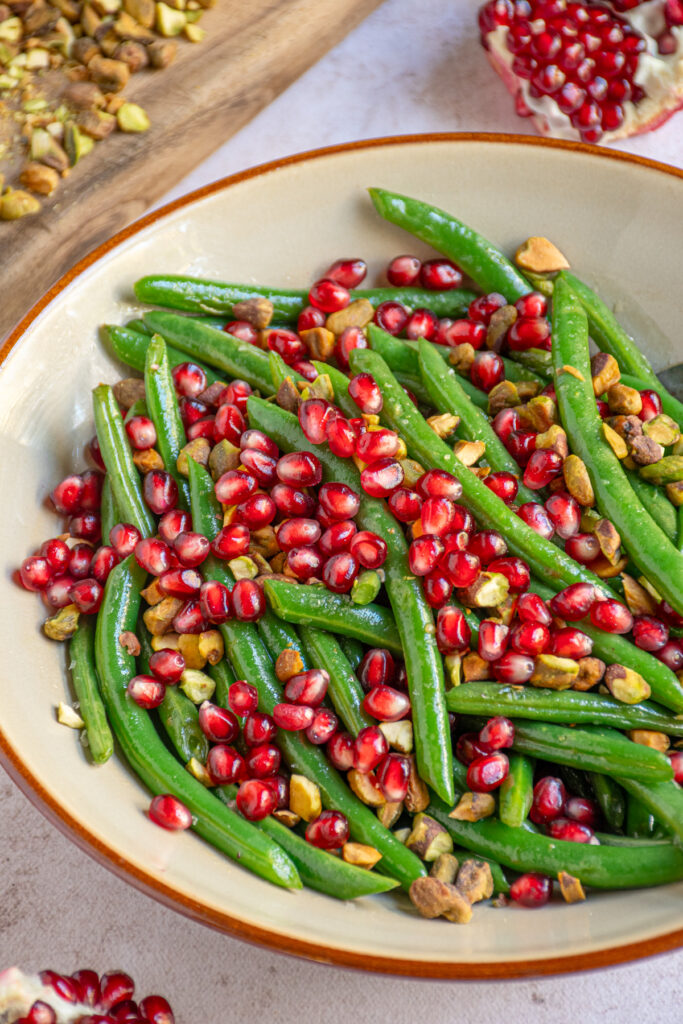 If you like this Green Beans and Pomegranate Recipe you might also like these other side dish recipes:
Yield: Serves 6 to 8
Green Beans with Pomegranate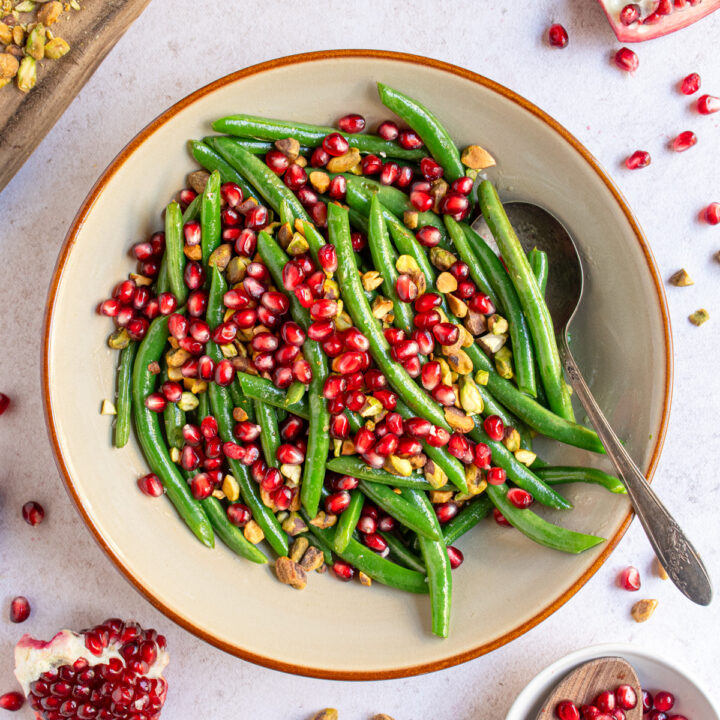 A festive holiday side dish fun of bright beautiful colors and flavors, this Green Beans and Pomegranate recipe is simple and quick to make!
Ingredients
1 pound green beans, trimmed
1/3 cup pomegranate seeds/arils
1/4 cup pistachios, chopped
1 cloves garlic, sliced
1 tablespoon olive oil
salt and pepper
Instructions
Heat skillet over medium-high heat. Once hot add the olive oil and garlic. Sauté for 1 minutes until the edges of some of the garlic starts to get brown and crispy.
Add the green beans and two tablespoons water to the skillet. Sauté for 7 to 9 minutes until tender with a little crunch and te green beans are vibrant green.
Transfer the greens beans to a serving platter and top with the pomegranates and pistachios. Season to taste with salt and pepper. Serve immediately for a hot dish or to serve cold transfer the green beans in a container to the fridge until ready to serve, add the toppings before serving.
Nutrition Information:
Yield:
6
Serving Size:
1/6 the dish
Amount Per Serving:
Calories:

84
Total Fat:

5g
Saturated Fat:

1g
Trans Fat:

0g
Unsaturated Fat:

4g
Cholesterol:

0mg
Sodium:

72mg
Carbohydrates:

9g
Fiber:

3g
Sugar:

4g
Protein:

3g
Nutritional data is automated and might not be 100% accurate, final nutritional information will depend on ingredients used and any changes made.