Asparagus on the grill with almonds, butter, and lemon juice makes for a great side dish!
This post may contain Affiliate Links.
Yesterday for the first time this spring it hit 70 degrees and I think you all know what that means, it's officially grilling season!!!! Although it was super windy here, which prevented me from doing a lot of things outside, it did not stop me from grilling. I love grilling. During the summer time my family and I grill almost every night which means a chance to try a lot of different foods on the grill. One thing I find so much easier to make on the grill opposed to any inside cooking is side dishes, I think we know where this is going. I have a simple easy side dish I am sharing today, it's quick to make, quick to clean up, healthy, and delicious! Grilled Almond Asparagus, with a few ingredients this brings you from plain old asparagus to drool worthy asparagus.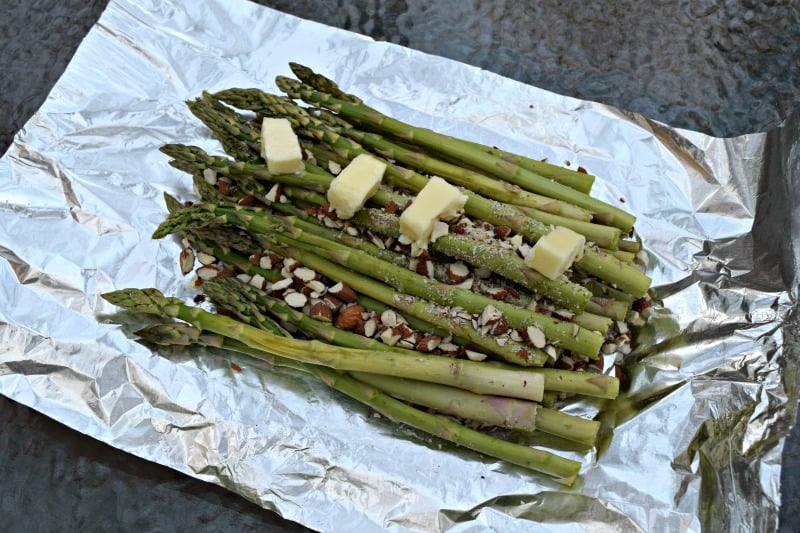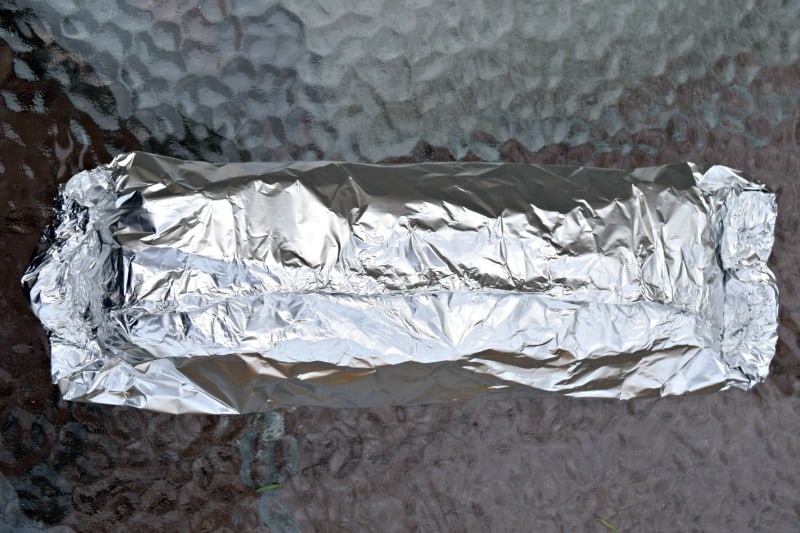 This recipe starts with fresh asparagus, topped with butter, almonds, and lemon juice. I think the real secret to making this really flavorful is the butter so I would recommend not substituting for olive oil (I knew you were thinking it). In this recipe I use full raw almonds that you will chop up yourself, I do it this way because I always keep almonds in stock in my pantry (such a yummy snack) but you could forego chopping them up yourself and buy sliced or chopped almonds if you prefer. The asparagus, butter, and almonds are wrapped in tin foil and cooked on the grill (thats right, minimum dishes to be washed). The lemon juice is added once it's been cooked to give it a hint of lemon without over powering it. I find that this side dish goes well with almost any delicious thing you decide to cook up on the grill, yesterday I personally made these with juicy steaks for my husband and I, yum!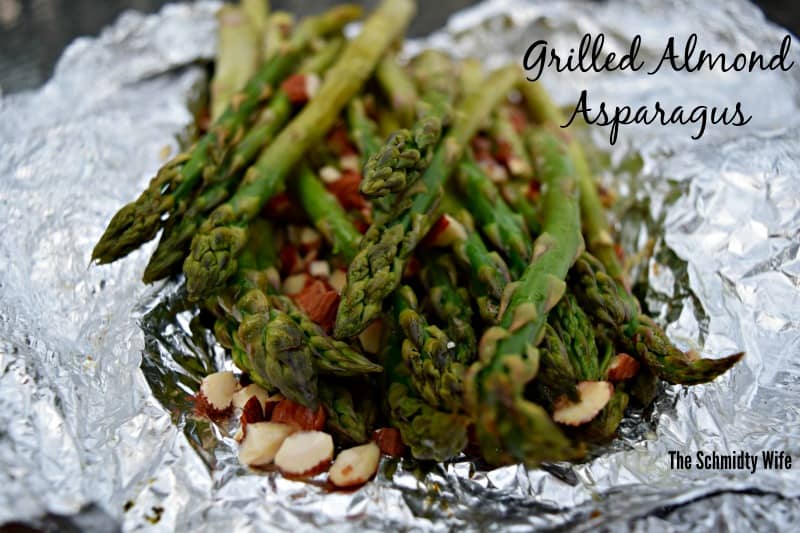 Enjoy your almond asparagus and I wish you best of luck throughout this grilling season!
Yield: 4 servings
Grilled Almond Asparagus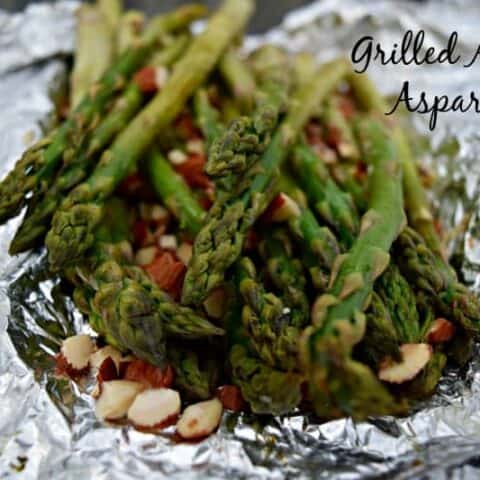 Grilled Asparagus with Almonds and Butter
Ingredients
1 bunch asparagus
1/2 cup raw almonds
2 tablespoons butter
1 tablespoon lemon juice
Instructions
Preheat grill to medium-high heat.
Prep the asparagus by washing and then cutting off the bottom 1/2 inch.
With a sharp knife, carefully coarse chop the almonds.
On a piece of tin foil roughly a foot long (ensuring it is big enough to wrap the asparagus in) place the asparagus on the center of the foil. Top the asparagus with the chopped almonds. Cut butter into 4 pieces and place evenly across the top of the almonds.
Close tin foil by bringing the long sides together at the top and gently rolling down to create a closure, then slowly roll each open side in towards the asparagus until the foil is fully sealed.
Place foil pack over direct heat for 8-10 minutes.
Once fully cooked unwrap foil, sprinkle lemon juice over asparagus. Serve immediately.
Nutrition Information:
Yield:
4
Amount Per Serving:
Calories:

173
Total Fat:

15g
Saturated Fat:

4g
Trans Fat:

0g
Sodium:

43mg
Carbohydrates:

6g
Fiber:

4g
Sugar:

3g
Protein:

6g
And make sure you are following me on TikTok, Instagram, Pinterest, and Facebook for all the latest recipes!
Lauren, The Schmidty Wife