The day is finally here the long awaited day where I finally put my Grilled Chicken Shawarma on the blog. A few weeks ago I was telling Matt that I actually had yet to put this recipe on the blog even though I have been making it for years. Not only that it is one of our favorite meals! Let's just say I have been working on perfecting it for you.
I love me any type of food from the Mediterranean. Greek, Lebanese, Italian, Israeli, the list could go on and on, but one of my favorites is shawarma. So warm and full of spice, so fragrant you just need to stuff it in your mouth immediately. I am sitting here drooling at my laptop just thinking about it. So because where I live does not have a lot of this food to offer I need to make it myself.
I have been playing around with this Grilled Chicken Shawarma recipe for a while. (I also have an Oven Baked Chicken Shawarma but that's for another post). I wanted to making it as flavorful as possible without going overboard, aka I wanted to keep it simple.
I use a bunch of common spices including cumin, turmeric, ginger, cinnamon, cayenne pepper, salt, and black pepper for maximum flavor. The marinade also includes minced garlic, olive oil, lemon juice, and plain yogurt. Hopefully these are all items that you already have in your fridge which makes this meal all the easier!
The marinade only takes a few minutes to put together and once it has rested the chicken goes straight to the grill!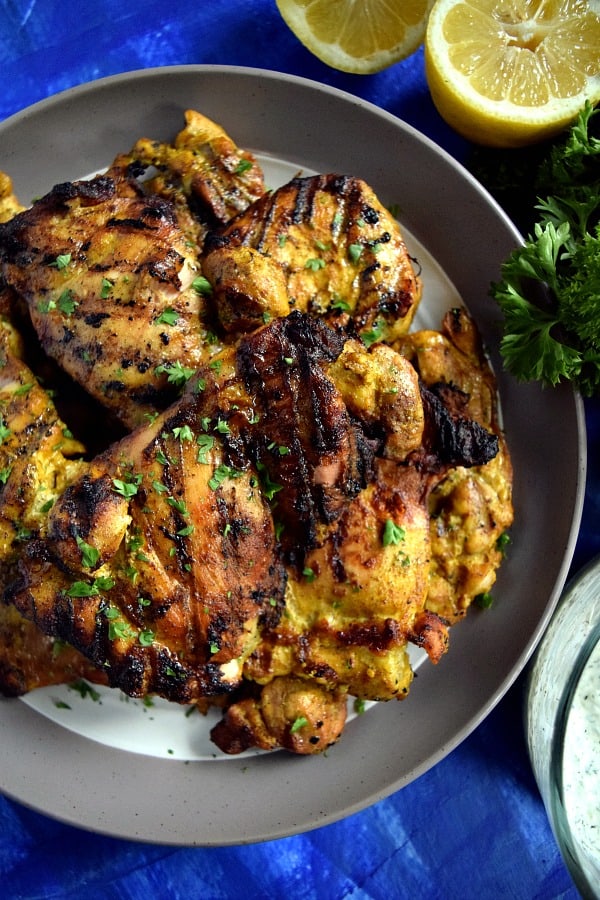 So because we live in the north, grilling season can sometimes feel very short for us, so we take full advantage of every nice day in the summer and grill out. So over the last couple years I have really begun to work on my grill skills, so here are some things I have learned if you are new to grilling.
Practice, practice, practice. Just like anything else new you aren't going to get anything perfect right away. I remember back a while ago just practicing making chicken breasts over and over until I figured out the best way to grill them.
Each grill is different. I love my old school charcoal grill. Hands down it's my favorite way to grill, I love the process of heating up the coals, and working with the hot spots, it's more of an experience than it is cooking. But with that said a gas grill makes grilling a breeze, it's fast to get started, it's consistent. Either way, get to know your grill!
Have a instant read thermometer. I went way to long without one of these and I regret it. It takes out the guess work and keeps you from overcooking or undercooking your meat.
So use these tips to make the best homemade Grilled Chicken Shawarma you can!
When it comes time to serve the shawarma I love to put these in pitas with my Easy Homemade Tzatziki Sauce. I then top it high with shredded lettuce, cherry tomatoes, red onion slices, kalamata olives, and feta cheese. Sometimes I also like to add some Hummus. Really anyway you eat this Grilled Chicken Shawarma it will be delicious! 🙂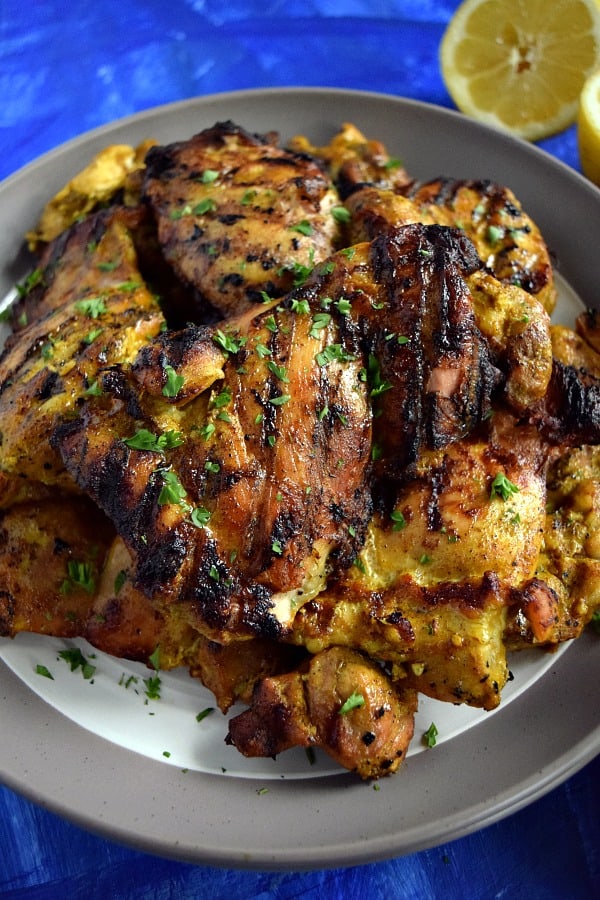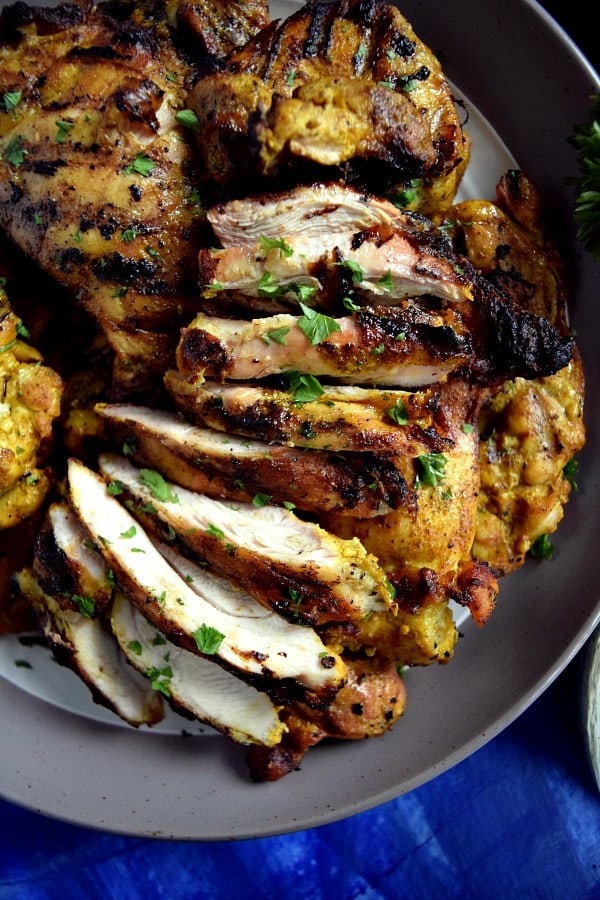 TIPS & TRICKS:
• This marinade can be made the night before, which gives the chicken plenty of time to get lots of flavor
• I love using chicken thighs for this recipe because they are so much more flavorful and have a better texture similar to a real spit shawarma but if you need to of course you can use the marinade on chicken breasts
• I have used this marinade on bone-in and skin on chicken thighs, equally as delicious but harder to eat
• When grilling chicken thighs I like to have the final temperature of the meat a little higher than I would a breast, I usually cook them until about 180˚ F, they won't dry out I promise, chicken thighs are always a little bit slightly 'overdone'
• Speaking of meat temperatures, I just got this instant read thermometer and I absolutely love it:
Yield: 6 servings
Grilled Chicken Shawarma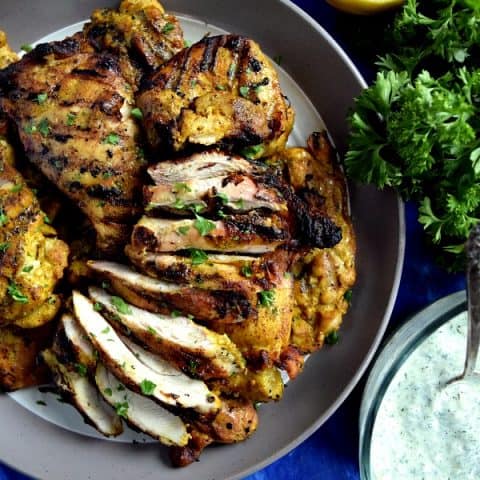 a simple marinade makes this Mediterranean inspired grilled chicken super flavorful and juicy
Total Time
1 hour
20 minutes
Ingredients
3 pounds boneless skinless chicken thighs
1 teaspoon cumin
1 teaspoon ground turmeric
1/2 teaspoon ground ginger
1/2 teaspoon ground cinnamon
dash of cayenne pepper
1/2 teaspoon salt
1/4 teaspoon black pepper
1 teaspoon minced garlic
1 tablespoon olive oil
1 tablespoon lemon juice
2 tablespoons plain yogurt
Instructions
Add cumin, turmeric, ginger, cinnamon, cayenne, salt, pepper, garlic, oil, lemon juice, and yogurt to a large bowl (or ziplock bag). Mix to combine. Add chicken and mix to coat. Cover and refrigerate for at least 1 hour or as long as overnight.
When ready to cook heat grill to medium-high heat.
Remove chicken from marinade and grill over direct heat. 5-6 minutes on each side until fully cooked.
Let chicken rest for 3-5 minutes and slice. Serve immediately, best served with pita bread, tzatziki sauce, lettuce, cherry tomatoes, red onion, kalamata olives, and feta cheese.
Notes
Nutritional data is automated, final nutritional information will depend on ingredients used and any changes made.
Nutrition Information:
Yield:
6
Amount Per Serving:
Calories:

302
Total Fat:

12g
Saturated Fat:

3g
Unsaturated Fat:

8g
Cholesterol:

214mg
Sodium:

412mg
Carbohydrates:

1g
Fiber:

1g
Sugar:

0g
Protein:

45g
Peace & Love
Lauren, The Schmidty Wife
P.S. Looking for more grilling recipes? Check out my Grilled Greek Chicken Kabobs or my Prosciutto Pesto Burger.
Please note that my links above may be affiliate links, and I will earn a commission if you purchase through these links. I recommend them because they are helpful, and are companies that I trust, not because of the commissions that I may earn from you using these products.