I first made this Healthier Cajun Chicken Pasta the night before a race of mine. I recently ran a 10k trail race, and it was a lot of work. And as any good runner the night before I 'carbo loaded', *Visioning Michael Scott downing fettuccine alfredo right before his Michael Scott's Dunder-Mifflin Scranton Meredith Palmer Memorial Celebrity Rabies Awarness Pro-Am Fun Run Race For The Cure* ~ Seriously I can't help but compare everything to The Office.
Cajun Chicken Pasta is something that you see a lot of these days but as I was looking at a lot of recipes they were filled with nothing but heavy cream and butter, yikes! I needed to make a healthier version. So I ditched the heavy cream and butter, swapped in milk and a little olive oil, and added veggies! Voila a Healthier Cajun Chicken Pasta!
Also if you were wondering, my race went well! I ran the 10k in 1 hour, if you are a runner and haven't tried a trail run yet I definitely recommend trying one. It can be hard, like a ton of hills, like the last mile was all up hill but so much fun and so beautiful. So go find a fun race to run and 'carbo' load with this Healthier Cajun Chicken Pasta.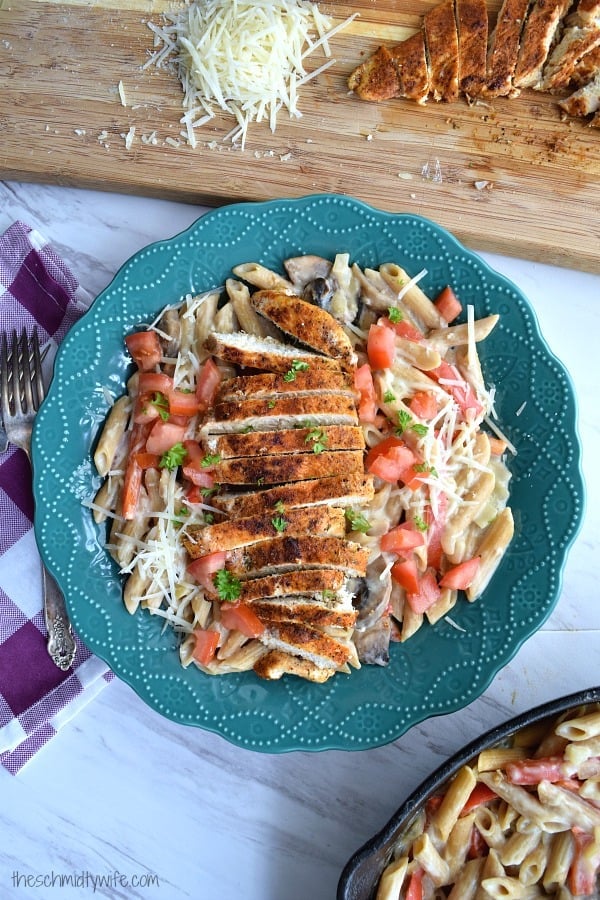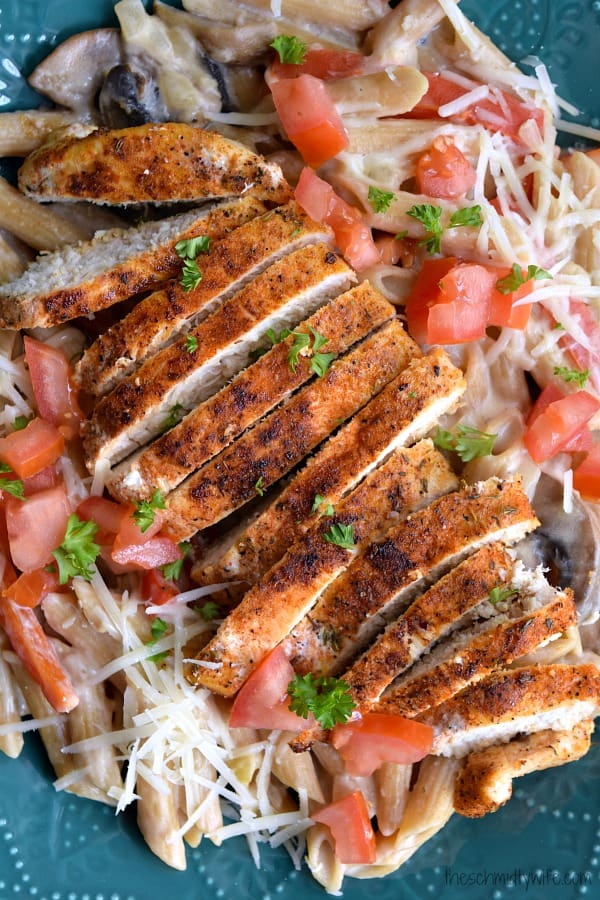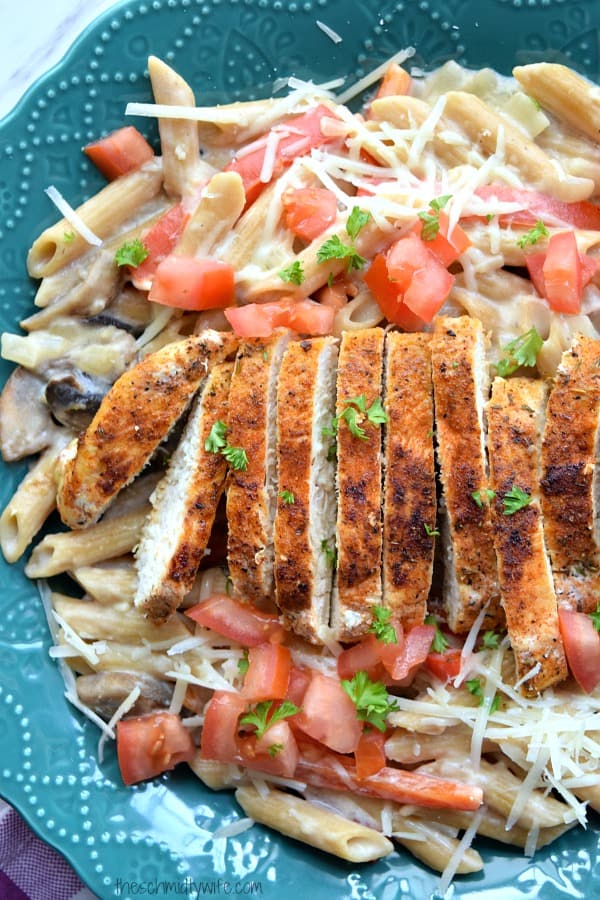 TIPS & TRICKS:
Although this recipe has many different parts (pasta, chicken, sauce) I find it comes together really fast, so definitely make sure that the pasta is made first, and keep your eyes all all the different pieces to make sure nothing overcooks
I can't stress my Cast Iron Pan enough, it is my lifeline in my kitchen, and it is perfect for this recipe
Yield: 4 servings
Healthier Cajun Chicken Pasta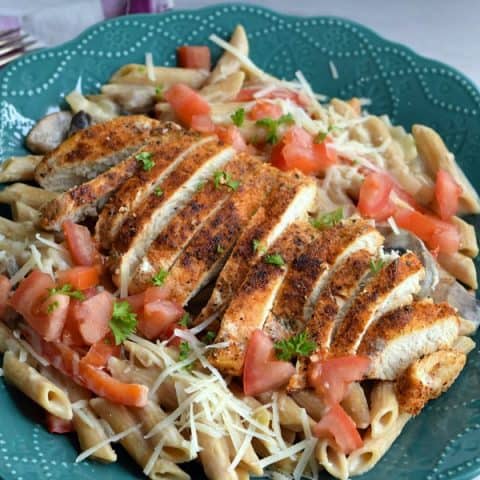 a lightened up version of Cajun Chicken Pasta, featuring whole wheat pasta and milk instead of cream
Ingredients
8 ounces whole wheat penne
2 large chicken breasts
4 teaspoons cajun seasoning
2 teaspoons olive oil
1 yellow onion, diced
1 red bell pepper, sliced
1 cup sliced mushrooms
3-4 cloves garlic, minced
1 1/2 cup milk
1 tablespoon cornstarch
1 cup freshly grated parmesan cheese, plus more for garnishing
1 roma tomato, diced
Instructions
Preheat oven to 375º F.
Prepare whole wheat penne according to package instructions.
Carefully cut each of the chicken breasts in half horizontally, so you now have 4 thin pieces of chicken.
Using 1 teaspoon of cajun seasoning for each piece of chicken, coat each of the chicken pieces, ensure both sides are covered.
In a large skillet heat 1 teaspoon of the olive oil over medium heat.
Place the chicken in a single layer into the hot skillet, cook for 4-5 minutes. Flip chicken and cook another 4-5 minutes.
Transfer the chicken to a baking sheet and place in the oven. Bake for 10-12 minutes until fully cooked.
Add the remaining teaspoon of olive oil to the skillet. Add onion, pepper, mushrooms, and garlic to the skillet.
Cook over medium heat for 4-5 minutes until onion becomes slightly translucent.
Add cornstarch to the milk, stir well to make sure there are no clumps. Add milk mixture to the skillet.
Heat the milk until simmering.
Reduce heat to medium-low, let simmer 4-5 minutes. Add parmesan cheese and stir in until sauce is formed.
Add drained pasta into the skillet and stir into the sauce.
To serve, plate the pasta, slice the chicken and top. Garnish with tomato and parmesan cheese.
Nutrition Information:
Yield:
4
Serving Size:
1
Amount Per Serving:
Calories:

403
Total Fat:

14g
Saturated Fat:

6g
Trans Fat:

0g
Unsaturated Fat:

6g
Cholesterol:

80mg
Sodium:

1632mg
Carbohydrates:

36g
Fiber:

4g
Sugar:

4g
Protein:

34g
Nutritional data is automated, final nutritional information will depend on ingredients used and any changes made.
If you enjoyed this Recipe or any of my others let me know by using #theschmidtywife on social media!
And make sure you are following me on Instagram, Pinterest, and Facebook for all the latest recipes!
Peace & Love
Lauren, The Schmidty Wife
P.S. Looking for other quick dinners? Check out my Sticky Orange Chicken Thighs or my One Pot Southwest Quinoa.
Please note that my links above may be affiliate links, and I will earn a commission if you purchase through these links. I recommend them because they are helpful, and are companies that I trust, not because of the commissions that I may earn from you using these products.