'Healthy-ish' Date Caramel Rolls, yeast risen whole wheat rolls rolled in cinnamon and homemade date caramel, a perfect breakfast or dessert with no refined sugars or butter.
It has been a really tough week at the Schmidt house. There has been about 4 winter storms/blizzards in the past week keeping us snowed in. My son spent all Tuesday night throwing up. My husband spent all Wednesday night throwing up. I fell down the stairs with my son in my arms, leaving me with huge bruises all over my body (my son was unharmed). So between cabin fever, zero sleep, and an achey body I needed to bake. Baking is definitely my outlet, it relaxes me and there is always a tasty treat at the end! So today I am sharing the result, Healthier Date Caramel Rolls.
I dreamed of these caramel rolls while I was falling asleep a few weeks ago. That is how I spend most nights falling asleep, dreaming up food creations. I usually even keep a notepad next to my bed so I can write my ideas down. So I was dreaming about caramel rolls and I thought can I get them healthier? So when I say healthier I mean not entirely full of so much sugar its guaranteed sugar buzz. So I go back to my precious dates, just like with my Cranberry Date Oatmeal or Grandma's Oatmeal Triblys I am going to use dates to make awesome sugar free caramel rolls! So I started with the base of my Overnight Gingerbread Cinnamon Rolls and went from there. The result Healthier Date Caramel Rolls.
These rolls start with a light and airy dough made from milk, yeast, all purpose & whole wheat flours, cinnamon, nutmeg, and an egg. The dough is then left to rise for about an hour until it doubles in size. While the dough is rising the date caramel is made. The dates are left to soak in boiling water for a few minutes so they get plump and juicy. The dates along with milk, coconut oil, cinnamon, and nutmeg are then made silky smooth in a food processor. When the dough is ready it will be rolled out and filled with half of the date caramel. The dough will be rolled up into a log and cut into 6 parts to create the rolls. The rolls have to sit another 45 minutes to an hour for their second rise. Alternatively at this step the rolls can also be put into the fridge for a slow overnight rise (see note in recipe). Once the rolls have risen they are ready for the oven. These Healthier Date Caramel Rolls bake for 50 minutes, they are then topped with the remaining date caramel and served warm.
While these rolls do take a little time to make boy they are worth it. Digging into these when you have a sweet tooth knowing you aren't eating any refined sugar (or butter) is just the icing on the cake (or date caramel on the sweet roll 😉 )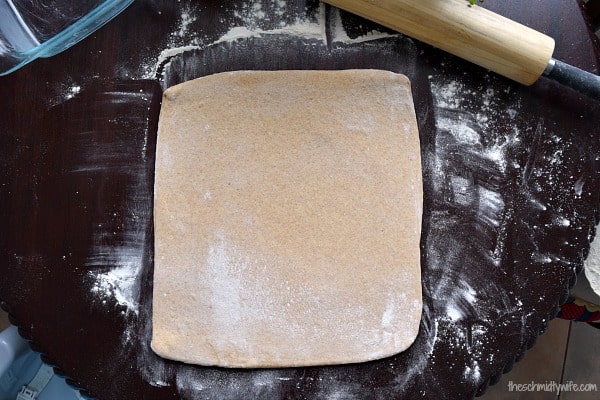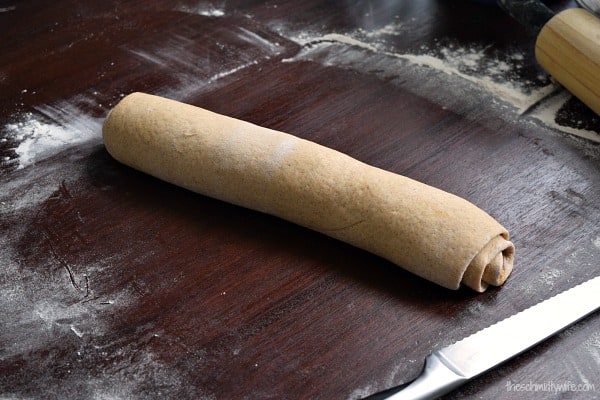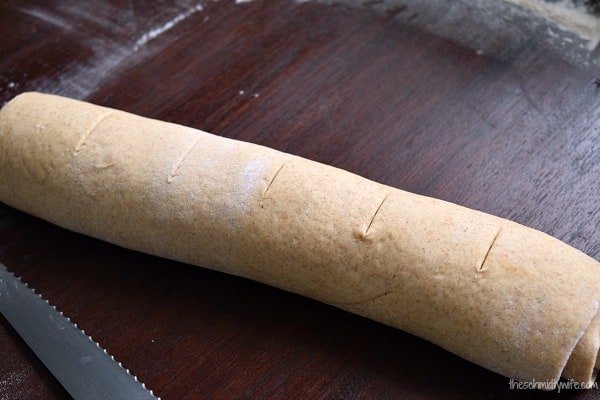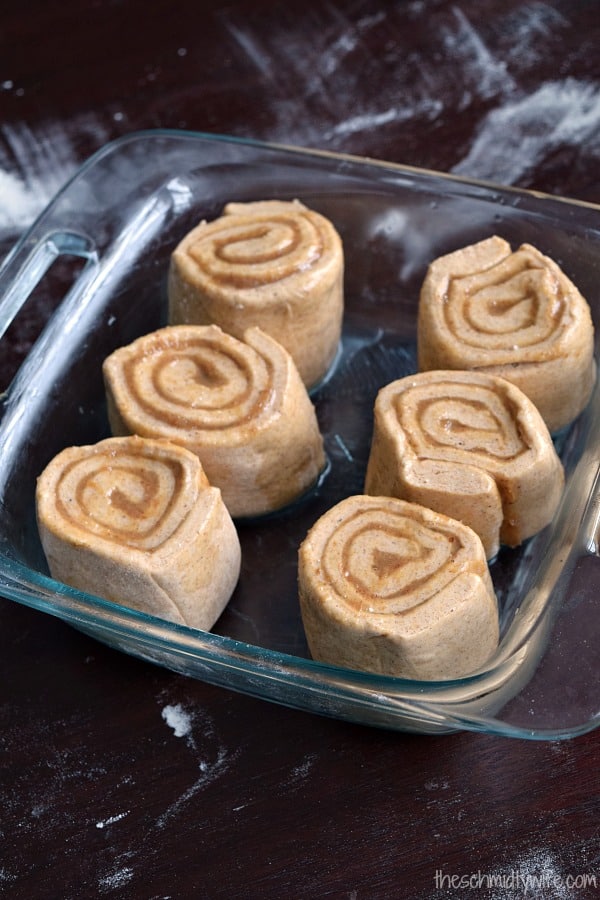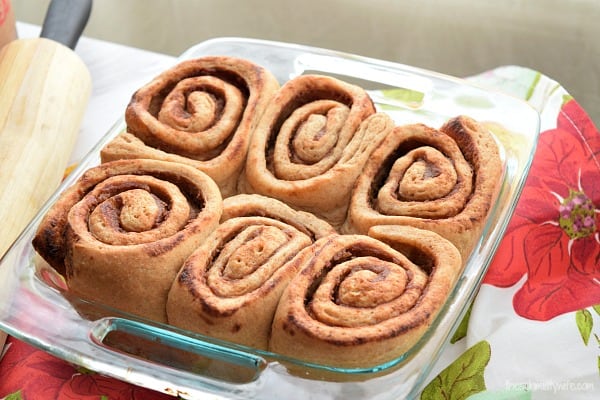 Date Caramel Rolls
Total Time:
3 hours
20 minutes
yeast risen whole wheat rolls rolled in cinnamon and homemade date caramel
Ingredients
for the rolls:
1 cup warm whole milk
1 packet (2 1/4 teaspoons) rapid rise yeast
2 cups all purpose flour
1 cup whole wheat flour
1 teaspoon cinnamon
1/2 teaspoon nutmeg
1 egg
for the filling and topping:
2 cups chopped dates
1/4 cup milk
4 teaspoons coconut oil
1/2 teaspoon cinnamon
1/4 teaspoon nutmeg
Instructions
for the rolls:
In the bowl of a stand mixer add milk and yeast. Let sit for about 5 minutes for yeast to proof.
Meanwhile in a small bowl mix all of the dry ingredients, the flours, cinnamon, and nutmeg.
Once yeast has proofed with the mixer on medium speed slowly add the flour mixture until fully incorporated. The dough might seem a little dry at this point.
Add the egg to the dough. Continue kneading the dough on medium speed for 4-5 minutes. The dough will be in a nice smooth ball at this point.
Place in a large greased bowl and cover with plastic wrap. Place in a warm non drafty area for 45 to 60 minutes until dough has doubled in size.
filling and topping:
Boil about 2 cups water.
In a food processor add dates with the boiling water, cover and let sit for 10 minutes.
Once dates are plump and softened drain the water from the dates leaving a small amount at the bottom.
Start the food processor, with the processor running add in the milk, 2 teaspoons of the coconut oil, the cinnamon, and nutmeg. Let processor run for about a minute, stopping occasionally to scrape down the sides. The date caramel should be smooth and creamy.
Divide date caramel in half. Half will be used as filling and half will be used as the topping.
filling the rolls:
Use part of the remaining coconut oil to grease a 8x8 glass dish.
On a floured surface roll the dough out into a 14x14 inch square.
Gently brush half of the date caramel onto the dough, you want a nice thin layer spread evenly across all of the dough.
Start on one side and tightly roll the dough into a log shape.
With seam side down score dough into 6 even spaces and then use a serrated knife to cut the 6 rolls.
Place the rolls into the greased dish. Brush the remaining coconut oil onto the top of the rolls.
Cover with plastic wrap and place in a warm non drafty area for 45 to 60 minutes until rolls are full and have risen to the top of the dish.*
Preheat oven to 350º F.
Place rolls into oven. Bake uncovered for 30 minutes.
After 30 minutes gently place tin foil over the rolls to prevent burning. Bake another 20 minutes.
The rolls will be done when a butter knife goes in between rolls and comes out clean.
Top with remaining date caramel. Serve immediately.
Notes
*alternatively you can place the rolls in the fridge overnight, just let them sit at room temperature for about 30 minutes before placing in the oven
Nutrition Information:
Yield:

6
Serving Size:

1
Amount Per Serving:
Calories:

432
Total Fat:

7g
Saturated Fat:

4g
Trans Fat:

0g
Unsaturated Fat:

2g
Cholesterol:

36mg
Sodium:

37mg
Carbohydrates:

86g
Fiber:

8g
Sugar:

33g
Protein:

11g
Nutritional data is automated, final nutritional information will depend on ingredients used and any changes made.
If you enjoyed this Recipe or any of my others let me know by using #theschmidtywife on social media!
And make sure you are following me on Instagram, Pinterest, and Facebook for all the latest recipes!
Peace & Love
Lauren, The Schmidty Wife
P.S. Looking for more baking recipes? Check out my All-Butter Pie Crust or my Lemon Squares.
Please note that my links above may be affiliate links, and I will earn a commission if you purchase through these links. I recommend them because they are helpful, and are companies that I trust, not because of the commissions that I may earn from you using these products.