I am in such an incredibly awful winter funk right now. And the worst part of it is it is only the end of January, that means we still have all of February and most of March to deal with… blah! I love living in the north but this time of year it always gets to me. So whenever I am in a funk I usually turn to my favorite comfort, baking. While I love to bake I also love to keep it healthy, like my Zucchini Chocolate Chip Baked Donuts. So in the spirit of healthy baking today I am sharing with you my Healthy Sweet Potato Oatmeal Muffins.
I really love sweet potatoes, so I often have a leftover baked sweet potato or two sitting around. For a while now I had been thinking that I really wanted to make cookies with some of my leftover sweet potatoes, I tried, and it didn't work out that well. So my hopes of sweet potato cookies morphed into sweet potato muffins and guess what they are awesome. I wanted to keep these muffins as healthy as possible so I wouldn't feel bad if my son or husband grabbed them for breakfast or a snack. So along with mashed sweet potato these muffins are loaded with oats, whole wheat flour, coconut oil, and a little maple syrup as a sweetener. To top off these delicious Healthy Sweet Potato Oatmeal Muffins I added dark chocolate, I used a bar of Lindt 70% Dark Chocolate. I like to use Lindt Chocolate not only because it is amazing chocolate but because Lindt Chocolate (USA division) is a local company for me, the chocolate factory is only 5 miles from my house and yes there is a factory store 🙂
I just totally got side tracked by chocolate… anyways these healthy muffins are delicious and full of vegetables (awesome) and other healthy stuff making them the perfect addition to your breakfast (or snack) table. I hope you give these muffins a try and I hope you enjoy them as much as my son does 😉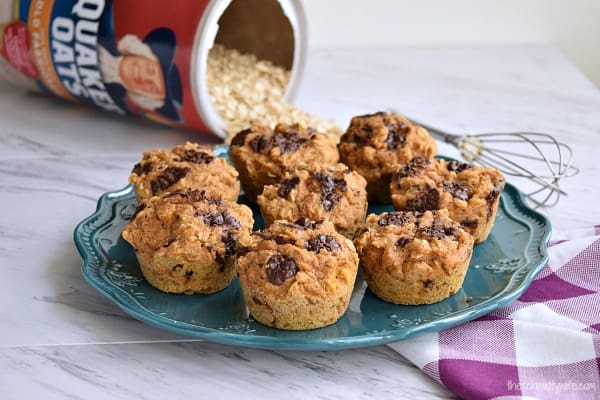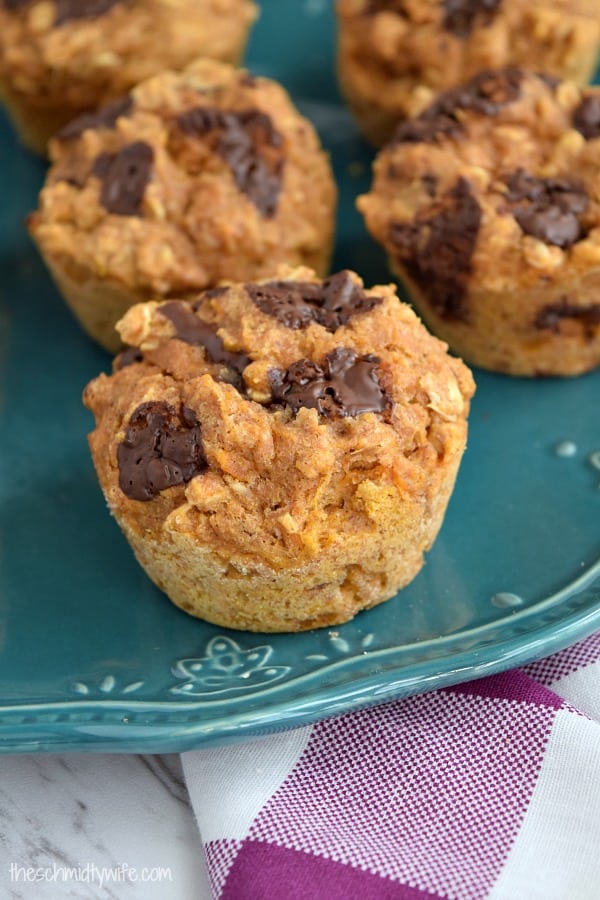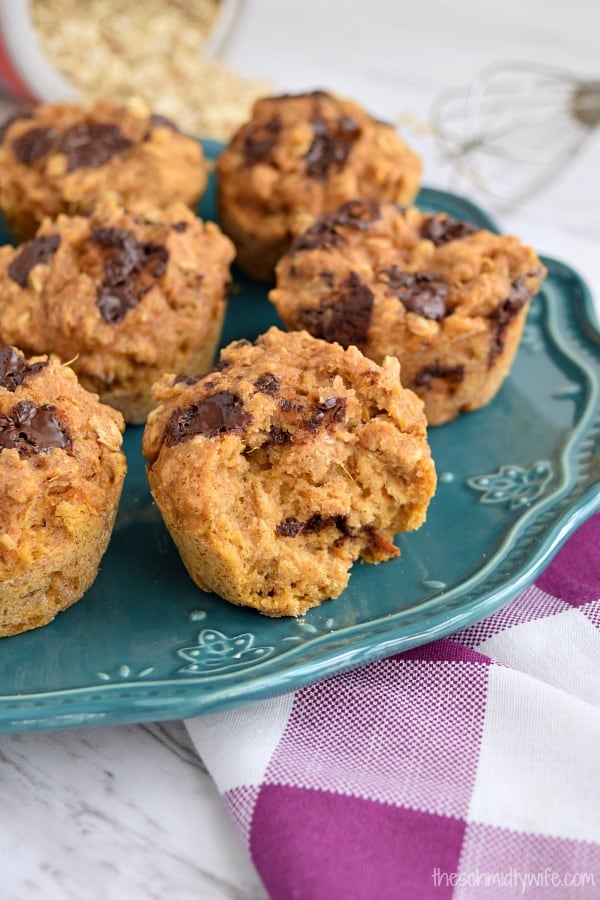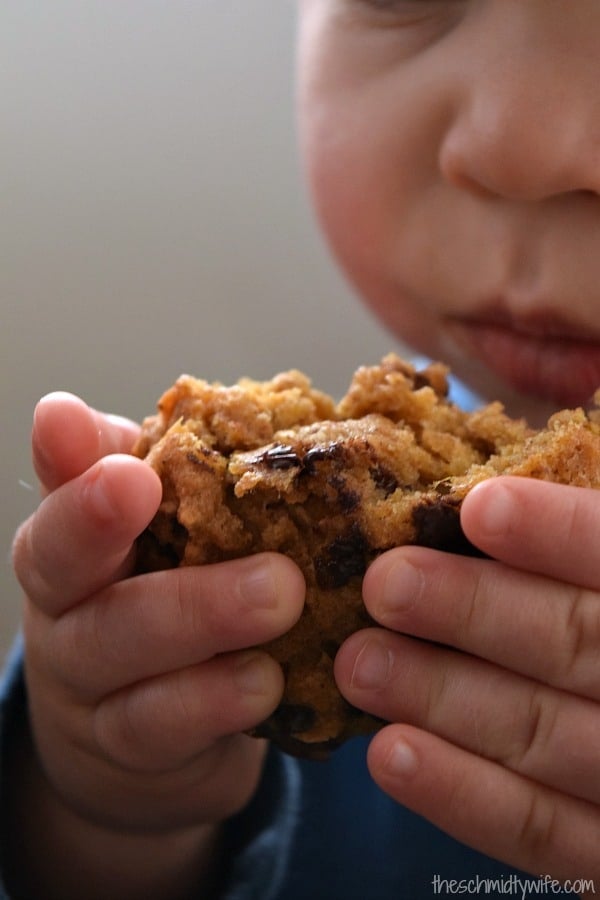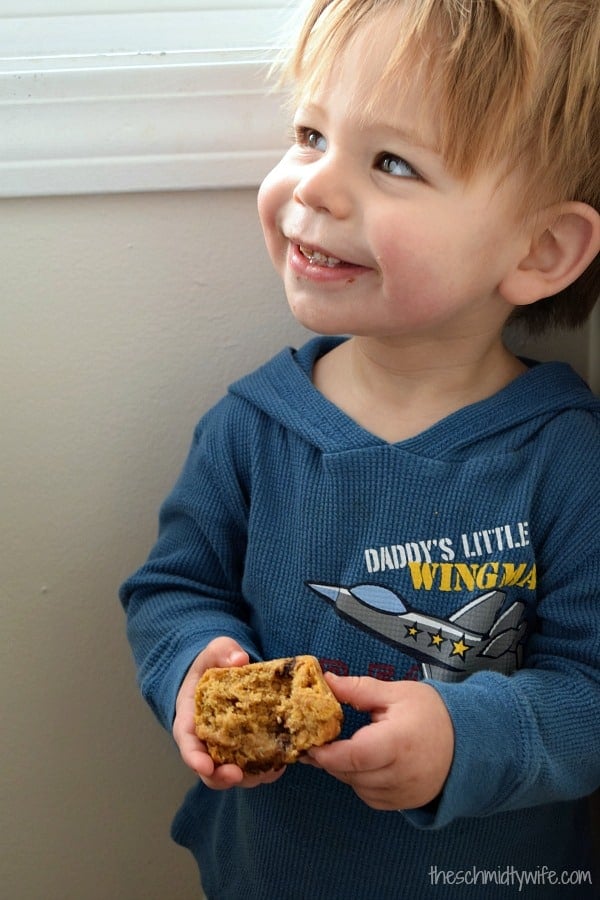 Yield: 12 muffins
Healthy Sweet Potato Oatmeal Muffins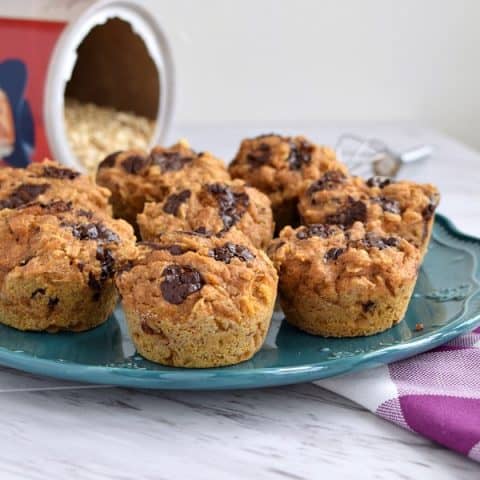 Muffins full of veggies, oats, whole wheat flour, and no refined sugar makes for a quick and healthy breakfast or snack.
Ingredients
1 cup mashed sweet potatoes (around 2 medium or 1 large sweet potato)
2 eggs
1 cup milk
1/4 cup maple syrup
1/3 cup coconut oil (melted)
2 teaspoons baking powder
1/4 teaspoon salt
1 teaspoon cinnamon
1 1/2 cup oats
1 1/2 cups whole wheat flour
3.5 ounces dark chocolate
Instructions
Preheat oven to 350º F. Oil a muffin tin and dust with flour.
In a large bowl mix together the wet ingredients mashed sweet potatoes, eggs, milk, maple syrup, and coconut oil.
In a second large bowl mix together dry ingredients baking powder, salt, cinnamon, oats, and whole wheat flour.
Slowly mix the dry ingredients into the wet ingredients.
Chop the chocolate into chip size pieces and stir into the muffin batter.
Scoop batter into the muffin tin, fill the batter to the top of each muffin.
Bake 18-20 minutes until toothpick comes clean out of the center. Transfer to a wire rack to cool. Keep in an airtight container.
Nutrition Information:
Yield:
12
Serving Size:
1 muffin
Amount Per Serving:
Calories:

260
Total Fat:

12g
Saturated Fat:

8g
Trans Fat:

0g
Unsaturated Fat:

3g
Cholesterol:

37mg
Sodium:

167mg
Carbohydrates:

33g
Fiber:

4g
Sugar:

11g
Protein:

6g
Nutritional data is automated, final nutritional information will depend on ingredients used and any changes made.
If you enjoyed this recipe or any of my others let me know by using #theschmidtywife on social media!
And make sure you are following me on Instagram, Pinterest, and Facebook for all the latest recipes!
Peace & Love
Lauren, The Schmidty Wife
P.S. Looking for more baking recipes? Check out my Chocolate Peanut Butter Black Bean Muffins or my Pumpkin Mug Muffin.
Please note that my links above may be affiliate links, and I will earn a commission if you purchase through these links. I recommend them because they are helpful, and are companies that I trust, not because of the commissions that I may earn from you using these products.