IT IS ALL ABOUT BALANCE PEOPLE! Seriously I have been trying to keep it healthy and fresh on The Schmidty Wife the best I can lately. But sometimes you just have to have that ice cream right!?! So today I am sharing my Homemade Mint Chocolate Chip Ice Cream Recipe.
I was hesitant to share my Homemade Mint Chocolate Chip Ice Cream with you for a couple of reasons. First, this isn't really a healthy recipe like I usually try to focus on. Second, this recipe uses an ice cream machine, which isn't super common place. But guess what I am sharing it with you anyways.
Matt and I are ice cream people. You know how everyone basically has their favorite desserts, well ours is definitely ice cream. Leave those brownies, cookies, cupcakes alone because we will take a huge cone of ice cream over anything else any day. So because we love ice cream so much I hinted to my parents that an ice cream maker would be a great gift idea. They got the hint and bought one for Matt's birthday last year.
If you too consider yourself an ice cream person I would say to definitely go for it and purchase yourself an ice cream maker. It doesn't even have to be a super fancy kind, you can often find them for pretty reasonable prices.
We've made some pretty good ice creams over the last year, just plain vanillas, strawberry during summer, gingerbread during Christmas, and of course we've been loving this Homemade Mint Chocolate Chip Ice Cream.
The Ingredients
So besides the fact that you need an ice cream maker this recipe is super easy. Milk, Heavy Cream, Sugar, Peppermint Extract, Chocolate, and because it has to be green, food coloring.
You mix the the milk, cream, sugar, mint, and food coloring together until the sugar is dissolved. Pour it into you ice cream maker, follow your manufacturer's instructions. Then shave your chocolate and add it the last few minutes of churning. You'll want to freeze your ice cream for a couple of hours and then you'll be ready for Homemade Mint Chocolate Chip Ice Cream!
Eat It
In a bowl or on a cone.
Yes making your own delicious ice cream is that simple.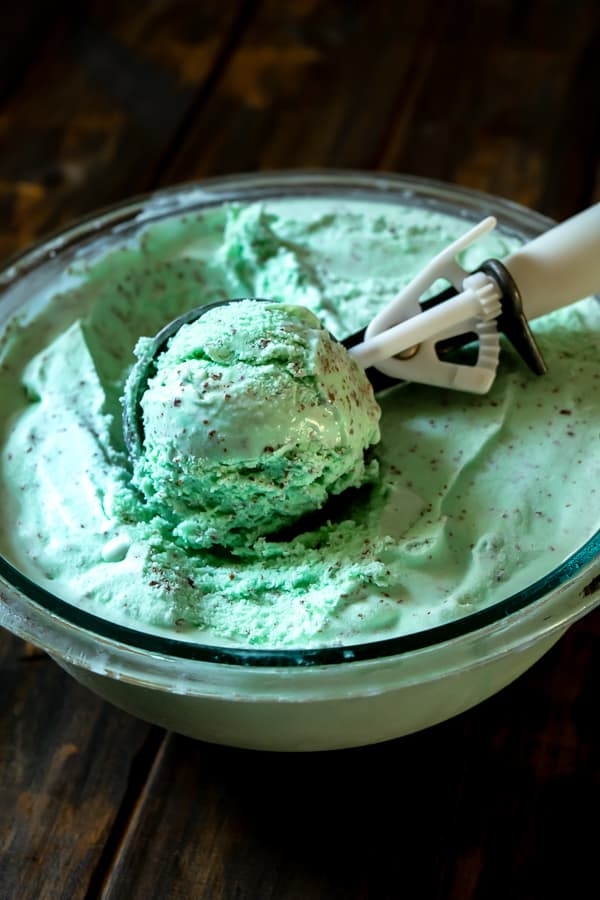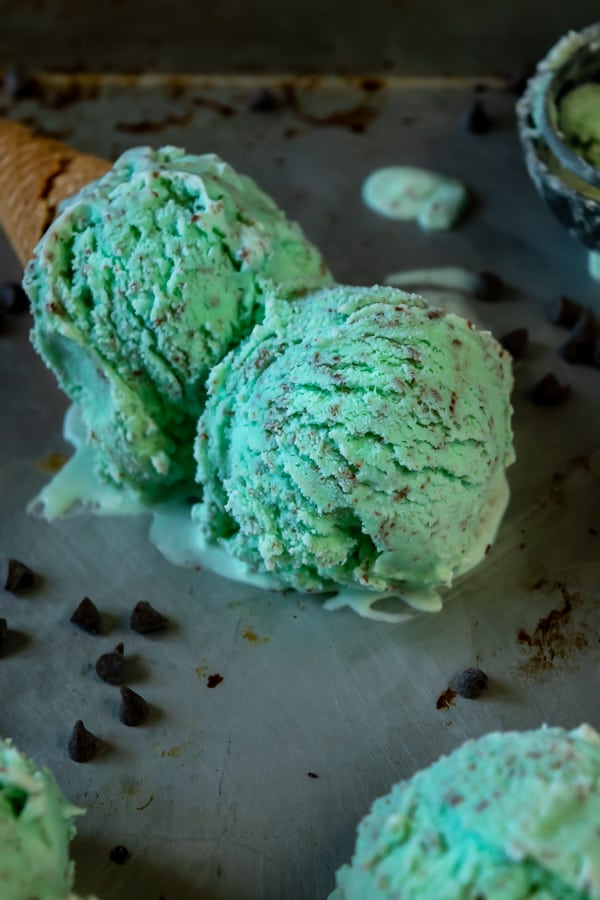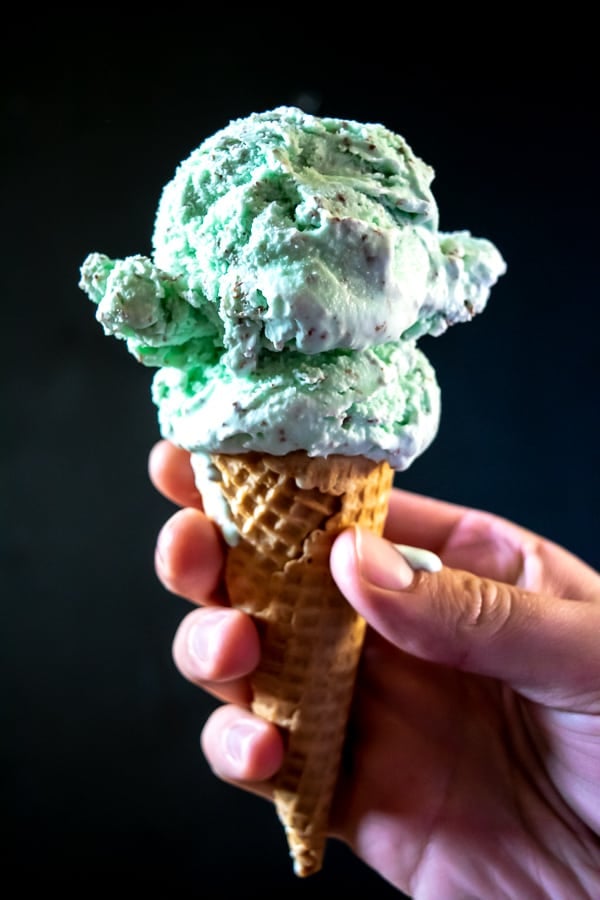 TIPS & TRICKS:
• Freeze the chocolate before shaving it (especially in the heat). And break it off into little pieces to shave it down so that your body heat doesn't melt it all. Chocolate doesn't take long to freeze, I found even being in the freezer for 5 minutes makes a huge difference
• Speaking of chocolate I just use a plain old Hershey's Chocolate Bar because I like it simple. You could also use chocolate chips if you really wanted, but they will get frozen making them kind of hard to chew especially compared to the smooth ice cream. Also I have used a little bit fancier chocolate and dark chocolate in this ice cream, super yummy.
• You do need an ice cream machine for this recipe, if you try to just put the ingredients in the freezer you will just get a big peppermint milk ice cube
• Click Here to view Ice Cream Machines on Amazon
Yield: 6 servings
Homemade Mint Chocolate Chip Ice Cream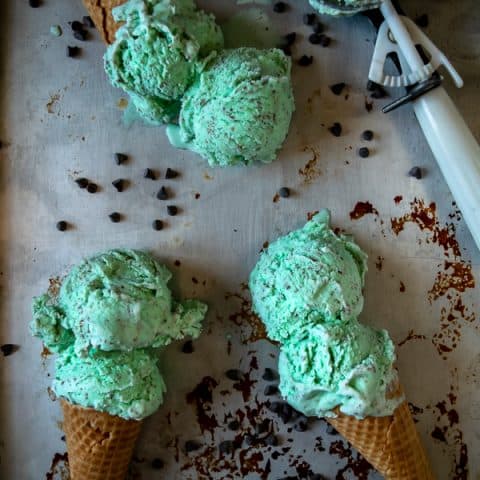 homemade mint ice cream full of chocolate shavings
Total Time
3 hours
35 minutes
Ingredients
1 1/2 cups milk
1 1/2 cups heavy cream
3/4 cup sugar
1 1/2 teaspoons peppermint extract
1 1.55oz chocolate bar, frozen* (Hershey's Milk Chocolate bar is what I use)
10 drops green food dye
Instructions
In a bowl whisk together the milk, cream, sugar, peppermint extract, and food dye if using until the sugar is dissolved.
Pour into your ice cream machine, follow manufacturers instructions for how long it takes. My usually takes about 30 minutes.
While ice cream is churning, shave your chocolate bar using a grater. If you follow my notes you'll see that freezing the chocolate bar is easier to shave, especially if it is warm out.
In the last few minutes of churning add the chocolate shavings so they can be mixed in.
Transfer ice cream to a freezer safe container, and freeze for at least 3-4 hours. (Or if you like it really soft eat immediately.) Serve in a dish or on a cone.
Notes
*Freezing the chocolate bar makes it so much easier to shave, it also doesn't need to be in the freezer that long for it to become hard, I have found it only needs about 5 minutes or so. I also only take the bar out bit by bit to shave it and leave the rest in the freezer to stay cold. If I am not immediately using the shaved chocolate I will store in the freezer until ready to use (especially if it is hot out, that shaved chocolate melts fast).
Nutritional data is automated, final nutritional information will depend on ingredients used and any changes made.
Nutrition Information:
Yield:
6
Amount Per Serving:
Calories:

378
Total Fat:

26g
Saturated Fat:

16g
Cholesterol:

89mg
Sodium:

56mg
Carbohydrates:

34g
Fiber:

0g
Sugar:

34g
Protein:

4g
Peace & Love
Lauren, The Schmidty Wife
P.S. Looking for more desserts like my Homemade Mint Chocolate Chip Ice Cream? Check out my Orange Spiced Carrot Cake or my Chocolate Peppermint Christmas Cookies.
Please note that my links above may be affiliate links, and I will earn a commission if you purchase through these links. I recommend them because they are helpful, and are companies that I trust, not because of the commissions that I may earn from you using these products.