A complete roundup of 15 of the BEST Homemade Soup Recipes. From tomato soup to clam chowder and everything in between this list of soup recipes has something for everyone!
This post may contain Affiliate Links.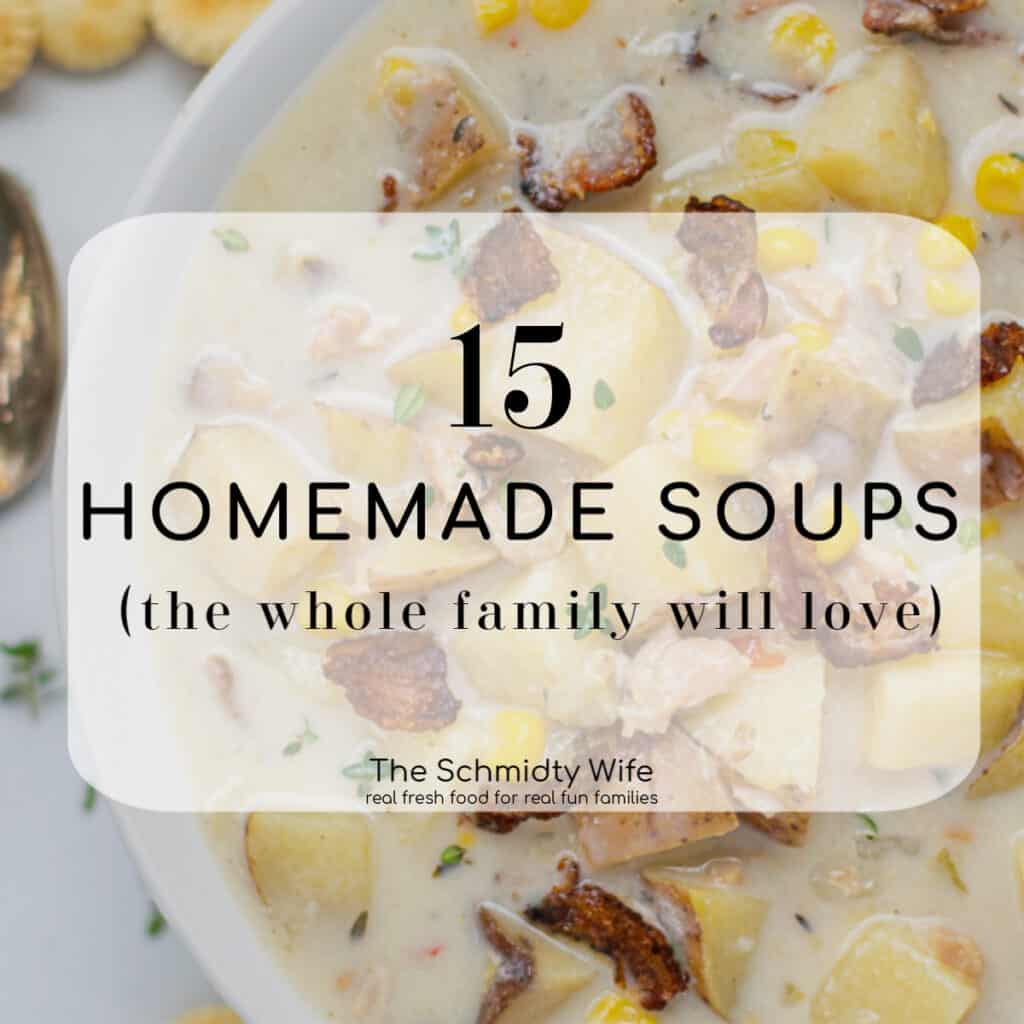 Best Homemade Soup Recipes Ever
Every fall and winter we quickly rely on soup as a meal at least once a week. Something is so comforting about a hot bowl of soup on a chilly night so I thought it would be best to round up some of my own favorite soup recipes and a few more from some blogger friends to help you decide which soups you should be making this week.
Before we run down the list lets touch on a few soup tricks that can help you get the best pot!
Homemade Soup Tips!
Especially if you make soup on a regular basis I recommend having a few varieties of Better than Bouillon in your fridge. So much easier to store than traditional broth and has a ton of flavor plus it makes it easier to make soup on a whim. There is a variety of flavors but I recommend starting with a chicken base.
Most soups can be frozen easily if you have leftovers, the biggest exception to freezing is when they have a grain like rice or noodles, those don't freeze particularly well, soups heavy in dairy tend not to freeze well either
Soups are usually very easy recipes to get creative and 'make it yours'. Go ahead and add more vegetables or aromatics if that is what you like, the nice thing about soup is that you can always taste it as you go, so if you love garlic go head add a little more.
Salt at the end. This is something I personally do with most of my soups, I like to concentrate on the other flavors building during cooking and then taste my soup and add how much salt you think the soup actually needs, this keeps your soup from getting too salty.
Garnish your soup! Fresh herbs can basically be a garnish to every kind of soup. Depending on the soup's flavors parsley, cilantro, green onion, and thyme are some of my favorites to top off a nice bowl of soup!
So let's find a soup perfect for you and let's get cooking!
And make sure you are following me on TikTok, Instagram, Pinterest, and Facebook for all the latest recipes!
Lauren, The Schmidty Wife