There is nothing more comforting than Chicken Noodle Soup. If it has been a rough week it is a meal I always make for dinner. And these last couple weeks have been no exception, April started with a snow storm so I went crazy with cabin fever, and then a week later was my son's first bloody trip to urgent care (he might have some scarring but he is OKAY), and then on top of that spring colds which will surely just roll right into spring allergies. So when life gets you down, make soup! So today I am sharing my Homestyle Crockpot Chicken Noodle Soup.
So after years of making Chicken Noodle Soup I finally wrote down the recipe, or I should say I wrote down a version of my recipe, it tends to be a little different every time. Chicken Noodle Soup is just one of those recipes where I just make it, I know that doesn't make total sense, but the recipe kind of just flows from my fingers and makes itself. It always starts off with a couple of chicken breasts. A couple of carrots, some celery, and an onion. Seasoned with bay leaves, parsley, dill, salt, and pepper. Chicken broth, bouillon, and water is added, and ready to simmer. Of course this is one of those recipes that is just best in the slow cooker in my opinion, but could be done on the stove or instapot. After the chicken is cooked and the veggies are tender, the chicken is removed and big thick homestyle egg noodles are added. The chicken is then shredded and put back once the noodles are ready to go. I call my soup 'homestyle' because I am a big believer in thick cut, big bite soup that fills up your stomach and soul. So don't skimp on the homestyle kind of noodles and leave your chicken in veggies in real bite size pieces.
Like most soup this reheats really well and this makes a huge batch so there will be plenty the next day or to share! So get yourself out of that funk and make a comforting batch of Homestyle Crockpot Chicken Noodle Soup.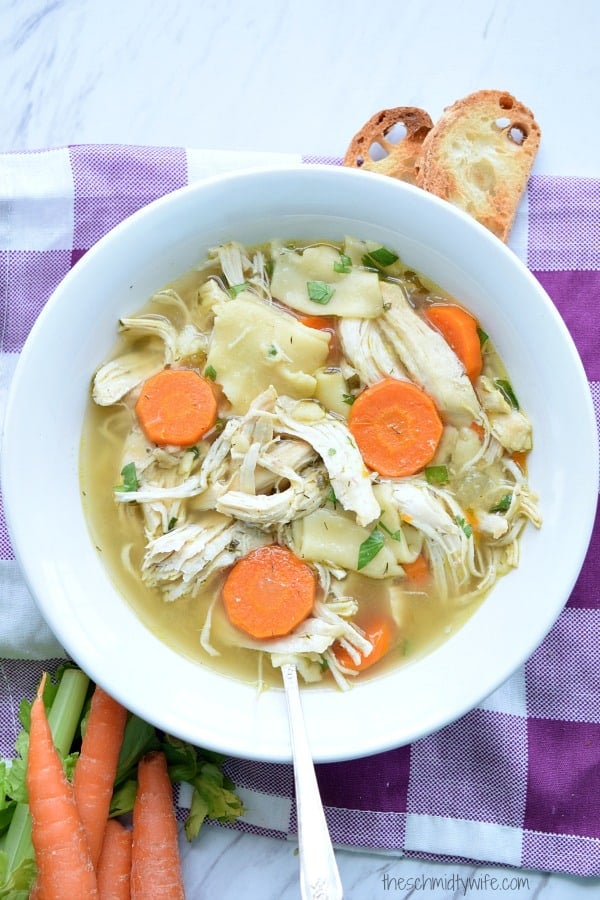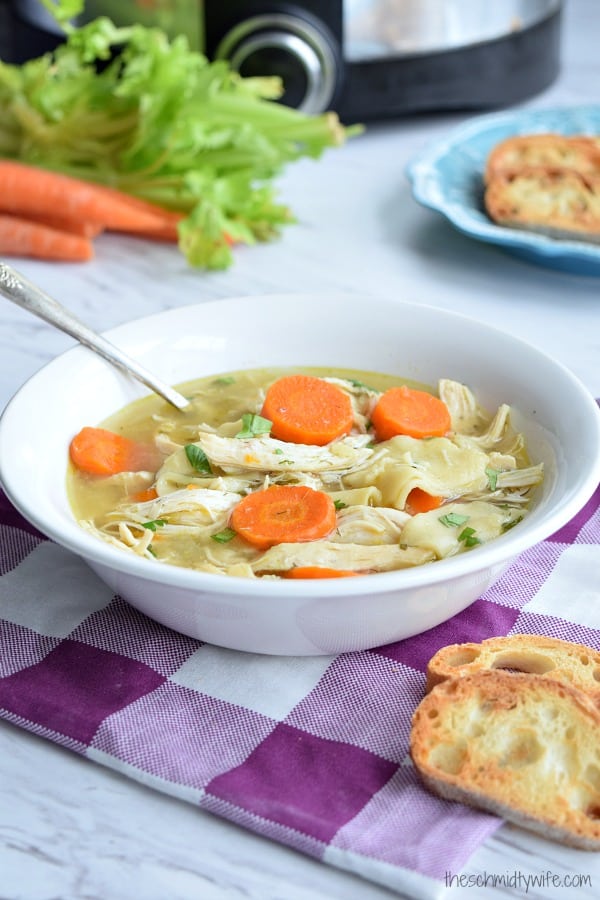 TIPS & TRICKS:
If you find yourself extra busy in the mornings, cut up the vegetables the night before, store them in the fridge and add them along with everything else in the morning.
fyi this does make a big batch
I love adding extra bouillon to give it a little more flavor, and I prefer actually using Better Than Bouillon, I always keep some in my fridge (the organic chicken base is all natural and organic, which is awesome). You can buy it at your grocery store or online.
Yield: about 8 servings
Homestyle Crockpot Chicken Noodle Soup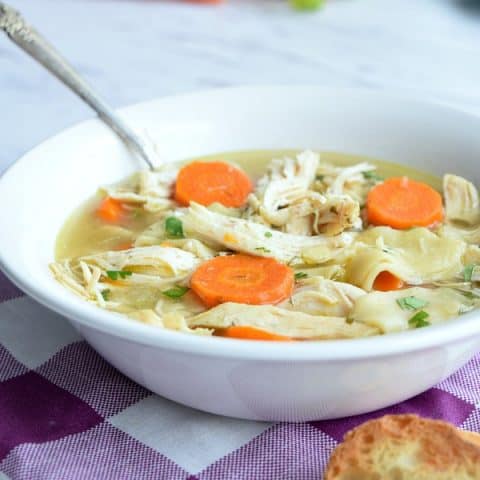 Chicken Noodle Soup made in the slow cooker
Total Time
6 hours
10 minutes
Ingredients
2 pounds chicken breasts
4 medium carrots, sliced
3 celery ribs, sliced
1 medium sweet onion, diced
2-3 bay leaves
2 tablespoons dried parsley flakes
1 tablespoon dried dill weed
1 teaspoon salt
1/2 teaspoon pepper
4 cups chicken broth
2 teaspoons better than bouillon chicken or 2 chicken bouillon cubes
4 cups water
6 ounces homestyle egg noodles (about half a package)
Instructions
Add chicken breasts, carrots, celery, onions, bay leaves, parsley, dill, salt, pepper, broth, bouillon, and water to a large slow cooker.
Cook on high 4-5 hours or low 6-8 hours.
30 minutes before you are ready to eat remove the chicken from the slow cooker and set aside to cool. Stir in the egg noodles, turn the slow cooker to high.
Cook egg noodles for 20 minutes. Shred chicken and return to soup, giving the whole thing a good stir. Cook for 10 more minutes.
Remove the bay leaves and serve immediately.
Nutrition Information:
Yield:
8
Serving Size:
1
Amount Per Serving:
Calories:

276
Total Fat:

6g
Saturated Fat:

2g
Trans Fat:

0g
Unsaturated Fat:

4g
Cholesterol:

115mg
Sodium:

1094mg
Carbohydrates:

12g
Fiber:

2g
Sugar:

4g
Protein:

40g
Nutritional data is automated, final nutritional information will depend on ingredients used and any changes made.
If you enjoyed this Recipe or any of my others let me know by using #theschmidtywife on social media!
And make sure you are following me on Instagram, Pinterest, and Facebook for all the latest recipes!
Peace & Love
Lauren, The Schmidty Wife
P.S. Looking for more soup recipes? Check out my Black Bean Tortilla Soup or my Simple Vegetable Rice Soup.
Please note that my links above may be affiliate links, and I will earn a commission if you purchase through these links. I recommend them because they are helpful, and are companies that I trust, not because of the commissions that I may earn from you using these products.