On Saturday mornings my husband takes our son to swim classes, leaving me at home all alone and it is glorious! It gives me a chance to sit down and drink an actual hot cup of coffee or tea, get some work done, and enjoy a breakfast that I want to enjoy. So lately on these Saturday mornings I have been playing around with grapefruit, and I have finally perfected my Honey Broiled Grapefruit.
Grapefruit are one of my favorite fruits because of the memories associated with them. Growing up mostly every winter my family would make the trip from Minnesota to Florida to visit my grandparents. These were glorious vacations we traded the snow and subzero temperatures for sandy beaches and swimming pools. These vacations trigger a lot of food associations for me, southern style barbecue, fresh seafood, the most delicious citrus flavored soft-serve ice cream (a chocolate and lime soft serve swirl that will leave you dreaming about it for years to follow), and of course fresh citrus fruits right off the tree! Just thinking about how juicy and delicious those fresh grapefruits are literally give me chills, so freaking juicy! Growing up I always ate my grapefruit just cut in half and scooped it up with a spoon, and up until recently I always ate it the same way.
Recently I had gotten a batch of grapefruit that honestly wasn't all that great, it wasn't bad but not great, it had me wishing that I could get freshly picked grapefruit in New Hampshire, big dreams I guess. So I wanted a way to make it tastier, I had read about broiling so I decided to give it a try. So throughout the past few weeks I have been trying to figure out the best way to broil grapefruit for optimal flavor and it turns out less is more. I tried brown sugar, honey turned out waaay better, I tried getting really fancy with it, turns out just a few sprinkles of a few spices worked best. So in my final rendition of the Honey Broiled Grapefruit, the grapefruit are drizzled with honey, a pinch of sea salt, a dash of cayenne pepper, and a small sprig of fresh rosemary. The grapefruit are simply broiled in the oven until done, and voila you have a delicious, juicy, and flavorful grapefruit.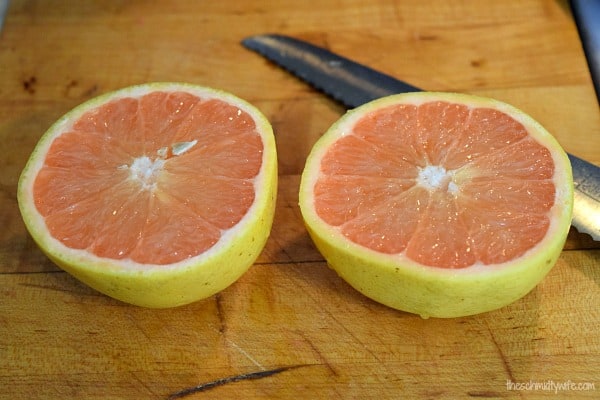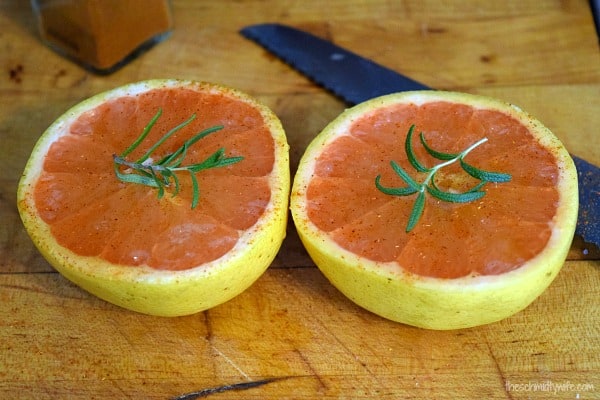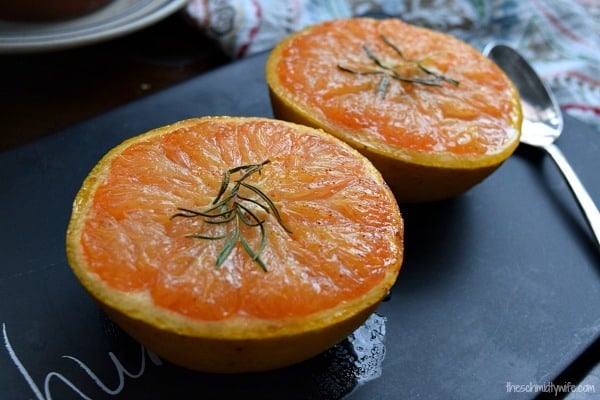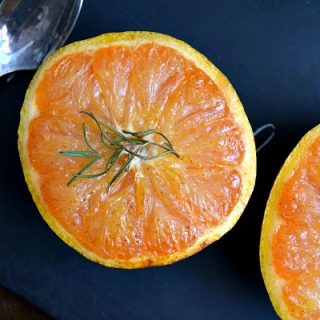 Honey Broiled Grapefruit
Yield:
1 broiled grapefruit
a grapefruit made extra juicy and flavorful by broiling it in the oven with honey and spices
Ingredients
1 large grapefruit
a few drizzles of honey
a pinch of sea salt
a dash of cayenne pepper
2 (2-inch) fresh rosemary sprigs
Instructions
With an oven rack in the middle position set your oven to broil.
Slice grapefruit in half and place on a baking sheet fruit side up.
Drizzle honey over top the 2 halves. Sprinkle grapefruit halves with a pinch of sea salt and a dash of cayenne pepper. Place rosemary sprigs in the center of each half.
Place in the oven, let broil 12-14 minutes until sides start to brown.
Enjoy warm (remove rosemary before eating).
Nutrition Information:
Yield:

1
Serving Size:

1
Amount Per Serving:
Calories:

170
Total Fat:

0g
Saturated Fat:

0g
Trans Fat:

0g
Unsaturated Fat:

0g
Cholesterol:

0mg
Sodium:

133mg
Carbohydrates:

44g
Fiber:

4g
Sugar:

34g
Protein:

2g
Nutritional data is automated, final nutritional information will depend on ingredients used and any changes made.
If you enjoyed this recipe or any of my others let me know by using #theschmidtywife on social media!
And make sure you are following me on Instagram, Pinterest, and Facebook for all the latest recipes!
Peace & Love
Lauren, The Schmidty Wife
P.S. Looking for more recipe? Check out my Healthy Yogurt Ranch Dip or my Sheet Pan Snack Platter.
Please note that my links above may be affiliate links, and I will earn a commission if you purchase through these links. I recommend them because they are helpful, and are companies that I trust, not because of the commissions that I may earn from you using these products.