Italian flavors pressed into individually wrapped sandwiches, these Italian Pressed Picnic Sandwiches are full of flavor! Made ahead of time and wrapped up tight these sandwiches are perfect for picnics, summer lunches, and trips to the beach!
This post may contain Affiliate Links.
Italian Picnic Sandwiches
Ironically today's recipe comes after my Prosciutto Pesto Burger which was based after my Italian Pressed Picnic Sandwich. These sandwiches I have been making for my family the last couple years and it has become one of our favorites! Made ahead of time these sandwiches are full of cured meats, cheeses, and flavorful pesto! Perfect for a picnic, road trip, or dinner!
My favorite place to bring these sandwiches is the beach! They are so perfect for a trip to the beach. I am able to make them ahead of time the night before, so when I am trying to get everything packed the next morning I have one less thing to worry about!
Anyone else who heads to the beach regularly with kids still have trouble knowing what to bring? I have been obsessed with this list by Make Time To See The World: 45+ BEACH ESSENTIALS TO HAVE YOU SUMMER READY IN SECONDS! Sure I know how to make a killer sandwich but how do I always forget something else I need?!
Anyone else in the same boat?? If yes check that article out!
Anyways…
If you have been following the blog this summer you might have noticed that I have been reusing many of the same ingredients. Flavorful pesto, irresistible prosciutto, salty mozzarella & provolone, and fresh tomatoes. I'd say sorry but I am really not sorry. I have done this for a couple of reasons.
First reason, ummm these things are delicious! Duh, seriously how can you resist those flavors, whatever the format they blend so perfectly.
Second reason, it actually makes my meal planning easier and cheaper. By making foods with shared ingredients I am able to cut down on grocery costs and have a better idea about what my menu should look like for the week.
Think about it, if you are making my Prosciutto Pesto Burgers you might open up a pack of prosciutto but not use it all, well viola just make Pesto Pizza later that week while the prosciutto is still fresh. So that same ingredient is used fully and not put to waste. Having a 'flavor theme' during a week of menu planning can make meal decisions faster and easier, give it a try!
But now let's get down to what you really came here for, a delicious Italian Pressed Picnic Sandwich.
The Ingredients
Let's start at the outside and work our way in. The bread, Ciabatta Rolls. In my version of these sandwiches I use ciabatta rolls opposed to a loaf. The rolls mean I don't have to get a knife out and cut these down and re-wrap the sandwiches before we want to pack them for a picnic. Each sandwich is individually wrapped and pressed.
The meats. I use prosciutto and salami, these cured meats are wide spread and so delicious. It gives the sandwich that nice salty flavor and adds protein. If you aren't a huge fan of either of these meats you can substitute a different cured meat like soppressata, capocollo, or cutatello.
The cheese. A sandwich like this deserves two cheeses. Both mozzarella and provolone work so nicely together, a nice salty mozzarella and a more flavorful provolone. Double cheese always means double happy, right!?
Tomato. The real fresh part of this sandwich. The problem with adding tomato is you have to make sure you position it correctly so it doesn't make everything soggy. I have done some investigating work and found if you layer it between the cheese and cover it with basil leaves it makes a little barrier and it prevents that sogginess that no one likes!
Basil. I added the basil for two reasons. It tastes great! And to help prevent sandwich sogginess. Just throwing a couple leaves on top of the tomato makes a huge difference in both categories. Plus it keeps a certain freshness to the sandwich and not to mention an extra burst of flavor.
Pesto. You can't make an Italian Pressed Picnic Sandwich without pesto, that's not allowed. A nice smother of pesto keeps this sandwich moist without getting soggy and flavorful without overpowering all the other more subtle flavors in the sandwich. You can use a homemade pesto or a store bought pesto.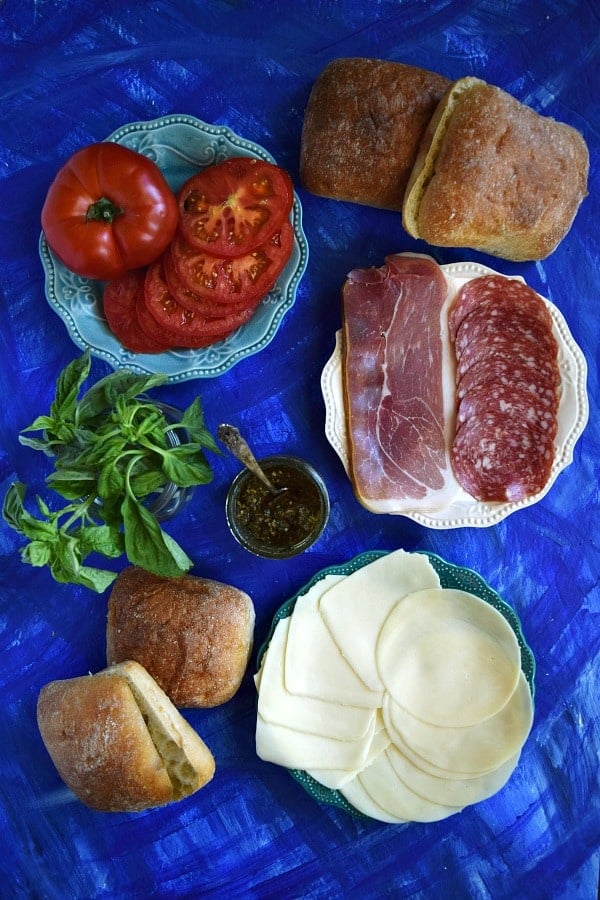 Making & Storing the Sandwiches
It is best to build these like an assembly line opposed to one at a time. Lay out all of your roll bottoms. Layer with meats, then cheeses, tomato slices, and basil leaves. Then spread your pesto on the top roll and place on top of the basil leaves to complete your sandwich.
To press these you need to start by tightly wrapping each sandwich in cling wrap, try to not let any air pockets in the cling wrap as to not interfere with the pressing.
For the pressing you'll want to make sure you have a nice open spot in your fridge for you to use. You also need to find a couple of large heavy books or a something else heavy and compact to weigh the sandwiches down. I use a couple of large cookbooks, like the really heavy +1,000 recipe kinds. Or you'll need to place a cutting board on top with weighs, like hand weights, or heavy can goods. Whatever you choose just make sure there is some real pressure on the sandwiches.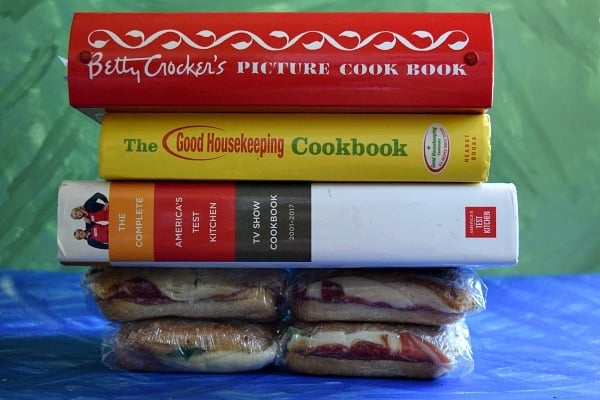 If you truly are bringing these on a picnic (which you should) just transfer the sandwiches to a cooler. Otherwise just unwrap and eat! These are definitely a crowd favorite and people will ask you if you will make them again!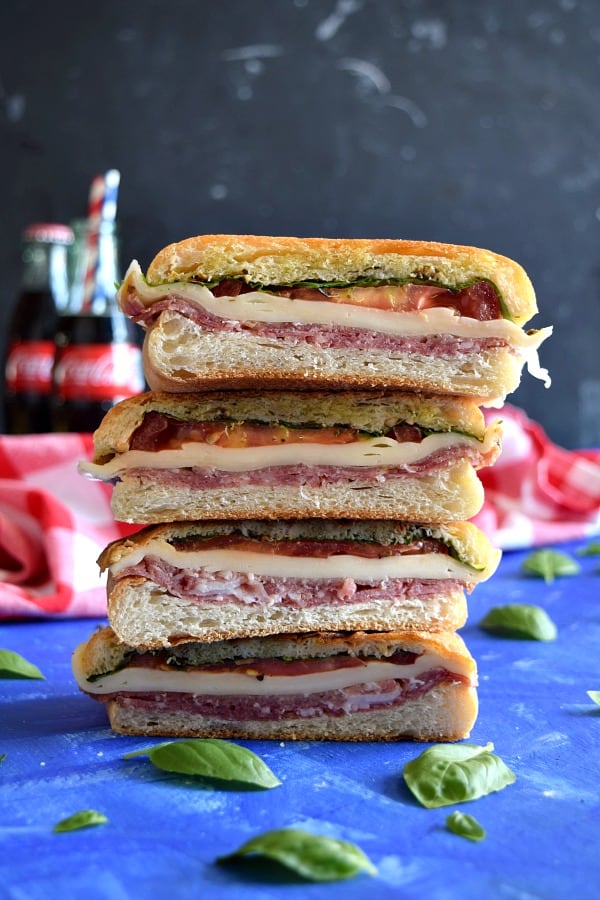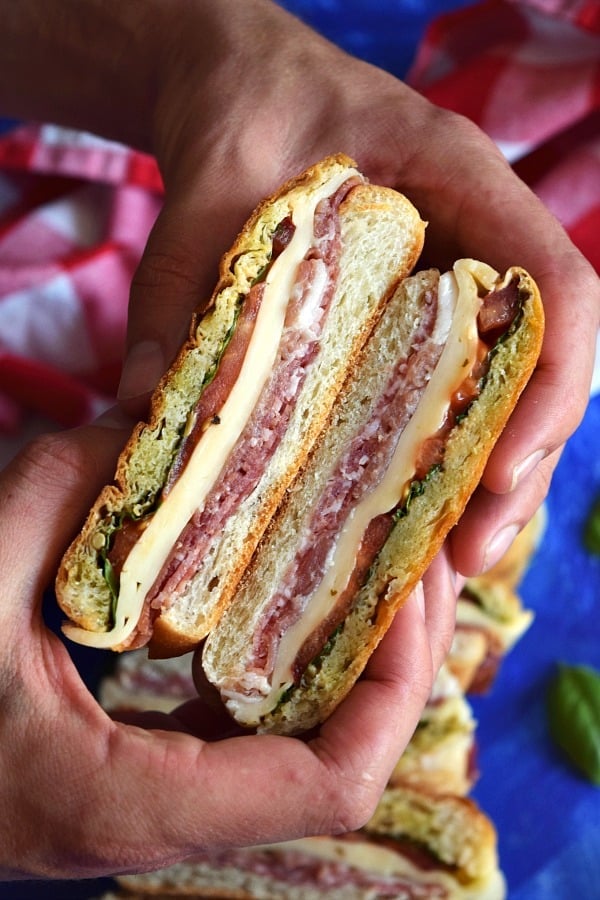 TIPS & TRICKS:
my Healthier Bacon Ranch Potato Salad goes perfect with these sandwiches
feel free to put your own spin on your Italian Pressed Picnic Sandwich, like I said above switch out the meats or even the cheeses if you feel necessary
Yield: 4 sandwich
Italian Pressed Picnic Sandwich Recipe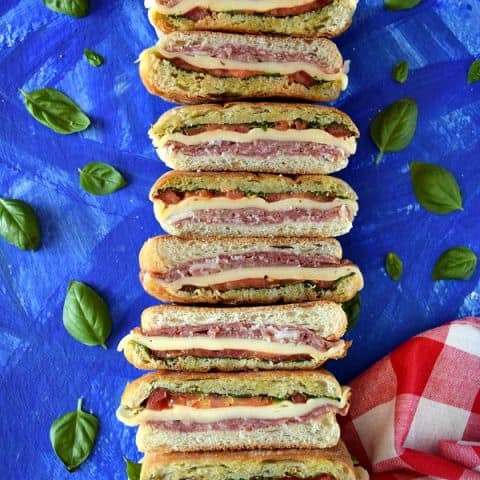 Italian flavors in pressed individually wrapped sandwiches, perfect for picnics and summer lunches
Resting Time (optional)
12 hours
Total Time
12 hours
15 minutes
Ingredients
4 Ciabatta Rolls
1 large tomato
1 bunch basil
4 oz salami, thinly sliced
6 oz prosciutto, thinly sliced
4 oz provolone, sliced
4 oz mozzarella, slice
4 tablespoons pesto
Instructions
On the bottom half of each ciabatta rolls layer meats, then cheeses, followed by 1 or 2 slices of tomato. Cover tomato with a small handful of basil leaves. Spread 1 tablespoon of pesto on the top half of the ciabatta roll and place on top of basil leaves.
Wrap each individual sandwich tightly in a piece of cling wrap.
Place wrapped sandwiches in the refrigerator covered with weighted books.* Leave sandwiches pressed for a few hours or as long as overnight. When ready to eat, unwrap and enjoy.
Notes
*For easy access to get the sandwiches in and out of the fridge place on a cutting board. You will want a heavy weight on top of your sandwiches, I use really big cookbooks like in the picture, you could also use a smaller book with other items on top weighing it down, like hand weights or heavy cans. Get creative (but also I have made these sandwiches in a hurry without pressing them and they still tasted good).
Nutritional data is automated, final nutritional information will depend on ingredients used and any changes made.
Nutrition Information:
Yield:
4
Serving Size:
1 sandwich
Amount Per Serving:
Calories:

616
Total Fat:

34g
Saturated Fat:

15g
Trans Fat:

0g
Cholesterol:

64mg
Sodium:

1887mg
Carbohydrates:

40g
Fiber:

3g
Sugar:

1g
Protein:

36g
Peace & Love
Lauren, The Schmidty Wife
P.S. Looking for more recipes like my Italian Pressed Picnic Sandwich? Check out my Pesto Grilled Cheese or my Prosciutto Pesto Burger.