Peanut Butter is one of the easiest things to make yourself, like really good 100% Peanut Butter is so incredibly easy to make at home. I am writing this post on how to make peanut butter for three reasons, I don't think people actually realize how easy it is to make, 100% Peanut Butter is so much healthier for you because it doesn't contain sugar/preservatives, and it doesn't contain palm oil which is causing major deforestation all over the world. Oh also homemade peanut butter tastes like 1,000% times better, so I guess I really have 4 reasons why I am showing you How To Make 100% Peanut Butter.
So you need 1 ingredients for this recipe ('obviously Lauren' is what you are thinking), Peanuts! I always use dry roasted unsalted peanuts. I use dry roasted because, dry roasted=no added oils and unsalted because that way you can control the salt content in your peanut butter, if you prefer a little salt in your peanut butter you can add it yourself.
The tools and supplies you will need is a food processor, a spatula, and a jar to hold your peanut butter. Simple right?!
The last thing you need, 5 minutes 😉
The peanuts are processed for 4-5 minutes until creamy, boom done. Enjoy! 🙂
Check out the video: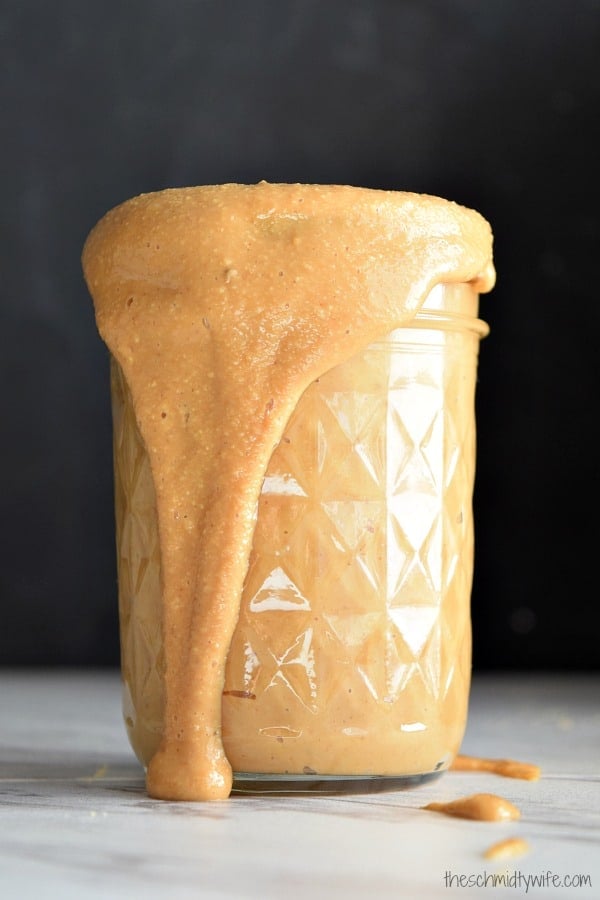 TIPS & TRICKS:
With this 'recipe' there is really not a right or wrong amount of peanuts you need, make as much as you need or when you need it, I personally like making a ton at once and then just storing it or you could make a small amount for whenever you needed it, its really up to you, the only thing you have to watch out for is to not overfill your food processor
A mini food processor will still make peanut butter, you don't need a big fancy one, my mom uses her mini food processor to make peanut butter all the time 🙂
Store peanut butter as you would store bought peanut butter, remember natural separation of the oil might occur, just mix it back together
Supplies Needed:
How To Make 100% Peanut Butter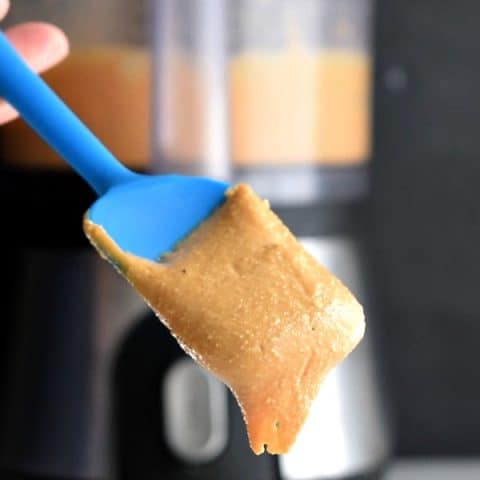 it's so easy to make creamy peanut butter at home without any extra ingredients
Ingredients
16oz jar unsalted dry roasted peanuts
Instructions
Place peanuts into food processor, process until creamy about 4-5 minutes. Store in an airtight container.
Nutrition Information:
Yield:
16
Serving Size:
1
Amount Per Serving:
Calories:

166
Total Fat:

14g
Saturated Fat:

2g
Trans Fat:

0g
Unsaturated Fat:

10g
Cholesterol:

0mg
Sodium:

116mg
Carbohydrates:

6g
Fiber:

2g
Sugar:

1g
Protein:

7g
Nutritional data is automated, final nutritional information will depend on ingredients used and any changes made.
If you enjoyed this Recipe or any of my others let me know by using #theschmidtywife on social media!
And make sure you are following me on Instagram, Pinterest, and Facebook for all the latest recipes!
Peace & Love
Lauren, The Schmidty Wife
Please note that my links above may be affiliate links, and I will earn a commission if you purchase through these links. I recommend them because they are helpful, and are companies that I trust, not because of the commissions that I may earn from you using these products.
P.S. Need recipes to try your peanut butter in? Try my Banana Oatmeal Breakfast Smoothie or my Thai Peanut Chicken & Veggie Bowls.