Happy 2 year anniversary of The Schmidty Wife! In celebration of this week 2 years ago starting my food blog I thought it would be fun to resurrect one of the first recipes I published. Marinated and Grilled Flank Steak was one of the original recipes that appeared on The Schmidty Wife. And boy did the original post look like I had no clue what I was doing…
Well probably because I didn't have a clue what I was doing. New to using a dslr camera, new to website building, new to writing recipes down. I truly had no clue how to blog. It was fun updating this recipe because I am a little proud of myself how much I have improved. So let's take a look at this delicious grilled flank steak recipe and think about how great self improvement is. 🙂
Everyone loves a good steak but often times a good steak is pricey and isn't practical when looking to feed more than one or two people. This is where the Flank Steak comes in, it can feed a crowd (not a huge crowd but a crowd nonetheless).
Flank steak is best marinated (or stuffed), lucky for you I have a delicious marinade made with ingredients you probably already have. Easy ingredients such as soy sauce, apple cider vinegar, olive oil, molasses, garlic, and pepper. The marinade gives the steak an unexpected sweetness from the molasses but in a way that is super flavorful and not overpowering!
After the steak has marinated it is tossed on the grill and done in no time. After a quick rest you'll slice the steak (against the grain) to serve. I like to throw a bunch of fresh herbs on the table to top the steak with and serve it with grilled vegetables such as zucchini or corn.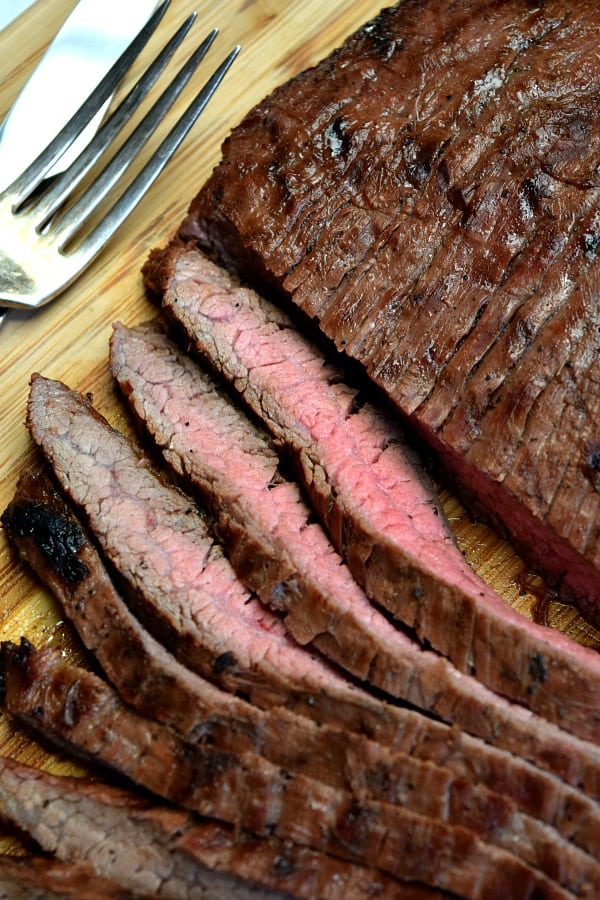 TIPS & TRICKS:
• Make sure to let your steak rest covered with tin foil for at least 5 minutes before slicing
• When slicing make sure you are cutting against the grain (perpendicular), the grain should be really easy to see, long lines running all the way down the cut of the meat
Yield: 6 servings
Marinated & Grilled Flank Steak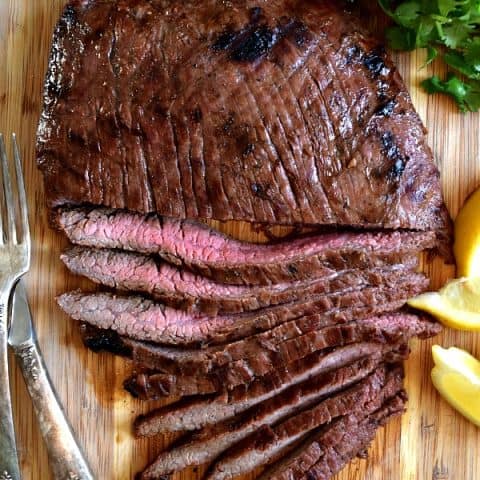 an easy marinade makes this flank steak flavorful and juicy

Prep Time 5 minutes

Cook Time 15 minutes

Marinate Time 2 hours

Total Time 2 hours 20 minutes
Ingredients
2 pound Flank Steak
1/4 cup olive oil
1/4 cup soy sauce
2 tablespoons apple cider vinegar
1 tablespoons molasses
2 teaspoons minced garlic
1/2 teaspoons ground black pepper
Instructions
Add olive oil, soy sauce, apple cider vinegar, molasses, minced garlic, and black pepper to a ziplock bag or bowl, mix well to combine.

Add flank steak, ensure it is fully covered in marinade. Refrigerate for up to 2 hours or as long as overnight until ready to grill.

When ready to grill, heat grill to high heat.

Remove steak from marinade. Grill over high heat for 2 minutes.

Flip steak and grill the other side on high for 2 minutes.

Flip steak again and cook an additional 2 minutes. Flip steak once more and cook another 2 minutes. (Each side gets a total of 4 minutes, adjust timing for doneness level)

Transfer steak to plate, cover with tin foil. Let rest for 5-10 minutes.

Move steak to cutting board. Cut steak against the grain into small strips.

Serve immediately and enjoy!
Notes
Nutritional data is automated, final nutritional information will depend on ingredients used and any changes made.
Nutrition Information:
Yield:
6
Amount Per Serving: Calories: 336Total Fat: 21gSaturated Fat: 7gTrans Fat: 0gSodium: 694mgCarbohydrates: 3gFiber: 0gSugar: 3gProtein: 324g
This post was updated April 24, 2018.
Peace & Love
Lauren, The Schmidty Wife
P.S. Looking for more grill recipes? Check out my Pineapple Chicken Kabobs or my Grilled Greek Chicken Kabobs.
Please note that my links above may be affiliate links, and I will earn a commission if you purchase through these links. I recommend them because they are helpful, and are companies that I trust, not because of the commissions that I may earn from you using these products.