I have been wanting to do a series on meal planning for forever, and while I religiously meal plan each week I ironically haven't had the time to sit down and organize it out to share! So I figured it is time to start. Whether you are a meal planning newbie or a seasoned pro today's topic can be inspirational for everyone!
Even though I am a food blogger and think about food night and day when I still sit down to make my meal plan my mind suddenly goes blank. I can't be the only one with this problem, I know how to cook so many dishes but when I have to choose a menu it becomes mission impossible.
So I came up with a simple solution, let's call it Meal Plan Inspiration. I have a list of 14 different themes to choose from, I choose a theme for everyday of the week and boom no more meal planning block. With themes chosen the meal plan quickly builds itself from there.
Meatless Monday? Easy I will chose my favorite One Pot Southwest Quinoa. Comfort food? Pot Roast it is. Crockpot? Classic Crockpot Chili is now on the menu.
So let's break it down:
Meatless Mondays: This classic alliteration is essentially open to any vegetarian/vegan dishes. You can go as simple as mac & cheese, as fun as falafel!
Taco Tuesdays: Another famous alliteration, which also happens to be one of my favorites. Make classic ground beef tacos or spice it up with fish tacos.
Crockpot: In this day & age I hope it is okay that I just assume everyone has a crockpot at this point, I honestly couldn't live without mine. So many different options with this one, from soups, to chicken, to pot roasts. (This theme is a huge plus when you know you have an especially busy evening, get dinner together in the morning and dinner is ready when you get home!)
Seafood: Seafood and fish I think are very underrated for busy weeknights, why? Because most fish and seafood takes very little time to cook, for example shrimp can be fully cooked in 5 minutes, talk about a win!
Pasta/Pizza: Choose your favorite pastas and pizzas and roll with it!
Take out/go out: Yes you can plan to go out or order takeout as part of your meal plan. I love planning to order Chinese on Friday nights, it gives me something to look forward to all week.
Comfort Food: What is your ultimate comfort foods? This one is fun because it can be so personal, some people might view this as chicken noodle soup, others mashed potatoes and gravy with chicken, and still others might want chicken pot pie. Choose what you love!
Soup, Salad, & Sandwich: This is one of my personal favorites, my advice with this one is to 'pick two' (yes like Panera Bread), go with the classic tomato soup & grilled cheese combo, or go big with a large protein filled salad.
Asian: Another one of my personal favorite themes, Asian cuisine can be made so fast and heathy, whether it's a stir fry that can be made up in just minutes, pho will make your whole house smell glorious, or who doesn't like fried rice.
Casserole (or Hotdish where I grew up): This is one of those meals that I feel have kind of gone out of style in recent years, but lets not forget about it. Usually easy to mix up in a baking dish, a lot of bloggers have heathy and lightened-up versions of some of the most classic casseroles.
Italian: Lasagna, chopped salads, Stromboli, sure this could also include many of your favorite pizza and pasta dishes but branch out make something new, it could become your new go to!
Breakfast For Dinner: Breakfast is generally fast, easy, and healthy or it can be a fun treat. This is one of those dinners I feel like kids think is so much fun, so whip up some eggs, bacon, and pancakes and get your breakfast on.
Sheet Pan Meal: Sheet Pan Meals are huge right now, every food blogger has been rolling them out, why? Because they are often super easy and can be made extremely healthy plus there is a bonus that your main dish and side dish are taken care of all on one pan. A lot less work (and dishes) for a delicious healthy dinner.
Mexican: Enchiladas, rice, fajitas, so many delicious options that can be made fast and easy. Just don't forget the chips & salsa 😉
So that is the breakdown, so remember not all of these themes are mutually exclusive. You are allowed to make a crockpot meal one night and then also use your crockpot to make shredded chicken taco meat for Mexican night (there are no rules!). These are just guidelines and theme ideas to help you make decisions faster and more efficient. If you aren't a fan of some of these don't use them or make you own, pick any region of the globe and make their dishes, or even a grill night, or break it down it to your types of meats, chicken, pork, beef.
So today's post I wanted to keep just about inspirations, I plan to do follow ups on more meal planning, and grocery shopping, but if you want to get a head start on becoming a better meal planner, write down the dishes you know how to make for each category, by having a few for each that you already know the process will become even faster. I find it fun to also have a list of new recipes I want to try so that once (or twice) a week I try a new recipe.
So give these themes a go, see if they are your style of meal planning (and if this doesn't work for you don't worry I won't be offended everyone works in different ways). Have fun!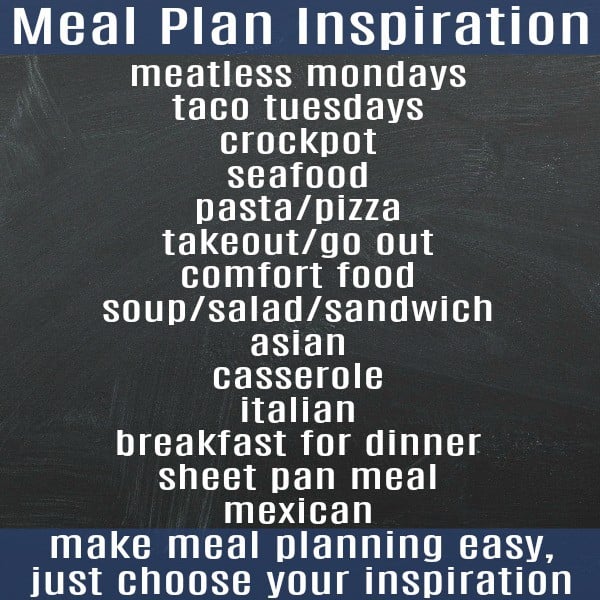 Need more meal plan inspiration? Do a little shopping!

Peace & Love
Lauren, The Schmidty Wife
Please note that my links above may be affiliate links, and I will earn a commission if you purchase through these links. I recommend them because they are helpful, and are companies that I trust, not because of the commissions that I may earn from you using these products.