So I was sitting on Pinterest the other day, like most of us do… anyway I was looking at different Whole 30 meal plans that other people had published and it hit me like a ton of bricks. Why on earth had I not thought about meal prepping breakfast? If you have read some of my other breakfast recipes like my Cranberry Date Oatmeal you know I have a love hate relationship with breakfast. So when I was hit with the metaphorical ton of bricks, I got really excited! I can make breakfast ahead of time so when I am half awake and grumbling in the morning and when my husband always complains how hungry he is after his morning workout I just have to point to the fridge! Thank you Meal Prep Roasted Potato Breakfast!
So my inspiration for these beautiful make ahead breakfasts comes from my younger days, 'cabin breakfast' we called them. Growing up during the summer in Minnesota like most other families every weekend was spent 'Up North' at the cabin. During these weekend mornings at the cabin we generally would have one of two common breakfasts, waffles or cabin breakfast. Cabin Breakfast consisted of diced up potatoes, peppers, onions, some sort of breakfast meat, scrambled eggs, cheese, and seasoning. Cabin breakfast was thrown together on one giant plate and devoured, usually with ketchup. Ahh the thought of cabin breakfast makes me happy 🙂
So Meal Prep Roasted Potato Breakfast plays off a simpler version of cabin breakfast and since my family is currently doing Whole 30 it is also Whole 30 compliant. Baby red potatoes, green & red bell peppers, and an onion are covered in spices and roasted. Meanwhile eggs are scrambled. When everything is done cooking, it is as simple as portioning everything out and viola breakfast is ready for the week. My whole family has been so pumped having a great breakfast ready to go in the morning. I have been adding Whole 30 approved salsa to the top of mine after I reheat it and it is so good! If you are not concerned with Whole 30 you can add cheese or ketchup if you wish. I really can't believe I didn't think about meal prepping breakfast before, it is definitely a game changer for my family.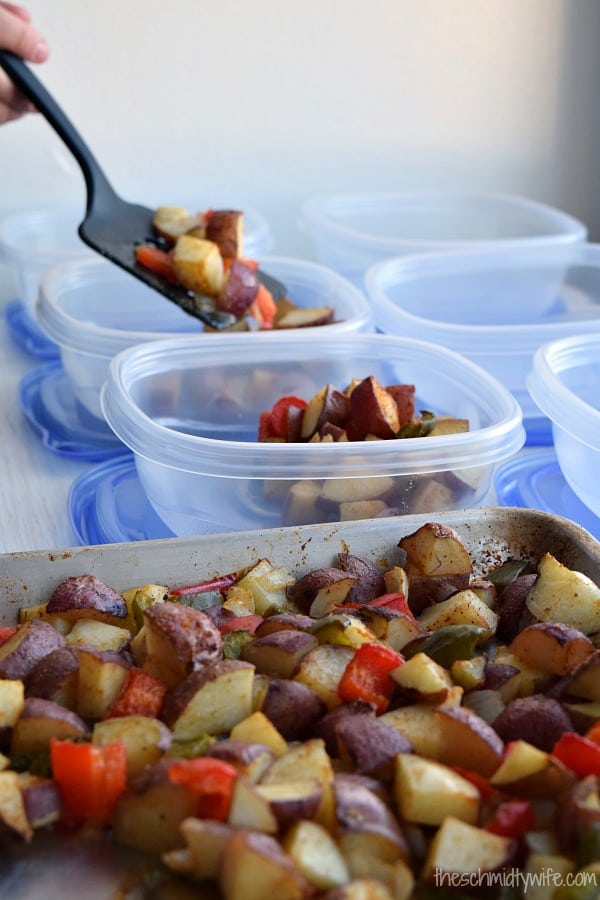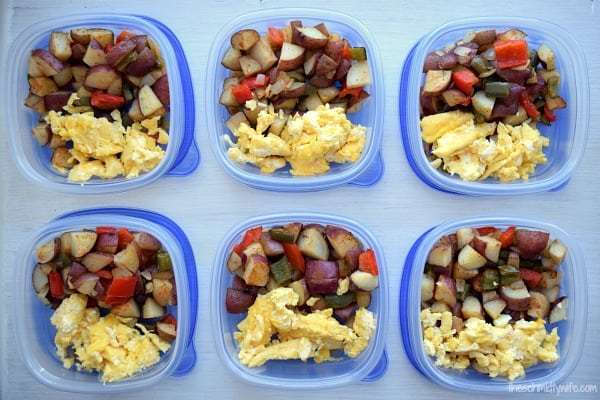 Yield: 6 individual breakfasts
Meal Prep Roasted Potato Breakfast
Prep your breakfasts for the week with this delicious and healthy roasted potatoes and scrambled eggs.
Ingredients
3 pounds baby red potatoes
1 red bell pepper
1 green bell pepper
1 medium onion
1 tablespoon + 1 teaspoon olive oil
1 teaspoon garlic powder
1 teaspoon onion powder
1 teaspoon salt
1/2 teaspoon paprika
1/4 teaspoon ground pepper
12 large eggs
Instructions
Preheat oven to 425º F.
Dice baby red potatoes, bell peppers, and the onion into bite size pieces.
Add cut up vegetables and 1 tablespoon of olive oil to a sheet pan. Toss to cover all the vegetables in oil.
In a small bowl add garlic powder, onion powder, salt, paprika, and pepper. Stir together. Sprinkle spices on top of the vegetables.
Bake vegetables for 35-40 minutes, about halfway though stir vegetables.
While vegetables are baking crack all 12 eggs into a large bowl. Beat eggs together.
Over medium heat add remaining teaspoon of olive oil to an extra-large skillet. Once olive oil and pan are hot add the beaten eggs. Use a spatula to scramble eggs until all of the egg is cooked to your liking. (If you don't have a skillet large enough to scramble all 12 eggs, divide eggs into 2 batches.)
Once potatoes and eggs are cooked. Divide vegetables and eggs into 6 containers.
Refrigerate containers for up to a week. To reheat microwave for approximately 2 minutes.
Nutrition Information:
Yield:
6
Serving Size:
1
Amount Per Serving:
Calories:

373
Total Fat:

11g
Saturated Fat:

3g
Trans Fat:

0g
Unsaturated Fat:

6g
Cholesterol:

372mg
Sodium:

524mg
Carbohydrates:

50g
Fiber:

5g
Sugar:

6g
Protein:

19g
Nutritional data is automated, final nutritional information will depend on ingredients used and any changes made.
If you enjoyed this recipe or any of my others let me know by using #theschmidtywife on social media!
And make sure you are following me on Instagram, Pinterest, and Facebook for all the latest recipes!
Peace & Love
Lauren, The Schmidty Wife
P.S. Looking for more meal prep breakfast recipes? Check out my Double Batch Egg Muffins or my Meal Prep Breakfast Bistro Box.
Please note that my links above may be affiliate links, and I will earn a commission if you purchase through these links. I recommend them because they are helpful, and are companies that I trust, not because of the commissions that I may earn from you using these products.