This post may contain Affiliate Links.
I have been provided a MultiPot 9-in-1 Programmable Electric Pressure Cooker by Mealthy in exchange for an honest review, all opinions are 100% mine. Please note that links in this review may be affiliate links, and I will earn a commission if you purchase through these links. I recommend them because they are helpful, and are companies that I trust, not because of the commissions that I may earn from you using these products.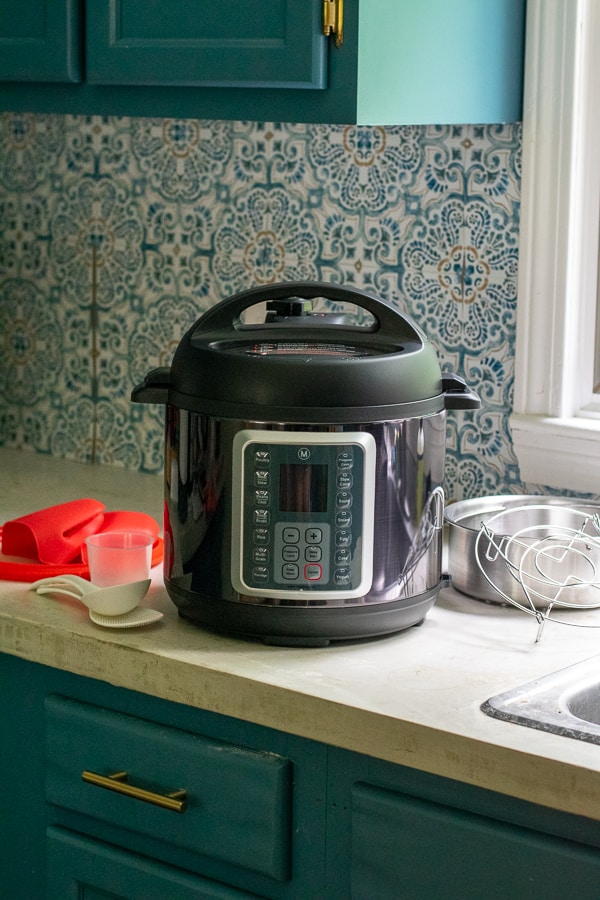 Mealthy MultiPot Review
2021 Update: As much as I thought the Mealthy Multipot worked well the appliance stopped working with less than 2 years of moderate use. While most modern electric pressure cookers don't have a super long life I felt this was too short. I have now switched to an Instant Pot brand pressure cooker.
When I first met the folks from Mealthy I made it very known that I probably was the only food blogger who hadn't gotten into the programmable pressure cooker game yet. And of course they insisted I needed to try it out, so they sent me one!
I am so glad they opened my eyes to getting a pressure cooker because in all honesty I was very hesitant to get one.
What made me hesitant? I just honestly didn't think I would use it. I am a big fan of fast skillet meals, easy oven bakes, and everyone knows I love my beloved slow cooker. So did I really need another appliance?
After having it a week, my honest opinion, yes I did need it.
In a week's time I have used it everyday often more than once. But not necessarily in the ways I thought I would. So let me walk you through the Mealthy MultiPot and at the end I even have a bonus little recipe on how I made the best quinoa in my Multipot!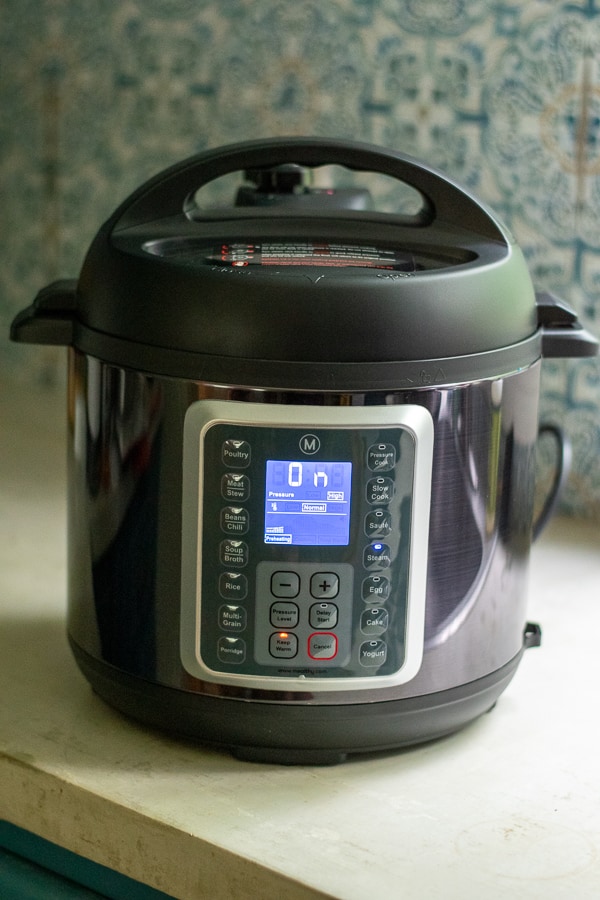 What is a Mealthy MultiPot?
The Mealthy MultiPot is a 9-in-1 Electric Pressure Cooker is a programmable pressure cooker that can replace up to nine commonly used kitchen appliances; a pressure cooker, slow cooker, rice cooker, sauté pan, steamer, cake maker, egg maker, yogurt maker, and a warmer.
Plus this appliance has 14 pre-programmed settings; poultry, meat/stew, bean/chili, soup, sauté/simmer, cake, rice, multigrain, porridge, steam, slow cook, keep warm, yogurt, and manual pressure cook.
Basically this is a kitchen appliance that can manage A LOT of tasks but at the same time it is pretty intuitive and easy to use.
So at its essence the MultiPot is a pressure cooker with extra functions to help you out in the kitchen.
What comes with a Mealthy Multipot?
Great question. What I loved about receiving my Multipot is that it comes with everything and more to get started straight out of the box.
First off they have numerous getting started guides, quick cheat sheets, and recipes ready for you to try plus you can sign up for their app and go to their website for even more information.
Next is the appliance itself with the lid. It came nicely packaged and looked beautiful and shiny right out of the box.
The box also includes:
the stainless steel interior pot with measurement guides and safety markings
a raised steam rack for holding food above the base of the pot (perfect for hard boiled eggs)
a steamer basket to help you make more than one dish at once
two different colored gaskets, clear and red (one for savory, one for sweet)
a measuring cup and two plastic spoons
and cute little silicone oven mits
See what I mean about being ready to start right away??!
I have a pressure cooker now what do I make first?
The first thing you will do with your pressure cooker is a water test, a quick test out of the box to get everything working properly. And then you decide what to make.
The first thing I made was a batch of Hard Boiled Eggs. I had heard over and over that it makes them so incredibly easy to peel. Guess what it does. I love hard boiled eggs and so does my husband and one of our sons. They are great for a quick breakfast or healthy snack so to have an incredibly easy way to make them has me so excited. They couldn't be easier to make, I added water and the eggs onto the steam rack and hit the egg program. So much easier then boiling them on the stove!
Next I made brown rice. I used the pre-program for multi-grain and again another perfect result.
I used it one more time that same day, I made Chicken Tikka Marsala. I wanted to test out the sauté and pressure function together. So I sautéed onions, garlic, ginger, and added spices and tomatoes for the sauce. The sauté function worked amazing, I did notice that the sauté gets hot quickly so you have to work fairly quickly, so if you are using the sauté for anything too complicated it might be tough but to make a quick sauce it worked absolutely perfect.
I then added chicken to the sauce to pressure cook it. I quickly put on the lid and very easily set the pressure, a few minutes later we were eating our chicken tikka masala over the brown rice I had all made in my new Mealthy!
Over the next few days I used it a few more times. I have made quinoa, more rice, chickpeas (from dried), chicken breasts.
What I noticed is that I don't see myself making a lot of full meals in my pressure cooker BUT I see myself using it A TON to make things that assist my meal making.
For example I make a lot of rice and quinoa, I mean some of my most popular recipes on the blog are stir fry's and rice bowls… And I love using the MultiPot to make the grains instead of my stove.
I will continue to use it weekly to make hard boiled eggs, as well as helping me meal prep my husband's lunches for the week.
I am excited to test out the yogurt function, we go through a ton of plain yogurt in this house so I am very excited to make that soon. I am also wanting to make a cheesecake (I have never made one before and word is they are amazing in the pressure cooker).
I also have received a Mealthy CrispLid attachment for my pressure cooker that I believe will also keep me continuing to use it, but that is a whole different review (that I will link here when it goes live).
Overall do I love my Mealthy MulitPot?
Yes.
I truly do, it is a total game changer for rice, beans, grains, and eggs. I am excited for it to save dinner one night when all I have is frozen chicken.
Overall it is sleek, it looks good on my counter, it isn't too big. It is extremely intuitive, I was able to use it no problems the first day.
I would recommend it to a friend (that's you). So if it does sound like something you need in your life (it is) click HERE to get one.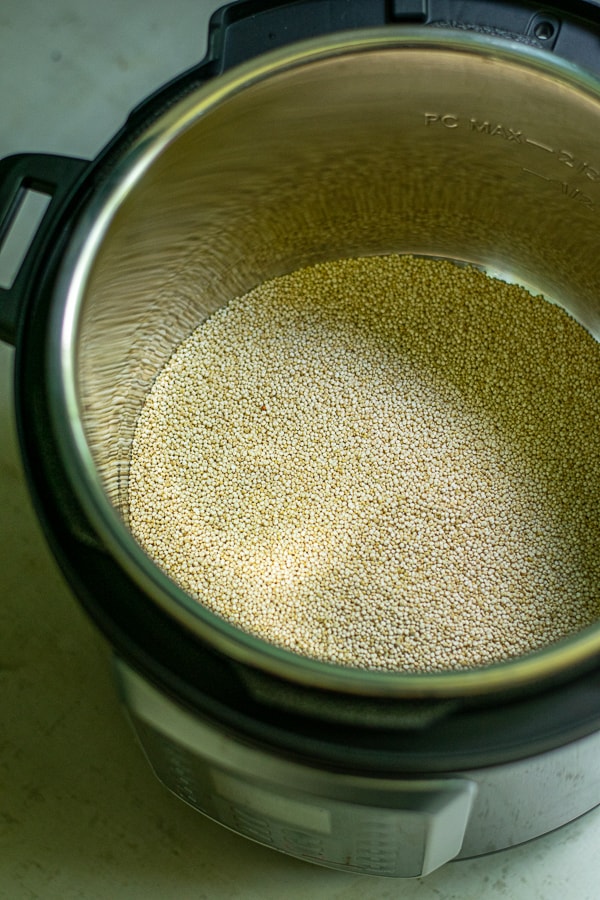 Bonus: How to get perfect quinoa in the pressure cooker
Since quinoa is definitely my go-to 'grain' I figured out how to make this in the MultiPot ASAP!
It is so simple to throw in and let it cook, I love that I don't have to sit and watch the boiling pot. It is a game changer for sure!
Start by rinsing the quinoa under water in a strainer.
Add the quinoa to the pressure cooker, add the water, and set it to cook on high for 1 minute!
So simple right?! Now with the time it takes for the pot to heat up, cook, and then release it is about the same time amount that it takes on the stove but with so so much less hassle.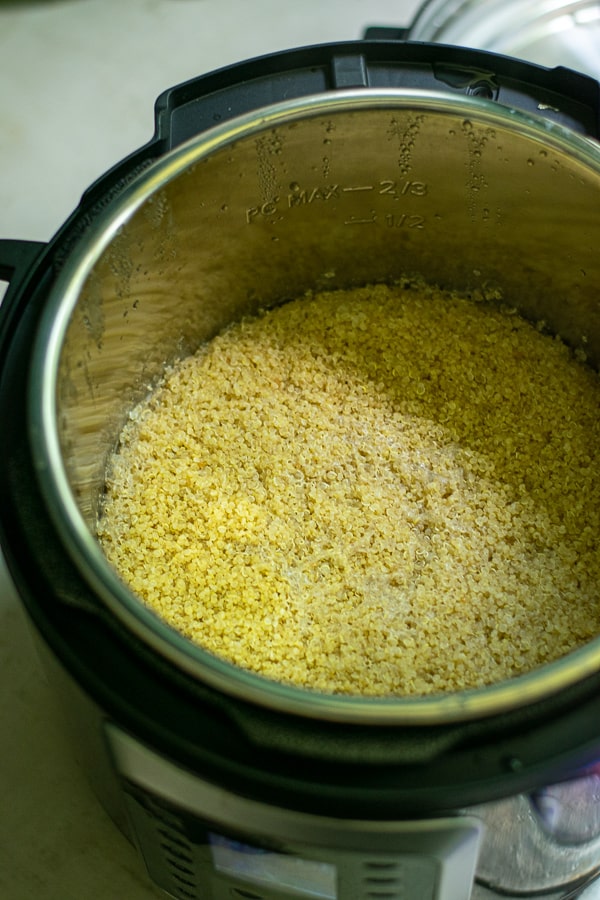 So make sure you grab yourself a MultiPot stat and get cooking!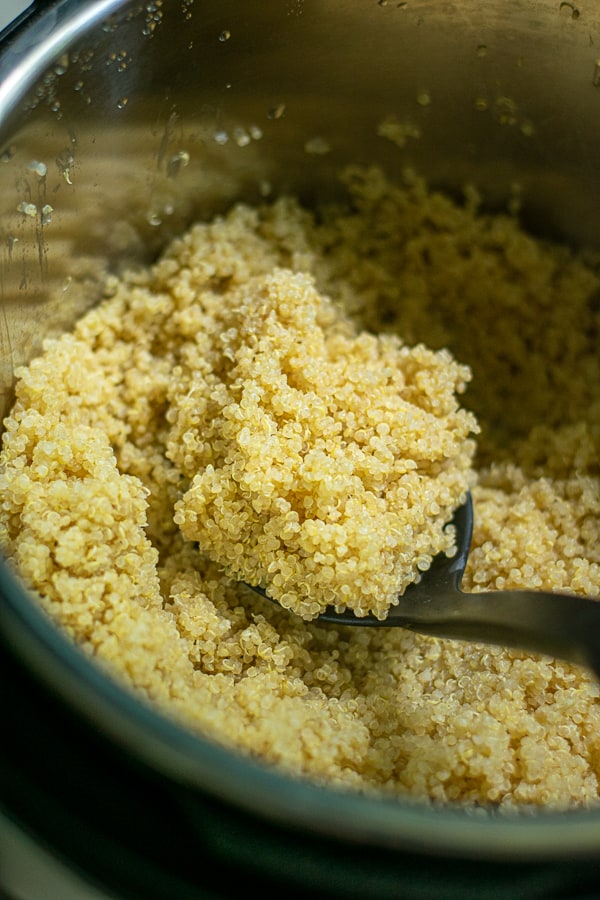 Yield: 4 servings
Pressure Cooker Quinoa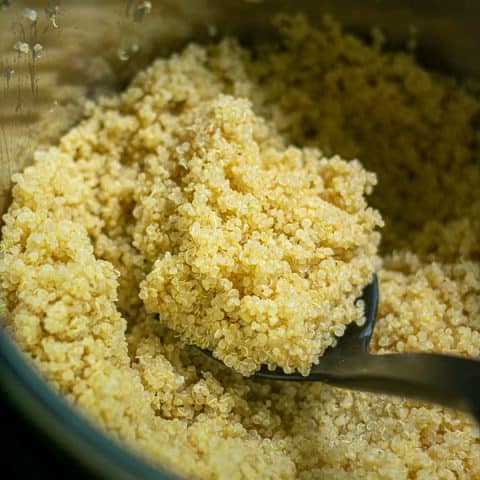 perfectly cooked quinoa in the pressure cooker, this recipe can easily be doubled or tripled and the cooking time does not change
Ingredients
1 cup quinoa
1 1/2 cups water
Instructions
Rinse quinoa under water in a fine mesh strainer.
Add quinoa and water to pressure cooker pot.
Close and lock the pressure cooker lid. Turn on manual pressure and program for 1 minute on HIGH.
When time is up let the pressure cooker naturally release and turn off the keep warm option (turn the pressure cooker off).
Once indicator has gone down open lid and fluff quinoa with a fork and serve.
Recommended Products
As an Amazon Associate and member of other affiliate programs, I earn from qualifying purchases.
Nutrition Information:
Yield:
4
Serving Size:
1
Amount Per Serving:
Calories:

56
Total Fat:

1g
Saturated Fat:

0g
Trans Fat:

0g
Unsaturated Fat:

1g
Cholesterol:

0mg
Sodium:

7mg
Carbohydrates:

10g
Fiber:

1g
Sugar:

0g
Protein:

2g
Nutritional data is automated, final nutritional information will depend on ingredients used and any changes made.
And make sure you are following me on Instagram, Pinterest, and Facebook for all the latest recipes!
Peace & Love
Lauren, The Schmidty Wife
P.S. Looking for recipes for all that quinoa? Check out my Grilled Chickpea Salad or my Chicken Nuggets with Hidden Quinoa.