So this is probably the first recipe on The Schmidty Wife in which I am not the biggest fan of… say what?!? I am not a fan of Mexican Rice in general, never have been probably never will be, I never eat the rice at Mexican Restaurants, it either goes not eaten or my husband/son will gobble it down. So if I don't like Mexican Rice why on earth would I make it? Because Matt and Archie absolutely love the stuff, they gobble it down. So I developed a recipe that is made easy from pantry items.
A quick sauté of onions and garlic, and everything else is put into the pot and cooked into a delicious side dish your whole family will enjoy! Well most of your family anyway 😉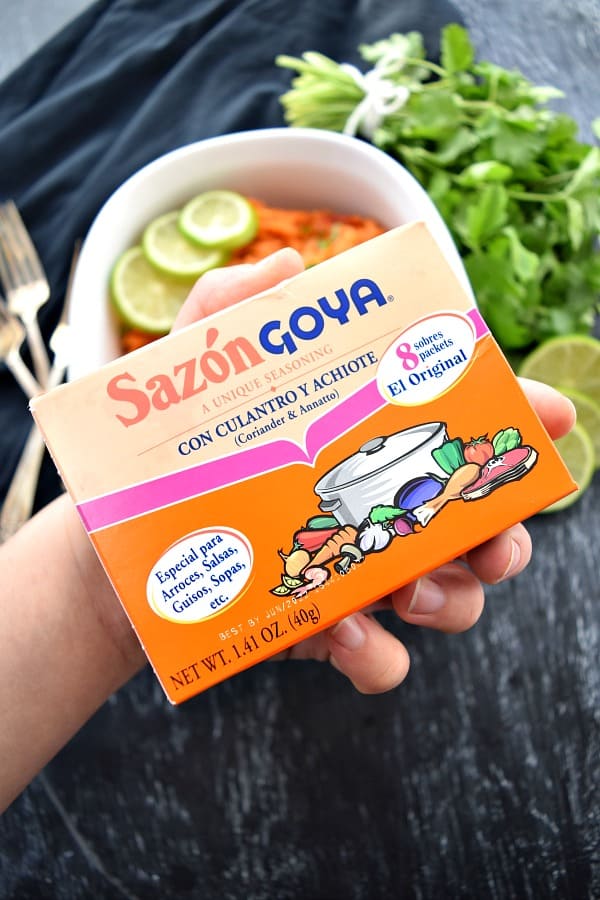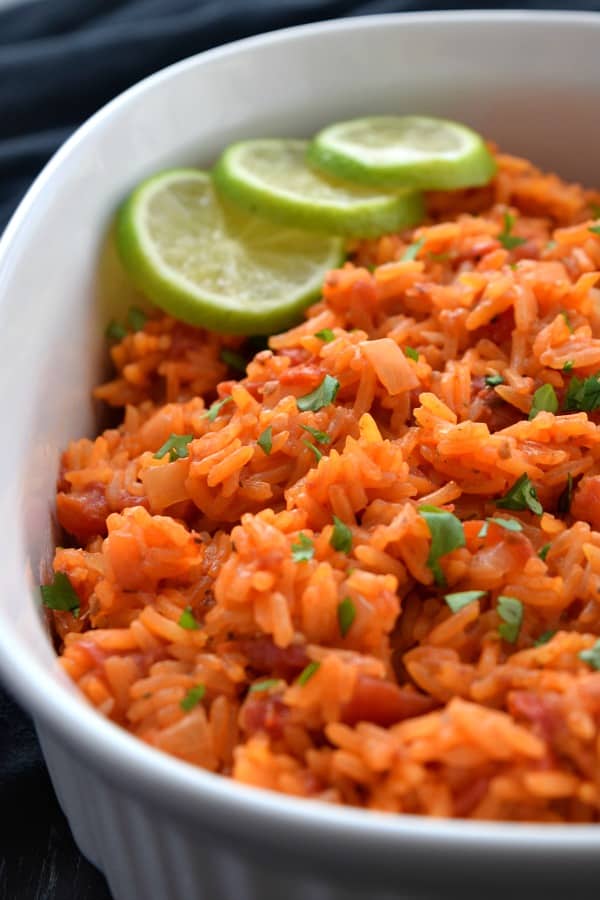 TIPS & TRICKS:
• Sazón Goya Con Culantro y Achiote (Coriander & Annatto) is a seasoning that comes in a box of 8 packets. You can find it in the Mexican food section of your grocery store or online here, Sazon Goya Con Culantro y Achiote. You can make this recipe without it, but I think its a great extra to keep in the pantry to spice up recipes.
• I like to use flavored diced tomatoes in this dish when I have them, I think the fire roasted variety tastes amazing in here
• Feel free to add some frozen mixed vegetables to the sauté if you feel inclined, I often add about 2 cups and soften them before I add the rice
• this Mexican Rice goes amazing with my Vegetarian Crockpot Refried Beans
Mexican Rice
a quick and easy side dish made from pantry staples
Ingredients
1 teaspoon olive oil
1 small yellow onion, diced
1 teaspoon mined garlic
1 cup white rice (I use jasmine)
1 packet Sazón Goya Con Culantro Y Achiote seasoning*
1 can diced tomatoes
1 1/2 cup water
1 teaspoon oregano
Instructions
In a large pot (that has a tight fitting lid) heat olive oil over medium heat. Add onion and garlic, sauté 3-4 minutes until slightly translucent.
Add rice and sauté 1-2 minute to slightly toast the rice.
Add the seasoning packet, diced tomatoes, water and oregano to the pot. Stir and cover to bring to boil.
Once boiling leave lid on, reduce heat to low, and cook for 10 minutes (do not open lid or stir during this time).
Remove from heat, stir, and serve immediately.
Notes
*This may be left out or substituted with a dash of cumin and coriander. I have not had trouble finding it at the store (it can be found at Walmart), there is a picture above in the post to help you out.
Nutritional data is automated, final nutritional information will depend on ingredients used and any changes made.
Nutrition Information:
Yield:

6
Amount Per Serving:
Calories:

136.75
Total Fat:

1.09g
Saturated Fat:

0.2g
Cholesterol:

0mg
Sodium:

6.66mg
Carbohydrates:

28.72g
Fiber:

0.96g
Sugar:

1.33g
Protein:

2.64g
Peace & Love
Lauren, The Schmidty Wife
P.S. Looking for more side dish recipes? Check out my Rosemary Parmesan Baked Potato Wedges or my Healthier Bacon Ranch Potato Salad.
Please note that my links above may be affiliate links, and I will earn a commission if you purchase through these links. I recommend them because they are helpful, and are companies that I trust, not because of the commissions that I may earn from you using these products.