So this past week I have been trying to purge myself of my smart phone addiction. This story doesn't really have anything to do with today's recipe, One Pot Southwest Quinoa but I am so excited about it I needed to talk about it. So prepare for a non recipe related side story. If you are here just for One Pot Southwest Quinoa please feel free to scroll down.
I was visiting my parents back in Minnesota a couple weeks back and we had a couple hours to spare one sunny afternoon so we took Archie to a big playground so that he could play. Archie is still only one and a half so it is basically slides, swinging, and digging in the sand, but as we were playing I could not help but obsess at this one mom. I don't mean to call anyone out because we have all been guilty of it and she could have been in the middle of something really important but this mom was sitting on a bench so zoned into her iphone that she didn't even hear her poor daughter beg for her mom to watch her go down the slide, this girl wasn't even asking for the mom to get up off the bench she just wanted her mom to look up from her phone for 10 seconds and watch her go down the slide. I don't know why this specific moment stuck in my brain but I wasn't able to shake it.
A few days later I came across an article about smart phone usage in parents and how a staggering amount of children have had to ask their parents to put away their phones during dinner. Yikes! As I found myself thinking about these different scenarios I continued to find myself sitting on my iphone on Facebook for absolutely no reason whatsoever. Just mindlessly scrolling. Am I kidding myself?!?
So I went cold turkey, well mostly. This past weekend I put my phone in the charging area Friday night and left it there until Monday morning. Let me tell you it was absolutely amazingly refreshingly awesome (is that enough describing words). I have continued to stay off of it for the most part this week, this biggest reason I have gone on is to do blog stuff! Over this purging weekend, I responded to text messages and the occasional Snapchat but on my own time, I didn't even check email it was wonderful. Going into this week I outright took Facebook and Netflix off of my phone, I can check Facebook on my laptop once a day if I feel so inclined. I kept Instagram, Pinterest, and Snapchat (so far), Instagram because I can't post my lovely picture recipes from my laptop, Pinterest because that is a food bloggers bloodline, and Snapchat because believe it or not my parents have Snapchat, and my family has a group snap chat in which it is mostly me sending pictures on Archie (if my family didn't live all over the country I would say Snapchat would probably be gone as well). And although I have kept these apps on my phone, I have not been checking them very often if at all during the day, letting myself catch up with any blog related things once Archie is in bed.
But with all that is said and done is I have found myself happier, with so much more time, and not kidding, a cleaner house. I am going to continue to limit my screen time, purge myself when necessary, and prove to my son that my iphone isn't a part of me. So on top of making One Pot Southwest Quinoa, consider giving yourself some less screen time this week 😉
So lets get back to what you came for, this delicious, nutritious, and easy dinner, One Pot Southwest Quinoa. Full of vegetables and healthy grains, ready from start to finish in less then 40 minutes, and only one pot to wash, a guaranteed winner!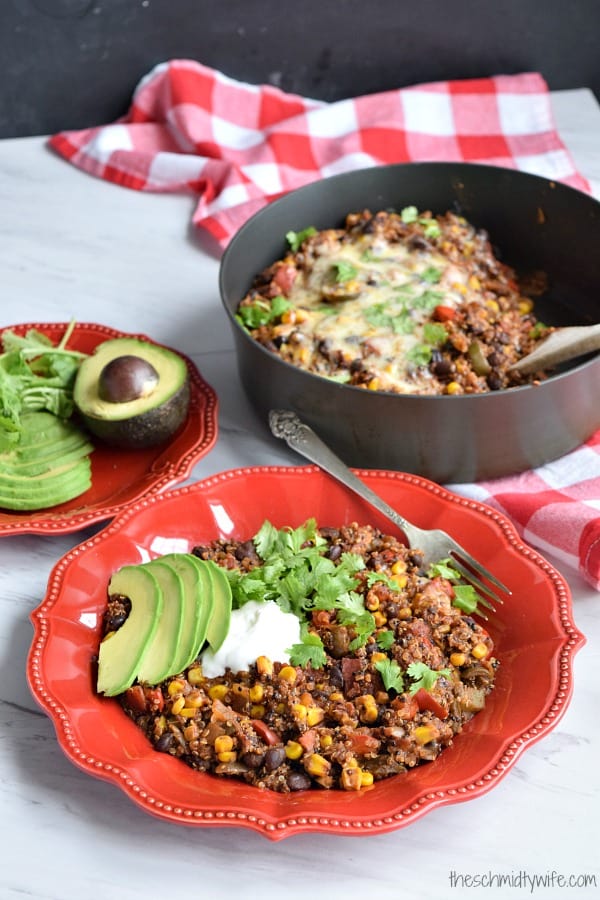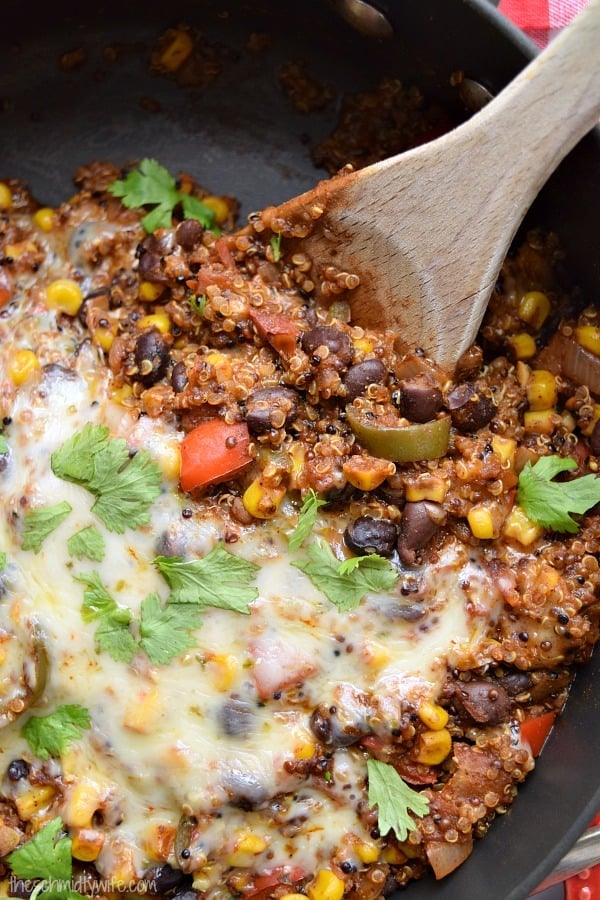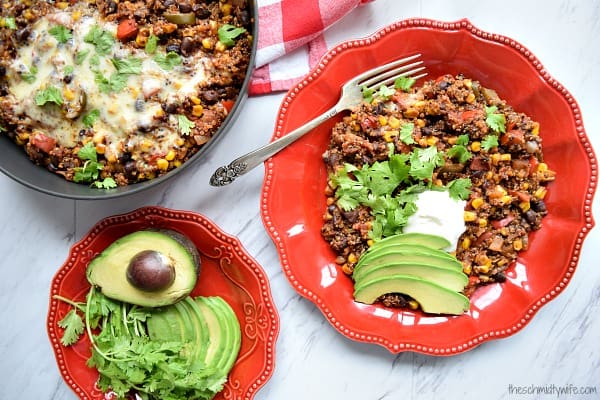 TIPS & TRICKS:
This dish isn't super spicy but if you are sensitive to spice switch out the jalapeños for a green bell pepper
This dish can be made vegan by omitting the cheese and sour cream
If you are using a large skillet make sure you use one with high sides like this one I have (It is part of a set and love this whole set)
or just use a large pot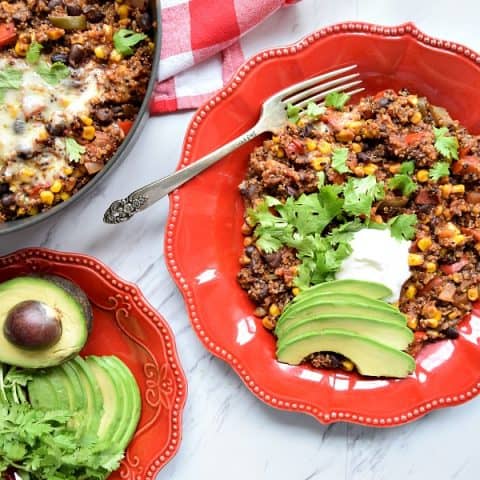 One Pot Southwest Quinoa
a perfect meatless weeknight meal featuring quinoa, black beans, and lots of fresh vegetables
Ingredients
1 red bell pepper, diced
1 medium yellow onion, diced
2-3 jalapeños, diced seeds removed
3-4 garlic cloves, minced
2 teaspoons olive oil
1 15oz can corn, drained
1 15oz can black beans, drained
1 15oz can diced tomatoes
2 TBSP ground cumin
2 TBSP ground chili powder
1 cup quinoa
garnishes for serving:
pepper jack or cheddar cheese
avocado
cilantro
sour cream/greek yogurt
Instructions
Heat olive oil in a high sided large skillet over medium heat (or large pot if you don't have a skillet with high sides). Add peppers, onions, and garlic. Cook over medium heat, 4-5 minutes until onions start to become translucent.
Add corn, black beans, tomatoes, cumin, and chili powder to the pot, stir to combine.
Add quinoa and 2 cups of water to the pot, stir to combine. Cover and let cook 15-18 minutes until quinoa is soft and fully cooked.
Turn heat to warm, remove the lid and give the pot a stir. Let slowly simmer for 4-5 minutes.
Remove from heat, add cheese if using. Serve immediately with preferred garnishes.
Nutrition Information:
Yield:

4
Serving Size:

1
Amount Per Serving:
Calories:

309
Total Fat:

6g
Saturated Fat:

1g
Trans Fat:

0g
Unsaturated Fat:

5g
Cholesterol:

0mg
Sodium:

874mg
Carbohydrates:

56g
Fiber:

16g
Sugar:

11g
Protein:

14g
Nutritional data is automated, final nutritional information will depend on ingredients used and any changes made. Nutrition does NOT include garnishes.
If you enjoyed this Recipe or any of my others let me know by using #theschmidtywife on social media!
And make sure you are following me on Instagram, Pinterest, and Facebook for all the latest recipes!
Peace & Love
Lauren, The Schmidty Wife
P.S. Looking for more dinner recipes? Check out my Shrimp Stir Fry or my 20 Minute Chicken Stir Fry.
Please note that my links above may be affiliate links, and I will earn a commission if you purchase through these links. I recommend them because they are helpful, and are companies that I trust, not because of the commissions that I may earn from you using these products.