Carrot Cake holds a special place in my heart, it was Matt and I's wedding cake. Not only was it our wedding cake but its my favorite cake. It is always so moist and full of flavor. So I thought it was about time to share a fun little twist on this classic, Orange Spiced Carrot Cake! A subtle twist on the classic and topped with silky cream cheese frosting this is a flavorful cake no one can resist.
So I mentioned how carrot cake was the cutting cake Matt and I had at our wedding, but we didn't really get a chance to eat it, why? Take a look at this picture…
We had more fun smearing it in each others faces rather then eating it, ironically this picture probably is my favorite from that whole day! It was also super memorable because shortly after when it was time to clean our faces we stepped out of the hall and helped get the frosting off each other and these were the only 2 minutes the whole wedding day we had to ourselves! No joke isn't it funny how the day is all about you as a couple and you don't even get two minutes to yourselves?! So even though it has been a few years it is such a stand out memory in my mind, so if you happen to be reading this and planning a wedding, first do the cake face smashing, it is a blast. Second take two minutes out of your wedding day to be alone with your partner and tell them how much you love them!
Okay back to this Orange Spiced Carrot Cake. Fresh orange zest and juice give this cake that extra flavorful kick along with cinnamon, nutmeg, and cloves. Then filled with carrots and raisins and topped off with a silky cream cheese frosting… are you drooling yet? This cake in made in a 9 x 13 inch pan so it is perfect for crowd. I personally think Orange Spiced Carrot Cake is the most perfect cake for Easter but please feel free to make it whenever 😉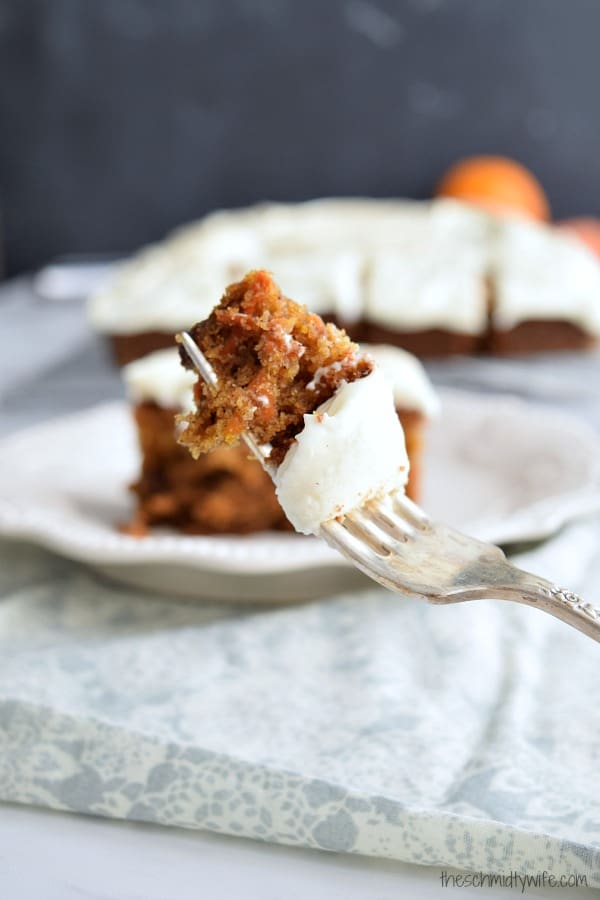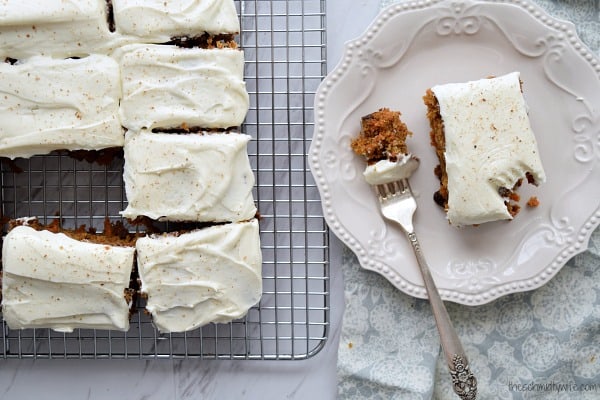 TIPS & TRICKS:
You can make this without a stand mixer by using a hand electric mixer or with your powerful arms, it might just need a minute or two more of whisking
This is a great make a head cake for sharing so I like to use this pan/lid combo, it makes it easy peasy:
I am not a nuts in my cake person so I don't include them in the recipe but feel free to add a 1/2 cup or so of walnuts
Yield: 15 servings
Orange Spiced Carrot Cake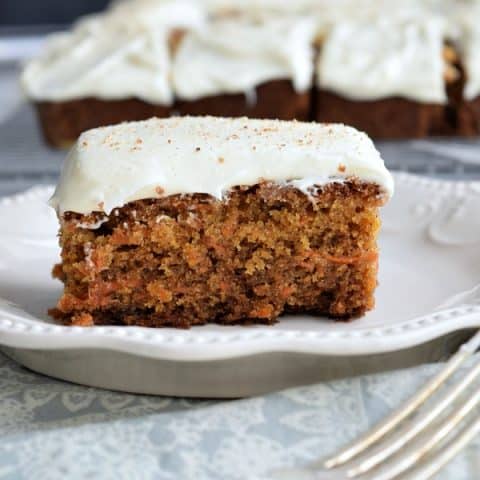 classic carrot cake with an orange twist, made for a crowd in sheet cake form
Total Time
1 hour
15 minutes
Ingredients
2 1/2 cups all purpose flour
2 teaspoons baking soda
2 teaspoons ground cinnamon
1 teaspoon baking powder
1 teaspoon salt
1/2 teaspoon ground nutmeg
1/4 teaspoon ground cloves
4 large eggs
1 cup packed brown sugar*
3/4 cup granulated sugar
1 cup coconut oil, melted**
juice from 1 orange (1/4 cup)
zest from 1 orange (1 tablespoon)
3 cups shredded carrots (about 5 carrots)
3/4 cup raisins
for the Cream Cheese Frosting:
1 8oz package cream cheese, room temperature
8 tablespoons butter (1 stick), room temperature
3 cups powdered sugar
1 teaspoon vanilla extract
optional nutmeg for dusting
Instructions
Preheat oven to 350º F. Lightly grease a 13" x 9" baking pan and dust with flour.
In a medium bowl add flour, baking soda, cinnamon, baking powder, salt, nutmeg, and cloves. Stir to combine.
In a large bowl with a mixer at medium high speed beat eggs, brown sugar, and granulated sugars until smooth and creamy, about 1-2 minutes. Beat in oil, orange juice, and orange peel.
Reduce to a low speed and slowly add the flour mixture, scrape down the bowl with a rubber spatula as needed. Beat until smooth about 1 minute.
Fold in the carrots and raisins.
Spoon the batter into the prepared pan, spread out evenly.
Bake for 50-55 minutes until toothpick comes out of the center of the cake clean, and the center of the cake springs back up.
Once the cake has cooled completely, frost, dust with freshly ground nutmeg, and enjoy!
for the Cream Cheese Frosting:
Combine cream cheese and butter into a large mixing bowl and beat on high for 2-3 minutes, until light in color.
With the mixer on low add the vanilla and slowly add the powdered sugar.
Beat on high 5-7 minutes until smooth and creamy, scraping down the sides with a spatula as necessary.
Notes
*I use dark brown sugar but light brown sugar works too
**although I haven't tried it vegetable oil should work in this recipe too
recipe inspired by 'Carrot Cake' Good Housekeeping Cookbook
Nutrition Information:
Yield:
15
Serving Size:
1
Amount Per Serving:
Calories:

555
Total Fat:

27g
Saturated Fat:

19g
Trans Fat:

0g
Unsaturated Fat:

5g
Cholesterol:

81mg
Sodium:

487mg
Carbohydrates:

74g
Fiber:

2g
Sugar:

53g
Protein:

5g
Nutritional data is automated, final nutritional information will depend on ingredients used and any changes made.
If you enjoyed this Recipe or any of my others let me know by using #theschmidtywife on social media!
And make sure you are following me on Instagram, Pinterest, and Facebook for all the latest recipes!
Peace & Love
Lauren, The Schmidty Wife
P.S. Looking for more recipes? Check out my Banana Foster Filled Banana Muffins or my Pumpkin Bread.
Please note that my links above may be affiliate links, and I will earn a commission if you purchase through these links. I recommend them because they are helpful, and are companies that I trust, not because of the commissions that I may earn from you using these products.