Overnight Gingerbread Cinnamon Rolls, I repeat Overnight Gingerbread Cinnamon Rolls. Are we all ready for the holiday season yet?? This time of year I am giddy about the flavor options for food. With options like gingerbread, eggnog, and peppermint how can we think about anything else. Perhaps my favorite holiday flavor is gingerbread, I love how it is not overly sweet like so many other holiday flavors. The warmness of the spices mixed with the smokiness of molasses just make me smile just thinking about it. So I decided to make Gingerbread Cinnamon Rolls. I was a little nervous to make them at first, wanting them to still be light and airy but I wanted to use molasses so I didn't know how they would turn out… Oh My Goodness you guys I hit the jackpot. These Cinnamon Rolls are full of flavor from the molasses, cinnamon, ginger, & nutmeg and because they are slowly risen twice they become light and airy. I knew since the first time I made them that these will be my new Christmas morning go-to. They take a few minutes to put together the day before and are so minimal in the morning. So many reason why you need to try these!
Overnight Cinnamon Rolls are the serious way to go to get the best tasting Cinnamon Rolls on the face of the earth. By doing a majority of the work the day before, the Cinnamon Rolls really get a chance to develop a ton of flavor and they save you from having to wake up at 4 in the morning to get them rolled out so they are ready in time for a relaxing Saturday morning breakfast. This recipe looks intimidating but it really isn't too hard, although it does take a little time to get them ready. They are easily thrown together in a stand mixer, they get a slow 2 hour rise to get a more flavorful dough, and then it is as simple as rolling out, sprinkling with butter, sugar, & spices, rolling up and placing in the fridge for the morning. While the rolls do need a little time to come to temperature and bake the next morning, the work is very minimal, and when you are not a morning person like me this is wonderful! These rolls are then covered with a Cream Cheese Frosting that nobody can resist (which can even be made ahead of time for convenience sake). So say hello to a perfect Saturday (or Christmas) Morning with these Overnight Gingerbread Cinnamon Rolls.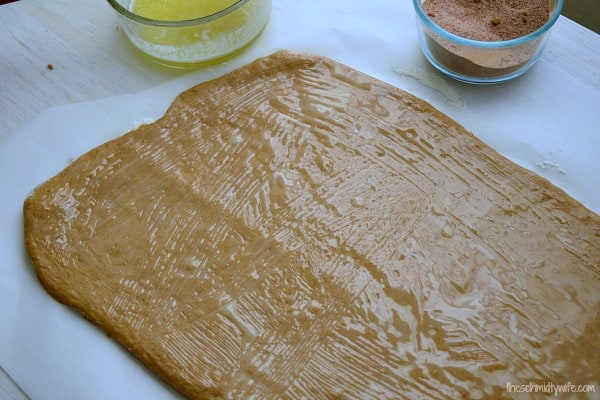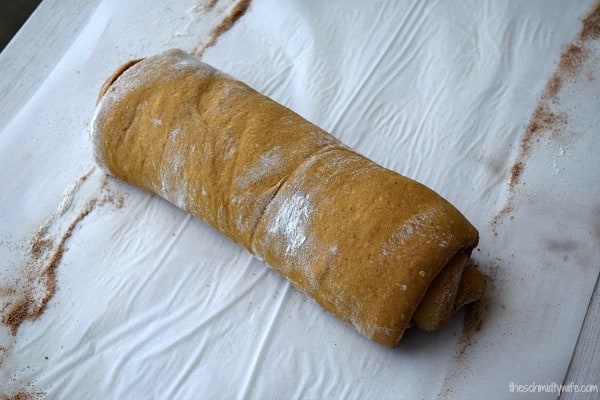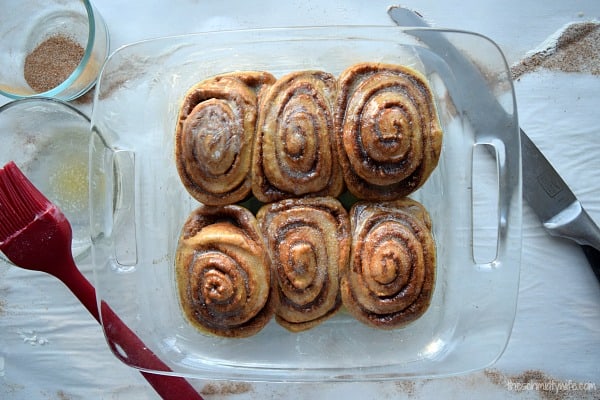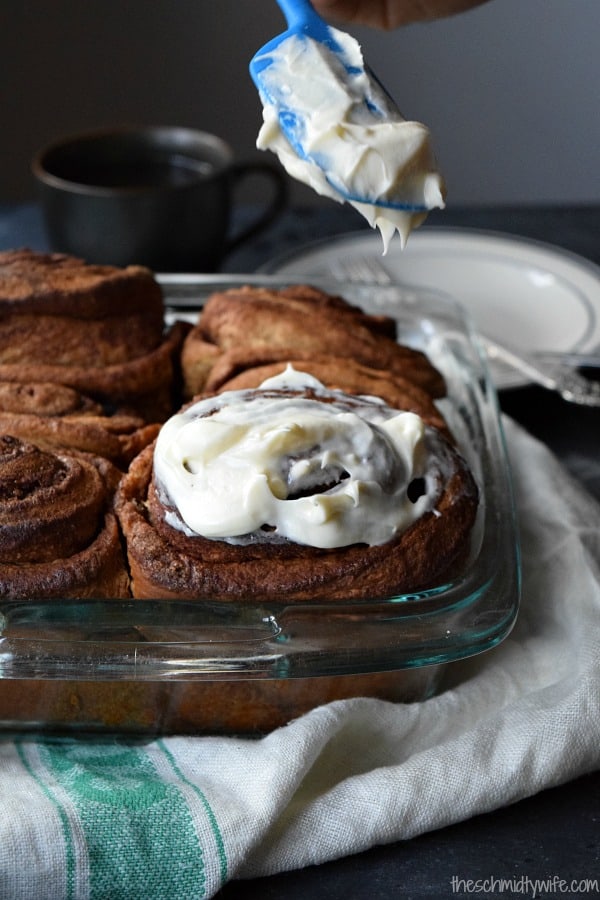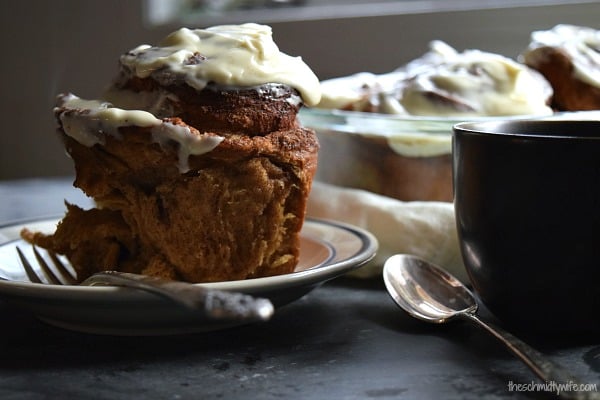 P.S. These would taste great with my Chai Spiced White Hot Chocolate
Sign up for tasty recipes right to your inbox!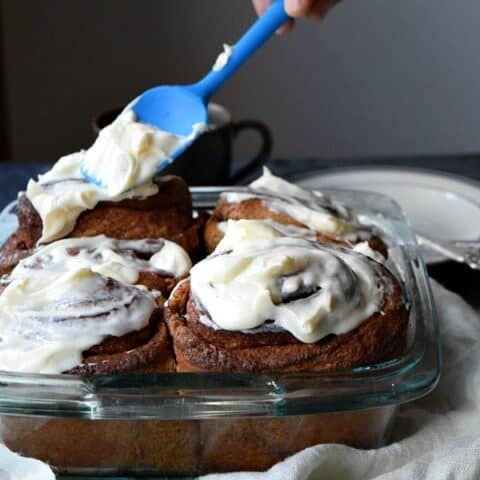 Overnight Gingerbread Cinnamon Rolls
Inactive Time:
12 hours
30 minutes
Fresh baked Cinnamon Rolls filled with gingerbread flavors all prepped the night before and baked easy in the morning.
Ingredients
for dough:
1 cup whole milk room temperature/lukewarm*
1/4 cup molasses
2 1/4 teaspoons active dry yeast (1 Fleischmann's packet)
1 teaspoon ground ginger
1 teaspoon ground cinnamon
1/2 teaspoon ground nutmeg
3 1/2 cups flour, plus more for dusting
1 egg
3 tablespoons salted butter, melted
for filling:
5 tablespoons salted butter, melted
1/3 cup granulated sugar
1 tablespoon ground cinnamon
1 teaspoon ground ginger
1/2 teaspoon ground nutmeg
for cream cheese frosting:
4 ounces cream cheese, room temperature
1/4 cup salted butter, room temperature
1 cup powdered sugar
1/2 teaspoon vanilla
1 tablespoon whole milk
Instructions
For the Dough:
In the bowl of a stand mixer add the milk and molasses, stir together to combine. Dust the top of the mixture with the yeast. Let rest for 5-10 minutes until the yeast had bloomed.
Add ginger, cinnamon, nutmeg to the bowl and stir together. With the dough hook attachment running on low add 2 1/2 cups of the flour until dough forms, scraping down the sides of the bowl as needed. The dough should be sticky at the point but still holding its shape.
With the mixer running on medium very slowly add the egg. Once egg is mixed into the dough slowly add the melted butter.
With the mixer running on low add the flour about 1/4 cup at a time, let the flour get totally mixed in before adding more flour. This step depends on the humidity of your area on whether or not you will add the last full cup of flour. We are looking for the dough to be sticky but not so sticky to be confused with cookie dough. It will stick slightly to your finger but as the mixer is running it should no longer be sticking to the sides (although it still might be sticking to the bottom). So start with 1/4 cup, most likely you will want to add another 1/4 cup. Check where your dough is at this point, still a little to sticky, add a little more. (I usually need about 3/4 of a cup, although I did make this on a very humid day and need the whole cup plus a little more, think of a sticky pizza dough for the right consistency.)
Once dough is to the proper consistency, knead on medium speed for 5 minutes.
Lightly Grease a large bowl, place dough in bowl and cover with cling wrap. Place in a warm no draft area for 2 hours.
Filling the Rolls:
Once dough has doubled in size it is time to roll it out and fill. Mix sugar, cinnamon, ginger, nutmeg in a small bowl. Have butter melted and a pastry brush ready. You with also want some sort of measuring device, a ruler/yard stick ready.
Grease a 8x8 inch glass baking dish generously with the melted butter.
Dust clean surface with flour, gently release dough from the bowl on to your work area. Dust dough and rolling pin with flour. We want to roll out the dough into a 9x20 inch rectangle**. Dust with flour as needed.
Once the dough is rolled out, brush melted butter evenly across the dough (you will only use about 1/2 the butter here).
Sprinkle the sugar/spice mixture evenly over the butter until the whole rectangle in covered, it is okay if you have a little of the mixture left.
Starting at one of the short ends tightly and evenly roll the dough up into a log shape.
With the seam side down, use a serrated knife score 6 evenly sized rolls on the log. With the serrated knife cut where you made the scores making sure to hold on to your log so it doesn't come undone.
Gently place each roll into the baking dish. The space will be tight and the cinnamon rolls will be stuffed in there next to each other.
Once all rolls are cut and in the dish brush the tops of the rolls with the remaining butter.
Cover tightly with cling wrap and place in the refrigerator overnight or up to 24 hours. (If you do want to bake this right away do not place in fridge and let rise for one hour.)
Once rolls are done rising in the refrigerator, take out and let rest at room temperature for 30-60 minutes while the oven warms up.
Preheat oven to 350º.
Bake for 45-50 minutes until a butter knife can separate the rolls without getting doughy. (Check rolls around the 30 minute mark, if the top is starting to look to brown, cover very loosely with aluminum foil.)
Top with cream cheese frosting. Enjoy.
Cream Cheese Frosting:
In the bowl of a stand mixer, beat together the cream cheese and butter on high for 1 minute. On low speed slowly add the powdered sugar until fully incorporated. Scrap down the sides of the bowl.
On medium speed add the vanilla and milk. Mix until a smooth consistency forms.
Make ahead the night before or while the cinnamon rolls are baking. For storage keep covered in refrigerator.
Notes
*The milk is at a 'lower' temperature then most doughs call for because we are looking for a slower rise to add more flavor to the dough. If you are looking for a faster process you may use a warmer milk and the first rise will rise faster but that gives it less time for flavor to develop in the dough.
This recipe can be doubled to make 12 rolls. I do suggest if doing so to use 1 whole egg and 1 egg yolk instead of 2 full eggs.
Recommended Products
As an Amazon Associate and member of other affiliate programs, I earn from qualifying purchases.
Nutrition Information:
Yield:

6
Serving Size:

1
Amount Per Serving:
Calories:

742
Total Fat:

33g
Saturated Fat:

20g
Trans Fat:

1g
Unsaturated Fat:

10g
Cholesterol:

115mg
Sodium:

281mg
Carbohydrates:

101g
Fiber:

3g
Sugar:

43g
Protein:

12g
Nutritional data is automated, final nutritional information will depend on ingredients used and any changes made.
If you enjoyed this recipe or any of my others let me know by using #theschmidtywife on social media!
And make sure you are following me on Instagram, Pinterest, and Facebook for all the latest recipes!
Peace & Love
Lauren, The Schmidty Wife
Please note that my links above may be affiliate links, and I will earn a commission if you purchase through these links. I recommend them because they are helpful, and are companies that I trust, not because of the commissions that I may earn from you using these products.