A delicious whipped peanut butter fruit dip that is only 4 ingredients which your family will devour. This yogurt fruit dip with peanut butter is a healthy option for your family to dunk all of their favorite fruits like apples, strawberries, and bananas!
This post may contain Affiliate Links.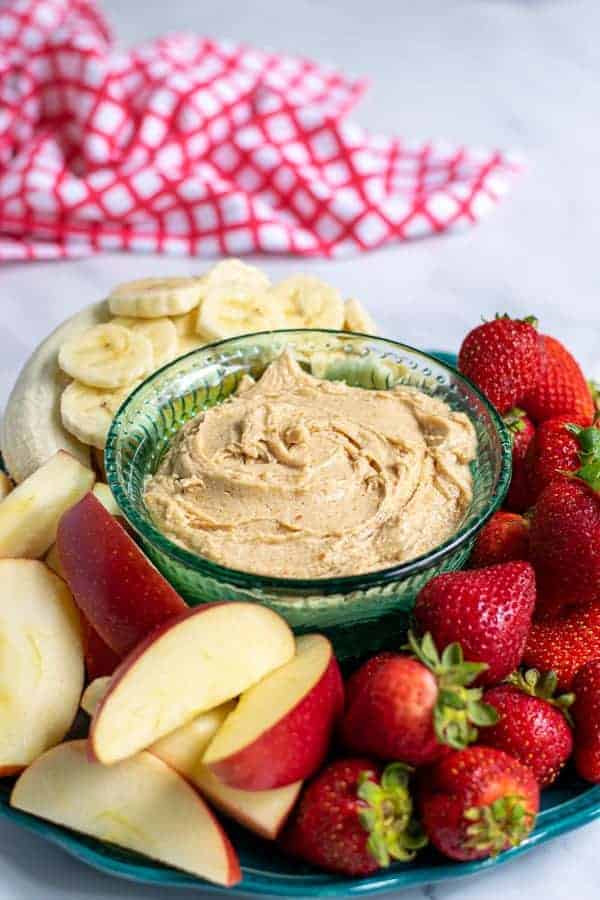 Fruit Dip with Peanut Butter
This is one of those crazy easy recipes that I often forget to even share because of the pure simplicity of them. I swear that sometimes I get wrapped up in needing elaborate recipes when that isn't even what anyone wants (including myself). So today I am sharing this incredibly simple dip that I have been making for myself and my family for quite sometime, Peanut Butter Fruit Dip!
Four of the simplest ingredients you can imagine combine to make a glorious fruit dip that is generally healthy and oh so delicious! All it takes in plain yogurt, peanut butter, honey, and cinnamon.
When the peanut butter and yogurt get combined it makes this magical fluffy whipped dip that when mixed with flavorful honey and cinnamon brings you to snack time nirvana.
So how simple is this dip? Let's take look.
How to make Peanut Butter Dip for Fruit
To start you need 4 ingredients, and all 4 of these ingredients are what I consider kitchen staples so likely you already probably have them at home.
First Peanut Butter. Not just any peanut butter but you will want 100% peanut butter, why? First off to keep this generally healthy, if you are using peanut butter with all the added oils and sugars that is going to change the nutrition of this dip extremely fast. Second it will actually change the consistency too if you are using a peanut butter full of extra stuff like preservatives. Luckily for you 100% peanut butter is getting easier to find in stores these days or what I do is make my own, it is so incredibly easy, I even have a post about it; How to Make 100% Peanut Butter.
Second Plain Yogurt. You will want plain yogurt for this recipe, if you have greek yogurt it will work but both the taste and texture won't quite be the same. Greek yogurt is a lot tangier, resulting in a tangy dip, and a lot thicker resulting in a not as light and fluffy dip. I also recommend a low-fat plain yogurt to keep it healthier.
Honey. Just a tad of honey to add to the sweetness and flavor, just remember though honey shouldn't be fed to babies under 1 years of age!
Ground Cinnamon. My family adores cinnamon so sometimes I will add a little more than what I noted in the recipe but that is all up to you. Cinnamon will just bring a little extra flavor note that takes this Peanut Butter Fruit Dip over the top.
So now you have all of your ingredients, this is how complicated it is to make 😉
Add yogurt, peanut butter, honey, and cinnamon to a bowl. Mix together until fully combined. Serve immediately or keep in an airtight continer in the refrigerator.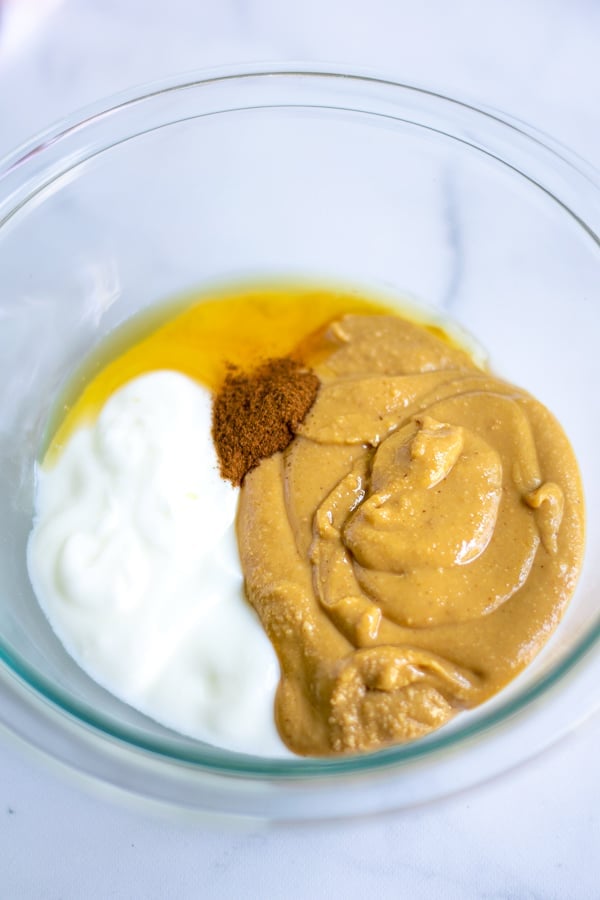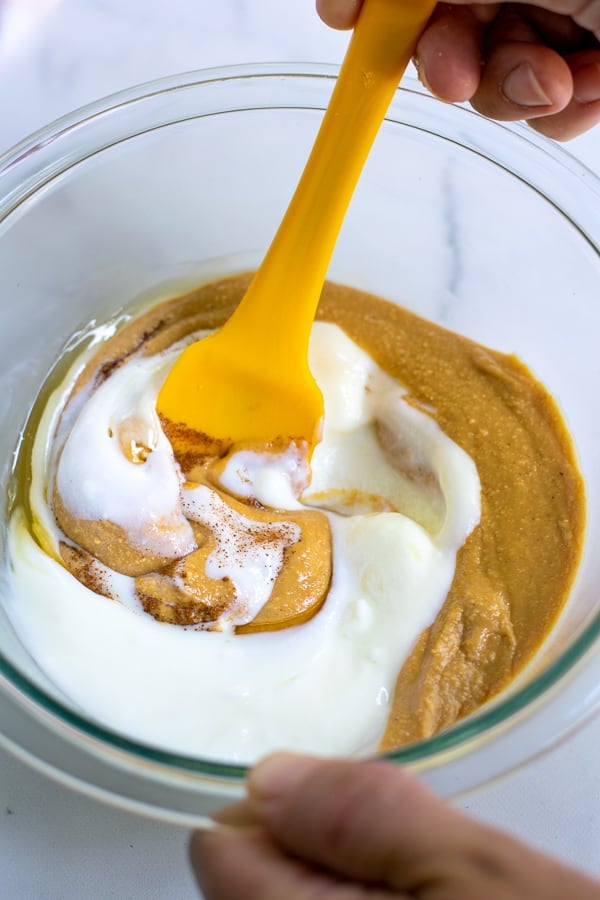 Boom, SNACK TIME!
This is by far one of my favorite afternoon snacks, and you bet I will be packing this for Archie's snack box when he starts preschool this fall.
It seriously hits all of my boxes; healthy-ish, delicious, easy, quick.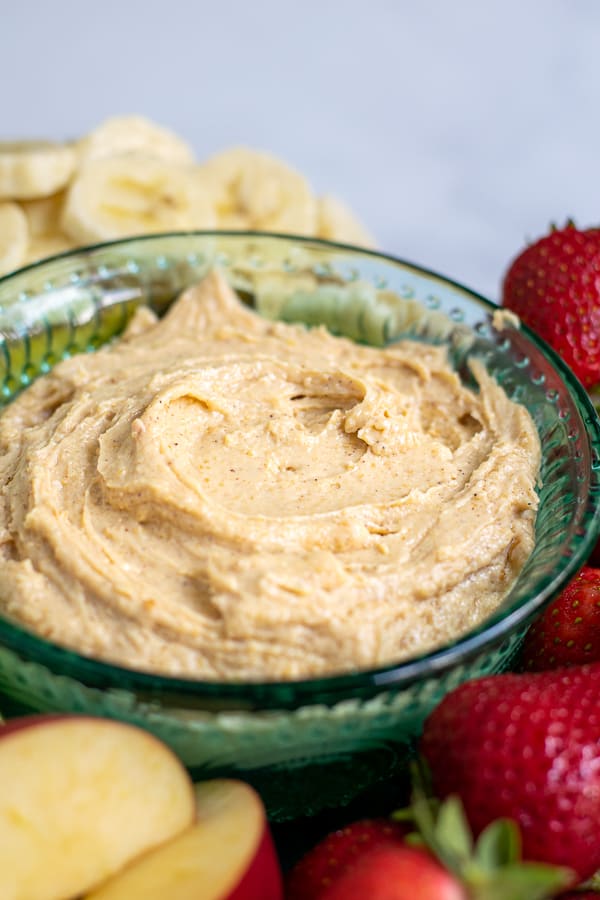 So what goes with this fruit dip?
My favorites are the following:
Apples are hands down my favorite, any variety, peanut butter was already done of my favorite things to put with apples and this just ups the deliciousness
Strawberries are also delicious with this whipped yogurt fruit dip
Bananas, while it is hard to dip the bananas I recommend spreading some on top of the bananas
One might even suggest celery, if you are into vegetables
Or skip the fruits & veggies and go for some graham crackers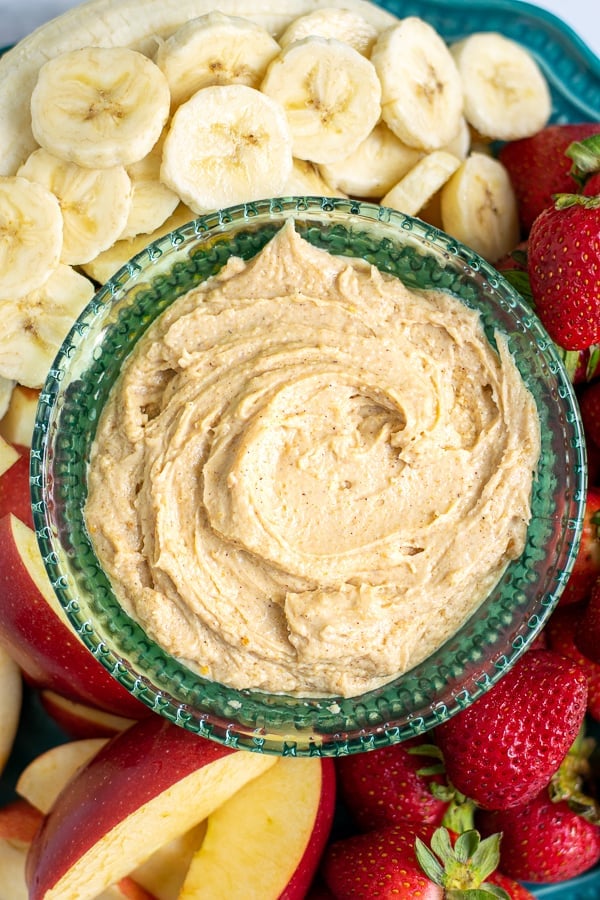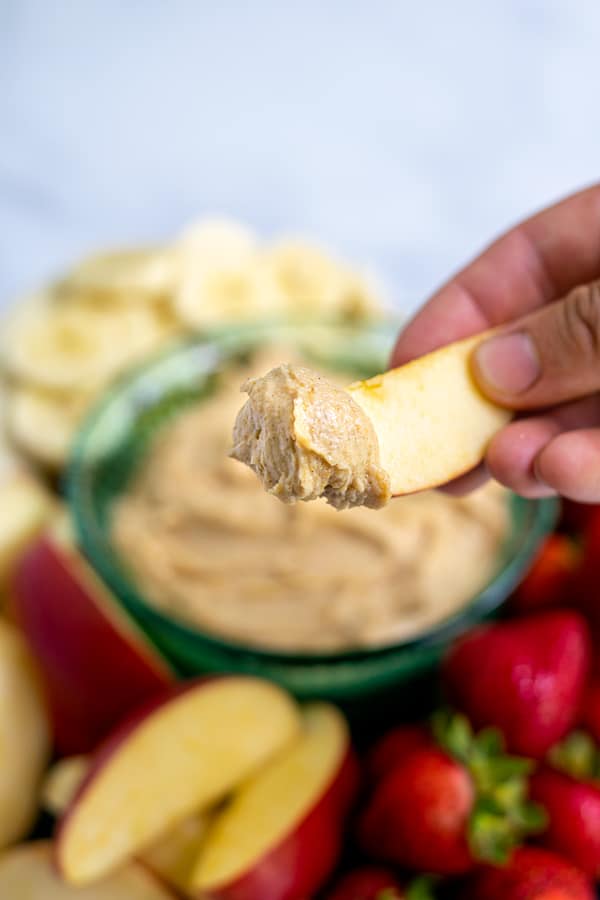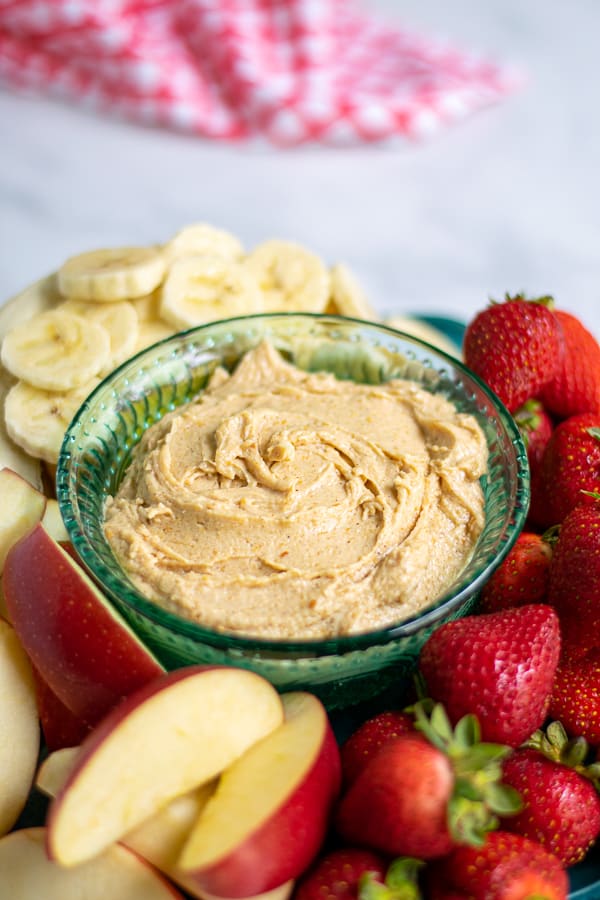 Yield: 1 cup
Peanut Butter Fruit Dip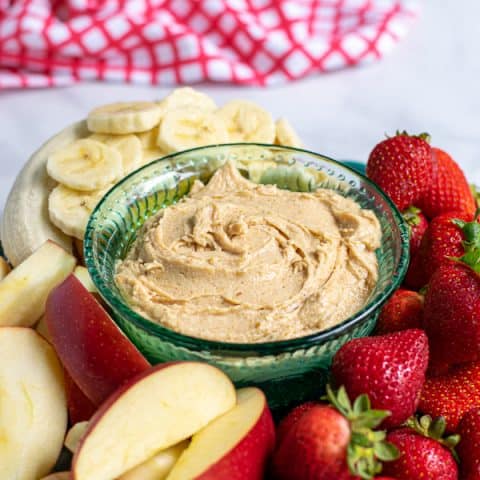 a delicious whipped peanut butter fruit dip using only 4 ingredients, peanut butter, yogurt, honey, and cinnamon
Ingredients
1/2 cup plain yogurt
1/2 cup 100% peanut butter
1 teaspoon honey
1/4 teaspoon cinnamon
Instructions
Add yogurt, peanut butter, honey, and cinnamon to a bowl. Mix together until fully combined. Serve immediately or keep in an airtight continer in the refridgerator.
Notes
This recipe can easily be doubled or halfed to make the amount you need.
To keep this recipe on the healthier side I recommend using low-fat plain yogurt and 100% peanut butter.
Recommended Products
As an Amazon Associate and member of other affiliate programs, I earn from qualifying purchases.
Nutrition Information:
Yield:
4
Serving Size:
1/4 cup
Amount Per Serving:
Calories:

213
Total Fat:

16g
Saturated Fat:

3g
Trans Fat:

0g
Unsaturated Fat:

10g
Cholesterol:

2mg
Sodium:

173mg
Carbohydrates:

11g
Fiber:

2g
Sugar:

6g
Protein:

9g
Nutritional data is automated, final nutritional information will depend on ingredients used and any changes made.
If you enjoyed this recipe or any of my others let me know by using #theschmidtywife on social media!
And make sure you are following me on Instagram, Pinterest, and Facebook for all the latest recipes!
Peace & Love
Lauren, The Schmidty Wife
P.S. Looking for more snack recipes? Check out my Easy Hummus, Healthy Yogurt Ranch Dip, or my How To Make a Sheet Pan Snack Platter.