Looking for a healthy and satisfying breakfast or dessert option? Look no further than Pumpkin Chia Seed Pudding! This creamy and flavorful treat combines the goodness of pumpkin puree with the nutritional powerhouse of chia seeds. Not only is this recipe easy to make, but it's also packed with essential nutrients like fiber, omega-3 fatty acids, vitamins, and minerals.
This post may contain Affiliate Links.
Delicious and Nutritious Pumpkin Chia Seed Pudding Recipe
Fall is in full swing, and that means one thing: pumpkin-flavored everything! From lattes to pies, it seems like this beloved orange vegetable takes over our taste buds during this time of year. But if you're looking for a healthier way to indulge in the flavors of fall, look no further than pumpkin chia seed pudding. This creamy and nutritious dessert packs all the deliciousness of pumpkin pie into a guilt-free treat that will satisfy your autumn cravings. So grab your spoons and get ready to dive into a bowl of pure seasonal delight!
Benefits of Pumpkin Chia Seed Pudding:
Excellent source of fiber: Chia seeds are rich in dietary fiber, aiding in digestion and keeping you feeling fuller for longer.
Omega-3 fatty acids: Chia seeds are packed with heart-healthy omega-3 fatty acids, which promote brain health and reduce inflammation.
Abundance of vitamins and minerals: Pumpkin puree is loaded with essential nutrients like vitamin A, vitamin C, potassium, and iron.
ingredients
Milk of Choice – Whatever milk you enjoy most use that, I make mine with unsweetened Oat Milk.
Pumpkin Puree – Make sure this is 100% pumpkin puree and not pumpkin pie filling which would include sugar and spices.
Maple Syrup – I like maple syrup to flavor this, I think it has just the right flavor that compliments the pumpkin, you could use a different sweetener if you wanted.
Pumpkin Pie Spice – I like to make a batch of my Homemade Pumpkin Pie Spice every fall so I can aadd it to everything, I highly recommend. You can also buy pumpkin pie spice at the store.
Salt – Use Sea Salt or Kosher Salt, if you don't have either of those make sure to half the amount if you are using table salt.
Chia Seeds – The more fresh the chia seeds are the better they are going to work to make pudding, if your chia seeds are old they might not absorb quite as well.
For a complete detailed list of the ingredients continue towards the bottom of the page.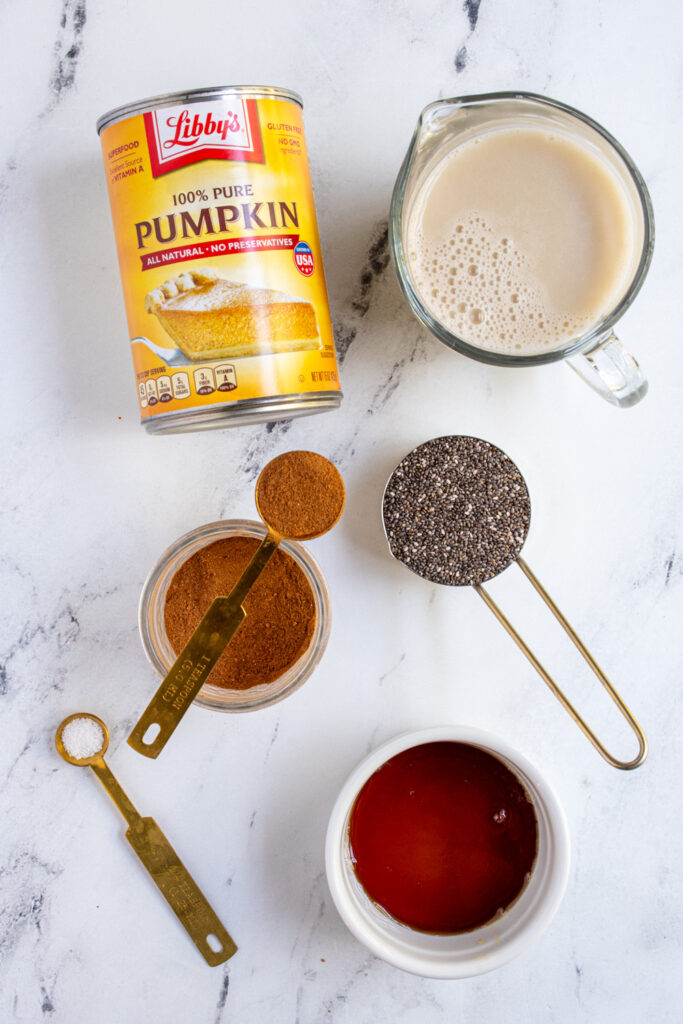 pro tip
Don't like the consistency of chia seed pudding but still want to give this recipe a try? Try blending the chia seeds into a powder. Process the chia seeds down as proceed with the recipe as written. (I did test this, I will note I liked the whole chia seeds more, the blended ones gave the dish almost a sandy texture BUT some people might prefer this to the texture of the whole chia seed.)
instructions
Add everything to a bowl. Mix well until combined. Cover and transfer to the fridge. Let rest in the fridge for at least 4 hours.
Stir before serving, garnish with your favorite toppings.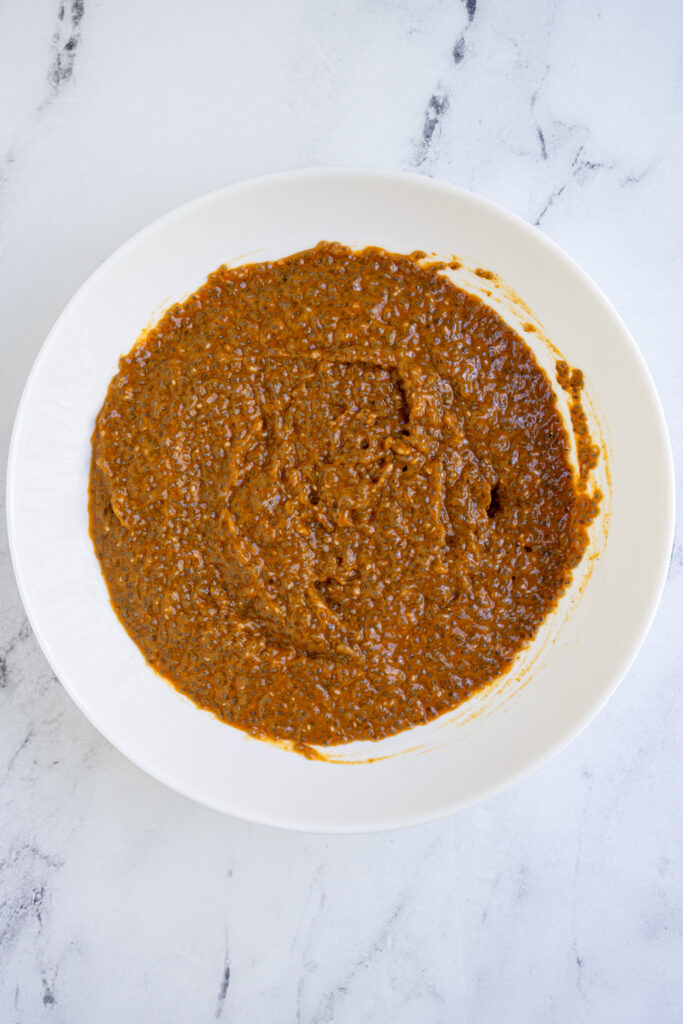 tips, tricks and questions
Is chia seed pudding really good for you?
Yes! Chia Seeds are high in fiber, protein, omega-3 fatty acids, and various micronutrients. They are also high antioxidants. The high fiber content of chia seeds can help keep you full as well as help keep you regular.
Not to mention that pumpkins also are full of a variety of nutrients, including fiber, vitamins, minerals, and antioxidants. So mixed with chia seeds they are like a power couple!
If you are making this for dessert try adding coconut whipped cream to the top.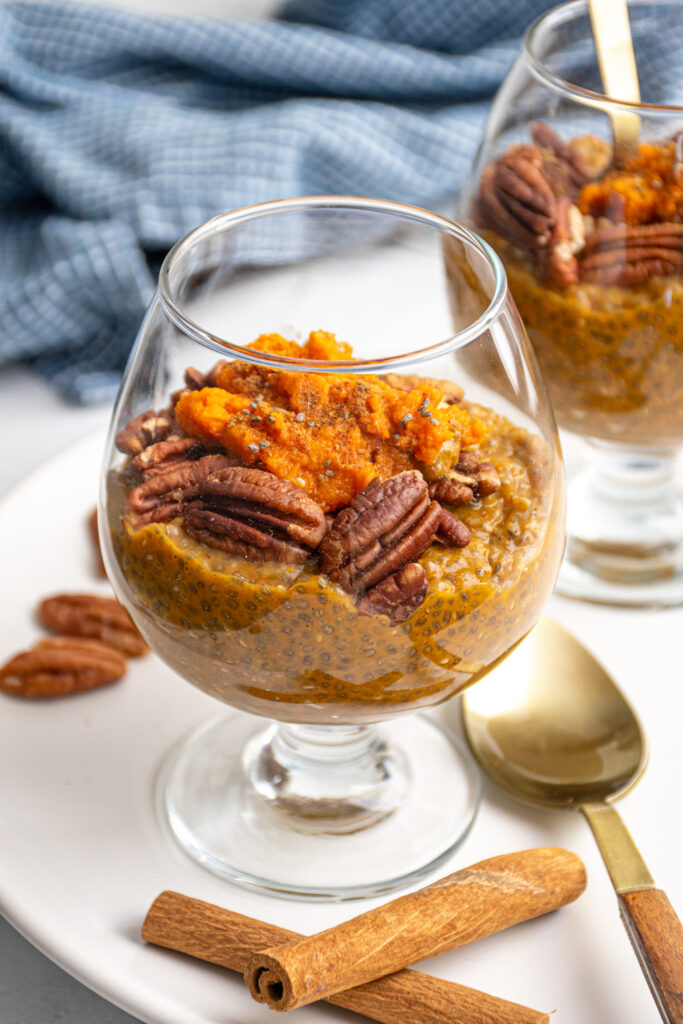 If you like this Pumpkin Chia Seed Pudding Recipe you might also like:
Yield: about 1 1/2 cups
Pumpkin Chia Seed Pudding
Perfect for breakfast, snack, or dessert this Pumpkin Chia Pudding is easy to make and totally delicious!
Total Time
4 hours
5 minutes
Ingredients
1 cup milk of choice
1/2 cup pumpkin puree (not pumpkin pie filling)
2 tablespoons maple syrup or to taste
1 teaspoon pumpkin pie spice
1/8 teaspoon kosher salt
1/4 cup chia seeds
Instructions
Add everything to a bowl. Mix well until combined. Cover and transfer to the fridge. Let rest in the fridge for at least 4 hours.
Stir before serving, garnish with your favorite toppings.
Notes
If you are using table salt use less than the kosher salt, you will only want a pinch. Sea salt measures the same as kosher salt.
Nutrition Information:
Yield:
3
Serving Size:
1/2 cup
Amount Per Serving:
Calories:

170
Total Fat:

7g
Saturated Fat:

2g
Trans Fat:

0g
Unsaturated Fat:

5g
Cholesterol:

7mg
Sodium:

98mg
Carbohydrates:

23g
Fiber:

7g
Sugar:

14g
Protein:

6g
Nutritional data is automated and might not be 100% accurate, final nutritional information will depend on ingredients used and any changes made.
And make sure you are following me on TikTok, Instagram, Pinterest, and Facebook for all the latest recipes!