Delicious and oh so creamy White Bean Hummus with Roasted Garlic. This hummus is packed full of flavor, perfect for dipping pitas and all sorts of veggies!
This post may contain Affiliate Links.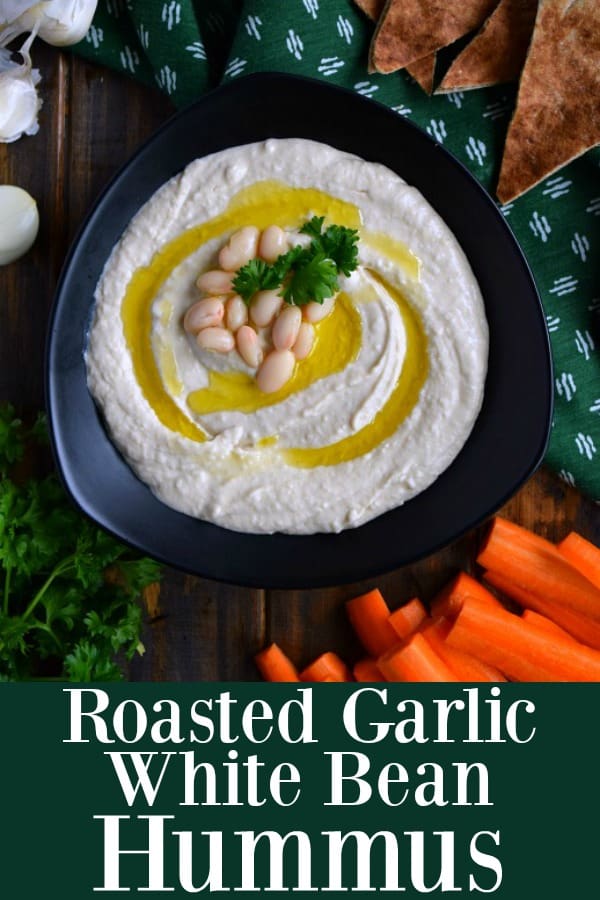 Roasted Garlic White Bean Hummus
I feel like I have so much to talk about today. So first and foremost, this super creamy and mega delicious Roasted Garlic White Bean Hummus. Secondly I am going to chit chat about my recent trip to The Everything Food Conference I just got back from. Both of these things are life changing for me and here is why:
We will start with the food, because this is a food blog.
So my family and I are serious lovers of hummus. My toddler seriously eats it like an animal, he starts with carrot sticks but then ends up getting some on his fingers and before you know it he is scooping the hummus with his whole hand and stuffing his mouth in fistfuls. The best part about this is that I equally love hummus so I am sitting there being a greedy mommy trying to eat as much as I can before he starts hand scooping it into his mouth, and then there is never any left for dad besides a little residue on the sides that he has to scrape out with a carrot stick.
So now that you know how hummus crazy we are I will say I never thought I would like a hummus more then I would classic easy hummus. BUT YOU GUYS THIS HUMMUS IS AMAZING!
Roasted Garlic White Bean Hummus is crazy smooth & silky and full of flavor. Although traditional hummus is made with chickpeas, which yes is delicious they can be a bit hard for a bean so the hummus doesn't necessarily come out super smooth every time. Great Northern Beans (what this recipe calls for) are super soft so they get blended into a really silky hummus. Because of the consistency of the white beans I was able to make some changes from my traditional easy hummus I make.
Less oil! Because these beans are so smooth I use half of the olive oil that I would otherwise use when making a hummus, and while olive oil is great halving the oil brings down the calories big time.
Less tahini! To me tahini has a super powerful taste, and because the white beans have a little bit more subtle flavor, I was able to reduce the tahini and it still be absolutely delicious!
Speaking of delicious, lets talk our main flavor component, Roasted Garlic. Garlic when raw tends to be a bit strong and pungent, roasted garlic on the other hand becomes smooth and super flavorful without being over powering. And yes you truely do want a whole head in this hummus, because like I just stated above the roasted garlic becomes a more subtle flavor so your hummus won't be over powering.
So how did I create this hummus when I was such a fan of classic hummus?
I was out of chickpeas! I wanted to bring some vegetables and hummus to a bbq cookout because I knew that menu was going to be meat heavy. (I am such a mom, worrying that everyone wouldn't get their fix of vegetables). It was about 15 minutes before it was time to go when I looked into my pantry and realized no chickpeas. I hesitated for a split second and went straight for a can of Great Northern Beans. I had used black beans to make dessert hummus before so I figured that the Great Northern Beans should work perfectly.
I followed how I would have normally made hummus (see my Easy Hummus recipe). After I immediately fell in love with the creaminess of this hummus I knew I had to tweak this recipe to perfection. So here is the final version. Just 5 simple ingredients I hope that you get addicted to this Roasted Garlic White Bean Hummus as much as my family has!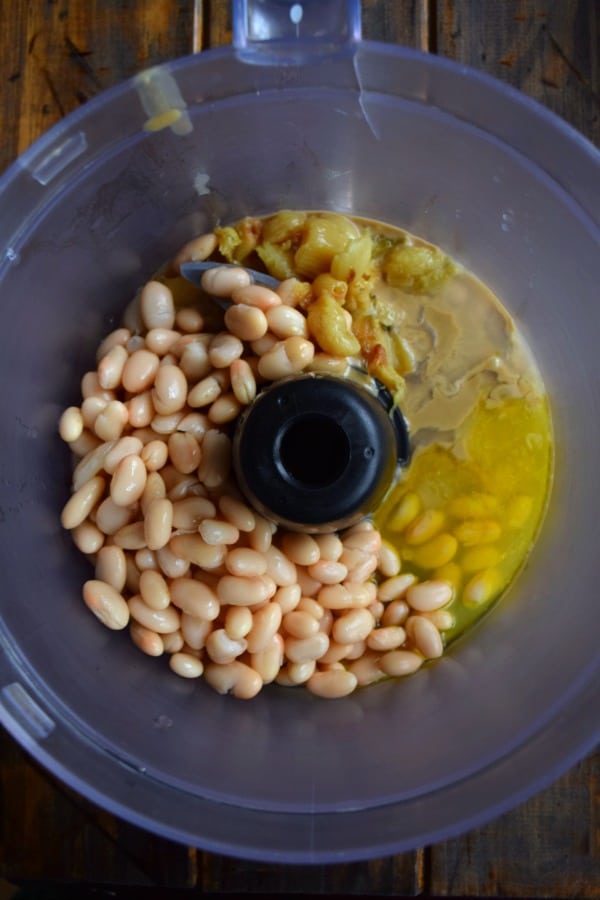 Everything Food Conference
Alright so taking a sharp turn into the Everything Food Conference. Last week I had the chance to head out the Utah to attended a conference thrown by food bloggers for food bloggers. And you guys it was an eye opening dare I say life changing experience.
I learned so much I thought my brain was going to explode and I made so many connections that dare I say life long friendships were formed. I am already counting down the days until next year.
I am so excited to take so much of what I learned back to the blog because I want to make it the best I can for you guys, my readers.
I love everything about this blog and I am so passionate about it and I am working on ways to make sure every bit of that passion comes across to you.
I was overwhelmed at the fact that I found 'my people', although I have always been involved with so much throughout my life I finally feel like I found were I belong. Meeting over 500 other people who were passionate about their recipes, and what they have created, and their businesses was a magical feeling. I am absolutely blessed that I was able to discover that feeling.
So if you are a fellow food blogger check it out for next year. If you are a fellow human and haven't had a chance to experience that feeling yet, I would like to give you a little nudge and suggest that would find that feeling because it is absolutely euphoric.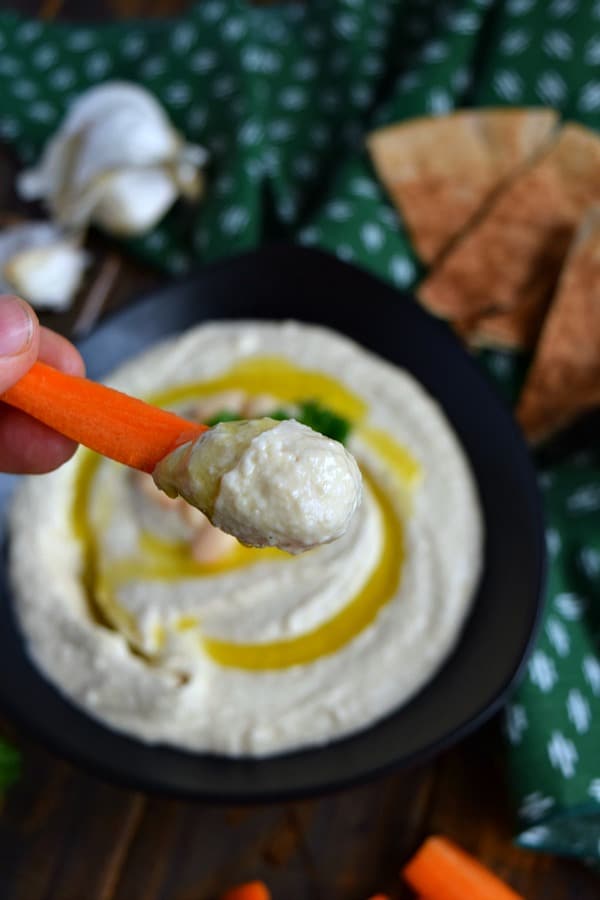 TIPS & TRICKS:
• you can make the roasted garlic ahead of time, and even store it in the fridge until you are ready to use it, I like to make a couple of heads at a time and store them in the fridge until I'm ready to use them
• my favorite thing to dip in roasted garlic white bean hummus is carrots
Yield: 8 servings
Roasted Garlic White Bean Hummus Recipe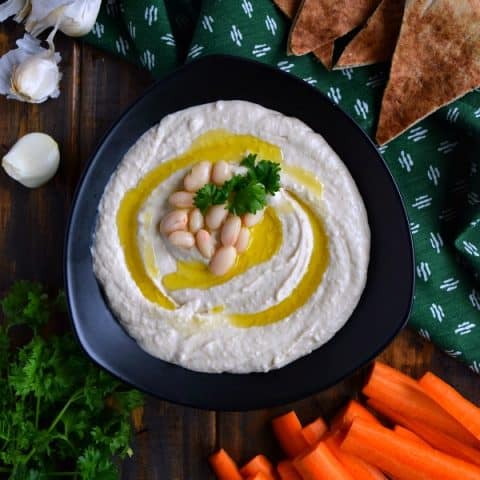 smooth hummus made with freshly roasted garlic and great northern beans
Ingredients
1 head of garlic
1 teaspoon of olive oil (for roasting the garlic)
1 tablespoon olive oil (for the hummus)
1 15 ounce can great northern beans, drained and rinsed
1/4 cup tahini
2 tablespoons lemon juice
Instructions
To Roast The Garlic:
Preheat oven to 400º F.
Take the paper like outer layers off the head of garlic. Carefully use a knife to cut the top 1/4-1/2 inch of the head of garlic off, opening up the tops of each clove so that the cloves are exposed slightly. Make sure to keep each clove attached at the root.
Transfer garlic to a piece of tin foil, drizzle a teaspoon of olive oil over the open cloves.
Wrap the garlic head in the foil.
Bake for 35-40 minutes until garlic is soft and aromatic. Open up the foil and let the garlic cool until you can handle it.
To Make The Hummus:
Add the beans, tahini, lemon juice, and remaining olive oil to a food processor (or blender). Squeeze all of the cloves from the roasted garlic into the food processor.
Start blending, add 1-2 tablespoons of cold water to the processor while the machine is on to make smooth, to your liking. (I almost always add 2 tablespoons).
Serve immediately or refrigerate up to a week.
Nutrition Information:
Yield:
8
Serving Size:
1/4 cup
Amount Per Serving:
Calories:

135.19
Total Fat:

6.53g
Saturated Fat:

0.95g
Sodium:

206.44mg
Carbohydrates:

15.07g
Fiber:

3.44g
Sugar:

0.94g
Protein:

5.6g
Peace & Love
Lauren, The Schmidty Wife
P.S. Looking for more easy snack recipes? Check out my Easy Hummus, Sheet Pan Snack Platter, or my Fresh Restaurant Style Salsa.