I love fries. I love all kinds of fries, I love crinkle cut fries, straight cut fires, shoestring fries, steak cut fries, sweet potato fries, wedge fries, french fries, homemade, restaurant…. you get the picture I love them. One of my favorite kind of fries growing up was wedge fries from our grocery store deli (or 'jojo' potatoes as I fondly remember them). I remember during the summer when I was young my mother would bring my siblings and I to the deli to grab lunch and then we would head off to a park for a picnic. These meals often consisted of deli chicken, some sort of salad, and my favorite 'jojo' potatoes. As an adult I can still find delicious wedge potatoes places but I had never been able to get them quite right at home until I discovered a new method to bake the potatoes that left perfect seasoned crust, that usually only a deep fryer can obtain. And since I am an adult now I have also grown up the taste a little bit by adding parmesan and rosemary opposed to a bunch of seasoned salt. So today I am sharing with you the most perfect Rosemary Parmesan Baked Potato Wedges.
So before I tried this different way of baking potato wedges I did the typical toss in oil, season, place on pan, and bake. Not that these didn't create great tasting potatoes but they lacked the crispy crust that restaurants and deli's achieve by deep frying their fries. So to get amazing baked potato wedges at home we have to rethink the process slightly. We begin by slicing our russet potatoes into 8 wedges each and soaking them in a cold water bath while our oven gets hot. Meanwhile we create a simple coating for the potatoes, mixing together flour and spices. The potatoes are then dried and covered in the coating. Here is where we add in the oil, but not to the potatoes, directly to the baking sheet (I use a 11×7 jelly roll pan with 1 inch sides). We spread the oil around the bottom of the sheet so it is fully covered, then we add the potatoes, placed in rows. We bake for 20 minutes and then flip all of the potatoes to the other side into the oily goodness and bake for another 20 minutes. From the oven comes crispy and flavorful on the outside and smooth and steamy on the inside perfect wedge potatoes.
These Rosemary Parmesan Baked Potato Wedges are basically the perfect side for essentially everything. They taste great on their own, with a little oil, and of course with ketchup. I think kid Lauren would be so proud of me for figuring out how to make the perfect 'jojo' at home, I know adult Lauren is certainly proud.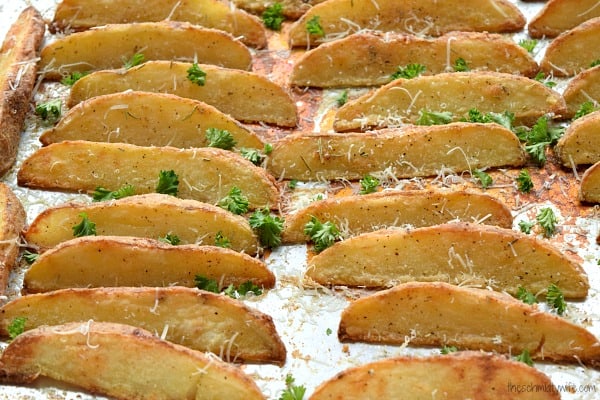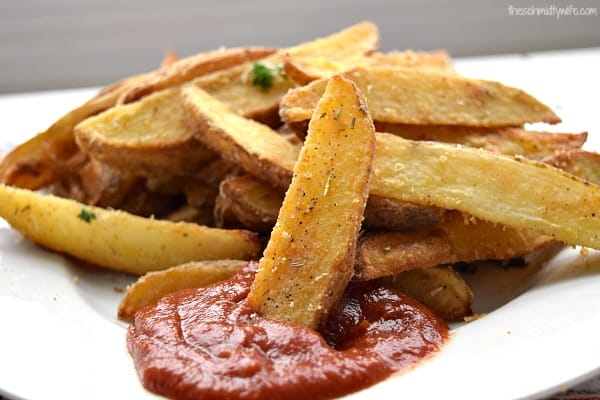 Yield: 4 servings
Parmesan Rosemary Baked Potato Wedges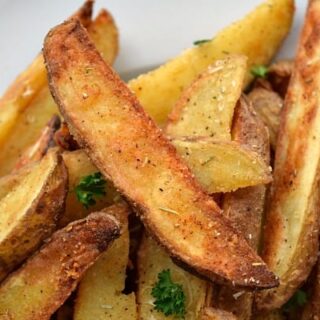 Ingredients
3 large russet potatoes
1/4 cup olive oil
3 tablespoons all purpose flour
2 teaspoons garlic powder
1 teaspoon onion powder
1 heaping teaspoon dried rosemary (chopped into fine pieces)
1 tablespoon finely graded parmesan cheese
1/2 teaspoon black pepper
sea salt for dusting
parsley for garnish
Instructions
Scrub potatoes clean and slice each potato into 8 wedges.
Place potato wedges in a large bowl. Add a few ice cubes and fill with cold water until all potatoes are covered.
Preheat oven to 450º. Keep potato wedges soaking while oven warms up, at least 15 minutes.
While oven is being preheated add flour, garlic powder, onion powder, rosemary, parmesan cheese, and black pepper to a gallon ziplock bag.
Once oven is to temperature add olive oil to the bottom of a baking sheet ensure the whole bottom is covered in oil.
Drain potatoes and pat any excess water off with a clean towel, you will still want the potatoes slightly damp so the flour mixture sticks to them.
In 3-4 batches add the potatoes to the flour mixture and give the bag a good shake until all of the potatoes are fully coated. Once fully coated carefully line up each potato wedge on the baking sheet so that one of the wedge sides are in the oil. Continue placing the potatoes until they are all in the oil.
Bake for 20 minutes.
Take out and flip each potato wedge so that the top side is now in the oil. Place back in oven and bake for an additional 20 minutes.
Once done baking sprinkle with salt and parsley. Serve immediately.
Nutrition Information:
Yield:
4
Serving Size:
1
Amount Per Serving:
Calories:

373
Total Fat:

14g
Saturated Fat:

2g
Trans Fat:

0g
Unsaturated Fat:

12g
Cholesterol:

1mg
Sodium:

205mg
Carbohydrates:

55g
Fiber:

6g
Sugar:

3g
Protein:

7g
Nutritional data is automated, final nutritional information will depend on ingredients used and any changes made.
Peace & Love
Lauren, The Schmidty Wife
P.S. Sign up for recipes straight to your inbox!
[mc4wp_form id="753″]