Sometimes you just have to make something fun and a little out of the ordinary. I love fun dinners like this, sometimes they take a little more time but they are always worth it because they are always so delicious. Well today I am sharing one of these fun recipes, Shrimp Banh Mi with Quick Pickled Vegetables.
If you aren't familiar with Banh Mi's they are a delicious, they usually contain a marinated meat, pickled vegetables, cilantro, jalapeños, on a baguette. These sandwiches originated in Vietnam as a result of French colonialism, a beautiful combination of the two cultures. I love learning the history of foods, sometimes they are so interesting!!
Shrimp Banh Mi with Quick Pickled Vegetables is comprised of three main components. First you will make the quick pickled vegetables. The pickled vegetables are made at least an hour ahead of time (or even the day before), it is as simple as carrots and cucumber chopped up with a simple pickle mixture of rice vinegar, water, sugar, and salt.
The second component of these Banh Mi's is the shrimp. A quick and tasty marinade is mixed together and the shrimp are added for about 20 minutes to an hour. The shrimp are then cooked in the shocking quick time of about 6 minutes.
The last component of the Banh Mi's is the sandwiches themselves. Crispy baguettes are warmed and lightly toasted, then spread with mayo. The shrimp are added and then topped with the pickled vegetables, sliced jalapeños, and fresh cilantro.
These Banh Mi's are best served with friends and a cold beverage. Enjoy!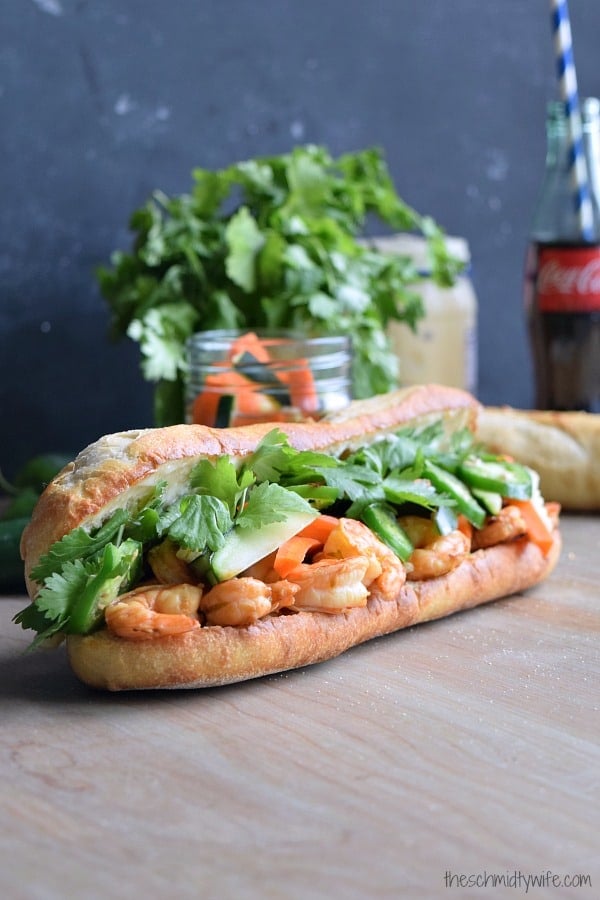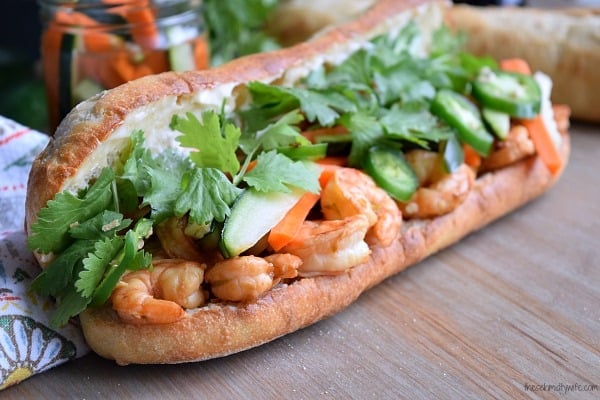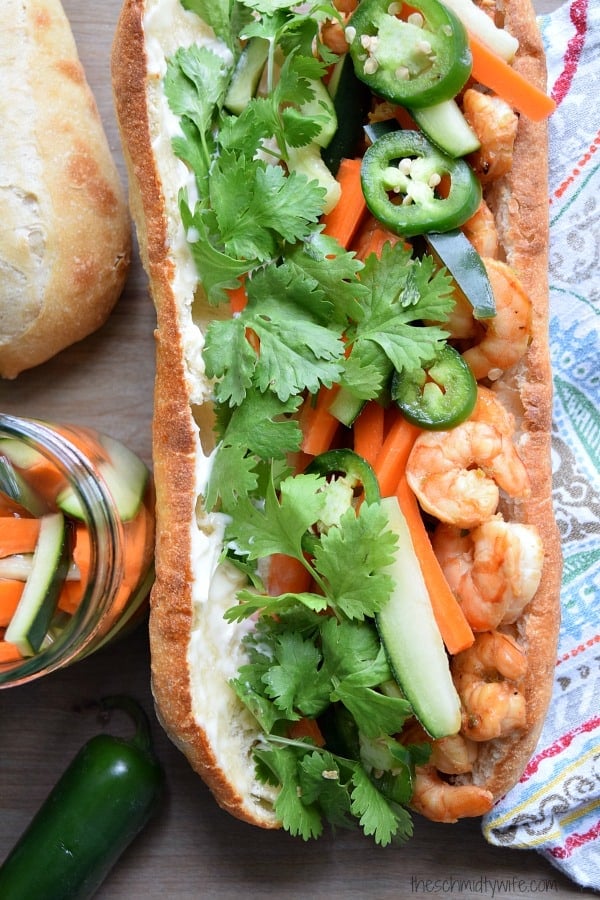 TIP & TRICKS:
I find the quick pickled vegetables best when I made them the night before, I found it easiest to make them real quick when I am making dinner the night before, they only take a few minutes to whip together.
Seafood does not need that long to marinate, unlike chicken and beef, you will get the full flavor of the marinade if you only have 20 minutes for it to sit, so no need to sweat if you don't have an hour to let it sit.
These sandwiches are way good with french fries 😉
Yield: 4 sandwiches
Shrimp Banh Mi with Quick Pickled Vegetables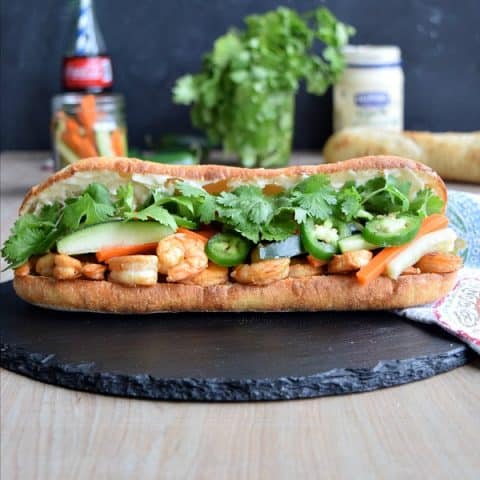 a shrimp twist on the classic Vietnamese sandwich
Total Time
1 hour
16 minutes
Ingredients
Pickled Vegetables:
3 medium carrots, cut in matchsticks
1 cucumber, cut in matchsticks
1/2 cup boiling water
1/2 cup rice vinegar
1/2 cup granulated sugar
2 teaspoons salt
Shrimp:
2 pounds raw shrimp, peeled
3 cloves garlic, minced
1/4 cup soy sauce
1 tablespoon granulated sugar
1 tablespoon mayonaise
zest & juice of 1 lime
1 teaspoon sriracha
for the Banh Mi's:
4 demi baguettes
jalapeños for topping
cilantro for topping
mayonaise for topping
Instructions
for the Pickled Vegetables:
Place the vegetables into a medium sized bowl. Pour sugar, salt, rice vinegar, and boiling water over the vegetables.
Stir the vegetables and pickling mixture together until the sugar and salt dissolves (I use a bowl with a tight lid and just pick it up and shake it).
Cover the bowl and place in the refrigerator at least 1 hour but up to 24 hours. I find it works best to do this part the night before you plan on having your sandwiches.
For the Shrimp:
In a large bowl mix together the garlic, soy sauce, sugar, mayo, zest and juice of the lime, & sriracha to make the marinade.
Ensure the shrimp are clean and free of any shell. Add shrimp to the marinade.
Marinade the shrimp covered in the refrigerator for at least 20 minutes or up to an hour.
Heat large non-stick skillet over medium heat.
Drain marinade from the shrimp. (You don't want too much wetness in the pan.)
Add the shrimp in a single layer into the skillet. Cook for 3 minutes, then flip the shrimp and cook another 2-3 minutes until shrimp are pink, about 5-6 minutes in total.
To assemble the Banh Mi's:
Heat oven to broil, cut baguettes in half the long way. Place the baguettes cut side up in oven, broil 4-5 minutes until warm and slightly toasty.
Thinly slice jalapeños and clean & prepare cilantro.
Spread mayonaise on the top loaf of the sandwich. On the bottom spread out a large scoop of the shrimp, top with pickled vegetables, cilantro, and jalapeños. Repeat for all of the sandwiches. Enjoy immediately.
Nutrition Information:
Yield:
4
Serving Size:
1
Amount Per Serving:
Calories:

1240
Total Fat:

16g
Saturated Fat:

3g
Trans Fat:

0g
Unsaturated Fat:

9g
Cholesterol:

289mg
Sodium:

5270mg
Carbohydrates:

206g
Fiber:

9g
Sugar:

46g
Protein:

68g
Nutritional data is automated, final nutritional information will depend on ingredients used and any changes made.
If you enjoyed this Recipe or any of my others let me know by using #theschmidtywife on social media!
And make sure you are following me on Instagram, Pinterest, and Facebook for all the latest recipes!
Peace & Love
Lauren, The Schmidty Wife
P.S. Looking for more shrimp recipes? Check out my Shrimp Stir Fry or my Oven Baked Shrimp.
Please note that my links above may be affiliate links, and I will earn a commission if you purchase through these links. I recommend them because they are helpful, and are companies that I trust, not because of the commissions that I may earn from you using these products.