Slow Cooker Black Bean Tortilla Soup is a hearty and delicious vegetarian soup made in the crockpot using canned goods and fresh ingredients.
This post may contain Affiliate Links.
Crockpot Black Bean Soup
I have been experimenting around with tortilla soup for probably a year now, making minor changes and big changes along the way. Recently I finally hit the jackpot, I made a super flavorful yet minimally prepped soup that can be thrown in the slow cooker in the morning so its ready to eat by evening. This Slow Cooker Black Bean Tortilla Soup also happens to be vegetarian and healthy so whether it is Meatless Mondays, slow cooker weather, or soup season this soup is perfect.
Now I will warn you know I have 'two versions' of this soup I am sharing with you today, I put that in quotes because it is the same recipe but for some of the ingredients you can choose homemade versions or store bought versions. I tested both ways and both were delicious, so it totally depends on you and how much effort/planning ahead you want to do!
Most of this soup comes from the help of canned goods, so most of the soup is opening up the cans and dumping. Although I did add fresh diced onions and a green pepper, which totally ups the soups freshness level.
Now my favorite part of this soup besides being easy to make is the 'faux' creaminess, I wanted to give the soup a little bit of a creamy and hearty texture without adding any cream. To do this you'll see that I have added refried beans to give it that texture. So besides the little extra step of whisking this soup is a breeze to make, let's take a look!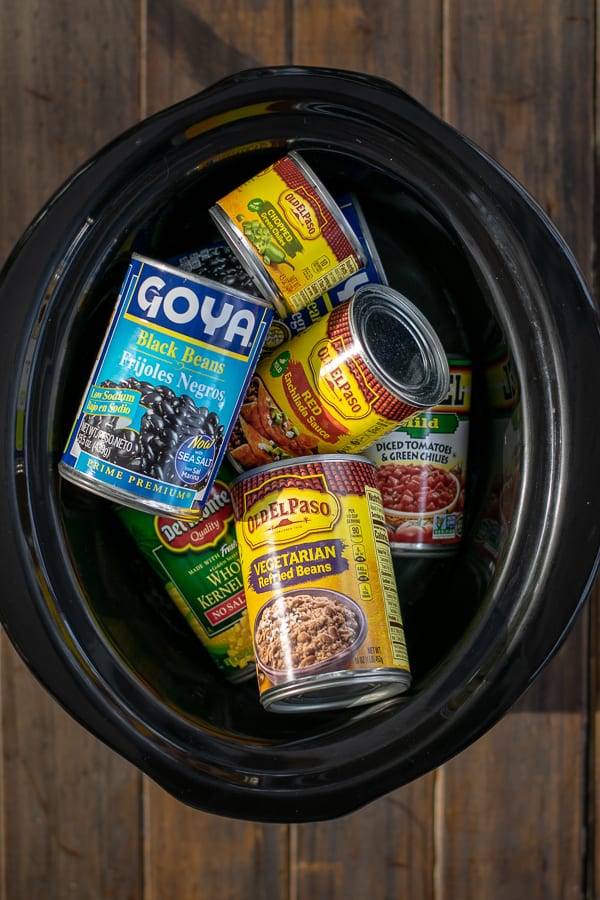 The Ingredients
Black Beans. The star of this soup, when experimenting with this recipe I tried all different kinds of 'stars' including chicken and different kinds of beans but every single time I knew that just black beans is what was best. Plus they're cheaper than chicken and loaded with with fiber, folate, potassium, and protein.
Refried Beans. So I guess I really did use two kinds of beans for this soup! I wanted to give the soup a heartier and thicker feel and taste to it and what better way than using beans! And no need to smash up beans when refried beans are already all smashed. I like to use my own recipe for the refried beans, with very little effort and just a little forethought I make a batch of my Easy Vegetarian Crockpot Refried Beans the day before. But if I don't have the time I just grab a can from the store, but note if you really want this soup vegetarian make sure you buy the refried beans labeled so, because most original varieties are not! The biggest difference I noticed between homemade and store bought is that it was harder to stir the store-bought into the broth whereas the homemade mixed right in.
Corn. For this tortilla soup the mixture of black beans and corn was an absolute must. Plus canned corn is so easy to use. To keep this soup healthy and tasting best opt for a no-added sugar or salt varieties, plus I always rinse off my corn just to ensure that the 'canned' taste doesn't linger on them. Maybe it is just me but canned corn always has a 'canned' smell to it more than another canned products I've used, but I think that I just might be a little fussy…
Rotel. My beloved rotel coming back for another recipe. I mean it doesn't get much better that pre-mixed tomatoes and green chilies. Rotel also comes in mild or original so that you can have more control over the spiciness level, I use mild so that my children will eat it!
And more green chiles. The minced green chilies definitely are what gives this soup it's kick without it getting spicy. You could use a fresh diced jalapeño in its place if you wanted to up the heat and freshness factor.
Enchilada Sauce. This is one of those ingredients that I warned you about, you get to pick homemade or store bought at this point you can use my Blender Enchilada Sauce Recipe or just pick up a can of sauce at the store. My enchilada recipe is super easy I promise and you will have some sauce left over if you want make enchiladas another night for dinner!
Onion & Green Pepper. I couldn't resist not adding some fresh vegetables to this soup, luckily an onion and a green pepper aren't that difficult to chop up quickly, plus you could always do this the day before if you are strapped for time in the mornings. And if you haven't learned the proper way to dice an onion yet check this video out, learning how to correctly cut an onion is such a time saver in the kitchen!
Vegetable Broth. A quick container of vegetable broth from the store and you are ready to go! You could also use a vegetable base such as Better Than Bouillon if you wish.
And maybe salt… I find that all of the canned goods contain enough salt that I don't like to add any but I also don't like my dishes overly salty. So I recommend waiting until the soup is done, giving it a taste and adding salt if you see fit.
The Garnishes: This soup is also all about the garnish. Shredded Mexican cheese, sour cream, chopped cilantro, a splash of lime juice, and tortilla strips/chips are all a must! I have also actually used tortilla chips to eat this soup before, yup like a pig. I almost eat this soup like a salsa scooping it up onto the chips, try it, it's awesome!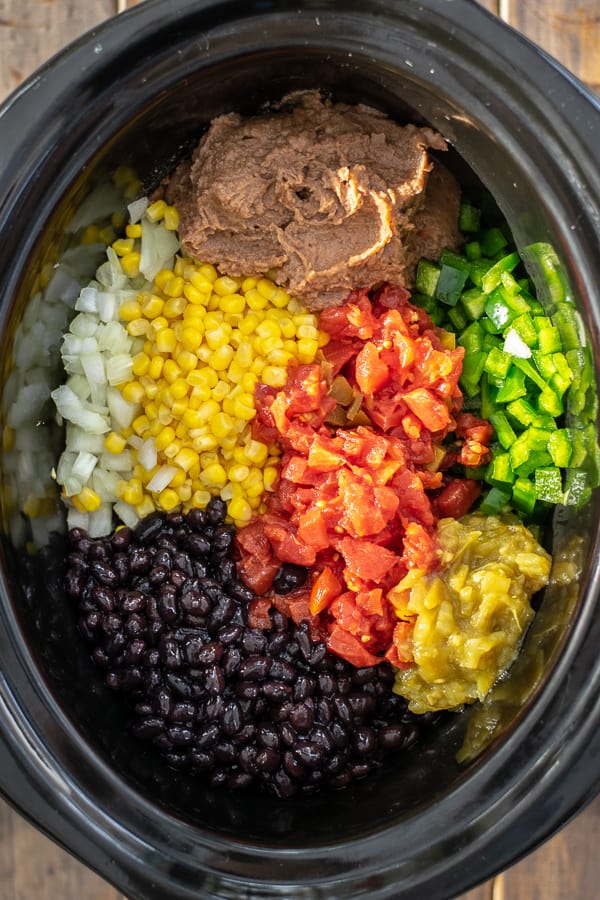 How to make Black Bean Tortilla Soup
This is basically a dump and go recipe with two little minor exceptions. You need to dice an onion and green pepper, which should take too long or can be done ahead of time. And you have to quickly mix the refried beans into the broth that way the lump of beans isn't just sitting on the bottom of the crockpot. Like I mentioned above my homemade refried beans were super easy to mix in while the store bought took just a little extra whisking.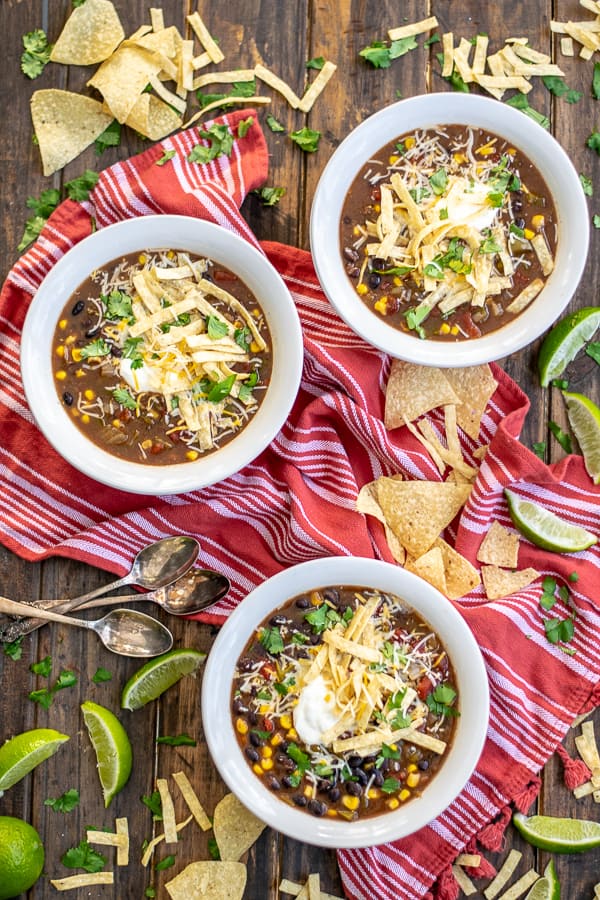 TIPS & TRICKS
• don't skip the little squeeze of lime juice into your bowl, it really adds a next level to the soup
• you could easily make this soup on the stove top or the instant pot, just cook until the onions and green peppers are tender
• this would pair well with my easy Mexican Rice
Yield: 6 servings
Slow Cooker Black Bean Tortilla Soup Recipe
a hearty and delicious vegetarian black bean tortilla soup made in the crockpot
Total Time
7 hours
10 minutes
Ingredients
4 cups (32oz) Vegetable Broth
1 15oz can refried beans OR 1 1/2 cups homemade refried beans
2 15oz cans black beans, drained
1 15oz corn, drained and rinsed
1 10oz can rotel
1 4oz can diced green chilies
1 10oz can red enchilada sauce OR 1 cup blender enchilada sauce
1 onion, diced
1 green pepper, diced
salt to taste*
garnishes for servings
shredded Mexican cheese
sour cream
cilantro
lime wedges/lime juice
tortilla strips/chips
Instructions
Add vegetable broth and refried beans to the crockpot, mix to stir together (if you are using store bought you might need to use a whisk) so that the refried beans are mostly incorporated into the broth.
Add the remaining ingredients; blacks beans, corn, rotel, green chilies, enchilada sauce, onion, and green pepper to the crockpot.
Cook on low for 6-7 hours or high for 3-4 hours.
Before serving taste to see if you need to add salt. Divide between bowls and top with shredded Mexican cheese, sour cream, cilantro, lime wedges, and tortilla strips/chips.
Notes
*I find that a lot of the canned goods contain enough salt that I don't need to add any but I also don't like a lot of salt in my food, so add salt at the end after tasting to see if you need it to your tastes
Nutritional data is automated, final nutritional information will depend on ingredients used and any changes made. Nutrition does not contain garnishes.
Nutrition Information:
Yield:
6
Amount Per Serving:
Calories:

307
Total Fat:

3g
Saturated Fat:

0g
Trans Fat:

0g
Unsaturated Fat:

0g
Cholesterol:

0mg
Sodium:

663mg
Carbohydrates:

56g
Fiber:

14g
Sugar:

9g
Protein:

15g
Peace & Love
Lauren, The Schmidty Wife