So I am fully aware that spring is 5 days away but here in New England the official start of spring is just laughable. In the past 10 days we have had 3 Nor'Easters, dumping a lot of snow, in the past 24 hours we've had almost 2 feet! But let's not complain you know the old saying,
When life gives you snow, make ice cream.
Or something similar to that right!? Well we decided to kick it up a notch at our house and make S'mores Snow Ice Cream.
My poor 2 year old is probably dying of inactivity. Between the newborn and the snow storms he has absolutely been cooped up inside. So since the storm cleared out and it was sunny this morning I thought it would be fun to make a treat. I knew he'd love Snow Ice Cream but I wanted to kick it up a notch with his favorite flavors. So I strapped Fred into my Boba Wrap
and we got to work!
Archie is addicted to chocolate (probably my fault) so chocolate ice cream it is but wait what other tasty things can we put in it?! I realized we had everything to make delicious S'mores Snow Ice Cream. We had mini marshmallows from that one time Archie snuck them in the cart at the store. And we had a few graham crackers left in a package. Perfect!
So taking the general recipe for snow ice cream we gave it a fun makeover and had a blast doing it. (Aka sorry for all of the adorable pictures of Archie cooking but I'm so proud of how good he is at cooking and following instructions.)
So even if it's almost 'spring' store this one away for your next snow day!
You'll start your ice cream with a base of sugar, milk, vanilla, and cocoa powder. Easy right?! Then you will head outside and search for FRESH & CLEAN SNOW, look for an area that has been untouched.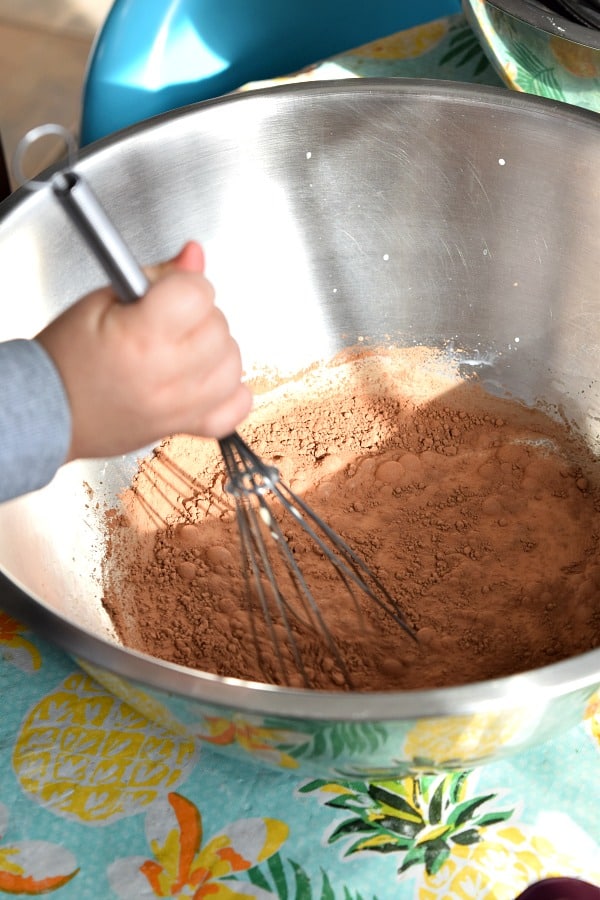 The snow will be mixed into your base and then the fun part, mixing in your goodies. Stir in your marshmallows and your graham crackers! (note about the graham crackers, if you don't work quickly they will get soggy in the ice cream. Which isn't awful because you can still get the flavor but if you want chunks add them at the last second)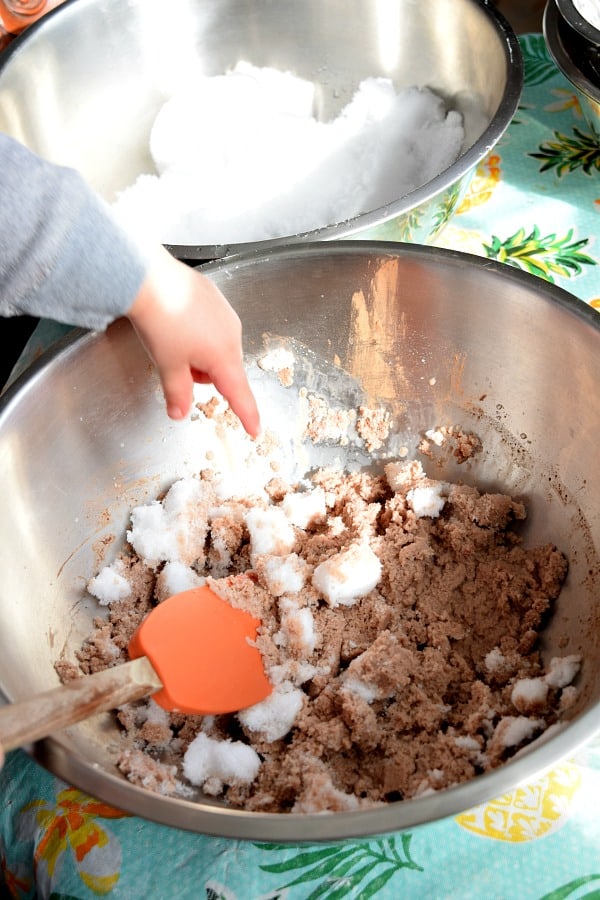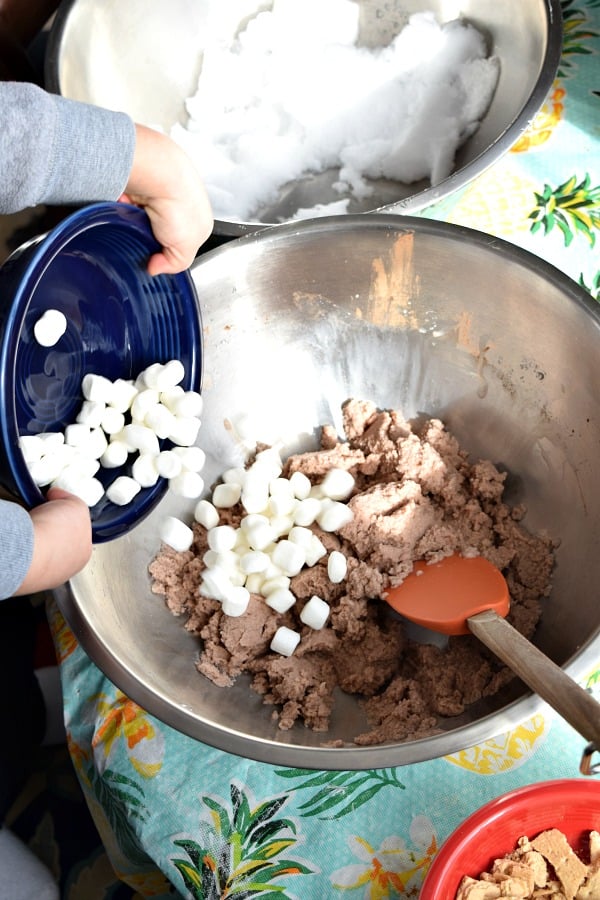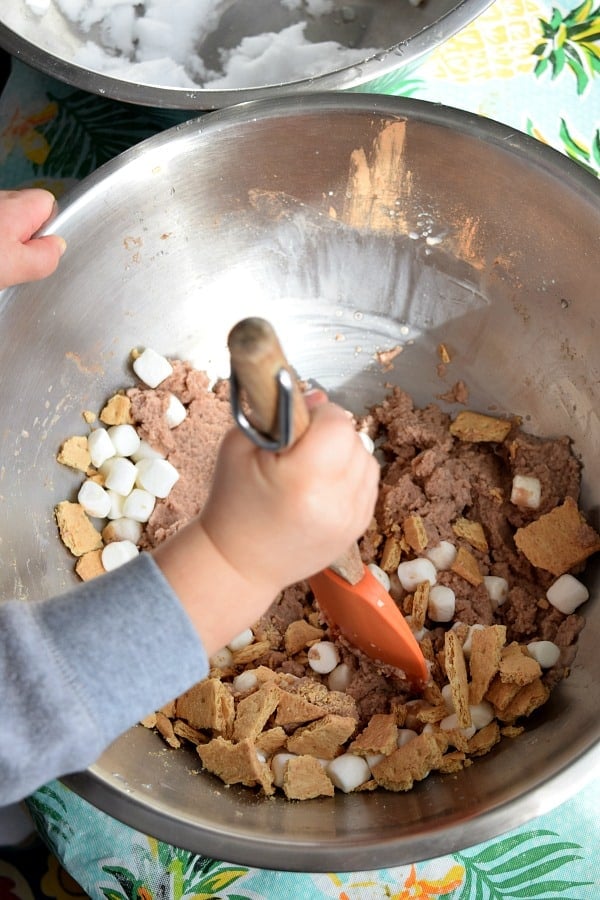 It is then best to let your ice cream refreeze for about 30-40 minutes. Either outside (if it is below freezing) or in the freezer. Once set scoop out and enjoy!
Whether you are a kid at heart or you have kids this is such a fun recipe/activity to do on a winters day! Have fun with it and make your own variations!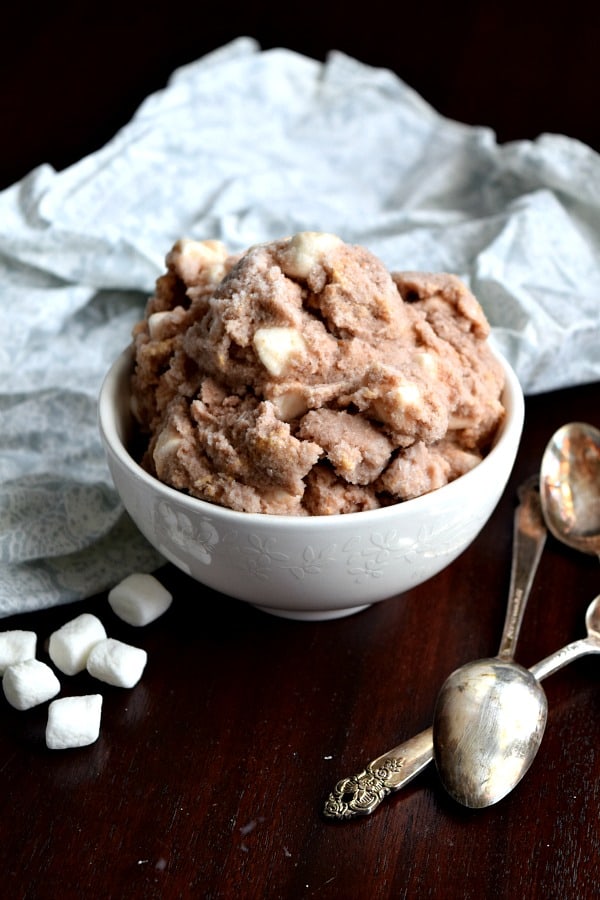 Yield: 4 servings
S'mores Snow Ice Cream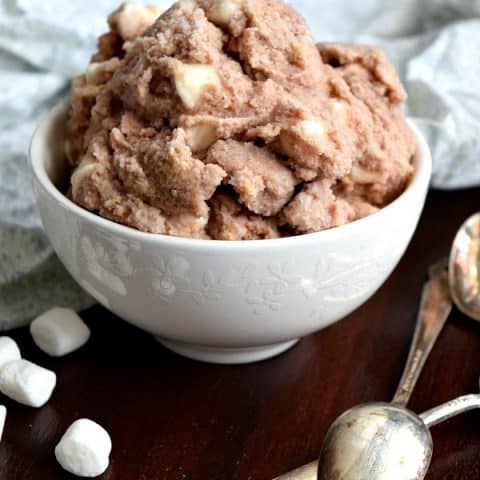 use fresh fallen snow to make delicious s'mores ice cream
Ingredients
4-5 cups clean snow
1 cup milk
1/4 cup sugar
1 teaspoon vanilla extract
2 teaspoons cocoa powder
1/2-1 cup mini marshmallows
2-3 graham crackers
Instructions
In a large mixing bowl mix together milk, sugar, vanilla, and cocoa powder.
Add 4 cups of your clean and fresh snow to the bowl. Fold into the milk mixture, add more snow to a consistency you like. Mix until fully combined.
Add in your mini marshmallows and graham crackers. Cover and transfer to freezer (or outside if it is below freezing) for 30-40 minutes.
Scoop and serve immediately.
Notes
USE FRESH AND CLEAN SNOW
Nutritional data is automated, final nutritional information will depend on ingredients used and any changes made.
Nutrition Information:
Yield:
4
Amount Per Serving:
Calories:

158.09
Total Fat:

3.05g
Saturated Fat:

1.36g
Sodium:

74.3mg
Carbohydrates:

30.49g
Fiber:

0.64g
Sugar:

23.27g
Protein:

2.85g
Peace & Love
Lauren, The Schmidty Wife
P.S. Check out more fun recipes like my Sugar Cookies or my Chocolate Peppermint Crinkle Cookies.
Please note that my links above may be affiliate links, and I will earn a commission if you purchase through these links. I recommend them because they are helpful, and are companies that I trust, not because of the commissions that I may earn from you using these products.