This post goes out to all of my pregnant friends! People who aren't pregnant fixate about the fact that you cannot have alcohol while pregnant, ummm hello you aren't supposed to have sushi either, talk about a long 9 months! So whether you are pregnant, a little short on funds, or just looking for a quick healthy meal never fear a recipe for Spicy Tuna 'Sushi' Wrap is here.
So I wanted to recreate the deliciousness of sushi but wanted to make it about ten times easier and ten times cheaper. So the result, spicy canned tuna, sticky rice, carrots, cucumber, and avocado rolled up in a wrap. These wraps are great for a quick lunch, dinner, or even snack. So settle those cravings and whip up a Spicy Tuna 'Sushi' Wrap.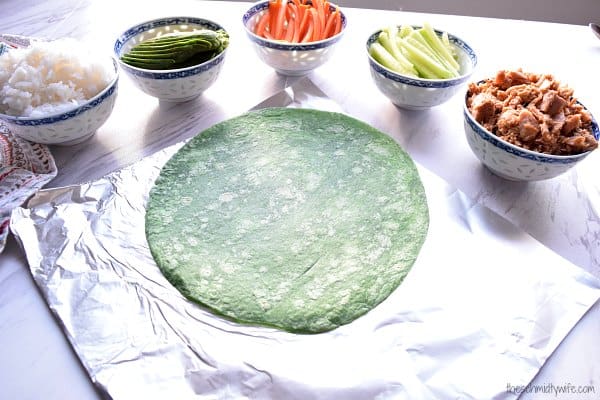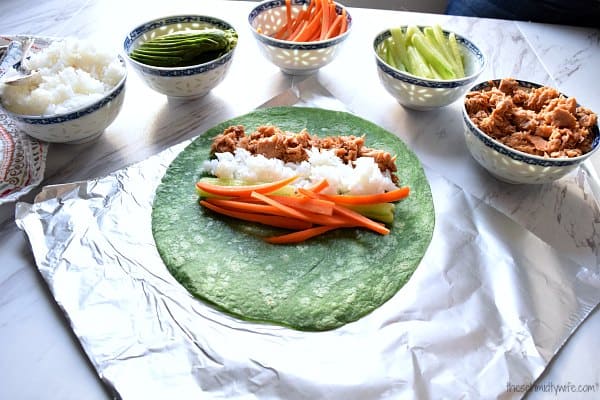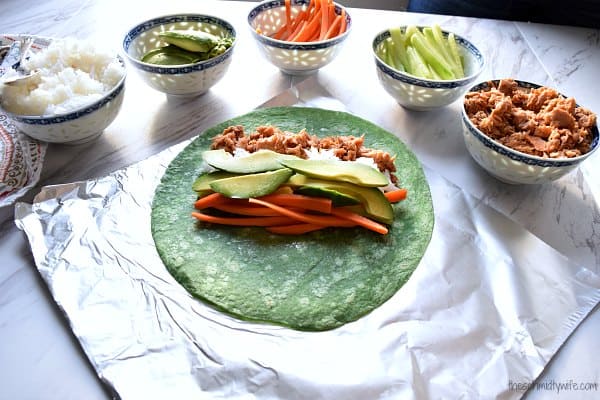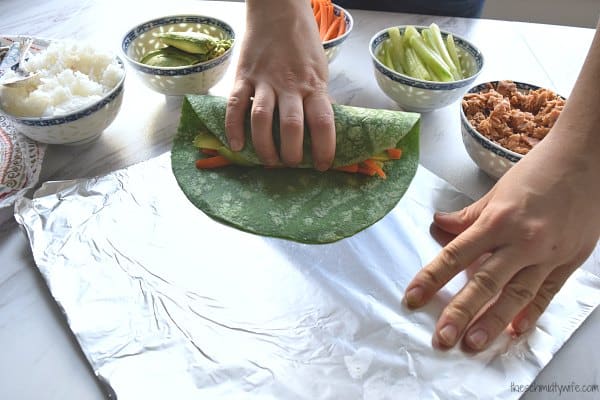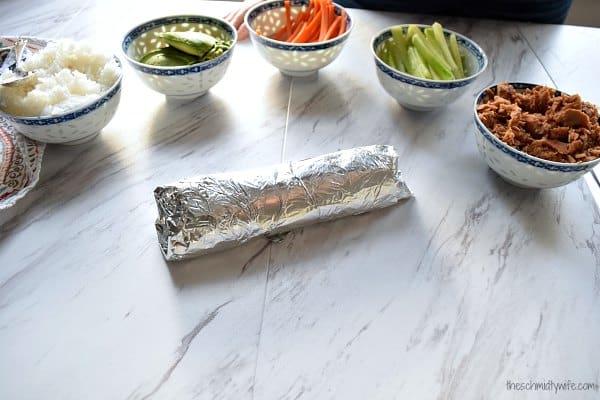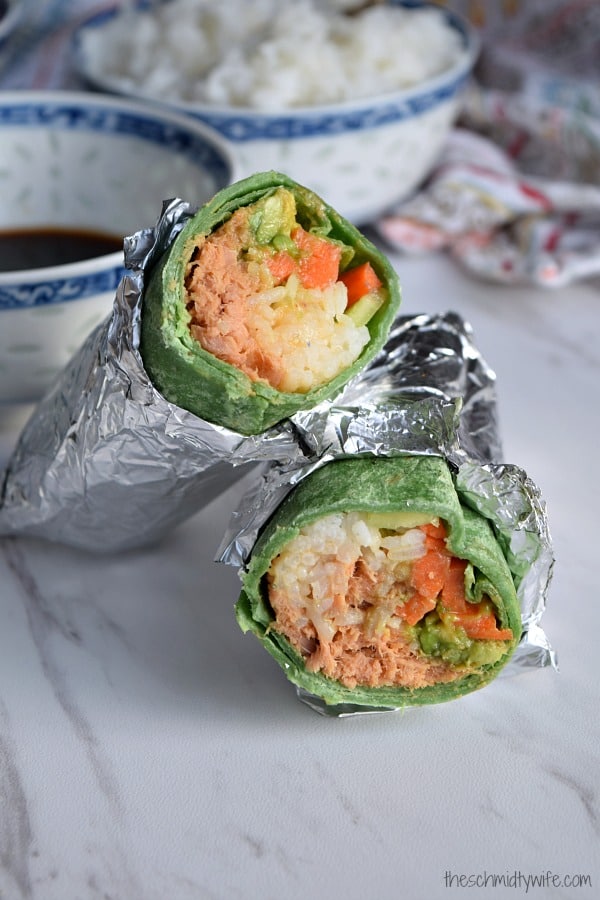 TIPS & TRICKS:
If you have time make rice ahead of time and let it cool completely
If you don't have rice vinegar don't sweat you can just omit it
For the sriracha, put as much as you want in, I have just enough to give it a good flavor so that my toddler will still gobble it down, and then when I make the wraps for Matt and I I give a good squirt before I roll the wrap up
I find cutting the vegetables into super thin matchsticks somehow makes the wraps more fun to eat, I think because it reminds me more of sushi
Dunk your wraps in soy sauce, it's delicious, go ahead and add other sushi toppings as well such as sesame seeds, pickled ginger, or wasabi if you have it
I use spinach wraps because I like how they are green like sushi rolls, but any sort of wrap should work
When rolling the wraps use a piece of tin foil to get a real tight roll, think of watching Chipotle employees wrap up your burrito 😉
Yield: 4 servings
Spicy Tuna 'Sushi' Wrap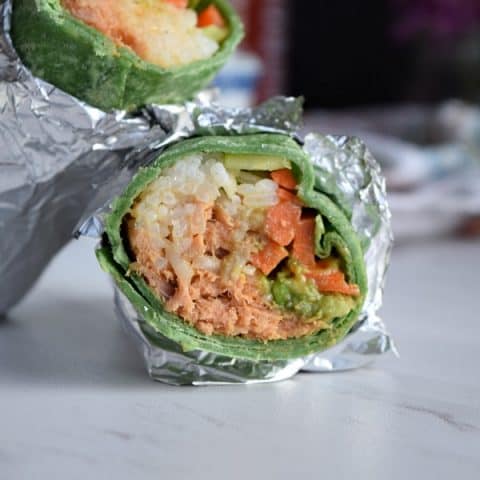 based on your favorite sushi this wrap is so simple to make with canned tuna and fresh vegetables
Ingredients
2 cans tuna, chilled
2 teaspoon soy sauce, plus more for serving
1/2 teaspoon ground ginger
1 teaspoon sriracha, plus more for taste
1/2 cup cooked white rice (like basmati or jasmine)
1 teaspoon rice vinegar
1/2 cucumber, cut into matchsticks
1 avocado, cut into thin slices
1 large carrot, cut into matchstick or shredded
4 large spinach wraps
Instructions
Add cooked rice and rice vinegar to a bowl, toss to mix. Cover and place in refrigerator until ready to use (and cool down if it is warm).
Meanwhile in a small bowl mix together tuna, soy sauce, ginger, and sriracha.
Place one of the spinach wraps on a square piece of tin foil.Line the ingredients one by one on the wrap, add more sriracha here if preferred.
Roll the wrap up, using the tin foil to keep it tight as you roll. Repeat with the remaining wraps.
Serve with additional soy sauce.
Nutrition Information:
Yield:
4
Serving Size:
1
Amount Per Serving:
Calories:

435
Total Fat:

11g
Saturated Fat:

2g
Trans Fat:

0g
Unsaturated Fat:

8g
Cholesterol:

20mg
Sodium:

558mg
Carbohydrates:

62g
Fiber:

6g
Sugar:

1g
Protein:

21g
Nutritional data is automated, final nutritional information will depend on ingredients used and any changes made.
If you enjoyed this Recipe or any of my others let me know by using #theschmidtywife on social media!
And make sure you are following me on Instagram, Pinterest, and Facebook for all the latest recipes!
Peace & Love
Lauren, The Schmidty Wife
P.S. Looking for more Asian inspired recipes? Check out my Shrimp Stir Fry or my Shrimp Banh Mi.
Please note that my links above may be affiliate links, and I will earn a commission if you purchase through these links. I recommend them because they are helpful, and are companies that I trust, not because of the commissions that I may earn from you using these products.