I will probably say this in the intro to every baked potato recipe I have but baked potatoes are one of my favorite meals. There are so many different ways top and stuff them, it seems like an endless combination of delicious meals! Well today's Spinach Mushroom Stuffed Baked Potatoes with Cheddar is just one of the most delicious was to top your potatoes.
So true story when I was pregnant with my oldest son Archie, I had pretty bad morning sickness for essentially the first half of my pregnancy and I basically hated all food, with very few exceptions. One of these exceptions was a baked potato from Wendy's. For about a month it was almost the only thing I could tolerate. I recall one time my husband drove by a Wendy's restaurant and did not stop and get me a baked potato, instant meltdown (pregnancy hormones…). So it is only fitting to this day that I still love bake potatoes and my son Archie loves baked potatoes.
These Spinach Mushroom Stuffed Baked Potatoes are perhaps a tad healthier then the cheese smothered Wendy's equivalent and probably easier to make than getting the family into the car and driving to the nearest Wendy's.
The Ingredients
Baked Potatoes. In this recipe I use the oven to bake my potatoes but the beautiful thing about baked potatoes is there are more than one way to bake them, so if the oven doesn't work for you bake them in the slow cooker, pressure cooker, or even in the microwave to make the time work best for you. Baked potatoes also have a ton of health benefits, they are an excellent source of vitamin C & B6, a good source of potassium (more than a banana!), plus they are fat-, sodium-, and cholesterol-free. Not to mention a medium sized potato is roughly 110 calories. So top your 'taters with confidence knowing that you are feeding your family a healthy meal.
Mushrooms. I always refer to mushrooms as vegetables even though they aren't, don't you just kind of lump them in with veggies or is that just me? Either way I feel like they are one of those foods people aren't indifferent about, they either like them or they don't. Well I like them, hence why they are in this recipe. I like to buy the presliced one, because hello, so much easier for me when it comes time to cook dinner, although if you would like them to cook a little faster give them a quick chop just to make the pieces a bit smaller.
Onions, great flavor and really the only 'work' in this recipe because they have to be diced. Do you know how to correctly dice onions? I watched Gordon Ramsay do it in this video 3 years ago and it changed my life. It makes every onion 10,000% easier to dice once you get the hang of it. Do yourself a favor watch it, start practicing.
White Wine, yes this sauce benefits from oh so delicious white wine. You can use cooking wine or *cough cough* drinking wine, I use chardonnay because that is what I have in my house. If you don't want to use wine or don't have it on hand you could sub either vegetable or chicken broth but it will have a slightly different taste.
Garlic, for flavor. Again like the mushrooms I use pre-mined garlic, but if you are looking for maximum flavor and you have the time you can mince your own garlic.
Spinach, everyones favorite greens right? I use a full bag of 5 ounce baby spinach in this recipe. I always find it humorous that a full bag of spinach cooks down to what seems to be almost nothing. So when you add the full bag to the skillet, it might seem too much don't worry its not, it will wilt down a lot.
Plain yogurt, just a touch to make the sauce slightly creamy. I prefer just plain low fat yogurt, greek yogurt could be used here but it will add a little more tanginess to the sauce versus creaminess.
And delicious Sharp Cheddar Cheese. This potato benefits form a nice extra sharp aged cheddar with an extra bite really compliments that mushroom spinach sauce. I personally believe the best sharp cheddar comes in blocks and not preshredded, so I recommend buying a block and grating it yourself. Sorry not everything in life comes better pre cut 😉
The Method
As mentioned before, bake the potatoes. In the recipe I give instructions to bake them in the oven. If you want to bake them in the microwave/slow cooker/instant pot go for it. You'll still want the oven on if you want the cheese melted (you could probably even use the broiler if you don't want to turn the full oven on) (or even melt the cheese in the microwave?). I prefer the oven method because it gives the potatoes a crispy outside and a fluffy inside.
Once the potatoes are baked you will give them a few minutes to cool before cutting open the top. You will want to make a single cut in the top leaving the ends intact. Nice the potatoes a squish together to open them up. Sprinkle with cheese and return to the oven for the cheese to melt.
The mushroom spinach sauce is super easy to make in the skillet while the potatoes are cooking. You'll add a little oil and onions to the skillet and cook until translucent. Add the mushrooms and cook until watery and softened. The garlic and white wine will then be added to simmer away and reduce. The spinach will then be added to and cooked down. As you turn off the heat you'll add the yogurt.
Top your cheesy potatoes with the sauce and boom, dinner is served. Enjoy your Spinach Mushroom Stuffed Baked Potatoes!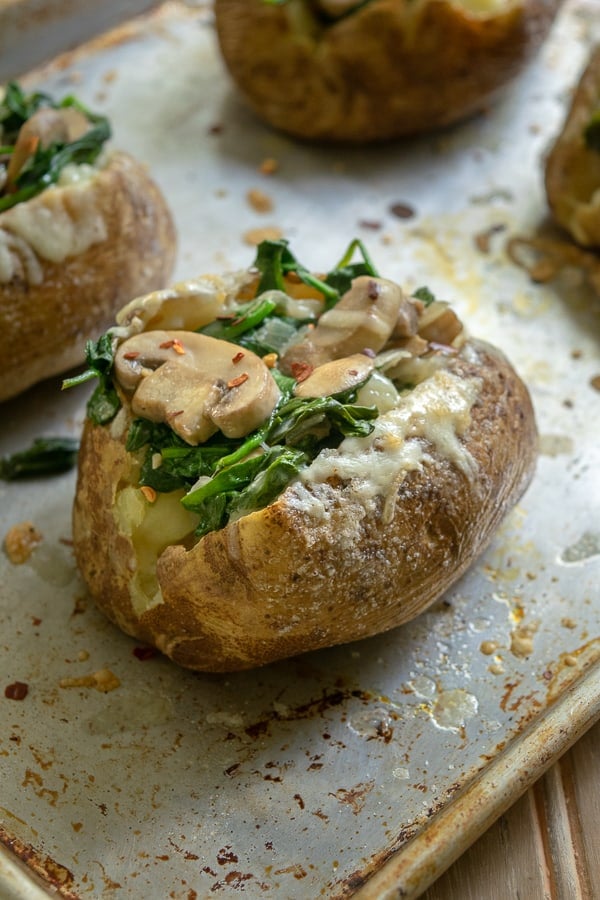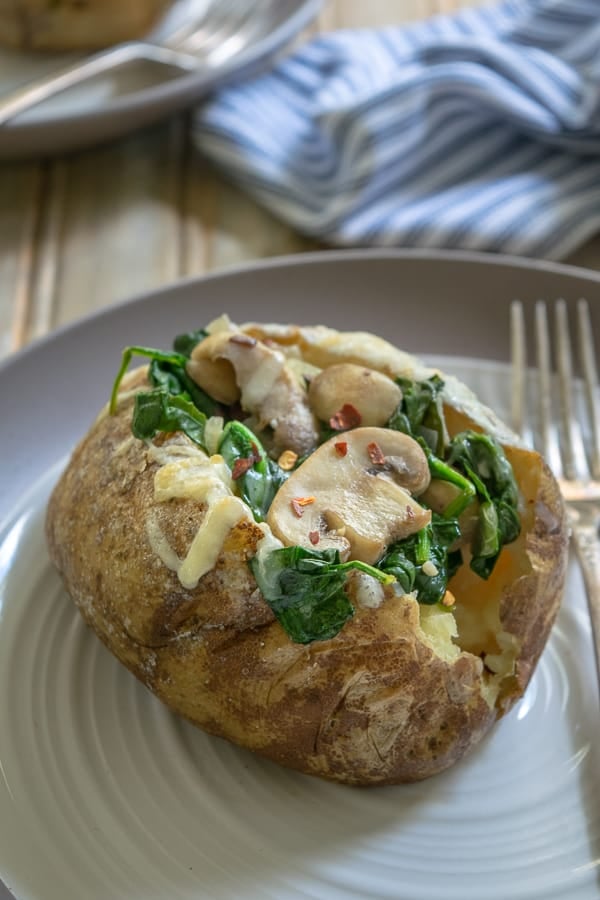 TIPS & TRICKS:
• Make the sauce as the potatoes are finishing cooking, the sauce comes together quick so you should be able to do that and get cheese on the potatoes at the same time
• If you don't want to use wine or don't have it on hand you could sub either vegetable or chicken broth but it will have a slightly different taste
Yield: 4 Servings
Spinach Mushroom Stuffed Baked Potatoes with Cheddar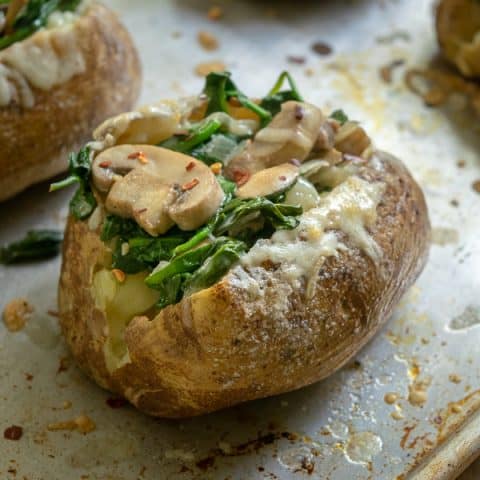 a baked potato stuffed with sharp cheddar cheese and a simple mushroom spinach sauce
Active Cook Time
25 minutes
Inactive Cook Time
1 hour
Total Time
1 hour
30 minutes
Ingredients
4 large russet potatoes
2 tablespoons olive oil
1 medium onion, diced
8 oz sliced white mushrooms
1/2 cup white wine
1 teaspoon minced garlic
1 5oz bag fresh baby spinach
2 tablespoons plain yogurt
1 cup shredded sharp cheddar cheese
crushed red pepper for garnish
Instructions
For the Potatoes:
Preheat oven to 400º F. Poke the potatoes all over with a fork. Using 1 tablespoon of the olive oil, rub each potato with the oil to lightly grease each one. Sprinkle with salt and pepper to taste. Place on a sheet pan and bake for 60-70 minutes. Remove potatoes from oven to cool slightly. Cut open the potatoes, slice the top lengthwise and gently squeeze the potato to open up the middle of the potato revealing more of the fluffy white center. Sprinkle 1/4 cup of cheese inside each of the potatoes, place in oven and bake 5-6 minutes until cheese is nice and melty. Top with Spinach Mushrooms Sauce.
For the Mushroom Spinach Sauce:
With 5-10 minutes left of the potatoes baking: Heat remaining olive oil over medium-high heat in a large skillet. Add onions and cook about 2 minutes until slightly translucent.
Add mushrooms to the skillet and cook 5-8 minutes stir occasionally until the mushrooms have released water and cooked down.
Add mined garlic and white wine to the skillet. Mix everything to combine, bring to boil, and reduce heat to medium-low. Simmer 8-10 minutes until the sauce has slightly reduced.
Add spinach to the skillet, slowly mix everything together as the spinach begins to wilt. After the spinach has wilted, about 5-6 minutes turn off the heat and add the yogurt to the skillet. Stir to mix in the yogurt. Divide between your cheesy potatoes. Garnish with crushed red pepper to serve.
Notes
Nutritional data is automated, final nutritional information will depend on ingredients used and any changes made.
Nutrition Information:
Yield:
4
Serving Size:
1 stuffed potato
Amount Per Serving:
Calories:

483
Peace & Love
Lauren, The Schmidty Wife
P.S. Love potatoes like my Spinach Mushroom Stuffed Baked Potatoes? Check out my Crispy Oven Roasted Baby Yukon Potatoes or my Rueben Stuffed Baked Potatoes.
Please note that my links above may be affiliate links, and I will earn a commission if you purchase through these links. I recommend them because they are helpful, and are companies that I trust, not because of the commissions that I may earn from you using these products.