I am going to sheepishly admit something that is not a popular sediment. I am not a huge pasta person. What?! Lauren you crazy! I know. I am not saying I don't enjoy a good pasta dish or that I don't love homemade pasta but I don't make it on a truly regular basis like so many others. Until my husband mentions that he really is craving pasta I generally won't make it. Don't worry I have a why for you…
First off I rarely crave pasta unless it is something special like a specialty ravioli or a fantastic lasagna. I know thats a little weird because don't we all crave carbs all the time? Well yes I do I just don't prefer pasta carbs.
Second carbs. I just see boxed pasta as a 'nutritional waste', and that is my personal opinion with no background in nutrition. I just personally don't like the amount of calories and carbs it has for having little nutritional value plus I feel as though it never truly fills me up unless it is accompanied with something else.
My exception to this is often my compromise with the boys, I like 100% whole wheat pasta or the pasta made with vegetable puree that includes a full serving of vegetables, we will talk about this more below. My other exception is homemade pasta, I got a pasta press about 3 years back and I like making homemade pasta into a fun family activity.
Okay okay, so I am sitting here bad mouthing pasta and I have a summer spaghetti carbonara recipe for you. So lets talk about this recipe, why I love this recipe, and why I have been okay with making it almost weekly this summer for my family.
Summer Spaghetti Carbonara
The first time I made carbonara it was because I didn't feel like going to the grocery store. Somehow I just happened to have everything you needed (well sort of I had enough substitutes that would work). The sauce for carbonara is actually incredibly simple, and I had spaghetti and some uneaten veggies.
So let's start with the summertime part of this pasta, the delicious vegetables. Summer time favorite zucchini, asparagus, and onions. Probably the best part of this dish is that it is equal parts vegetables and pasta. So when your garden is overflowing with zucchini and you need something else to make when your sick of zucchini bread and ratatouille, give this Summer Spaghetti Carbonara a try!
Pasta, now hold your thumb to your fingertips, left your arms in the air, and with a fun accent say "I make the spaghetti"…. Sorry couldn't resist. For the spaghetti noodles I like to upgrade to healthier options. Instead of using plain spaghetti I either choose a whole wheat option or the veggie option (the kind Barilla sells with the vegetable puree in the pasta, sooooo good, plus a whole serving of extra veggies). This way I know that the carbs are at least more nutrient dense then if I choose a plain spaghetti noodle.
Now the prosciutto. I attempted to make this without it, did not taste as good. The little pieces of salty, crispy prosciutto really help make this dish absolutely delicious. It helps offset the fresh vegetables but does not over power them.
Cheese, can you even make pasta without cheese? I love using romano (pecorino) cheese in this dish, but parmesan works just as well. Do you know the difference between the two? They are similar but pecorino romano is actually traditionally sheep milk and slightly saltier, while parmesan is made from cow's milk and more mild tasting.
Lastly the star of carbonara, EGG YOLKS! I love how you can get such creaminess without cream or milk. To turn egg yolks into delicious silky creamy sauce you have to temper them. Don't worry if you haven't done it before it is not that hard. All tempering really is is slowly bringing the eggs up to temperature without scrambling them (think hollandaise sauce). You'll mix the yolks with the lemon juice, then you'll take some of the hot pasta water and slowly mix it in, that's it!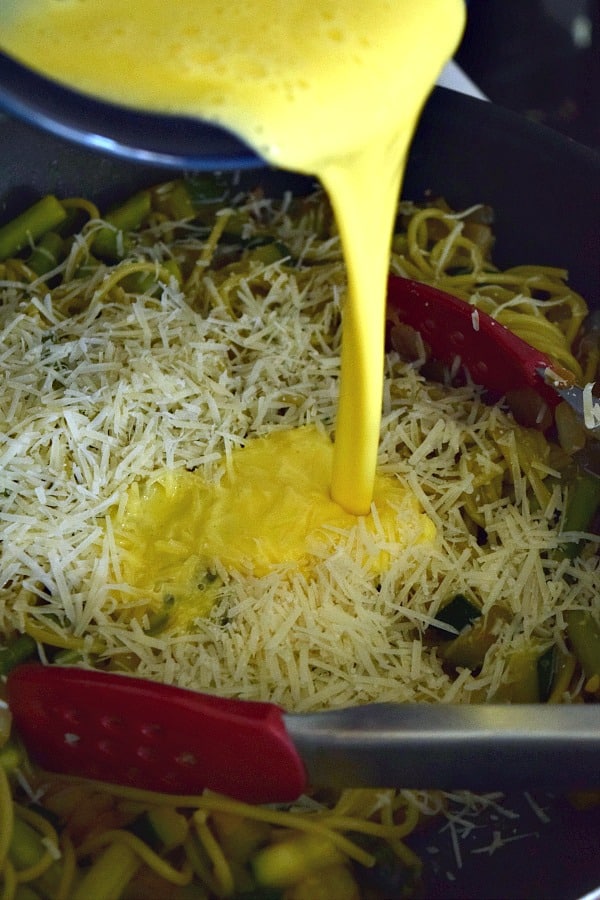 Even with all of these different parts the dish comes together fast. It is as simple as boiling the pasta, crisping the prosciutto , cooking the vegetables, and tempering the yolks. You will then combine it all and viola dinner is ready!
So this dish has a lot of things to love, like a ton of healthy vegetables and a creamy sauce. How can you go wrong with something with so many vegetables that is also so easy to make?!? I guess maybe I do love pasta after all.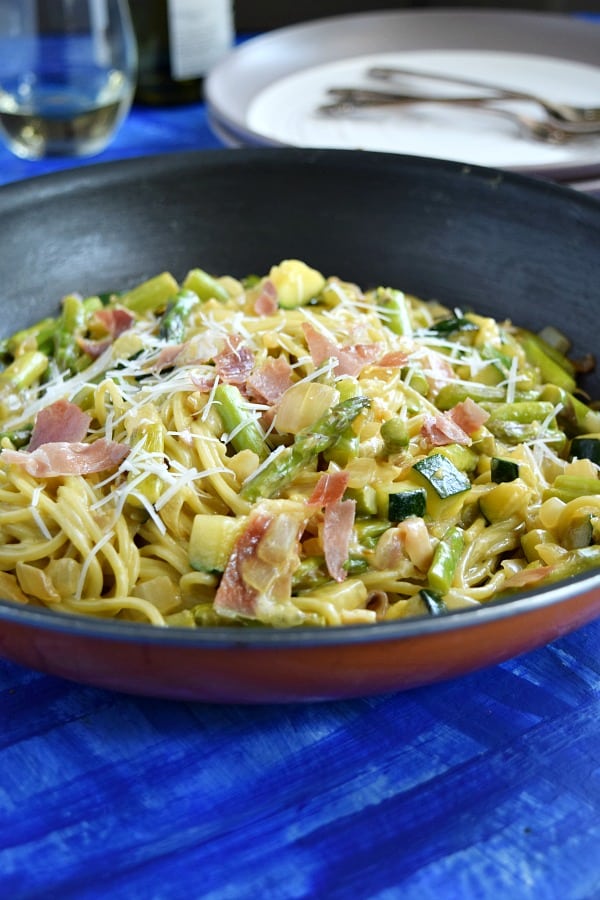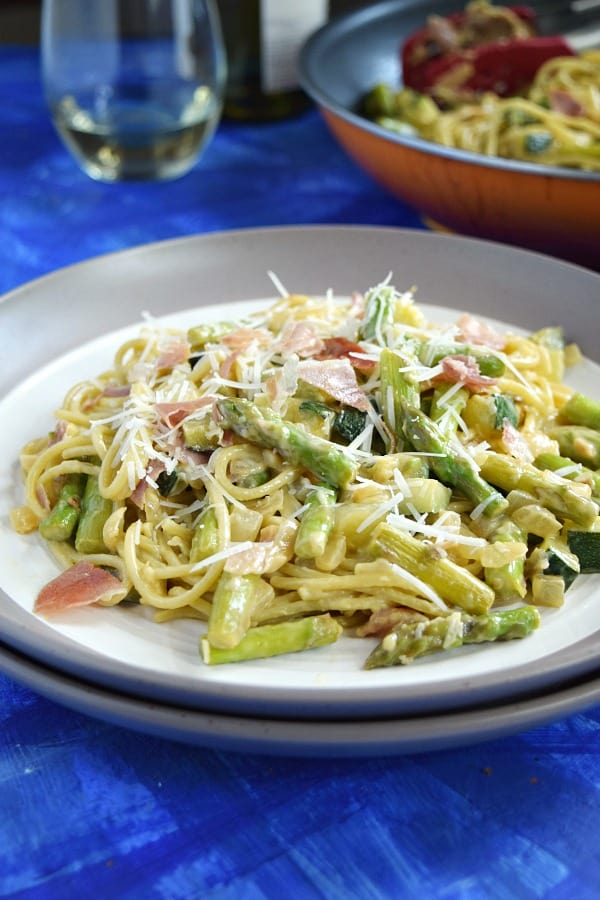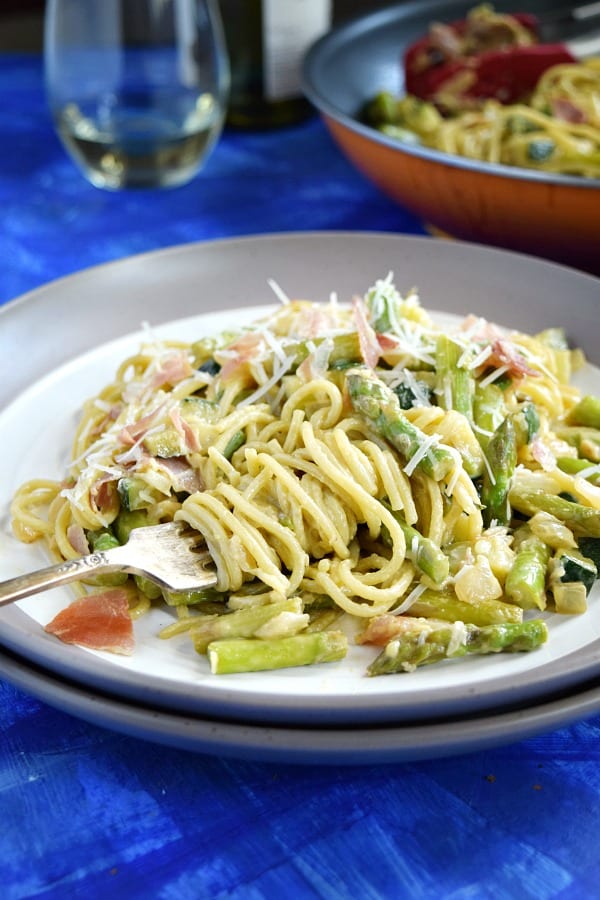 TIPS & TRICKS:
• the recipe asks for 6oz (half a box of spaghetti), if you are cooking for more people, you can use a whole box and just add more pasta water to the sauce
• carbona is one of those dishes that becomes so much more easier to make the more you make it, the tempering of the eggs can seem intimating at first, but you got this!
Yield: 4 servings
Summer Spaghetti Carbonara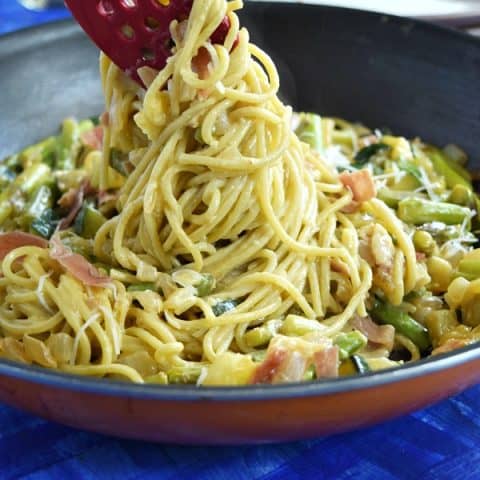 a vegetable filled creamy pasta made from the simplest of ingredients
Ingredients
6 ounces spaghetti* (half a box)
3 slices prosciutto
2 teaspoons olive oil
1 small sweet onion, diced
1 medium zucchini, diced
1 bunch asparagus, cut into 1 inch pieces
4 egg yolks
1 teaspoon lemon juice
1/2 cup Romano cheese, shredded (parmesan works great too) (plus more for topping)
(1 cup reserved pasta water)
Instructions
Add 5-6 quarts of water to a large pot. Bring to boil over high heat. Add pasta to boiling water. Boil pasta for 8-9 minutes stirring occasionally. Reserve AT LEAST 1 cup of the pasta water, keep the water hot, it will be for the sauce. Drain pasta.
Meanwhile add prosciutto to a large skillet. Heat over medium heat. Cook 5-6 minutes, flipping halfway until slightly crispy. Transfer to a plate to cool slightly then cut/rip into small pieces.
Add olive oil to the hot skillet, scraping up any brown bits if necessary. Add the onion**, zucchini, and asparagus to the skillet. Cook 9-10 minutes, stirring occasionally.
While the vegetables cook get the sauce ready. Whisk the yolks and lemon juice together in a small bowl. Now you'll temper the eggs with the hot pasta water. With one hand slowly whisking the eggs slowly pour a 1-2 tablespoons into the eggs. Whisk quickly to combine. While continuing to whisk continue to add the pasta water until you've added about 1/4-1/2 cup. Make sure to continue whisking until a nice smooth sauce begins to form.
Once vegetables have cooked until just tender turn off the heat on the stove top. Add the spaghetti to the vegetables and toss together. Add the cheese to the top.
Ensure that the stove is off, if you add the egg mixture too fast to a hot of pan it will turn into scrambled eggs. With a spatula or tongs ready to toss, slowly add the egg mixture to the top of the cheese. Immediately start tossing to coat the sauce. Turn the heat back on to low. If the sauce is seeming like it is not enough to cover everything add a little bit of the pasta water until you have a good amount. Keep tossing as the skillet heats back up, the sauce will start to thicken. Once you have reached a good consistency remove from the heat. Add the prosciutto and give one more final toss.
Plate and top with more cheese. Serve immediately.
Notes
*I like to use a veggie infused or whole wheat pasta with this dish to make it healthier
**In this recipe the onions are slightly undercooked, in this dish I think they are good this way, if you are not a fan of very slightly crunchy onions, cook them 4-5 minutes by themselves until slightly translucent before adding the zucchini and asparagus
Nutritional data is automated, final nutritional information will depend on ingredients used and any changes made.
Nutrition Information:
Yield:
4
Amount Per Serving:
Calories:

331
Total Fat:

12g
Cholesterol:

206mg
Sodium:

498mg
Carbohydrates:

40g
Fiber:

4g
Sugar:

6g
Protein:

18g
Peace & Love
Lauren, The Schmidty Wife
P.S. Looking for more dinner recipes like my Summer Spaghetti Carbonara? Check out my Korean Ground Turkey & Rice Bowls or my Rueben Stuffed Baked Potatoes.
Please note that my links above may be affiliate links, and I will earn a commission if you purchase through these links. I recommend them because they are helpful, and are companies that I trust, not because of the commissions that I may earn from you using these products.