I love healthy eating. I have tried a few different varieties of different healthy lifestyles, I have done the 21 Day Sugar Detox, I have done the Paleo lifestyle, I have done tradition clean eating, I have done My Fitness Pal Calorie Counting, and now I am in the middle of the Whole 30. As far as the different challenges go so far Whole 30 has probably been my favorite even though I haven't even finished it yet. I think I am planning on transitioning my family to a Paleo lifestyle at the end but we will see. One of the reasons the Whole 30 has been my favorite so far is the allowance of fruit, unlike the 21 Day Sugar Detox I have done in which I found myself crying over a half eaten green apple that was thrown away before I had the chance to finish eating it (no joke its a hard challenge). So since I have been enjoying Whole 30 so much I want to share some of the meals my family and I have been eating. So today I am sharing Whole 30 Roasted Cabbage with Chicken Sausage.
I love this meal for 2 reasons, it is soooo easy to make and the sausages are soooo delicious. To make this meal truly Whole 30 you have to make sure you buy the correct sausages. It took me a little while to find chicken sausages that were Whole 30 compliant because they weren't at my normal grocery store (Market Basket for those fellow New Englanders) but out of all places I did find them at Walmart! The sausages are Chef Bruce Aidells brand 'Chicken & Apple'. These Chicken & Apple sausages are so yummy they are sweetened with fruit juice concentrate and include bits of dried apple, I am actually drooling while writing this. So these sausages are just a part of this meal, cabbage is sliced and tossed with a diced apple, onion, olive oil, fennel, and celery seed. The cabbage is then roasted on a sheet pan, the chicken sausages are thrown on halfway through cooking and voila dinner.
The ease of Whole 30 Roasted Cabbage with Chicken Sausage might be among its strong suits, in 30 minutes dinner is ready. So if you haven't gotten a chance to check out the Whole 30 yet I definitely recommend it if you are looking to get back to eating healthy.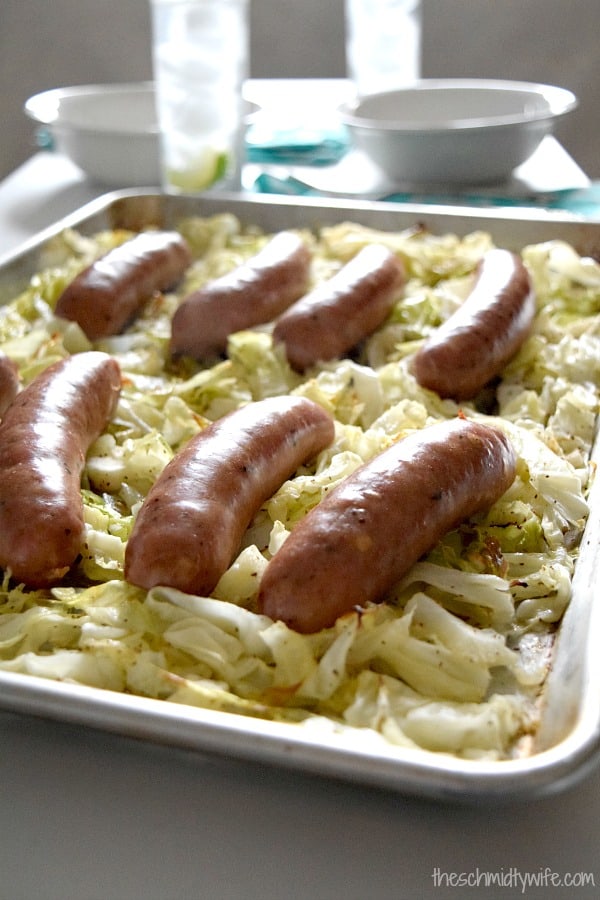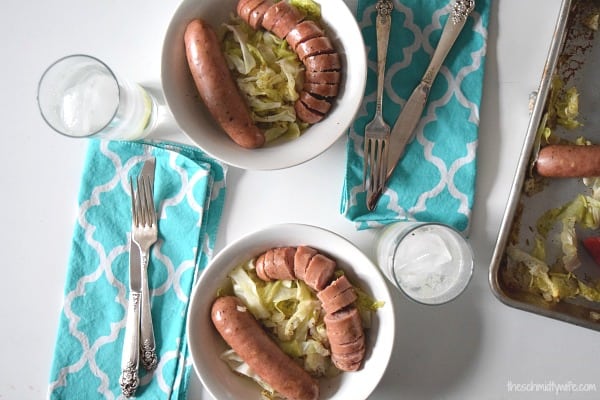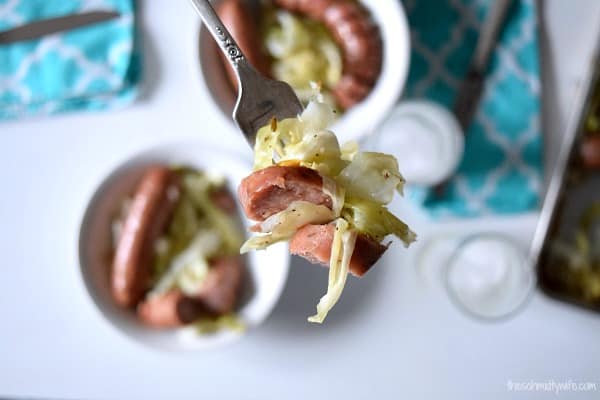 Yield: 4 servings
Whole 30 Roasted Cabbage with Chicken Sausage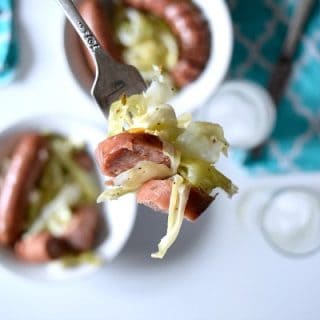 cabbage, apples, and onions roasted in the oven with chicken sausages
Ingredients
1/2 large head of green cabbage
1 medium apple, skinned
1/2 medium onion
1 tablespoon olive oil
1 teaspoon fennel seed
1/2 teaspoon celery seed
1/2 teaspoon salt
1/4 teaspoon pepper
1 package of Aidells' Chicken & Apple Sausage*
Instructions
Preheat oven to 425º F.
Slice cabbage and dice apple & onion.
Add cabbage, apple, onion, olive oil, fennel seed, celery seed, salt, and pepper to sheet pan. Toss together to combine.
Bake for 15 minutes.
Remove sheet pan from the oven, toss cabbage. Place chicken sausages on top.
Bake for another 10 minutes until sausages are hot. Serve immediately.
Notes
*Or any Whole 30 compliant sausage
Nutrition Information:
Yield:
4
Serving Size:
1
Amount Per Serving:
Calories:

119
Total Fat:

8g
Saturated Fat:

2g
Trans Fat:

0g
Unsaturated Fat:

6g
Cholesterol:

10mg
Sodium:

408mg
Carbohydrates:

9g
Fiber:

2g
Sugar:

6g
Protein:

3g
Nutritional data is automated, final nutritional information will depend on ingredients used and any changes made.
If you enjoyed this recipe or any of my others let me know by using #theschmidtywife on social media!
And make sure you are following me on Instagram, Pinterest, and Facebook for all the latest recipes!
Peace & Love
Lauren, The Schmidty Wife
P.S. Looking for more Whole 30 recipes? Check out my Meal Prep Roasted Potato Breakfast or my Sauteed Kale with Bacon.
Please note that my links above may be affiliate links, and I will earn a commission if you purchase through these links. I recommend them because they are helpful, and are companies that I trust, not because of the commissions that I may earn from you using these products.