A quick and healthy stir fry full of chicken, healthy vegetables, and a delicious sauce this 20 Minute Chicken Stir Fry is a weeknight go-to!
Links may be affiliate links.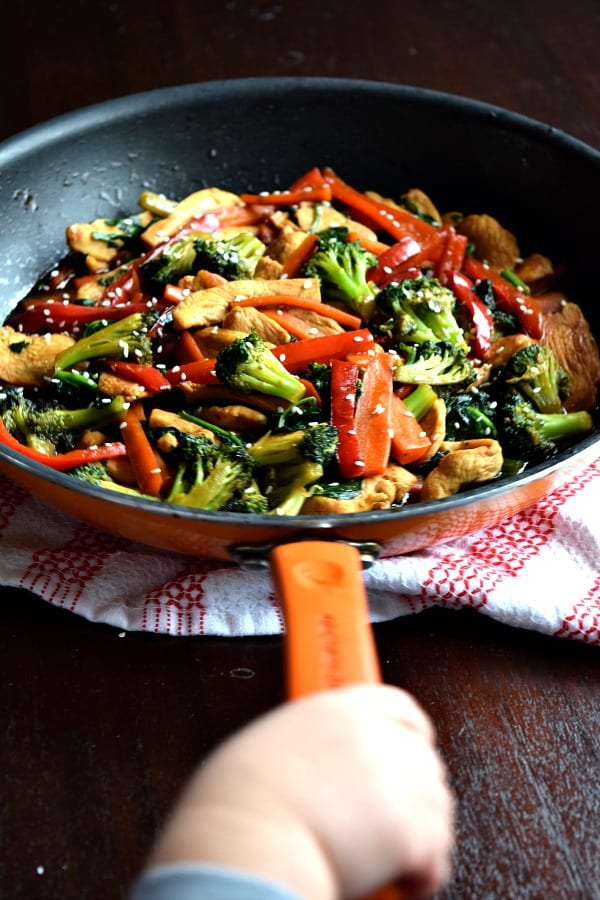 Easy Chicken Stir Fry Recipe
So we have been living on Stir Fry's lately. They are the perfect meal in my opinion. Stir Fry's are easy, nutritious, and delicious. 20 Minute Chicken Stir Fry is my go to for a weeknight dinner meal.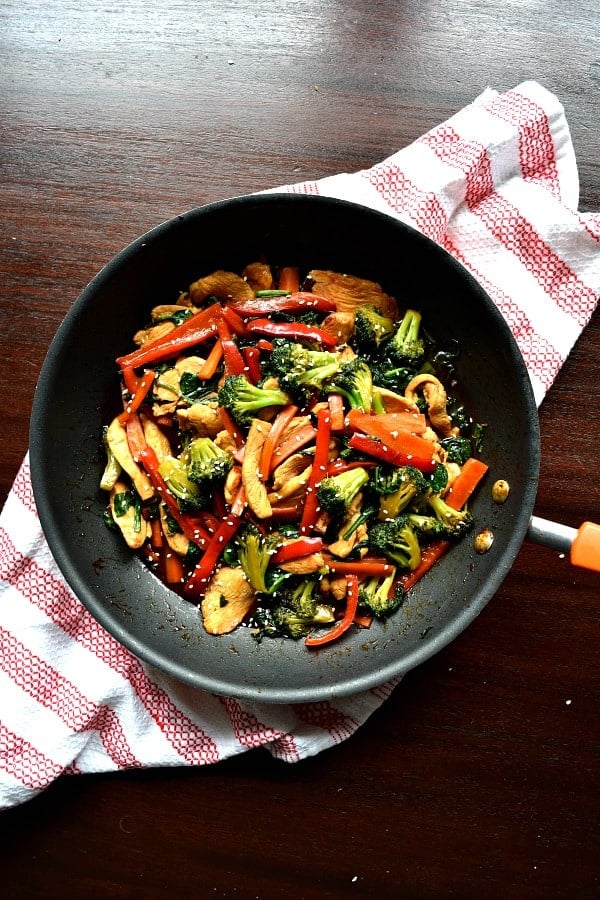 The beauty of this Chicken Stir Fry is that it covers all aspects nutritiously as a meal, you don't have to worry about a side dish or that you forgot to serve a vegetable. This stir fry stars thinly sliced chicken as the protein. Broccoli, carrots, red bell pepper, and spinach as your daily dose of vegetables. An easy sauce made with soy sauce, sesame oil, ginger, and cornstarch. All served over steaming hot rice.
You are also allowed to customize this however you want. If you love mushrooms, add mushrooms, if you hate peppers, leave the peppers out! I usually will add in any other vegetables I need to use up in my fridge. If I have peas going bad or an extra pepper that needs to be used I will add it.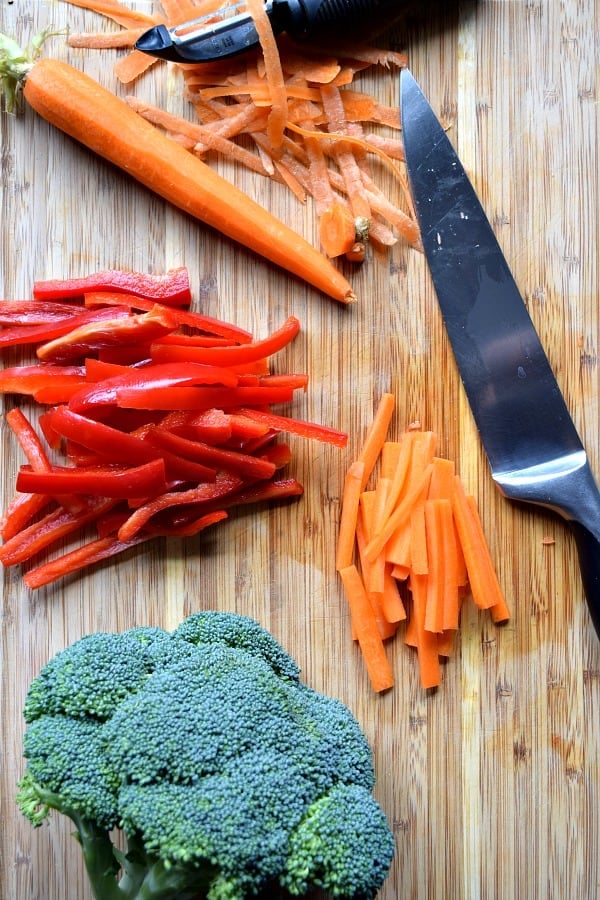 The sauce is also easy and also customizable. It is your basic soy sauce based sauce and easy enough to add extra flavors, I like to add some crushed red pepper flakes or sriracha when I want a little heat.
So make your next busy night better with this customizable 20 Minute Chicken Stir Fry.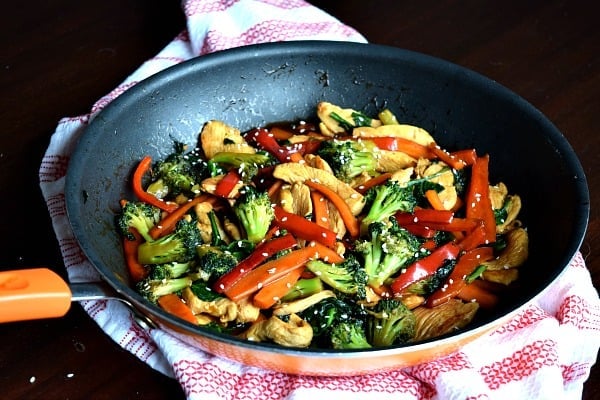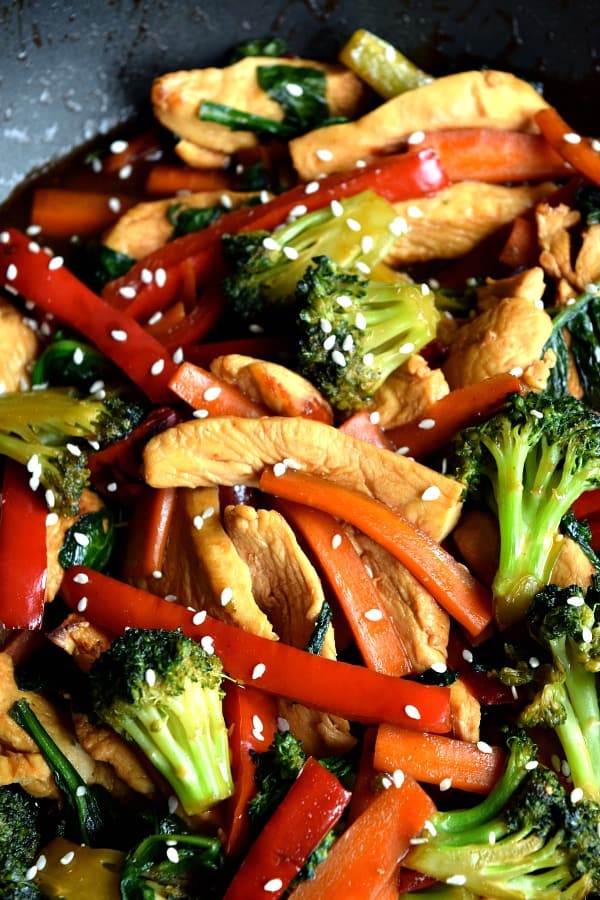 TIPS & TRICKS
• I use my 12 1/2 inch skillet for this meal (my really large skillet), if you don't have a large skillet or wok I recommend fully cooking the chicken, setting it aside and then cooking the vegetables and then tossing it all together at the end, otherwise there might not be enough room in your skillet for everything to cook (need a large skillet? I have the Rachael Ray Nonstick 12-1/2-Inch Skillet
and love it)
• Don't forget the rice! Check out my Foolproof Method for Cooking Rice on the Stovetop
Yield: 4 servings
20 Minute Chicken Stir Fry Recipe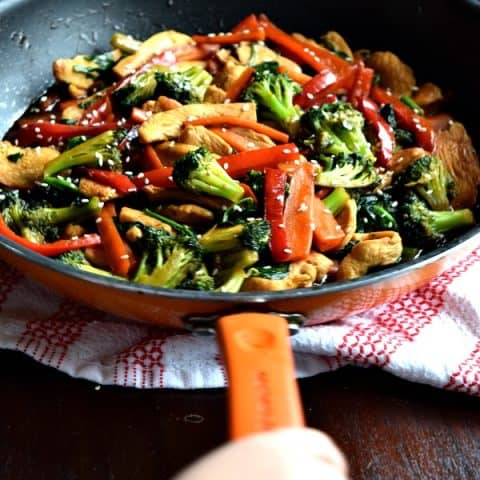 a quick and healthy stir fry full of chicken, healthy vegetables, and a delicious sauce
Ingredients
1 pound chicken breast, cut into stir fry strips*
2 large carrots
1 head broccoli, or about 2 cups broccoli florets
1 red bell pepper
1-2 cups fresh spinach, or a large handful or 2 (it wilts down)
GARNISHES: lemon juice, sesame seeds, & serve over Rice
For the Sauce:
1/2 cup soy sauce
1 teaspoon sesame oil
1/2 teaspoon ground ginger
1 teaspoon sugar
2 teaspoons cornstarch
Instructions
To make sauce add soy sauce, sesame oil, ginger, sugar, and cornstarch to a small bowl. Stir to combine. (Alternatively sometimes I make the sauce ahead of time by adding everything to a jar, refrigerating it and just giving it a good shake before adding to the skillet).
Clean and cut vegetables into bite size pieces. I cut the carrots into matchsticks, the broccoli into small florets, and the bell pepper into strips.
Lightly grease a large skillet or wok over medium-high heat. Add chicken and cook 3-4 minutes until the outside is no loner pink.
Add carrots, broccoli, and pepper to the skillet. Stir Fry for 5-8 minutes until the vegetables start getting tender.
Add spinach and sauce to the skillet. Reduce heat to medium-low. Stir Fry about 5 minutes until the spinach has wilted and the sauce has thickened slightly.
Remove from heat and stir in a teaspoon or two of lemon juice if using. Serve over rice and garnish with sesame seeds.
Notes
*I highly recommend buying the pre-cut stir fry chicken that is at most stores, it saves so much time!
Nutritional data is automated, final nutritional information will depend on ingredients used and any changes made.
Nutrition Information:
Yield:
4
Amount Per Serving:
Calories:

309.72
Total Fat:

12.59g
Saturated Fat:

3.29g
Sodium:

1907.59mg
Carbohydrates:

19.67g
Fiber:

6.12g
Sugar:

6.77g
Protein:

31.49g
Peace & Love
Lauren, The Schmidty Wife
P.S. If you love my chicken stir fry make sure to check out my Shrimp Stir Fry (Freezer Meal) or my Ground Pork Stir Fry!