So when I get really stressed or I am having a really bad day there is basically only two things that can calm me down or put me back into a better mood, these two things are running and baking. I give you one guess as to which of these two activities happens a majority of these stress filled days… baking. Recently it had been a stressful day, the kind where nothing good seems to be able to happen, well I made something good of that day let me tell you… The 'something good' that happened are these amazingly tasty Banana Foster Filled Banana Muffins. Is that enough banana for you?
As I stood there stressed in my kitchen needing to bake I looked at my options, they weren't huge, most of my fruit for the week had been eaten, I didn't have a ton of chocolate, even the alcohol selection was slim pickings. I did have a lot of one thing though, Bananas. I had already just recently reposted my Great Grandma's Banana Bread recipe so I didn't feel like making anymore of that, and I was not in the mood to make a healthier version of banana bread, so I kept thinking. I started paging through a couple of cookbooks, the only thing that seemed to catch my eye was muffins, and I didn't want to make just plain banana muffins, because lets face it that is basically just mini banana breads. So I started to focus on the bananas, what are some common banana flavors, besides bread there is 'nice' cream, banana creame pie, banana pudding…. no, no, and no. Then Banana Fosters popped into my head, the flavor sounded so good, could I make it into a muffin? Could I put it into a muffin? Ding ding ding.
Inspired by jam-filled muffins, I was going to make Banana Foster Filled Banana Muffins. I whipped up a super simple banana foster, made a simple muffin batter (then in a second batch decided that it needed more flavor so I ended up adding a banana), and then decided to whip up some delicious crumble for on top. The banana foster is actually so simple to make that these muffins came together relatively quick and easy. And not only did they come together easily they are delicious!
So whether you are having a stress filled day or you are just looking for a tasty muffin these flavor packed beauties are sure to please! Do you like to bake when you are stressed? I had read this article recently, 'Psychologists Explain The Benefits Of Baking For Other People' from the Huffington Post, they talk about how baking for some can be a sort of meditation, and I couldn't more whole heartedly agree. So if you are in need of some stress relief give these Banana Foster Filled Banana Muffins a try, relax, and then make yourself feel good by sharing some with your neighbors 😉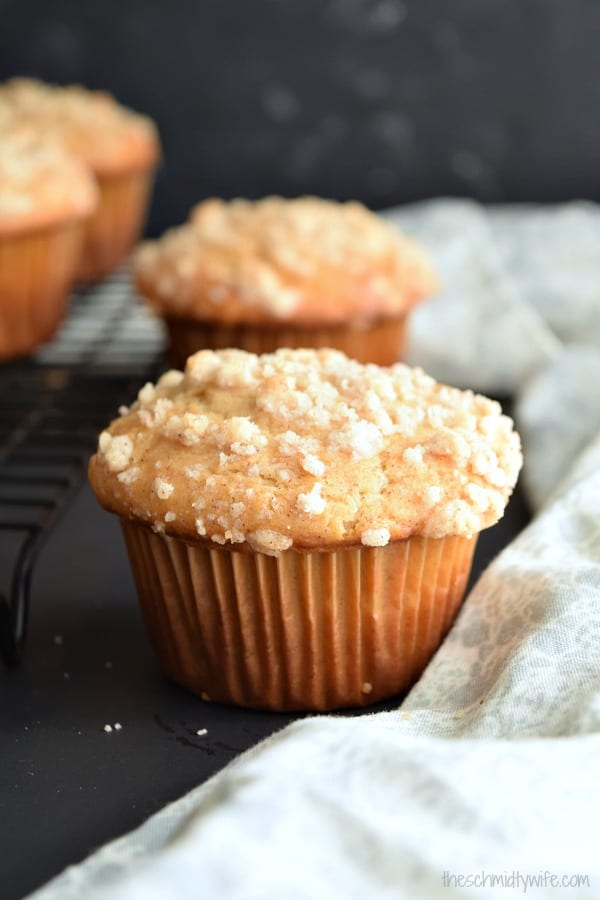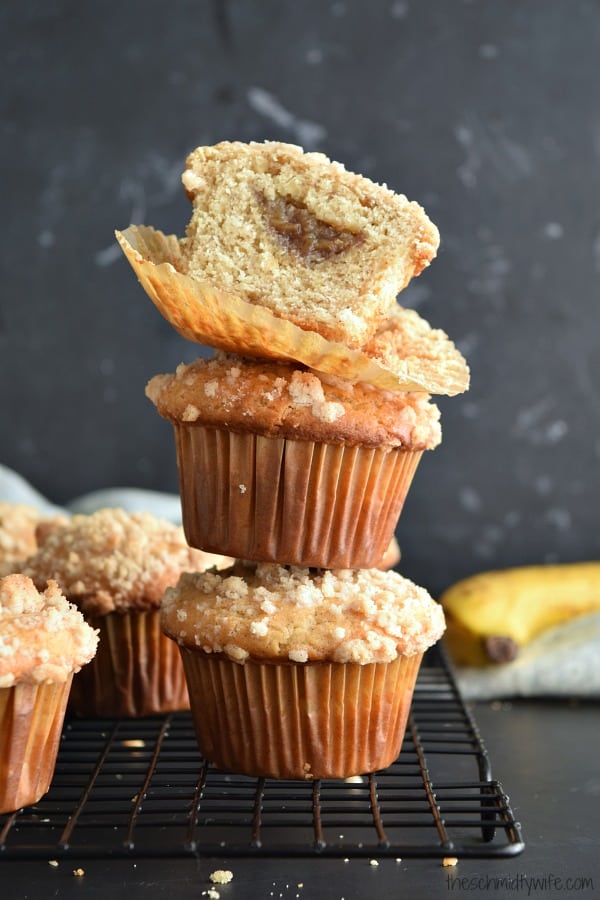 TIPS & TRICKS:
The banana used in the Banana Foster Filling should be 'ready to eat' ripe and the banana used in the muffin batter should be 'over-ripe' (think black freezer banana), ultimately any banana can work for either situation.
The crumb topping can be optional, but I think it adds a touch of fun!
Need a muffin tin?
Yield: 12 muffins
Banana Foster Filled Banana Muffins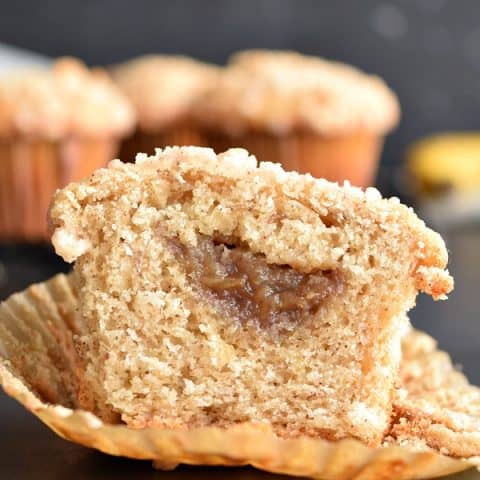 delicious banana muffins stuffed with an easy banana fosters filling
Ingredients
Banana Foster Filling:
2 tablespoons butter
1 banana*
1/4 cup brown sugar
1 teaspoon vanilla extract
1/4 teaspoon ground cinnamon
For the Muffins:
2 1/2 cups all purpose flour
1/2 cup brown sugar
1 tablespoon baking powder
1/2 teaspoon salt
1 teaspoon ground cinnamon
1 cup milk (I use whole)
1/2 cup butter, melted
1 egg
1 teaspoon vanilla extract
1 overripe banana*
For the Crumb Topping:
2 tablespoons butter, soft
2 tablespoons sugar
1/4 cup all purpose flour
1/4 teaspoon ground cinnamon
Instructions
Preheat the oven to 400º F and line a muffin tin with paper liners (or lightly grease the pan).
To make the Banana Foster Filling add 2 tablespoons of butter to a skillet and heat over medium heat until butter is melted and hot.
Slice a banana into about 1/4 inch slices and add to the skillet, cook bananas for 2 minutes and then flip, cook for 2 more minutes.
Add brown sugar, vanilla, and cinnamon to the skillet. Mix together with the butter and bananas to make a sauce. Using your cooking utensil slowly break up the bananas while stirring the sauce (when filling the muffins it will be easier if the banana is in really small pieces/almost blended into the filling). Cook the sauce an additional 2 minutes, stirring occasionally. Move off of the heat and set aside to cool.
Next to make the muffin batter, Add flour, brown sugar, baking powder, salt, and cinnamon to a medium bowl. Stir together to combine.
In a large bowl whisk together milk, butter, egg, and vanilla. Mash overripe banana and add to the bowl, mix in.
Slowly mix in the flour mixture into the liquid mixture. Stir in until just combined.
To make crumb mixture, add butter, sugar, flour, and cinnamon to a bowl, use a spoon to stir together until crumbs form.
To fill muffins, fill the batter 1/2 to 2/3 full into the paper liners. Evenly spoon the Banana Foster Filling into the center of the batter of each of the muffins.
Use the remaining batter to cover up the filling and fill up the muffin tin.
Add a heaping teaspoon of the crumbs to the tops of each of the muffins.
Bake in the oven for 21-23 minutes.
Let cool for 5 minutes before removing muffins from tin, transfer to a cooling rack to finish cooling before enjoying.
Notes
*The banana used in the Banana Foster Filling should be 'ready to eat' ripe and the banana used in the muffin batter should be 'over-ripe' (think black freezer banana), ultimately any banana can work for either situation.
Muffin recipe is adapted from 'Basic Muffins' in The Good Housekeeping Cookbook.
Nutrition Information:
Yield:
12
Serving Size:
1
Amount Per Serving:
Calories:

295
Total Fat:

13g
Saturated Fat:

8g
Trans Fat:

0g
Unsaturated Fat:

4g
Cholesterol:

48mg
Sodium:

322mg
Carbohydrates:

41g
Fiber:

1g
Sugar:

16g
Protein:

5g
Nutritional data is automated, final nutritional information will depend on ingredients used and any changes made.
If you enjoyed this Recipe or any of my others let me know by using #theschmidtywife on social media!
And make sure you are following me on Instagram, Pinterest, and Facebook for all the latest recipes!
Peace & Love
Lauren, The Schmidty Wife
P.S. Looking for more muffin recipes? Check out my Chocolate Peanut Butter Black Bean Muffins or my Pumpkin Bran Muffins!
Please note that my links above may be affiliate links, and I will earn a commission if you purchase through these links. I recommend them because they are helpful, and are companies that I trust, not because of the commissions that I may earn from you using these products.