I had no intention of sharing two pumpkin muffins with you this fall but here I am sharing two with you anyways. I already shared my Healthy Pumpkin Mug Muffin with you and now you get my Pumpkin Bran Muffins.
I had picked up some bran flakes during a sale the other day and was excited to turn them into muffins. (If teenage me had known that adult me would be so excited by bran flakes on sale I would totally have made fun of myself.) So it being fall I happened to have a can of pumpkin sitting on the counter and some pumpkin spice so obviously Pumpkin Bran Muffins.
So with the added pumpkin and spices these aren't your grandmas bran muffins, these are super moist and very flavorful. The pumpkin, like in many other baked goods keeps the muffins from being too dry and give the muffins a great flavor boost. So let's take a look at the ingredients that sets these Pumpkin Bran Muffins apart from other muffins.
The Ingredients
Bran Flakes, so first and foremost, wheat bran. This recipe uses wheat bran flakes (Bob's Red Mill Wheat Bran
) opposed to cereal (like Raisin Bran). Wheat bran is the outer layer of the wheat berry and is very high in fiber. Fiber happens to be one of my favorite nutrients, it keeps you full, satisfied, and helps regulate your digestive system.
Speaking of fiber, Pumpkin. Another fiber rich food but also contains the antioxidant beta-carotene and has plenty of potassium!
These Pumpkin Bran Muffins also contain whole wheat flour which holds a lot more nutritional value than white flour, for example whole wheat flour naturally contains dietary fiber and is packed with vitamins that have been taken out of white all-purpose flour.
So basically these muffins are very high in fiber, which is great for a breakfast or snack on the go. They are full of whole grains and vegetables which is great AND they taste amazing.
Molasses, molasses is a byproduct of sugar production, and while sweet it also has that beautiful smoky note to it.  A little molasses goes a long way, just a tablespoon gives these muffins the perfect complimentary flavor to pumpkin. Also by adding molasses I was able to reduce the amount of sugar in these muffins to only 1/4 cup, which in my opinion is pretty awesome.
And of course Pumpkin Pie Spice, or Pumpkin Spice as it is often referred to. This mixture of warm spices, brings the smokiness of the molasses out and the subtle richness of the pumpkin to this muffin. Who knew you could get so much flavor in a high fiber muffin?!?
And then down to the baking basics. This recipe uses both baking powder and baking soda to get maximum lift, otherwise all the whole grains might make it dense. I also use yogurt as an additional liquid here to help offset the dense whole grains with more moisture. (Not to mention oil and eggs).
Lastly the "optional" Raisins, I felt like these muffins needed just a little pizzaz to them and a handful of raisins did the trick. An occasional little burst of sweetness against the spice is just what these muffins need, so I suppose yes the raisins could be optional if you don't have them or you are crazy and don't like raisins.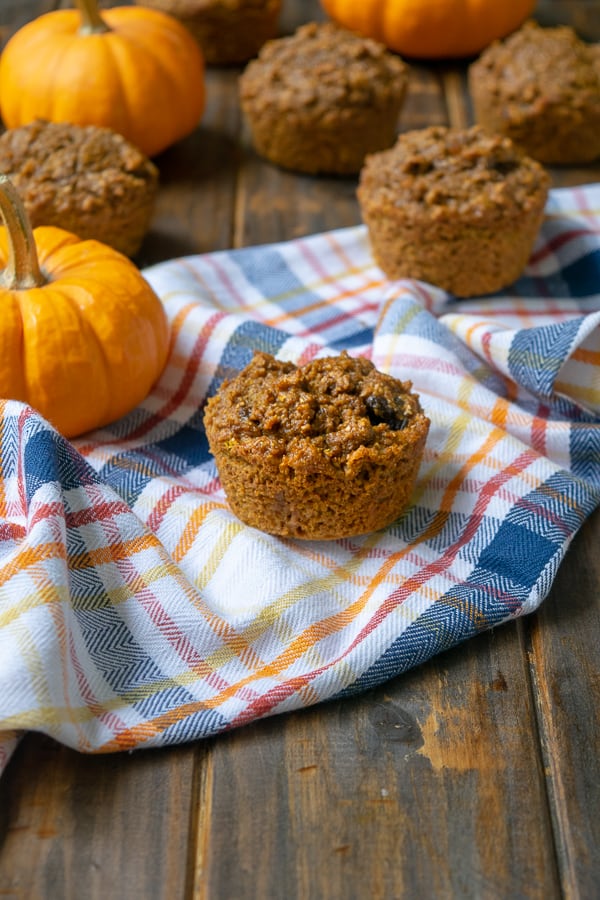 Baking the Muffins
Can I get a what what for one bowl recipes?!
*What!* *What!*
You'll mix together all of the wet ingredients in a bowl. You'll add the dry ingredients and then mix it all together. Add the raisins, plop the batter into a greased muffin tin. Boom. 18 minutes in the oven. It is that easy! 🙂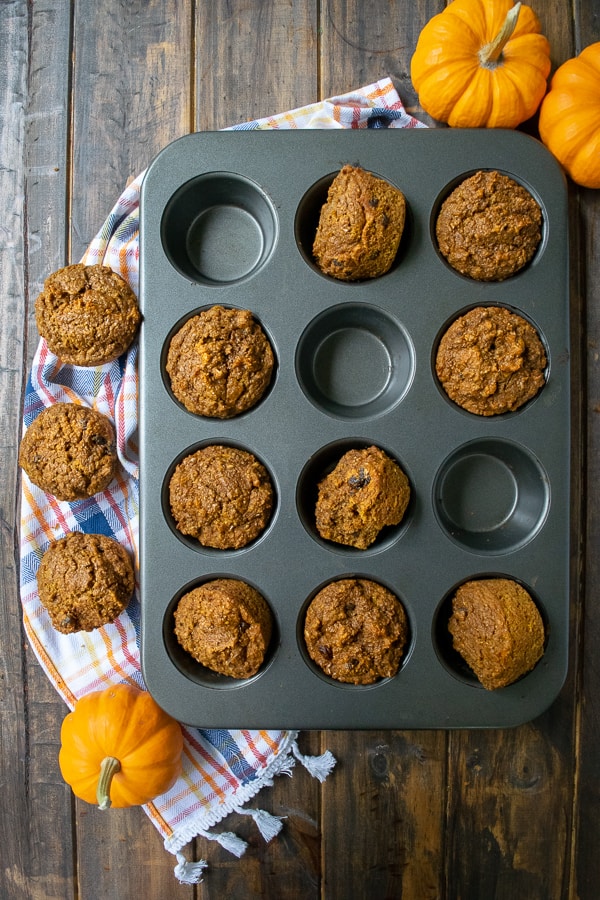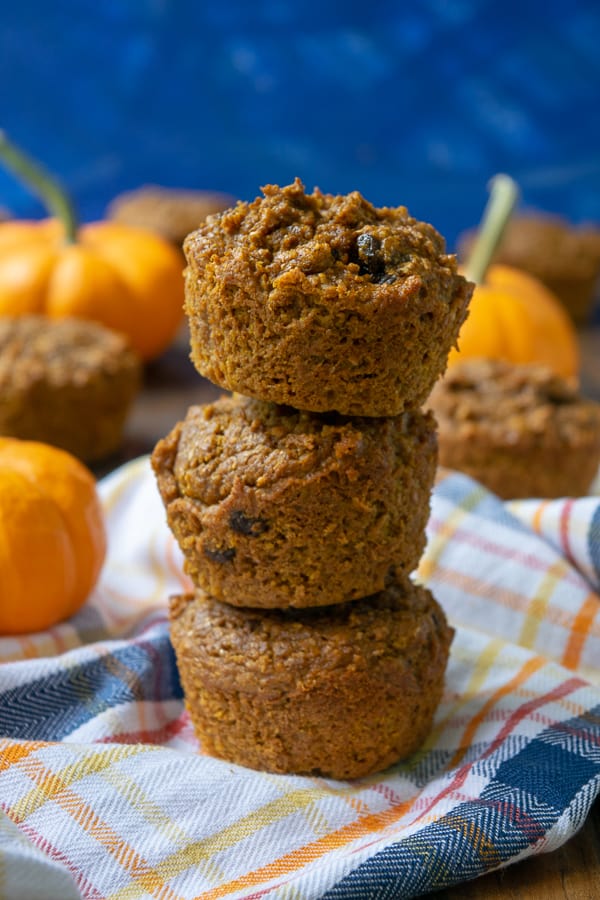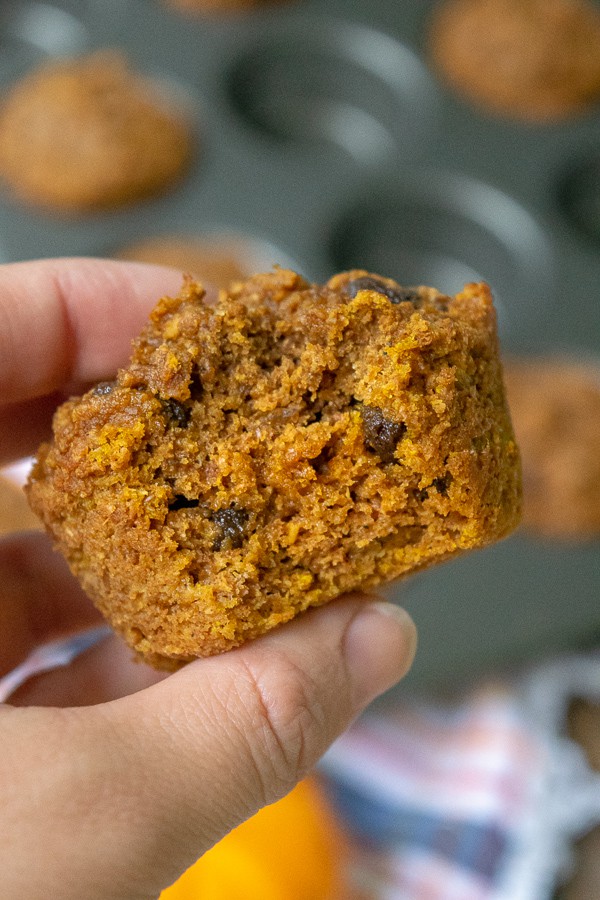 TIPS & TRICKS:
• These muffins keep for a few days on the counter, but I think they keep best refrigerated
• You can use muffin liners or a greased muffin tin for this recipe, I've done it both ways and they both turned out
• Pro Tip: When measuring out the molasses, grease your tablespoon with a little oil first, the molasses should then slide right out of the spoon.
Yield: 12 muffins
Pumpkin Bran Muffins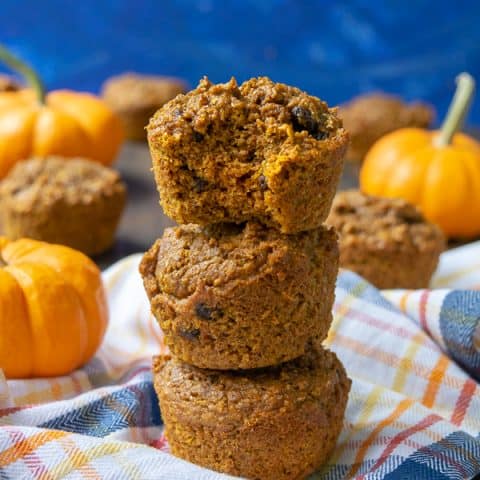 moist and flavorful pumpkin bran muffins
Ingredients
1/4 cup coconut oil, melted
1/2 cup plain yogurt
2 eggs
1 cup pumpkin puree
1/4 cup sugar
1 tablespoon molasses
1 1/2 teaspoon pumpkin pie spice
1 cup wheat bran
1 cup whole wheat flour
1 teaspoon baking powder
1 teaspoon baking soda
1/2 teaspoon salt
1/3 cup raisins
Instructions
Preheat oven to 400º F. Grease a muffin tin.
In a large bowl add oil, yogurt, eggs, pumpkin, sugar, and molasses. Mix to combine.
Add pumpkin spice, wheat bran, flour, baking powder, baking soda, and salt to the bowl. Mix to combine. Fold in the raisins.
Divide batter between 12 muffins. Bake 17-19 minutes or until a toothpick comes clean out of the center of a muffin.
Notes
Nutritional data is automated, final nutritional information will depend on ingredients used and any changes made.
Nutrition Information:
Yield:
12
Serving Size:
1 muffin
Amount Per Serving:
Calories:

150
Total Fat:

6g
Cholesterol:

32mg
Sodium:

227mg
Carbohydrates:

21g
Fiber:

4g
Sugar:

9g
Protein:

4g
Peace & Love
Lauren, The Schmidty Wife
P.S. Love healthy muffins? Check out my Healthy Pumpkin Mug Muffin or my Healthy Sweet Potato Oatmeal Muffins.
Please note that my links above may be affiliate links, and I will earn a commission if you purchase through these links. I recommend them because they are helpful, and are companies that I trust, not because of the commissions that I may earn from you using these products.