Being a food blogger I am usually thinking about the next season way before it actually happens. So I will proudly say that we have been inhaling these Healthy Pumpkin Mug Muffin (Single Serve) at our house since July. That's right, pumpkin muffins in July. My toddler spent a good two weeks waking up and the first thing out of his mouth would be asking for a 'Stud Muffin'! Let me translate that for you, my toddler loves these mug muffins so much they were his first thought when he woke up in the morning, me too kid me too.
So in usual Schmidty Wife fashion, I set out to make these single serve pumpkin mug muffins a little healthier for my family.
The Ingredients
Let's start with pumpkin, the star ingredient, the star of fall for that matter! I tried to make this as pumpkin heavy as I could without weighing the muffin down. Besides having the perfect texture for baked goods did you know that pumpkin contains the antioxidant beta-carotene, plenty of potassium, and are high in fiber! Talk about some great health benefits!
Next whole wheat flour. To keep this healthy I choose to skip the white flour that is stripped of a lot of healthy goodness and use whole wheat four. Whole wheat flour holds a lot more nutritional value than white flour, for example whole wheat flour naturally contains dietary fiber. According to studies getting your daily dose of fiber can help lower cholesterol and help you lose weight! Plus whole wheat flour is packed with vitamins that have been taken out of white all-purpose flour.
For the sweetener I chose maple syrup, I think the flavor of maple syrup is the perfect accompaniment to pumpkin, plus it makes these muffins refined sugar free. How sweet is that? 😉
Of course any pumpkin baked good isn't complete without pumpkin pie spice or pumpkin spice, whichever way you prefer to call it. Traditionally made with cinnamon, nutmeg, clove, ginger, and allspice there can be all sorts of variations so choose your favorite! Or if you don't happen to have pumpkin spice handy you can use cinnamon with a dash of nutmeg.
Mix these delicious ingredients with coconut oil, milk, an egg, and baking powder and you get a perfect muffin.
The Microwave
Now on to the best part of this muffin, THE MICROWAVE! What's better than a healthy pumpkin muffin? One you can make in the microwave in less than 2 minutes.
So call it overkill but I used all different shapes of mugs to test this muffin out. The result? It didn't really matter but due to the size of this muffin (it's a little on the bigger side) a larger/oversized mug works best.
Different microwaves = slightly different cooking times. Microwaves can be so finicky as far as they can all have different amounts of power so each cook times might differ slightly. You'll want to start with 60 seconds and then if the muffin is still wet/soggy microwave anther 15-30 seconds until it is no longer wet.
As you remove the mug from the microwave the mug will be very hot, as well as the muffin so make sure you give it a chance to cool before digging in!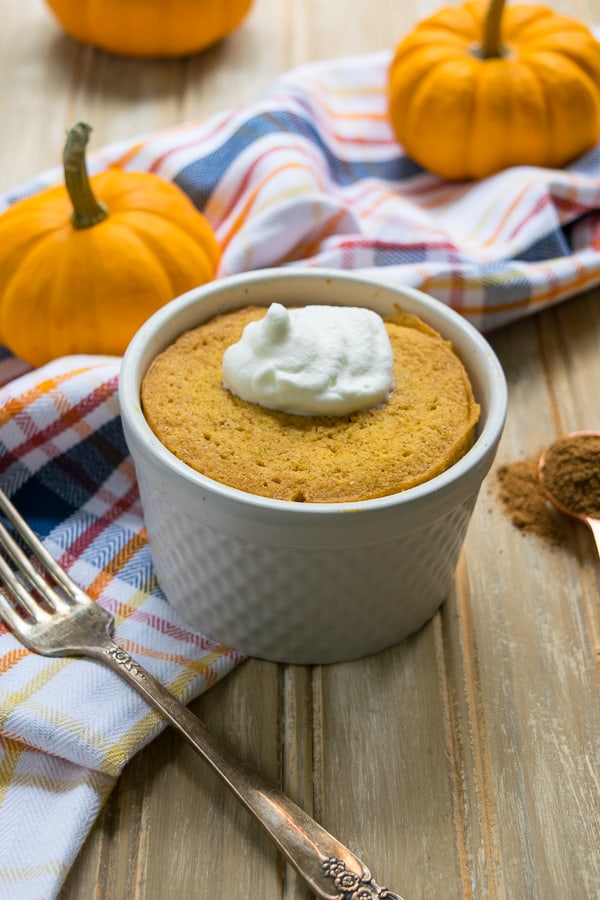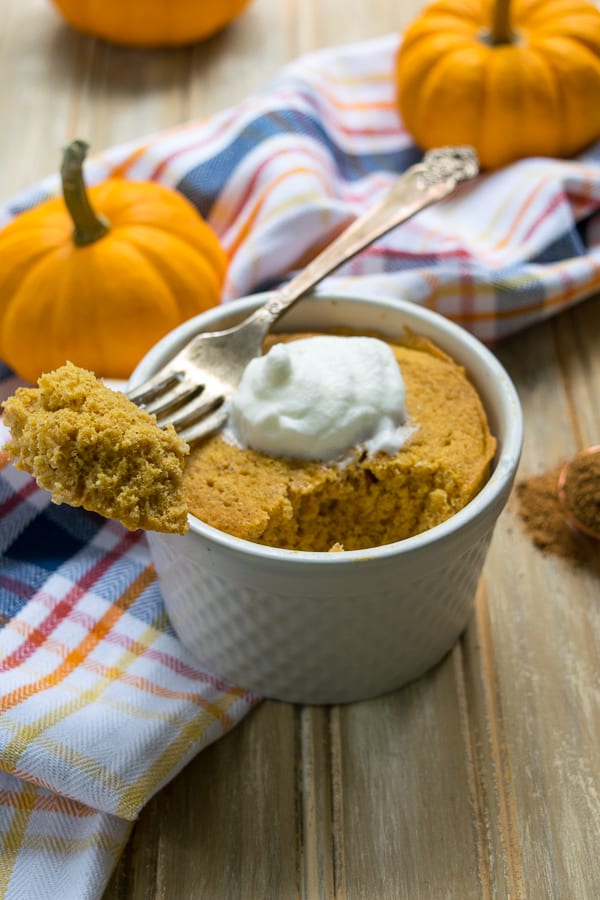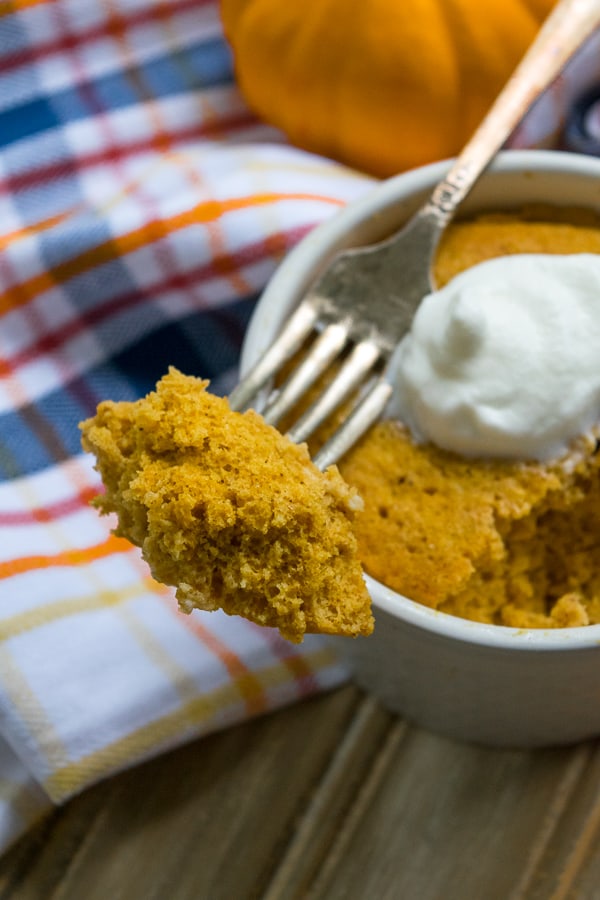 TIPS & TRICKS:
• This Healthy Pumpkin Mug Muffin (Single Serve) can of course be baked in the oven if you wish! I tested it in an oven safe ramekin at 350º F for 18-20 minutes. If you choose this method ensure that you are using an oven safe container. (Also when I made this in the oven I noticed that it tastes more like cake so… a good late night, the kids are in bed treat)
• I can imagine adding a few chocolate chips would make this extra delicious!
• If your coconut oil starts to harden because of cold milk or eggs don't fret, continue to mix it well, your muffin will still turn out delicious
Yield: 1 muffin
Healthy Pumpkin Mug Muffin (Single Serve)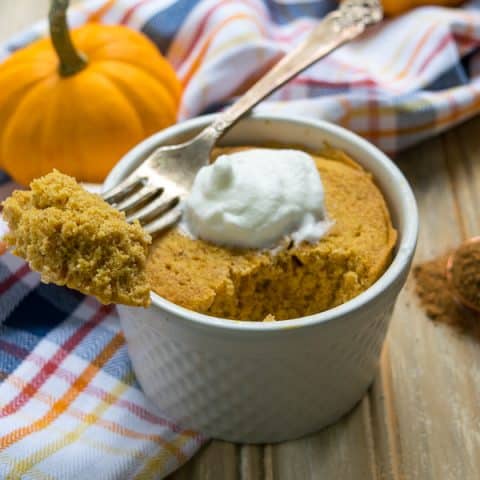 a single serve healthy pumpkin muffin ready to eat in 5 minutes
Ingredients
1 teaspoon coconut oil (melted)
1 tablespoon milk
1 egg
2 tablespoons pumpkin puree
1 tablespoon maple syrup
3 tablespoons whole wheat flour
1/2 teaspoon baking powder
1/4 teaspoon pumpkin pie spice*
Instructions
Add coconut oil, milk, egg, pumpkin, and maple syrup to a mug. Using a fork mix to combine.
Add whole wheat flour, baking powder, and pumpkin spice to the mug. Mix to combine with the wet ingredients until smooth.
Microwave for 60-90 seconds until batter is fully cooked and muffin has risen in mug. NOTE: Microwave times may differ, start with 60 seconds, check it, if it is still doughy and wet microwave for an additional 30 seconds or until fully cooked.
Caution taking out of the microwave for the mug will be hot, let cool slightly and enjoy either straight from the mug or tip it over onto a plate.
Notes
*you can sub pumpkin pie spice for 1/8 teaspoon cinnamon and a dash of nutmeg
I have not tried this with all purpose flour (yet), so I cannot say what the substitution for it would be.
Nutritional data is automated, final nutritional information will depend on ingredients used and any changes made.
Nutrition Information:
Yield:
1
Serving Size:
1 muffin
Amount Per Serving:
Calories:

260
Total Fat:

10.4g
Carbohydrates:

33.6g
Protein:

10.3g
Peace & Love
Lauren, The Schmidty Wife
P.S. Love Pumpkin like my Healthy Pumpkin Mug Muffin (Single Serve)? Check out my Crockpot Creamy Pumpkin Chili or my Pumpkin Bread.
Please note that my links above may be affiliate links, and I will earn a commission if you purchase through these links. I recommend them because they are helpful, and are companies that I trust, not because of the commissions that I may earn from you using these products.