With no prep and ready to eat in 30 minutes this Quick Easy Pork Fried Rice is a tasty and inexpensive meal that you'll be making again and again.
This post may contain Affiliate Links.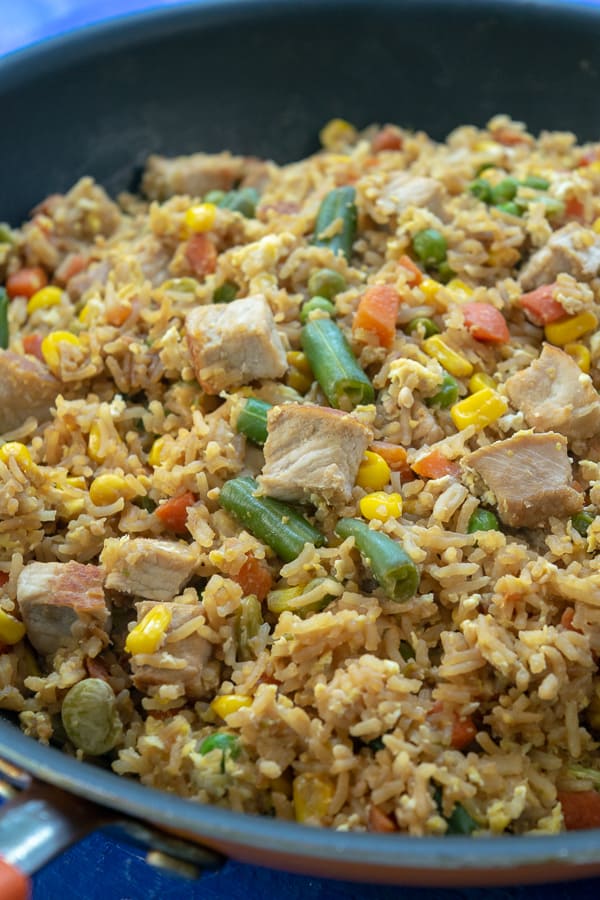 Easy Pork Fried Rice
There isn't a lot of things in the world that you want to be described as quick, cheap, and easy BUT weeknight dinners is one of those things! Well this Quick Easy Pork Fried Rice is champion of a quick, cheap, and easy meal.
Quick. Very quick, all ready to eat in 30 minutes. Not mention the prep time is basically nothing. Like you get cooking right away, no chopping vegetables!
Cheap. Have you ever picked up a package of small boneless pork chops and kind of squeal at the low every day price? Yeah me too. Not to mention the rest of the ingredients are all very economical, eggs, rice, frozen vegetables. When we are really paying attention to our budget this quick easy pork fried rice is always on the menu.
Easy. Did I mention no prepping or vegetable chopping. The hardest parts of this meal are cutting the pork into bite sized pieces and scrambling the eggs. A great beginner meal if you are trying to get better about cooking at home!
So lets break down the ingredients and see how great this quick easy pork fried rice really is.
Ingredients
The self proclaimed 'other white meat', pork. Always inexpensive and readily available. Pork is such a great option when you grow tired of the other lean meats (cough cough, here is looking at you chicken breast). I always make sure to cut off the fat bits to keep this dish lean.
Rice, I love rice. Basmati is my favorite rice to use in this dish, closely followed by jasmine rice, but ultimately any rice will work. For the best fried rice you will actually want to use day old rice if possible, if not possible try to make the rice with enough time for it to at least cool down before you cook with it. The best time to actual make the rice is probably as you are making dinner the night before, that is if you are organized enough!
Frozen mixed Vegetables. All hail frozen vegetables! I feel like frozen fruits and vegetables often get the shaft, but hello they are just as healthy as fresh vegetables AND SOOO much more convenient. Nothing to me is more convenient than just dumping a whole pound of vegetables into my dinner with any chopping and usually a fraction of the price. For this recipe I use 'mixed' frozen veggies, the classic frozen vegetables with the corn, carrots, peas, lima beans, and beans or some variety like that.
The sauce, simple and probably made of things you already have at home like soy sauce, brown sugar, ground ginger, and minced garlic. Simple right? And if I am feeling spicy (I usually am) I will either put some red pepper flakes or sriracha to mix it up. This delicious combination gets soaked up by the rice leaving each bite super flavorful.
Lastly eggs. A second protein? Why yes please. If it doesn't surprise you I think a lot about food, sometimes I like to play a game in my head called what foods I could not live without (weird maybe?). Anyways one of those foods on my 'I could not live without' list is eggs. So versatile and healthy, just last week I went through 50 eggs, not joking (In all fairness I did a huge meal prep that involved them) but eggs can basically go into any dish and make it better, for example fried rice!
So simple right!?
Cooking
Another great reason for this dish is the convince of the 'one pot' (aka skillet). I love having one skillet, a spatula, and one knife for clean up. So besides minimal dishes this quick easy pork fried rice is also easy to make. Essentially things just get added and tossed in until done.
I start by getting a sear on the pork, I think this adds flavor to them. By getting the outsides nice and browned you get all that extra flavor that you otherwise wouldn't get. So to start, you get the skillet nice and hot and get each side seared and browned. The pork chops will then be set aside to cool. Once cool enough to touch you'll chop them into bite sized pieces to add back in. If your pork isn't all the way cooked at this point, don't fret, it is going back into the skillet to finish cooking.
Once the pork chops are seared you will add the vegetables, they are cooked for a few minutes until no longer frozen. The rice and sauce is added and tossed, followed by the pork.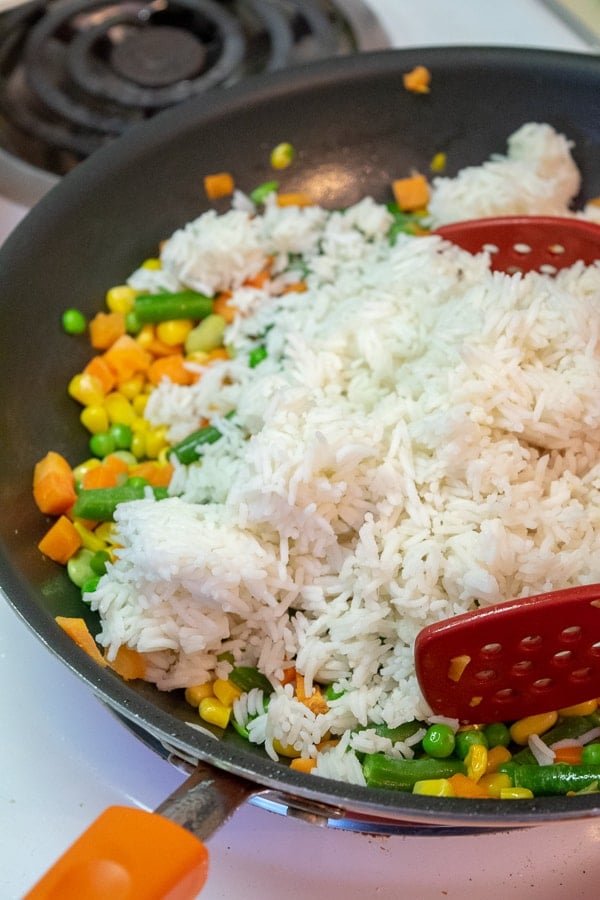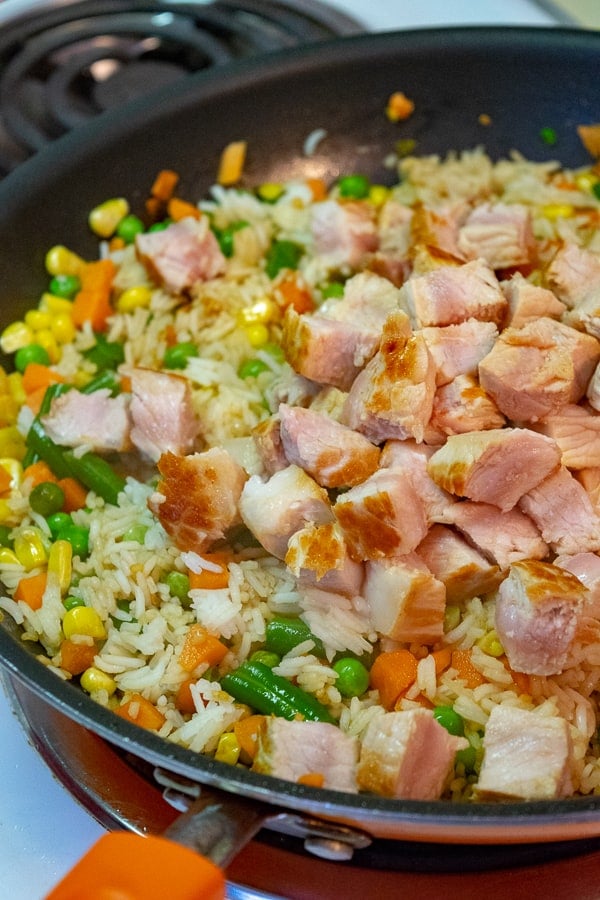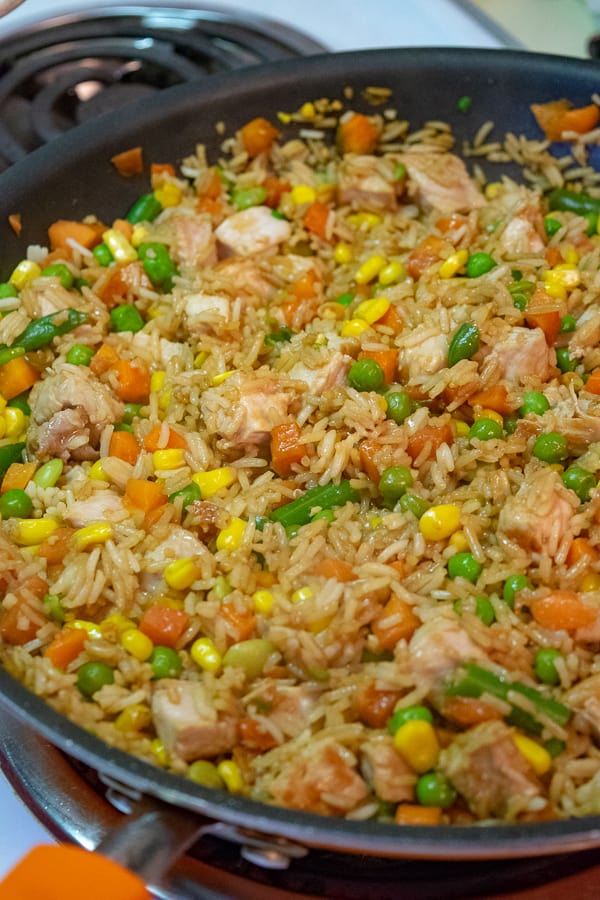 Everything thing will continue to cook and develop flavor and then the eggs will get scrambled in. To get a good scramble on the eggs you will start by making a hole in the middle of the rice. The eggs will get cracked into that middle and you will start scrambling them, as they cook you will gently add more and more of the fried rice into the egg until the egg is almost all the way cooked and you will toss it all together.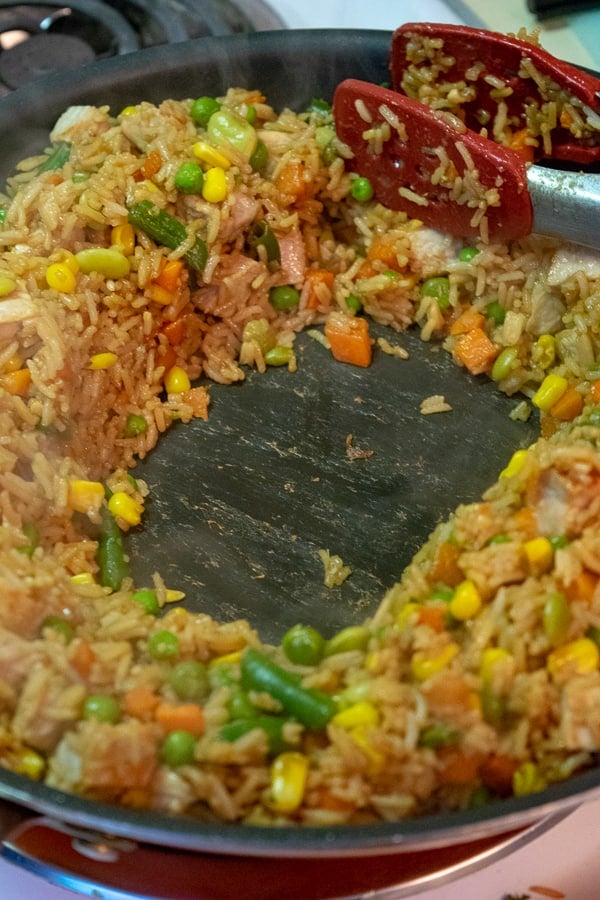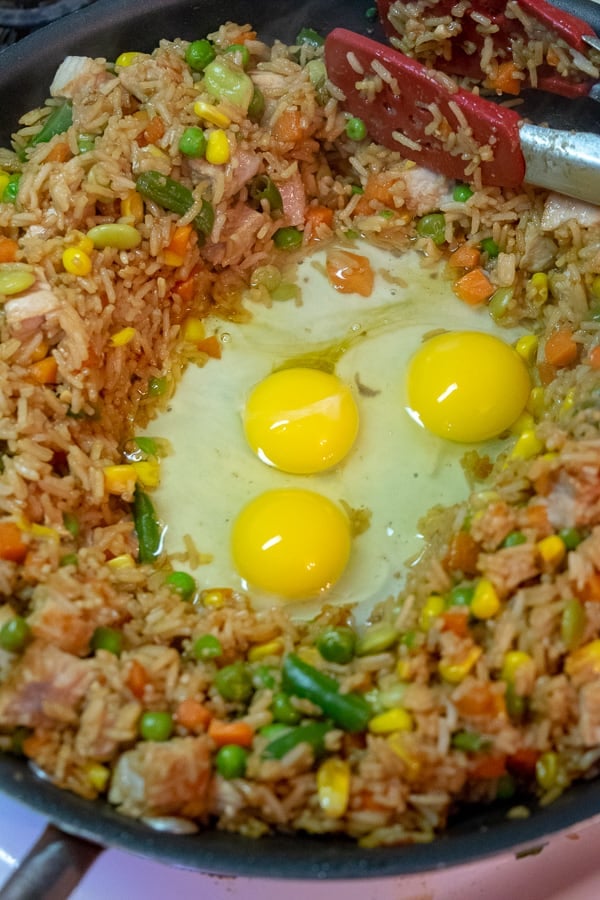 And boom, dinner is ready. OR meal prep, this is great quick option you can make ahead for lunches for the week. You can divide this out into containers and have it ready to take with you all week. Fast simple and easy, you'll be rolling your eyes at everyone else paying $10 for lunch!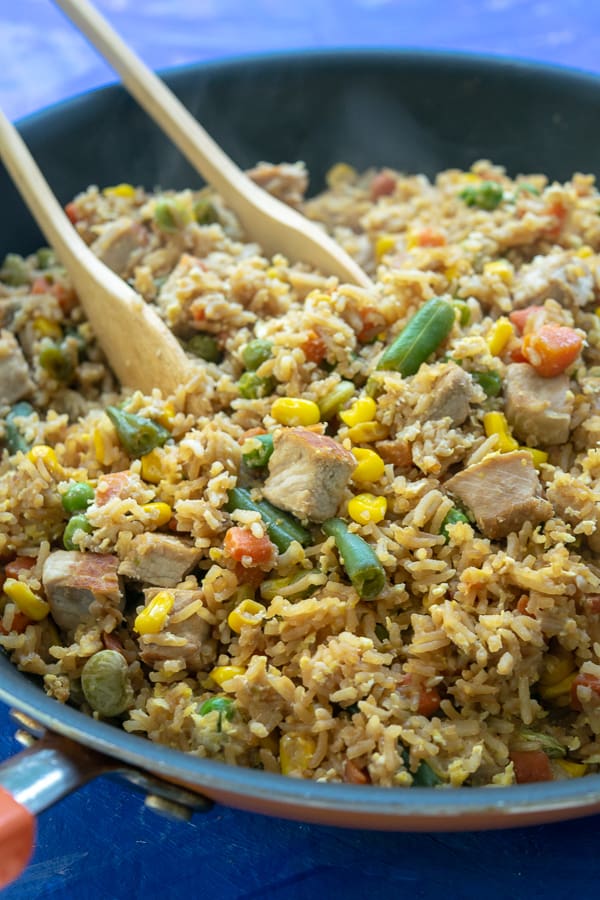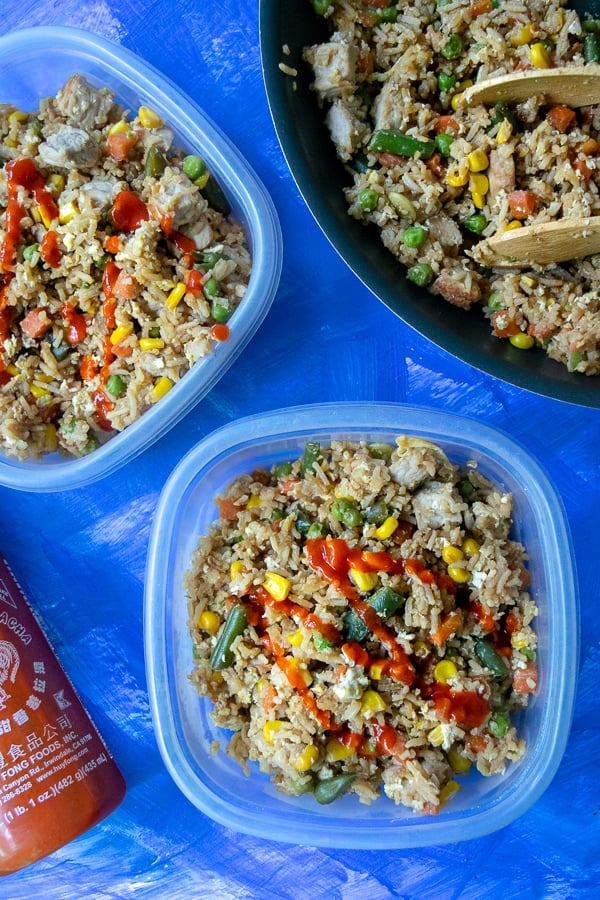 TIPS & TRICKS
• Day old rice is best in this dish, if you have enough foresight try to make the rice the night before (if not don't fret, it will still taste good)
• When I have a little extra time I will also add an onion to this dish, I sauté it until translucent after I sear the pork and before I add the vegetables
• Pro tip: I use this dish as a great way to use either unused egg whites or egg yolks. So when a dish or baked good calls just for egg yolks (or vice versa) I'll save the other part of the egg and just use that in this dish. For example when I make my Summer Spaghetti Carbonara I save the unused egg whites and make this dish the next night with them
Yield: 4 servings
Quick Easy Pork Fried Rice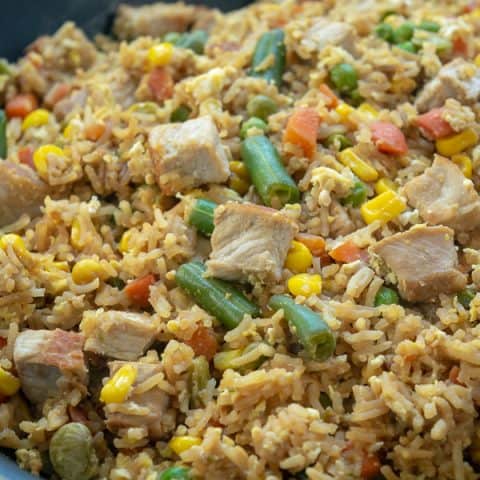 a no prep fried rice full of healthy wholesome ingredients ready to eat in 30 minutes
Ingredients
2 cups cooked rice*
1 pound boneless center cut pork chops
1 16oz bag frozen mixed vegetables
1/2 cup soy sauce
1 tablespoon brown sugar
1/4 teaspoon ground ginger
1 teaspoon minced garlic
3 eggs
Instructions
Heat a lightly greased large skillet over medium-high heat on the stovetop. Add pork chops, cook for 3-4 minutes until brown. Flip and cook the other side 3-4 minutes until brown. Remove pork from skillet and set aside and let cool to touch. Chop into bite sized pieces. (If your pork chops are not fully cooked at this point don't fret they will finish cooking when they are added back to the skillet.
While pork in cooking add soy sauce, brown sugar, ground ginger, and minced garlic to a small bowl. Mix together to form the sauce.
Add the frozen vegetables to the hot skillet. Cook 2-3 minutes until they are no longer frozen solid.
Add rice and sauce to the skillet. Toss to combine. Add pork back to skillet, toss to combine. Cook for 5-6 minutes stirring approximately every minute until pork is fully cooked and the rice has soaked up all of the sauce.
Move the rice to the outside edge of the skillet forming a hole in the middle of the skillet. Crack the eggs into the hole. Scramble the eggs in the hole (a rubber spatula works best for this), as they begin to cook start pulling in rice from the side. Continue combining the scrambled eggs and rice until fully combined.
Remove from heat and serve immediately or keep in an airtight container in the refrigerator.
Notes
*1 cup uncooked rice. Basmati or Jasmine work best, although any kind will work. Day old rice or leftover rice work best in this recipe.
Nutritional data is automated, final nutritional information will depend on ingredients used and any changes made.
Nutrition Information:
Yield:
4
Serving Size:
Amount Per Serving:
Calories:

358
Total Fat:

8g
Cholesterol:

195mg
Sodium:

2106mg
Carbohydrates:

36g
Fiber:

2g
Sugar:

6g
Protein:

31g
Peace & Love
Lauren, The Schmidty Wife
P.S. You want more great weeknight dinners like Quick Easy Pork Fried Rice? Check out my Korean Ground Turkey & Rice Bowls or my Shrimp Stir Fry.